Homemade Pistachio Paste: A naturel option to creating pistachio desserts. Making your own pistachio flavor is 100% pure and super easy to make. No added flavors just pure pistachio butter. Give the gift of food! Everyone loves a gourmet gift and that's exactly what this pistachio paste is…..gourmet!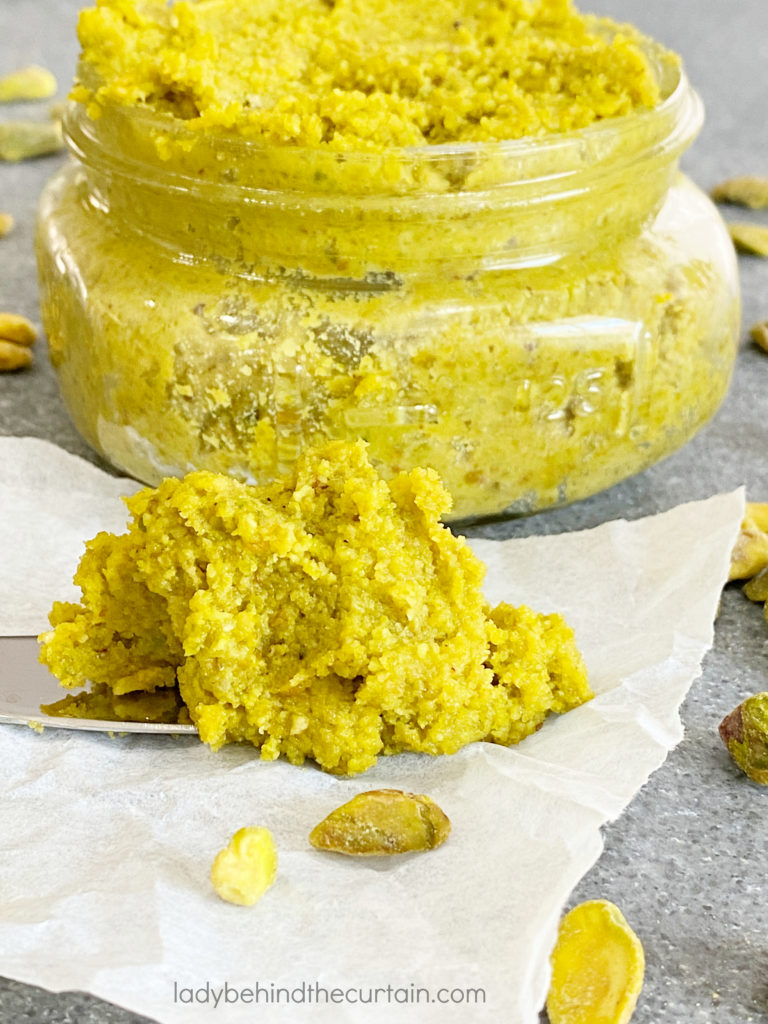 Keep it Fresh!
MOST IMPORTANT STEP
How to Take Off the Skin of Pistachio Nuts
The easiest way is to blanch and shock the nuts.
HERE'S HOW:
Bring water to a boil
Take off the burner and add pistachios.
Let the nuts sit in the hot water no longer then 1-2 minuets.
Drain and pour in batches onto a clean kitchen towel.
Rub it gently to peel off the brown skin.
How to Make Homemade Pistachio Paste
Pour prepared nuts into the bowl of a food processor.
Process until all the chunks are gone (about 4 minutes)
Add water and continue to process until creamy.
HOW TO STORE PISTACHIO PASTE
For best results store the pistachio paste in an air tight glass container, like a mason jar. Something with a rubber ring around the attached lid.
You can store the paste either in the refrigerator or a cool pantry. If you store the paste in the refrigerator the natural oils don't separate as much and it's easier to mix together again. OIL SEPARATION: In time the oil will separate to the top of the container. A lot like naturel peanut butter. Make sure you use a sturdy knife and mix it back together before using.
HOW LONG DOES PISTACHIO PASTE LAST
REFRIGERATOR: In the refrigerator the pistachio paste should last several weeks. Always smell it before using.
FREEZER: In the freezer pistachio paste will last several months
HOW TO FREEZE PISTACHIO PASTE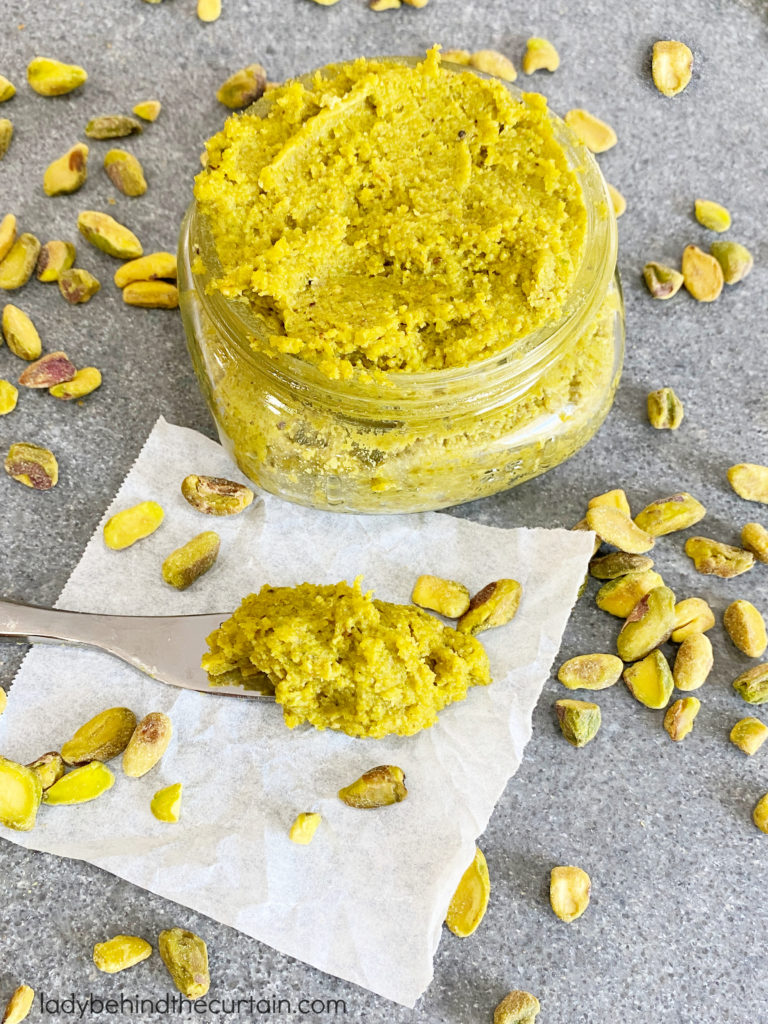 THE MANY USES OF PISTACHIO PASTE
Preparing a pound of pistachios is the way to go. The pound will offer about 2¼ cups of pure pistachio heaven. CHEESECAKE, ICE CREAM, SWEET FRUIT DIP OR FROSTING, the rule of thumb is to use about 1 cup of pistachio paste per full size recipe.
MOST POPULAR PISTACHIO RECIPES—THESE RECIPES CAN EASLIY BE ADAPTED TO USING PISTACHIO PASTE
NEVER MISS A POST