How to Make Finding Dory Coral Reef Rock Candy
How to Make Finding Dory Coral Reef Rock Candy | With just two ingredients you can create your own science project this summer by making your own rock candy!  I thought it would be fun to make my rock candy into Coral Reef Rock Candy for my Finding Dory Party.  If you are planning on making this candy for a celebration planning ahead is a must.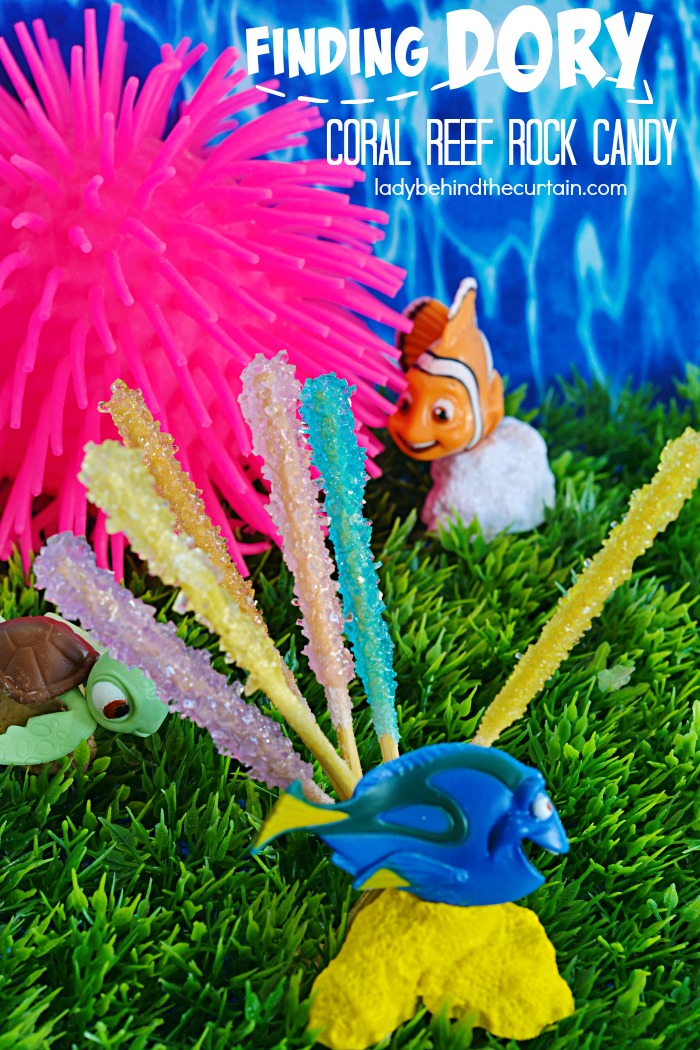 Rock candy is a super sugar solution that will crystallize onto a surface.  The process can take up to two weeks.  So patience is also something to learn with this experiment.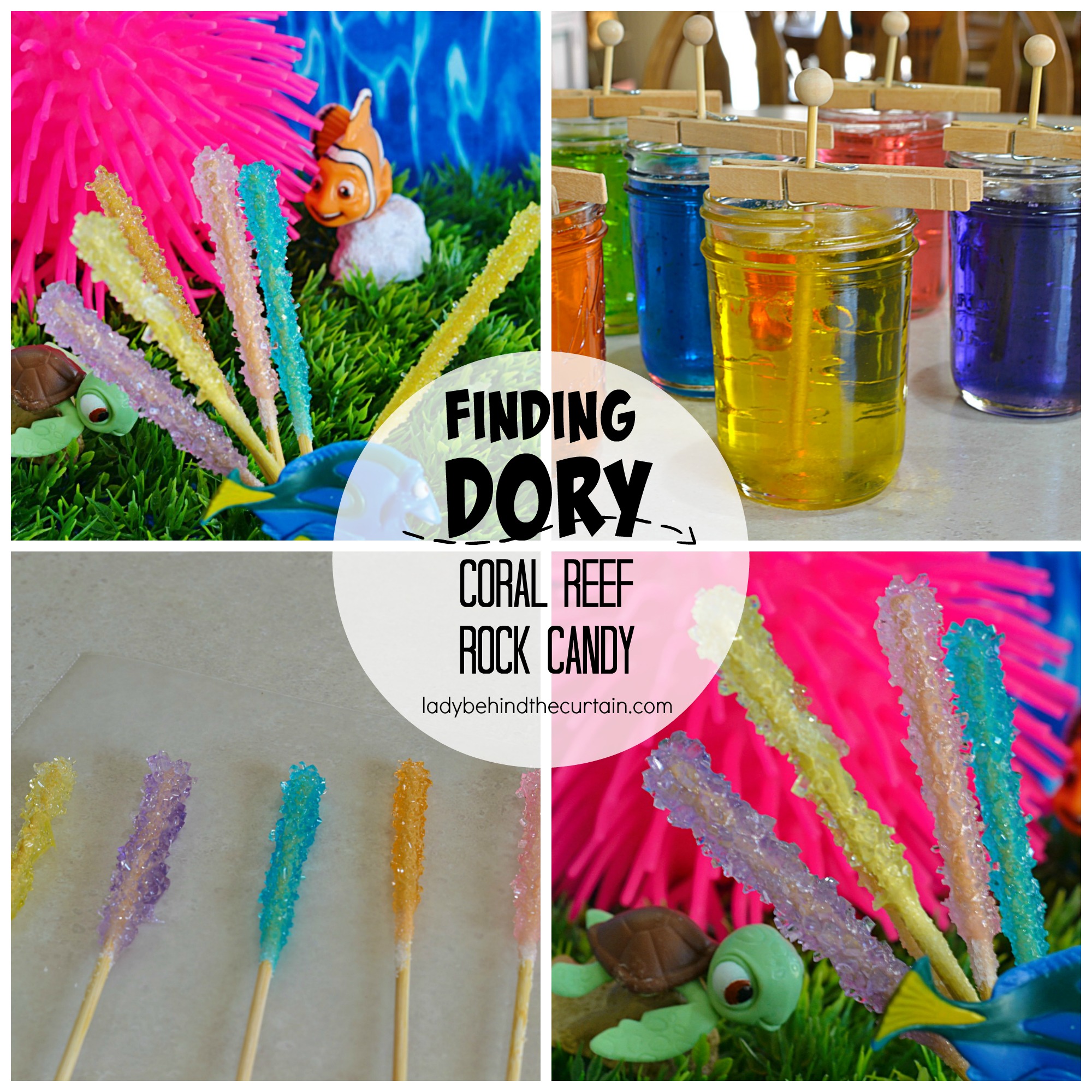 I decided to color and flavor my rock candy.  First I added a drop of food color to each jar.  If you don't want assorted colors you can add the color straight to the sugar solution.  Then I added a drop (into each jar) of marshmallow flavor from LorAnn Oils.  I also found my fun Rock Candy Sticks at Michaels or you can order them from Amazon.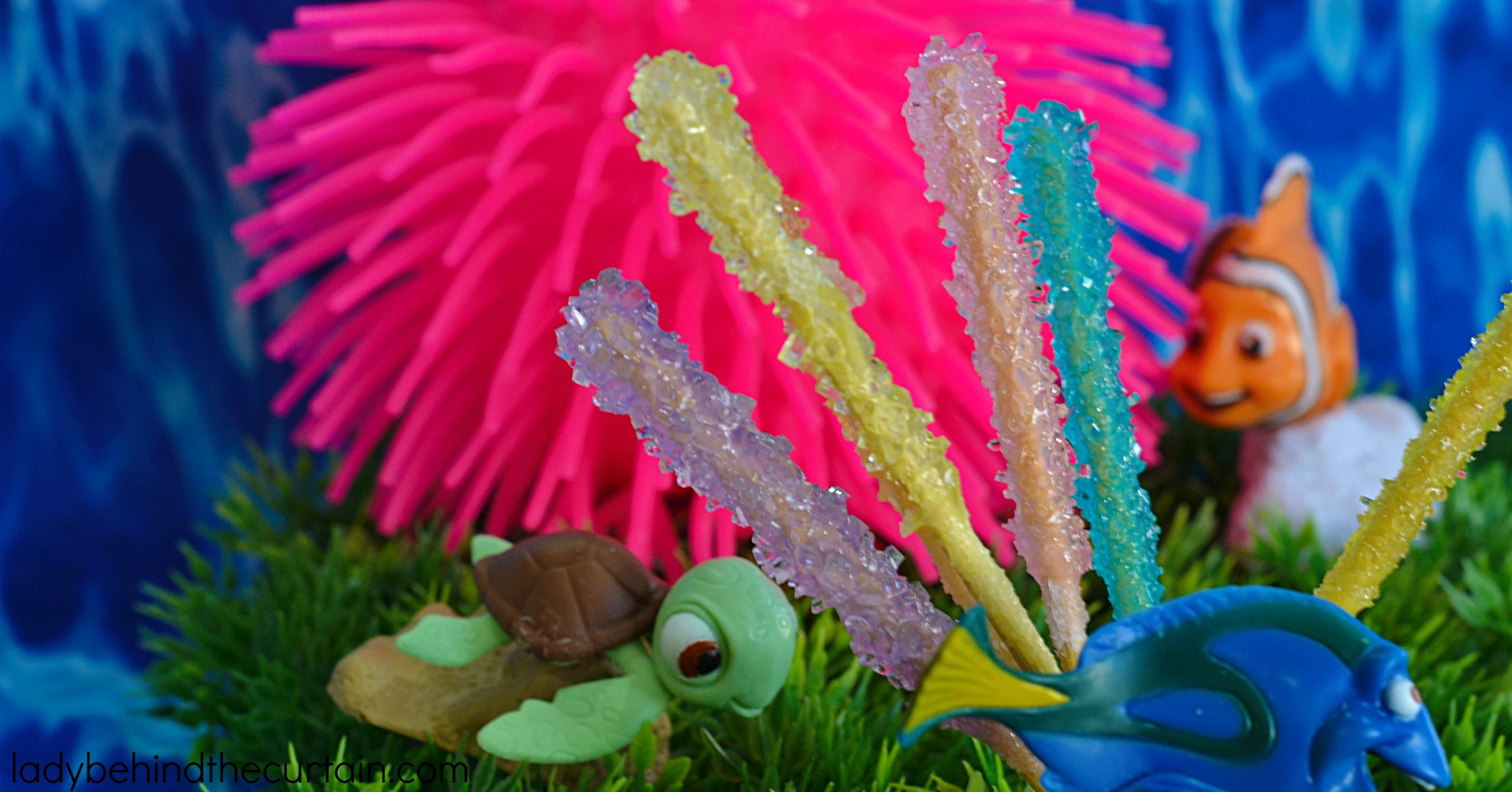 While the sugar solution is cooling to room temperature, dip the stick you are using to make the rock candy into water as far up the stick as you want the crystals to grow.  Sprinkle or roll the wet stick into granulated sugar.  Set aside to dry.
Once the solution is cooled submerge the stick into the jar making sure to leave room at the bottom.  You need to leave room so that the crystals don't grow from the bottom to the stick.  Secure with a clothespin.  Set the jars in a place where they won't be disturbed.  And watch the crystals grow!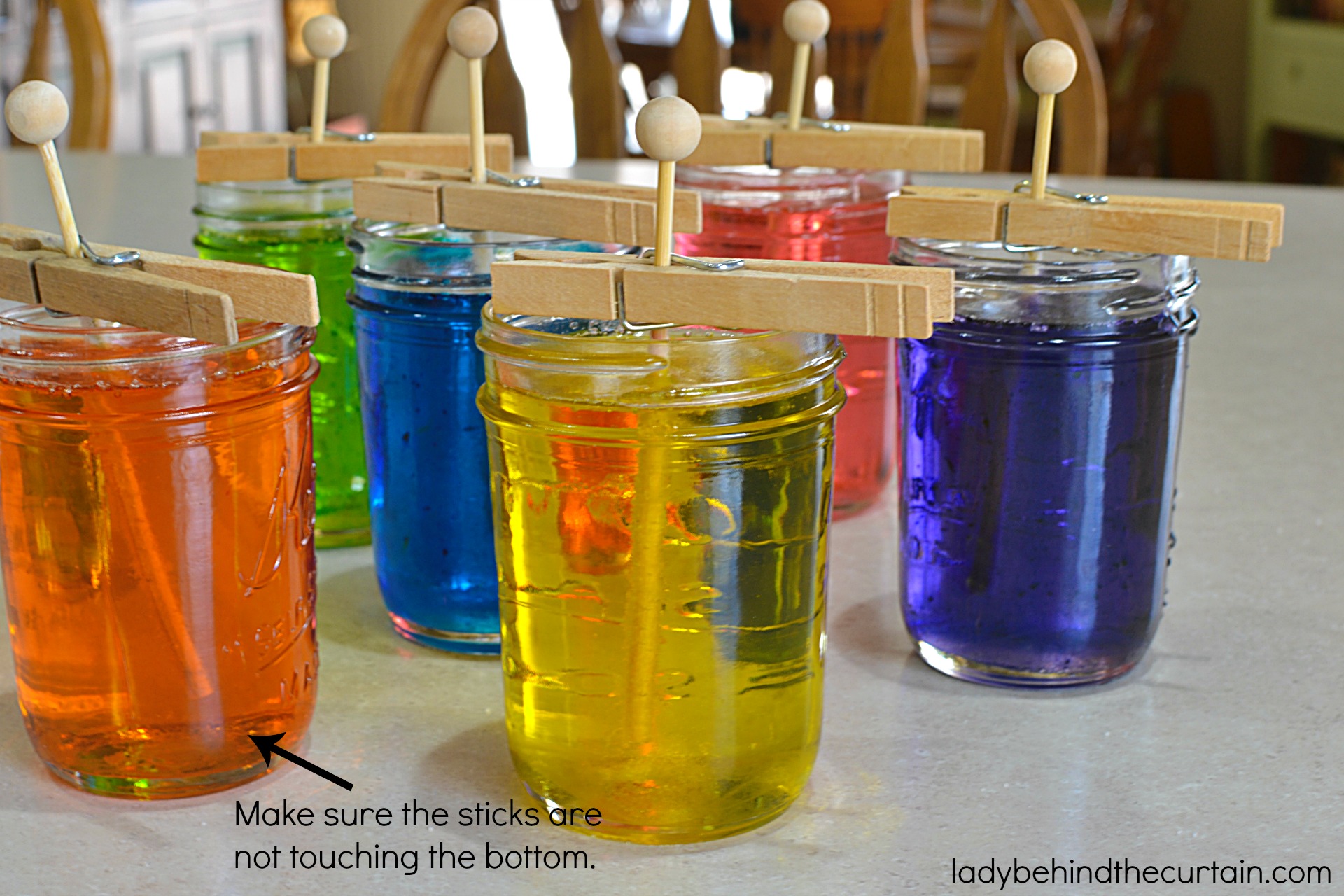 When the candy has reached your desired size, use a knife to break the top layer.
Place the candy on wax paper to dry.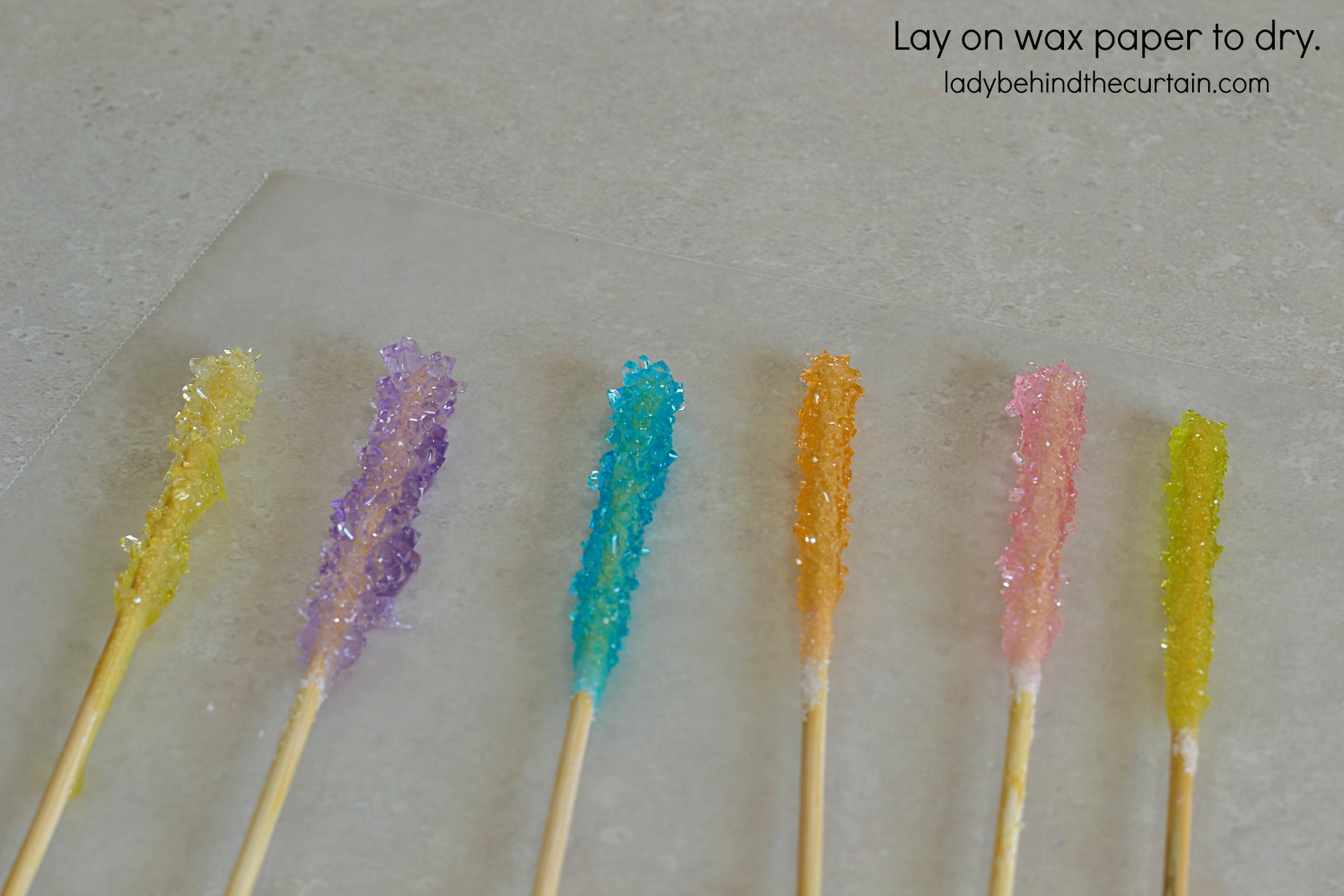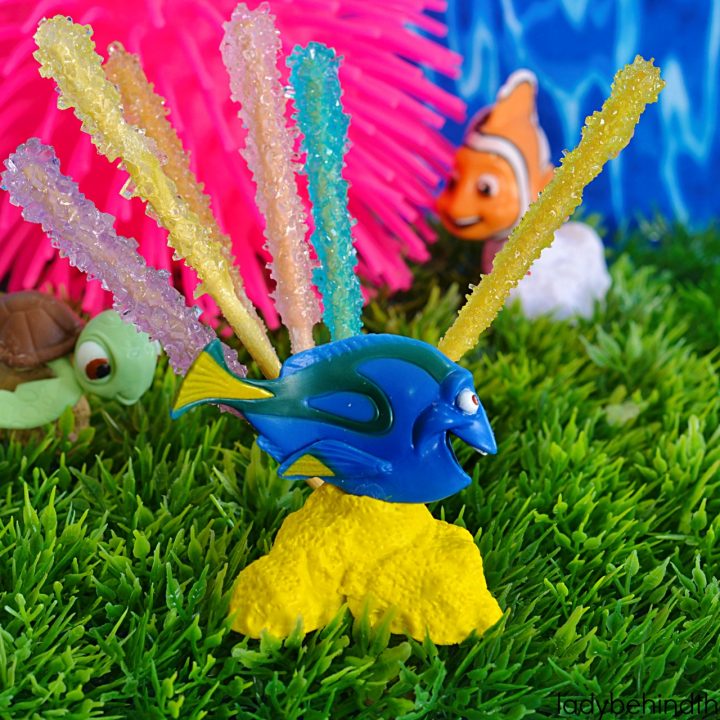 How to Make Finding Dory Coral Reef Rock Candy
Yield:
Makes 8 Rock Candy Pops
Ingredients
1 cup water
3 cups granulated sugar
NOTE: Above is a single recipe....I tripled this recipe to fill 8 half pint jars. The directions below is for triple the recipe.
lollipop sticks, skewers or rock candy sticks
Instructions
To each half pint jar; add one drop of food coloring.
If you want to add flavoring; add a drop of flavored oils (I used LorAnn Marshmallow). You can add a different flavor for each jar. I chose to use one.
Measure sugar into a bowl and set aside.
Dip sticks into water (up to where you want the crystals to grow and then dip in some granulated sugar.
Set aside to dry.
Add water to a large pot; bring to a boil.
Add sugar one cup at a time; stir until dissolved.
Continue adding the sugar and stirring between additions until all the sugar is added and dissolved.
Pour into each half pint jar.
LET SUGAR MIXTURE COME TO ROOM TEMPERATURE before submerging the lollipop sticks.
Secure sticks with cloth pins.
Now the hard part begins.....the wait. I let mine sit for 2 weeks.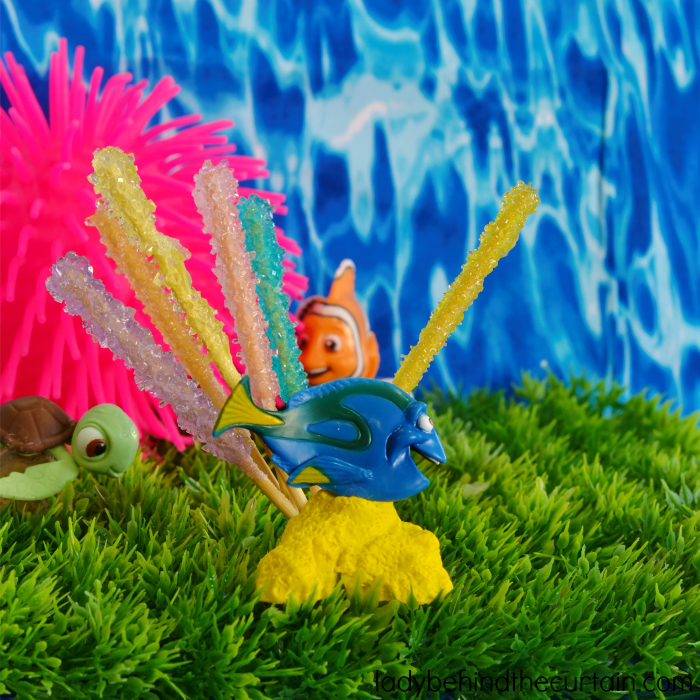 MORE SUMMER PARTY IDEAS

SLPASH SMOOTHIE BAR 2. SPLISH SPLASH POOL PARTY  3. FLIP FLOPS AND FLAMINGOS SUMMER PARTY

---