Finding Dory Party Ideas | Disney's Finding Dory is the biggest hit of the summer.  Celebrate the cutest movie with a party!  My easy Finding Dory Party Ideas are perfect for a birthday party or pool party.   I created this party for my 2 year old Grandson.  All the kids had a blast eating the fun food and taking home the party favors.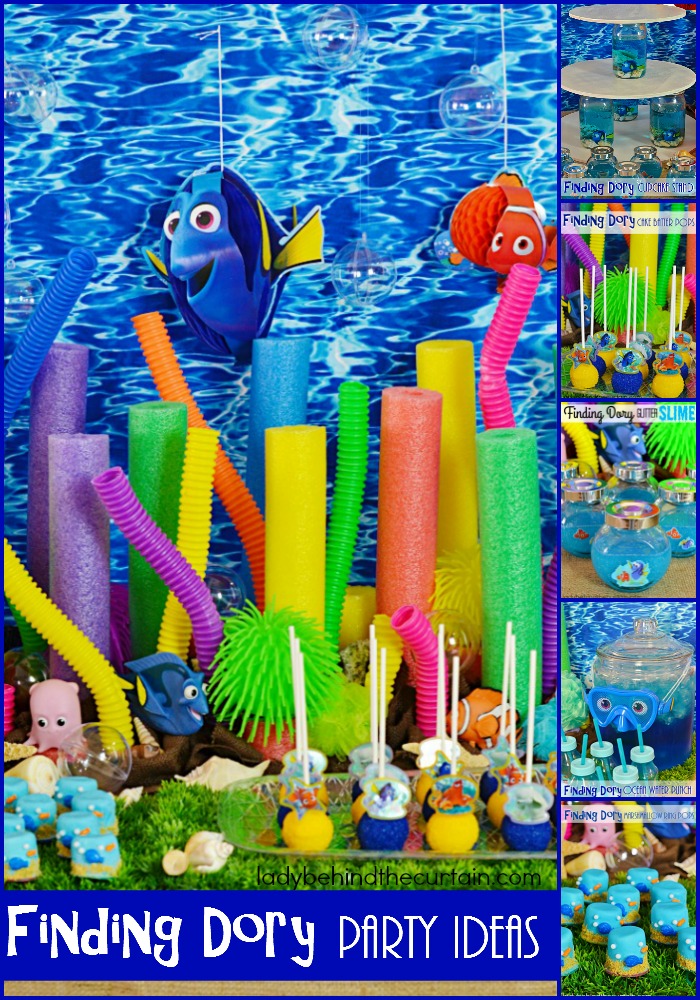 WATCH THIS LIVE VIDEO OF THE FINDING DORY PARTY TABLE.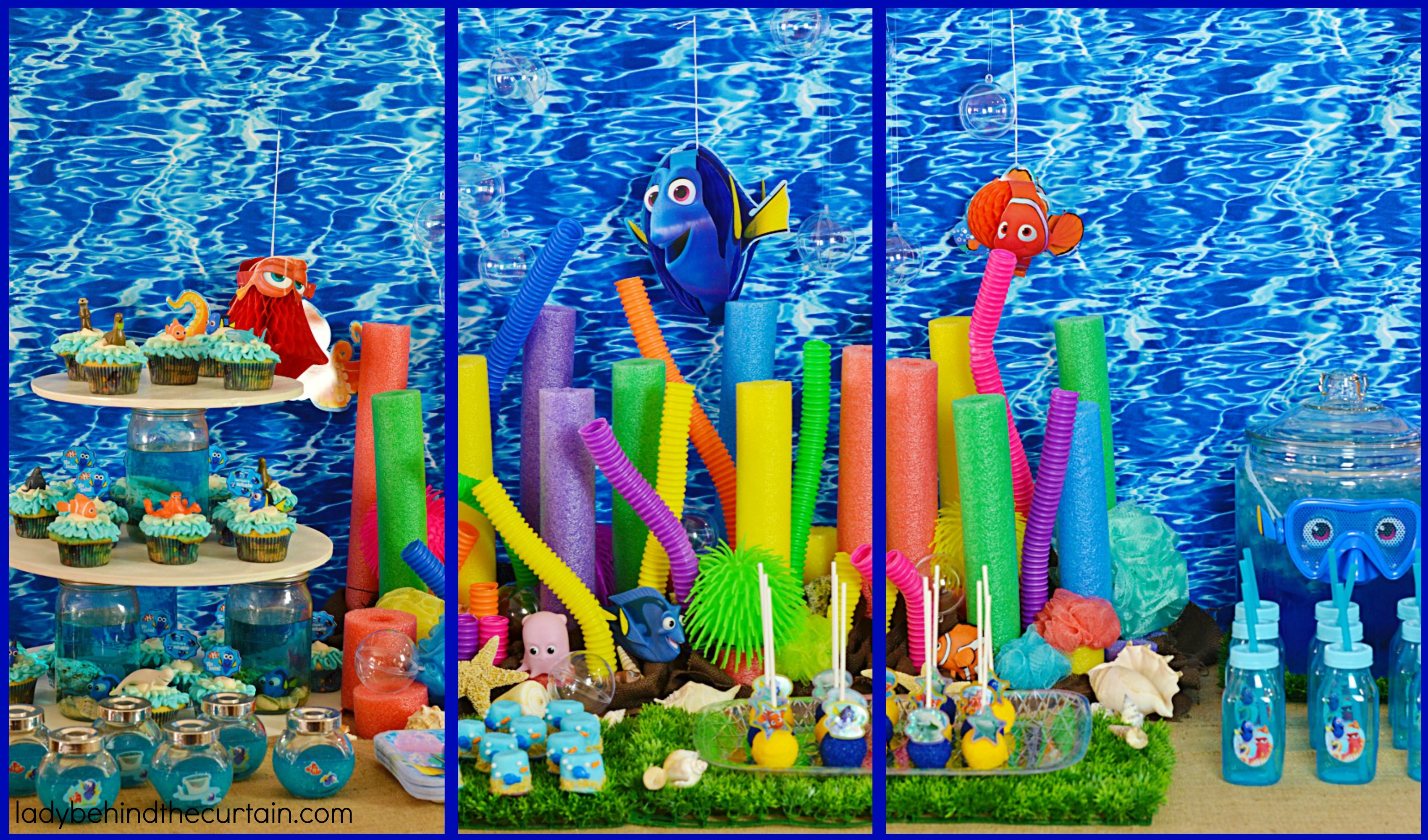 CORAL REEF CENTERPIECE (link)
Create a fun and easy centerpiece with inexpensive items and set the tone for a great party.  This centerpiece is perfect for a Finding Dory Birthday Party, Under the Sea Party, Little Mermaid Party, Finding Nemo Party or any party that requires a coral reef.  I love the bright colors and the playful ease of the centerpiece.  It's almost cartoon looking.
DIY FINDING DORY CUPCAKE STAND
To make this stand, cut three circles out of wood.  The bottom measuring 18-inches, the middle 15-inches and the top 12-inches.  Use Gorilla Sealant (clear) to glue dory figures to the bottom of 4 quart size mason jars.  Place shells in the bottom and fill three-quarters full.  Add one to two drops of blue food coloring (start with one).  You want the water to be lightly colored so the dory will show.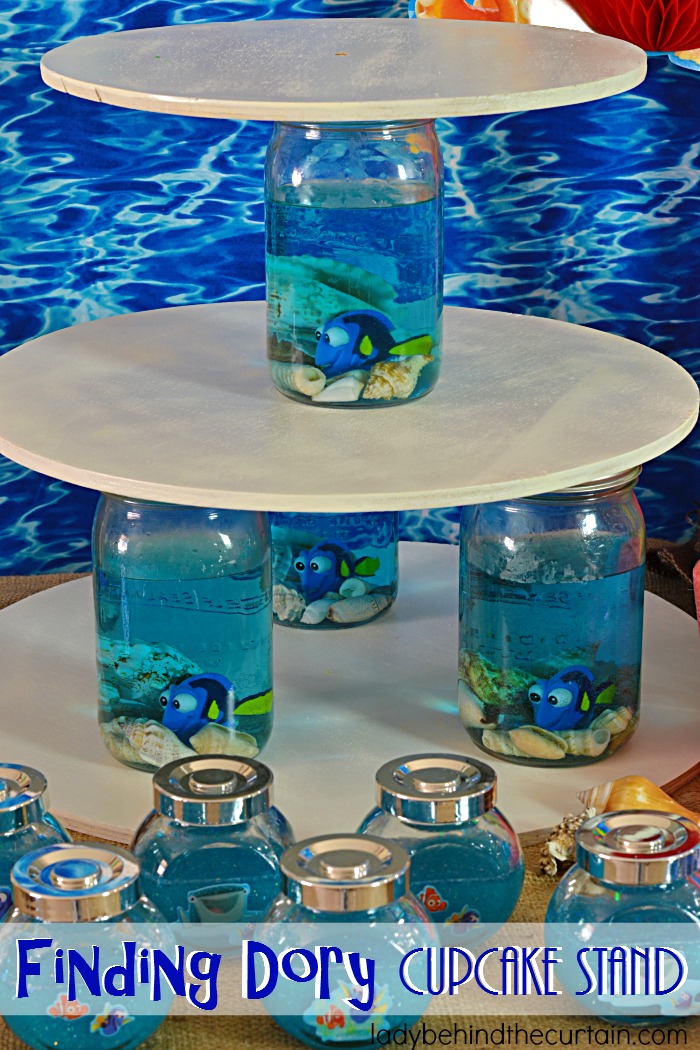 FINDING DORY OCEAN WATER PUNCH
Add some fun to the table by making blue punch and adding Finding Dory googles to the punch container.
1 gallon berry blue Hawaiian punch
1 2-liter bottle 7-up
ice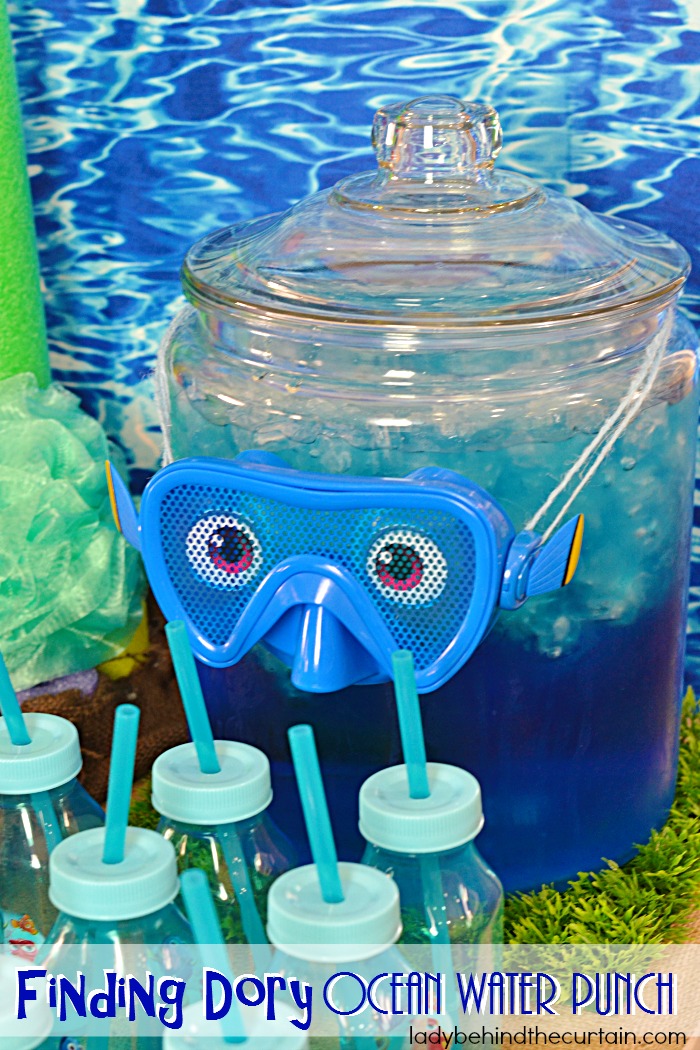 FINDING DORY PARTY TREATS
CAKE BATTER POPS (link)
This 4 ingredient treat is full of fun and makes a sweet party favor or is also perfect on your birthday party table.  The best part?  These are NO BAKE pops!  That's right all you do is add melted butter to a cake mix!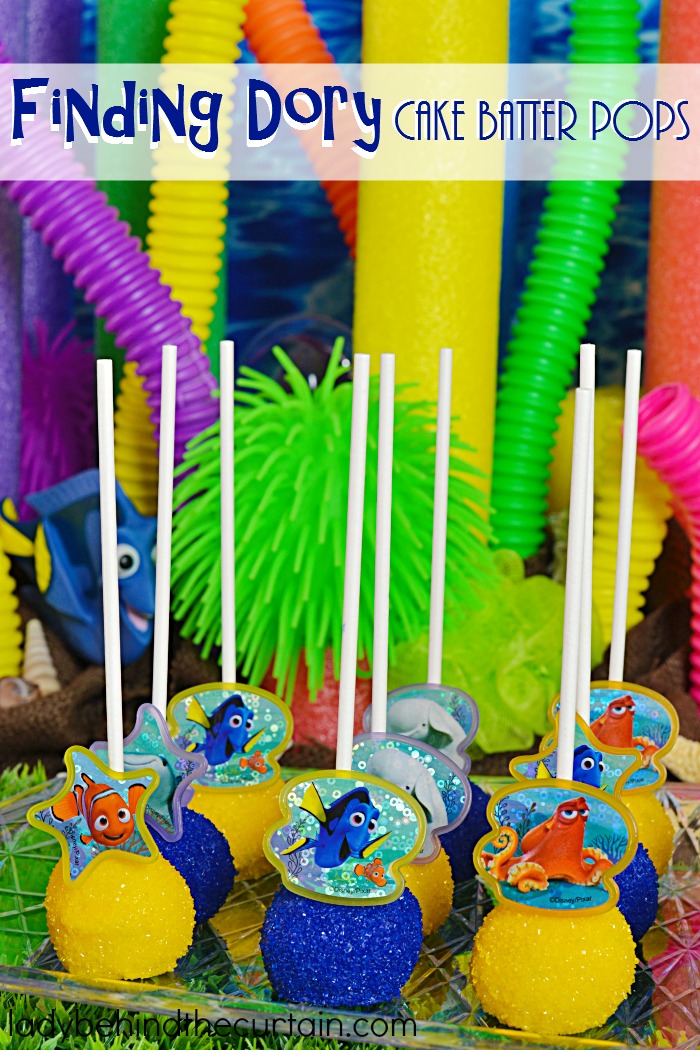 OCEAN WATER CUPCAKES (link)
Perfect for a Finding Dory Party, pool party, or to celebrate shark week!  I fashioned this cupcake after the popular raspberry lemon lime ocean water punch.  Along with my Water Splash Frosting these cupcakes are perfect for any kid's summer party.  What a great way to add a splash of fun to your party.
MARSHMALLOW RING POPS (link)
Recycle your ring pops into marshmallow pops!  I took some ring pops (without the pops) to make these Finding Dory Ring Pops.  If you don't have any ring pops you can purchase bags of them at Dollar Tree.  I think they come 4 to a bag.  Just take off the wrapper and place the ring pops in hot water.  The hot water will dissolve the candy.  Great as a party favor too!  If you don't want to use ring pops you can also use lollipop sticks.  Watch my video below to see how.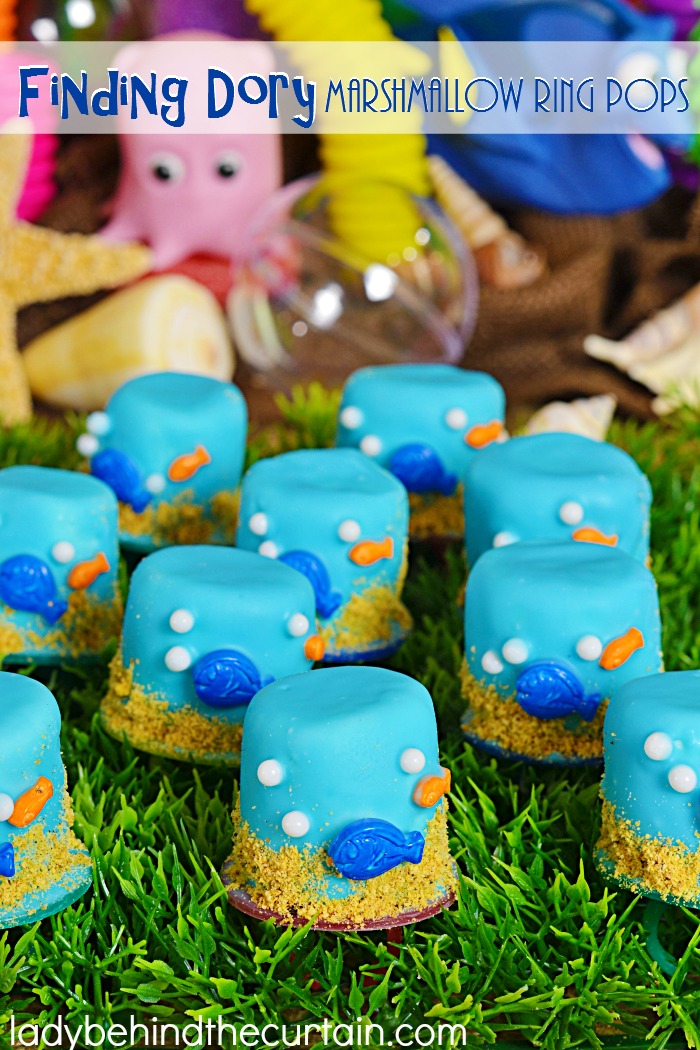 CORAL REEF ROCK CANDY (link)
With just two ingredients you can create your own science project this summer by making your own rock candy!  I thought it would be fun to make my rock candy into Coral Reef Rock Candy for my Finding Dory Party.  If you are planning on making this candy for a celebration planning ahead is a must.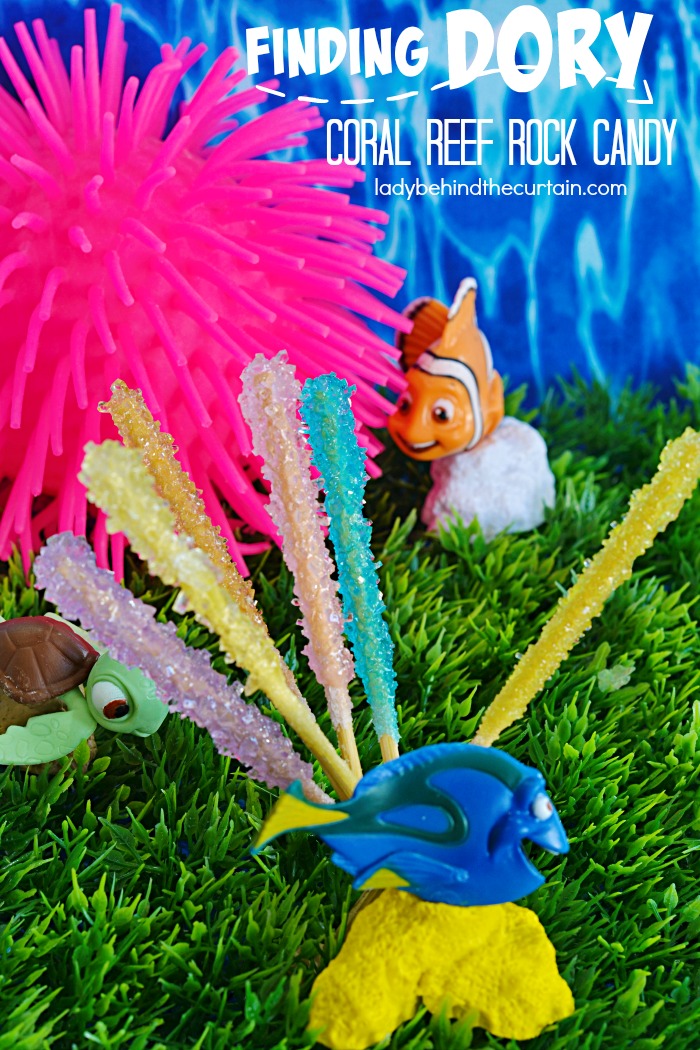 FINDING DORY PARTY FAVORS
OCEAN IN A BOTTLE (link)
These fun ocean bottles are great as a party favor (maybe more for the Moms then the kids).  They are something that can be used over and over again.  They can serve as an activity to keep kids busy while you wait for an appointment or to keep the child still while getting a haircut.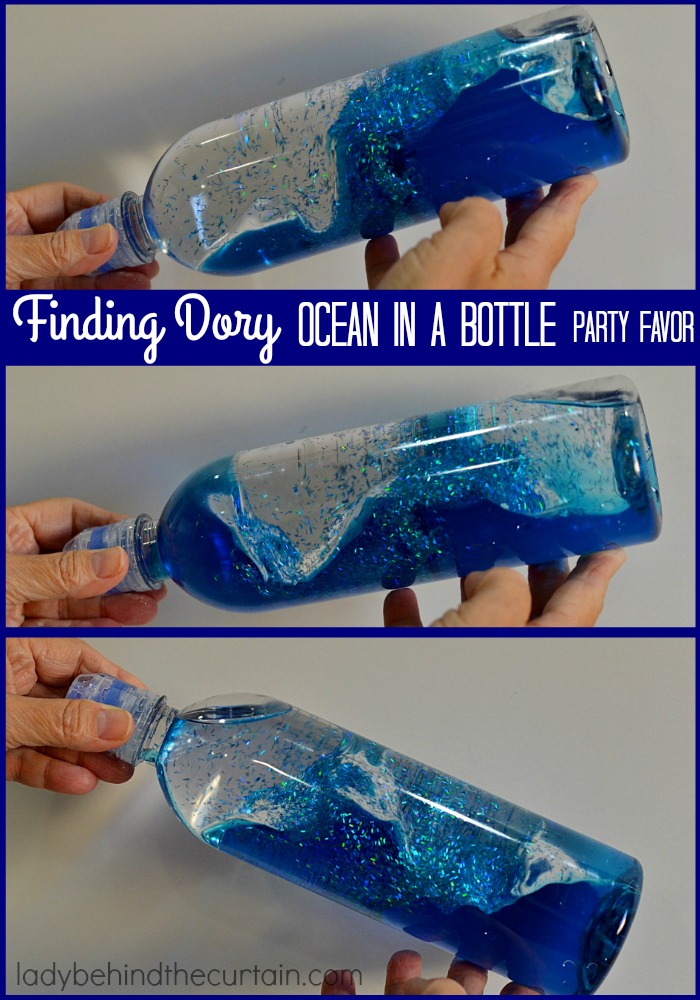 GLITTER SLIME (link)
Create a fun and easy activity for the kids this summer and celebrate the release of the new movie Finding Dory by making Glitter Slime!  Get noisy with it!  That's right it's not just slime but noise putty too!  The boys and lets face it the girls too love bathroom noises that come from pressing this slime into small containers!