Italian Mashed Potatoes: Light and creamy mashed potatoes with pancetta, roasted red peppers, Romano cheese, basil and garlic. Not a fan of gravy? Add something new to your holiday table—skip the gravy and serve mashed potatoes packed with delicious flavor! Get a jump on your Thanksgiving prep by making your mashed potatoes now, freezing them and then reheating on the big day. Scroll down to see how!
Why I love these Italian Mashed Potatoes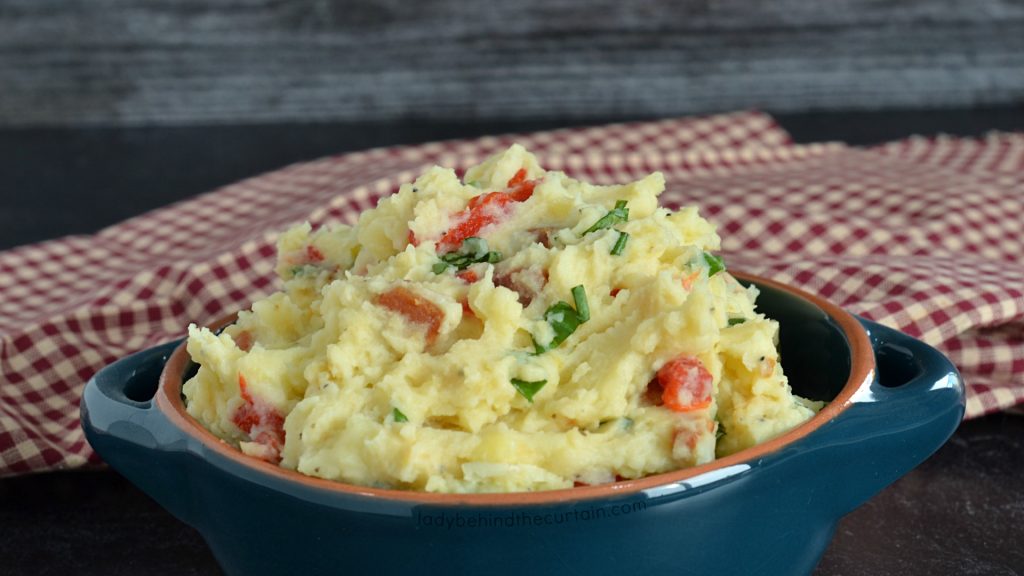 FLAVOR! So much great flavor
Easy ingredients
The perfect every time base recipe for mashed potatoes
Can be made ahead of time and frozen (more on that below)
No gravy needed
Tips for making the perfect bowl of mashed potatoes
Choose the right potato for the job.
Salt the water. As the potatoes cook they will absorb the salt. If you salt at the beginning you won't have to add as much salt at the end.
Starting with cold water. If you start with hot water the potatoes will cook unevenly.
Drain the potatoes well. Not draining your potatoes could result in mushy, watery potatoes.
Pour potatoes back into the hot pot, add butter, place lid on the pot, wait 5 minutes and beat until creamy.
Keep potatoes in the original (hot) pot until ready to serve and then transfer potatoes to your serving bowl.
Mixer vs. Masher vs. Ricer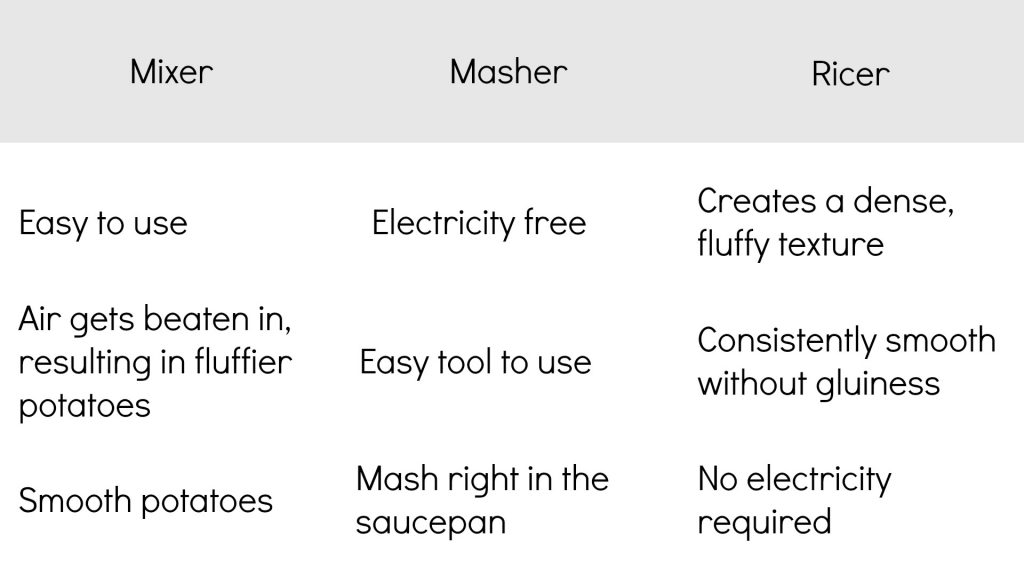 WHAT TOOL DO I USE THE MOST? I use the masher more then I use a mixer. I've never used a ricer. There are two reasons for me grabbing my masher. One: Convenience, I don't have to get my mixer out. Two (and the most important reason): My husband prefers chunky mashed potatoes. For this—The Best Holiday Mashed Potatoes recipe—I used a mixer and I really liked the texture. For this recipe I used my hand mixer, if you like creamy mashed potatoes then I would recommend using your hand mixer for this recipe.
How to Freeze and Reheat Mashed Potatoes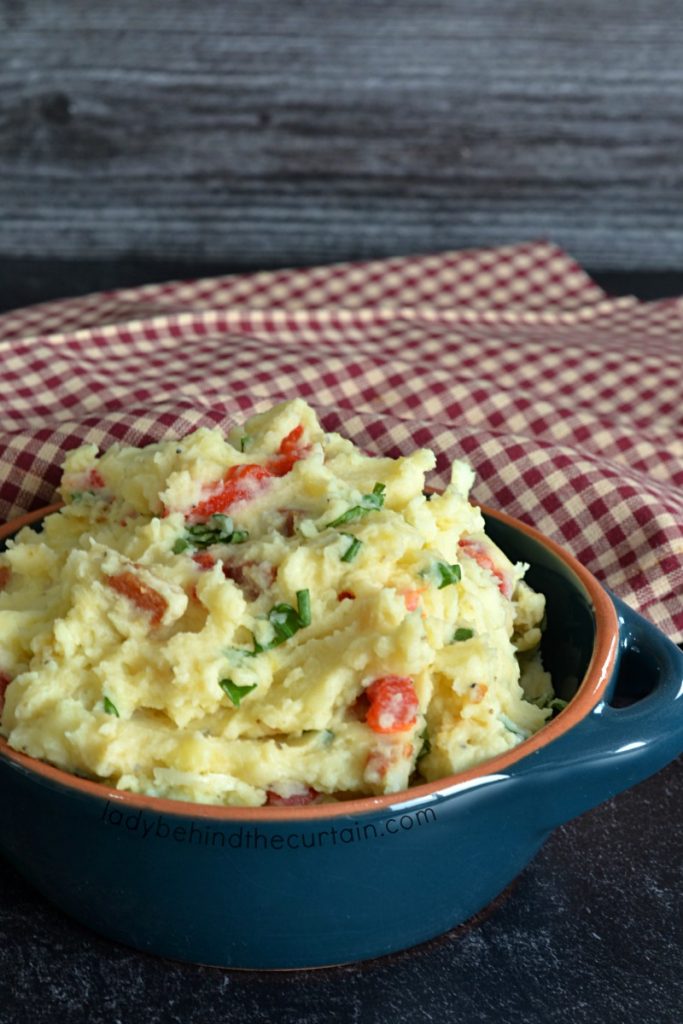 Freezing
Make the mashed potatoes as instructed (JUST PLAIN NO MIX INS).
Cool completely
Scoop into a large container with a tight fitting lid
Freeze until Thanksgiving (well….a few days before to allow for defrosting)
Reheating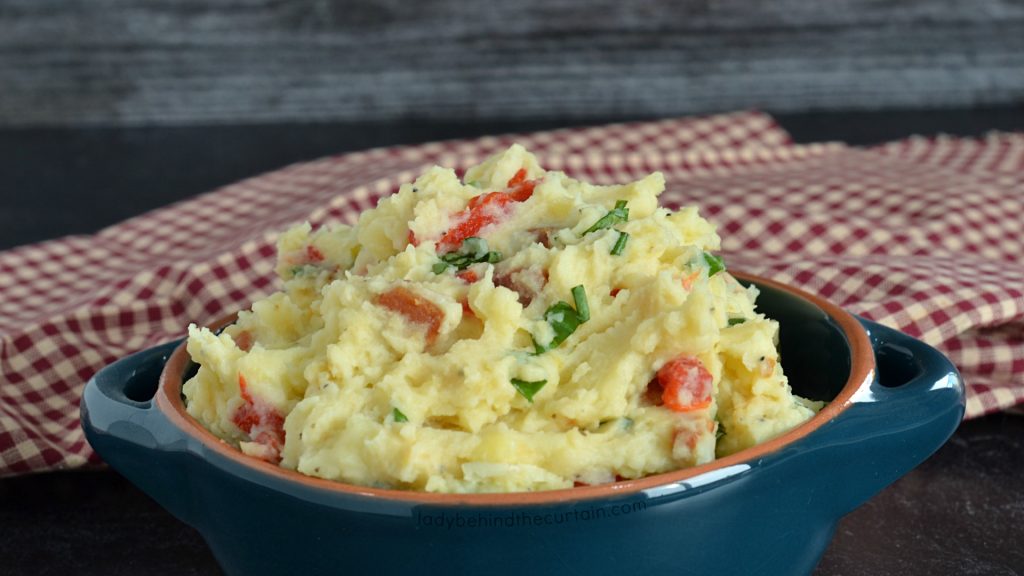 Take the potatoes out of the freezer at least two days before your dinner and place in the refrigerator to thaw
Stovetop: Spoon thawed mashed potatoes in a large pot on low to medium low heat, stirring occasionally.
Oven: Spoon mashed potatoes into a heat proof dish that has a lid. Place in a cold oven. Heat oven to 350°. Depending on the amount of potatoes and the shape of the dish (shallow or deep). The reheating time will vary. Allow 30 minutes to 1 hour. TIP: Stir after 30 minutes.
Slow Cooker: Spoon thawed mashed potatoes into a slow cooker. Heat on low 2 to 4 hours. BEST METHOD..IT FREES UP THE STOVE AND OVEN!
Microwave: Spoon mashed potatoes into a microwave safe container. Heat a total of 6 minutes at regular powder. Heat in increments of 2 minutes, stirring between each time.
FINAL THOUGHTS: Once reheated, if the potatoes seem to be on the watery side, stir in some sour cream or cream cheese to give them a thicker creamier texture. If the potatoes are thick and chunky, add a couple of splashes of milk. Taste the potatoes and add more butter, salt and pepper is necessary.
MORE SIDE DISH RECIPES
NEVER MISS A POST
Side dish recipes to go with Italian Mashed Potatoes. GREEN BEAN CASSEROLE and CHOPPED FALL FRUIT AND VEGETABLE SALAD.