Large Bakery Size Pistachio Cookies
Large Bakery Size Pistachio Cookies: Transform your favorite holiday pistachio salad into your favorite holiday cookie. Pistachio Salad or Watergate Salad (whichever name you use) is always a staple at our house for the holidays. These delicious cookies are made with pistachio pudding, chunks of pineapple, pistachio nuts (or walnuts) and marshmallows. A soft chewy cookie with all the flavors we love! Follow some of the easy tips listed below to make your own bakery style cookies at home.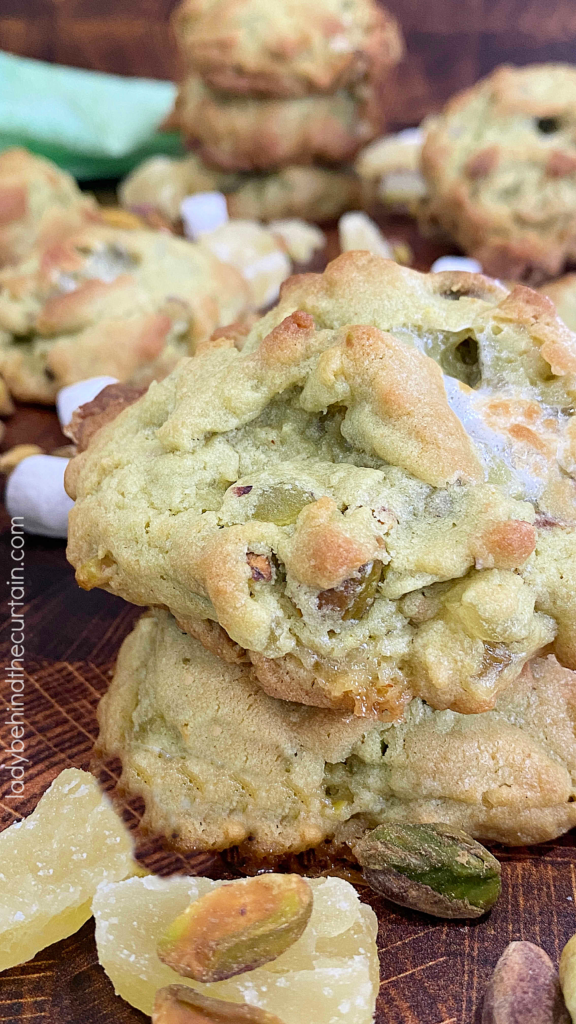 What Makes These Pistachio Cookies Soft and Chewy?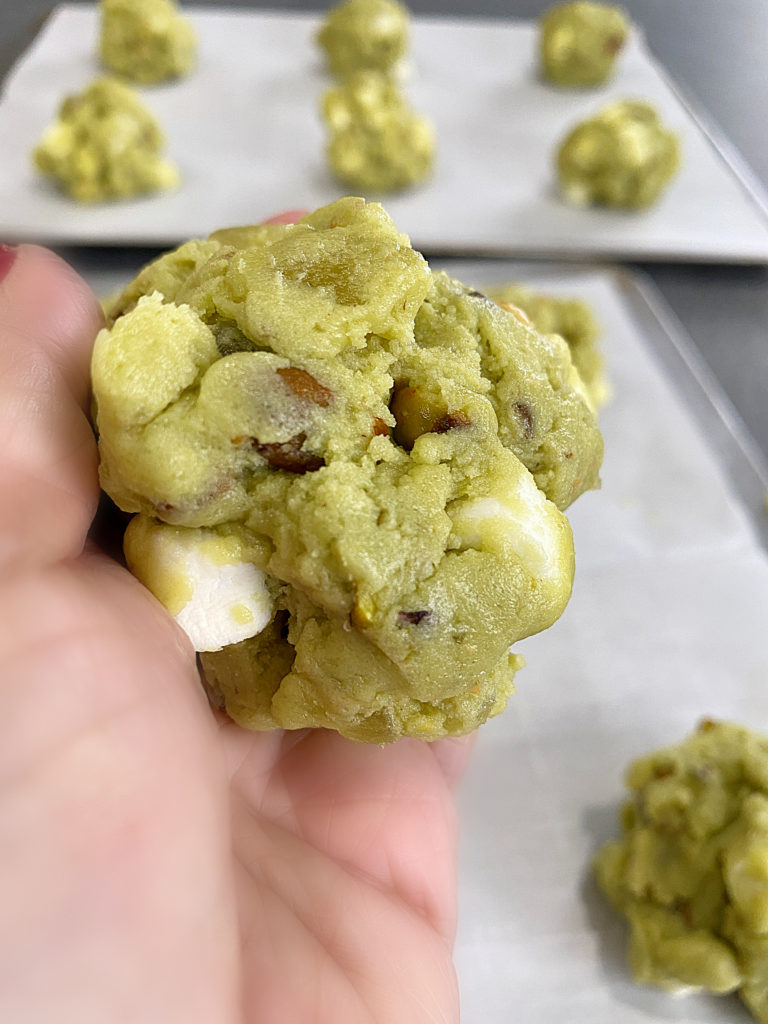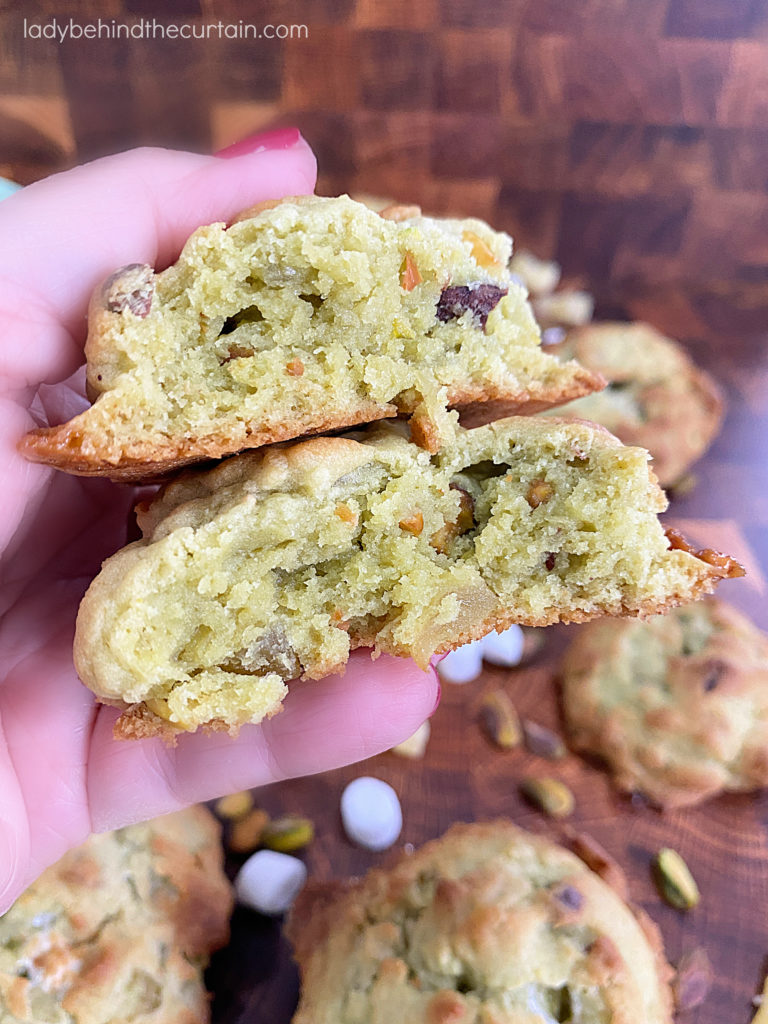 BROWN SUGAR: Use more brown sugar then white sugar. The light brown sugar creates a thicker, softer, and chewier cookie than using mostly white sugar.
BAKING POWDER: Baking soda can help create crisper cookies, but we want a thick soft cookie so omit the baking soda.
HANDLING THE DOUGH: When forming the cookie ball, don't press the dough together too much. Try to keep it airy. Only press it together enough for it to stay together. CHILL THE DOUGH BEFORE BAKING: Once the dough is formed into balls and placed on a cookie sheet lined with parchment paper, slide the cookie sheet into the refrigerator for 30-60 minutes.
PUDDING MIX: Adding instant pudding to your cookie dough is a simple trick to amp up the flavor and also keep the cookies soft. TIP: MAKE SURE YOU'RE USING INSTANT PUDDING, NOT "COOK AND SERVE". Cook and serve has a lot of cornstarch and will alter the texture of the cookie and won't bake up as nicely.
ADD A SWIRL OF PISTACHIO FROSTING!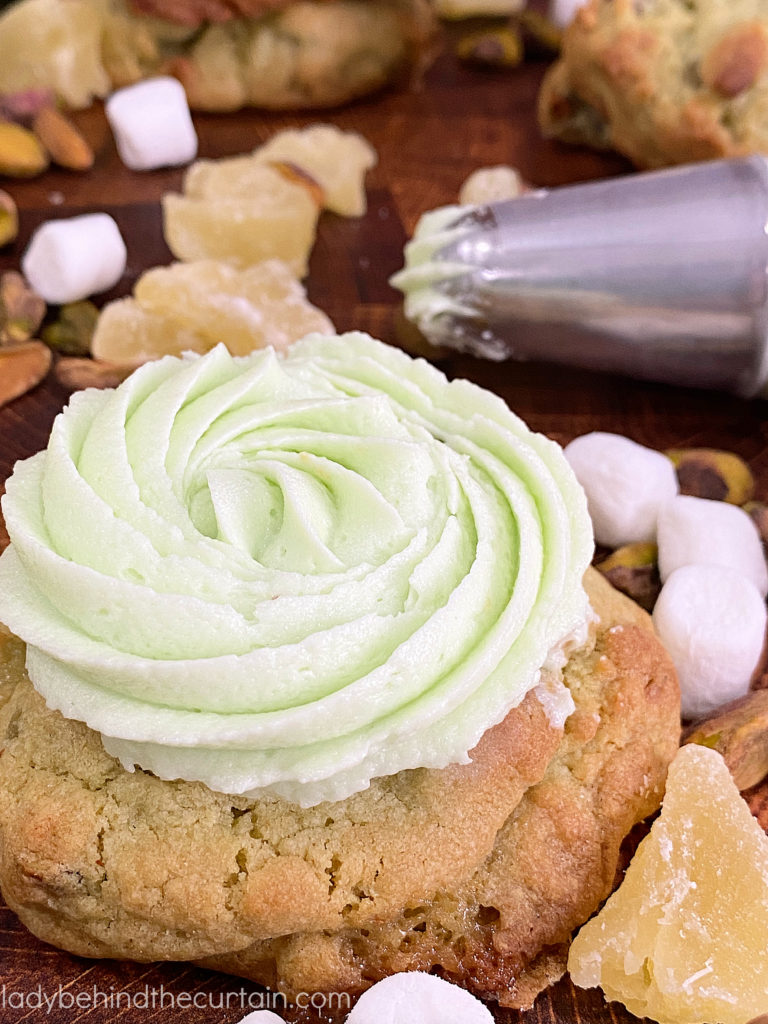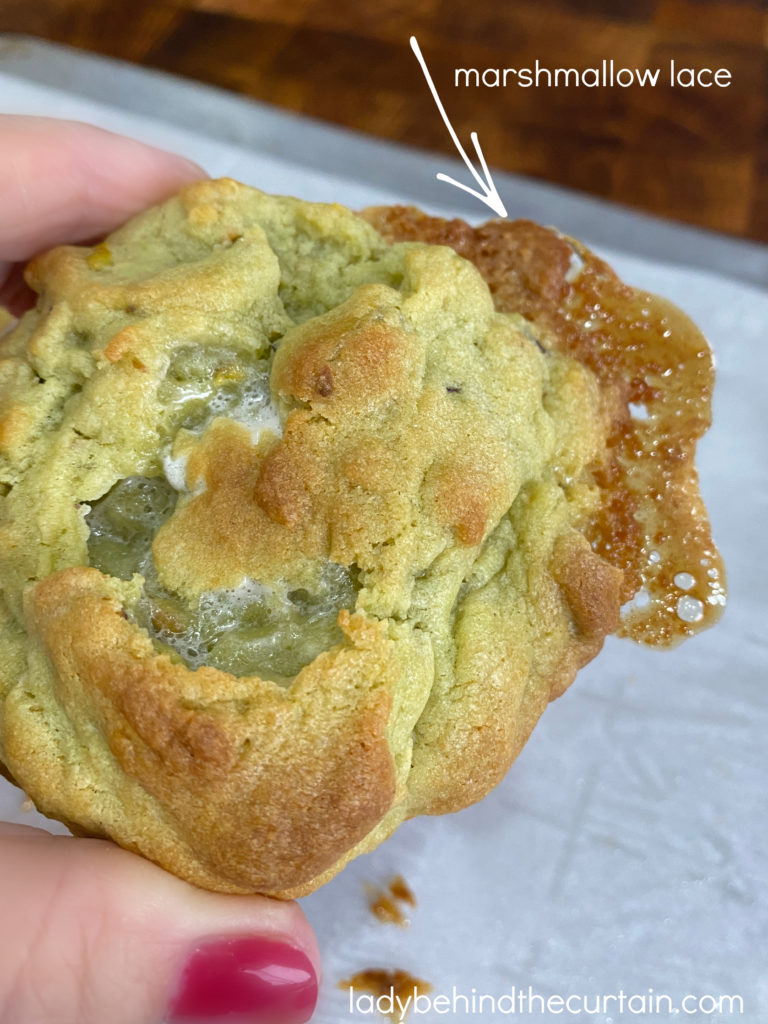 How to Make Large Bakery Size Pistachio Cookies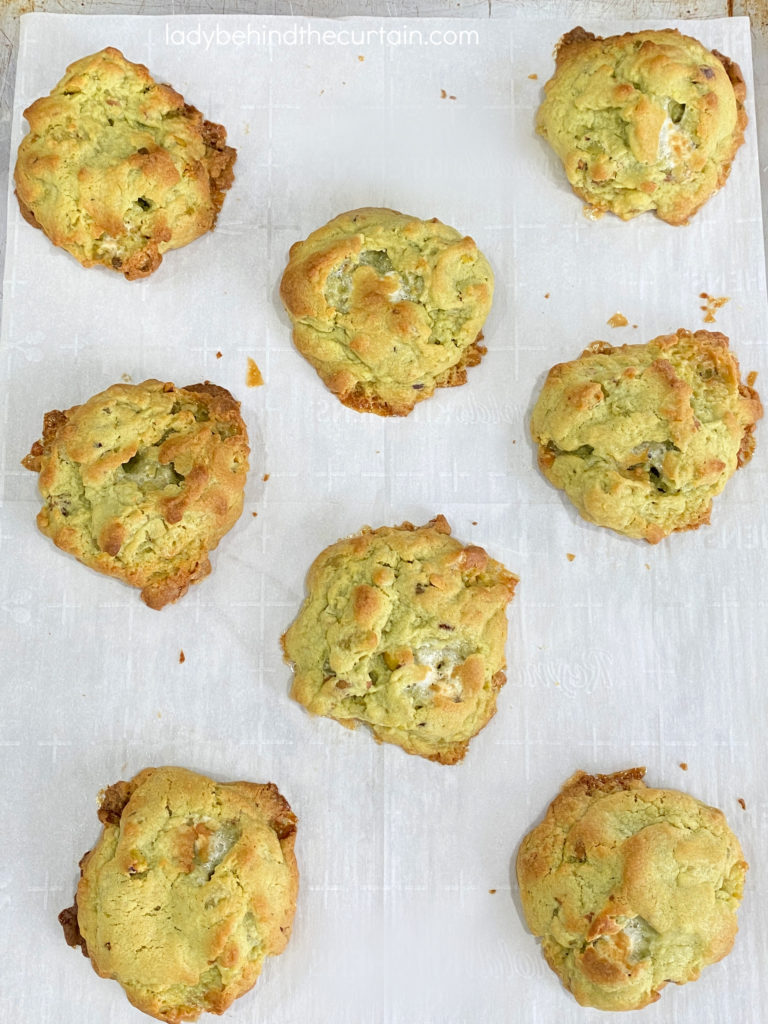 INGREDIENTS
1 (6 ounce) bag dried pineapple chunks (about 1 cup)
3 cups all purpose flour
1 teaspoon baking powder
½ teaspoon salt
1 cup unsalted butter, softened
¼ cup granulated sugar
¾ cup light brown sugar, packed
1 teaspoon vanilla extract
1 (3.4 ounce) box pistachio instant pudding mix (powder)
2 large eggs
¾ cup pistachio nuts or walnuts, chopped
1 cup mini marshmallows
few drops of green food coloring (optional)
DIRECTIONS
Put dried pineapple in a small saucepan cover with water. Bring to a boil and boil for 3 minutes or until pineapple is softened. Drain, wash with cold water, drain again and chop; set aside.
Mix flour, baking powder and salt: set aside.
Combine the butter, granulated sugar, light brown sugar, vanilla and instant pudding powder. Mix until smooth.
Beat in eggs, one at a time. Gradually add flour mixture.
Add chopped pineapple, chopped nuts and food coloring to cookie dough and mix.
Stir in marshmallows.
FOR SMALL COOKIES: Form into 1-1/2-inch ball and slightly press. Place 2-inches apart on a cookie sheet lined with parchment paper.
Place in the refrigerator 30 minutes.
Bake 10-12 minutes.
Cool cookies completely on parchment paper line cookie sheet.
FOR LARGE COOKIES: Divide dough into 3 ounce balls, place balls on a cookie sheet lined with parchment paper.
Place in the refrigerator 1 hour.
Preheat oven to 350°. NOTE: I BAKED MY COOKIES IN A CONFECTION OVEN. YOU MAY NEED TO ADJUST BAKING TIME ACCORDING TO YOUR OVEN.
Bake 18 minutes. Cool on completely on parchment lined cookie sheet.
MORE PISTACHIO RECIPE IDEAS
Good Ingredients Matter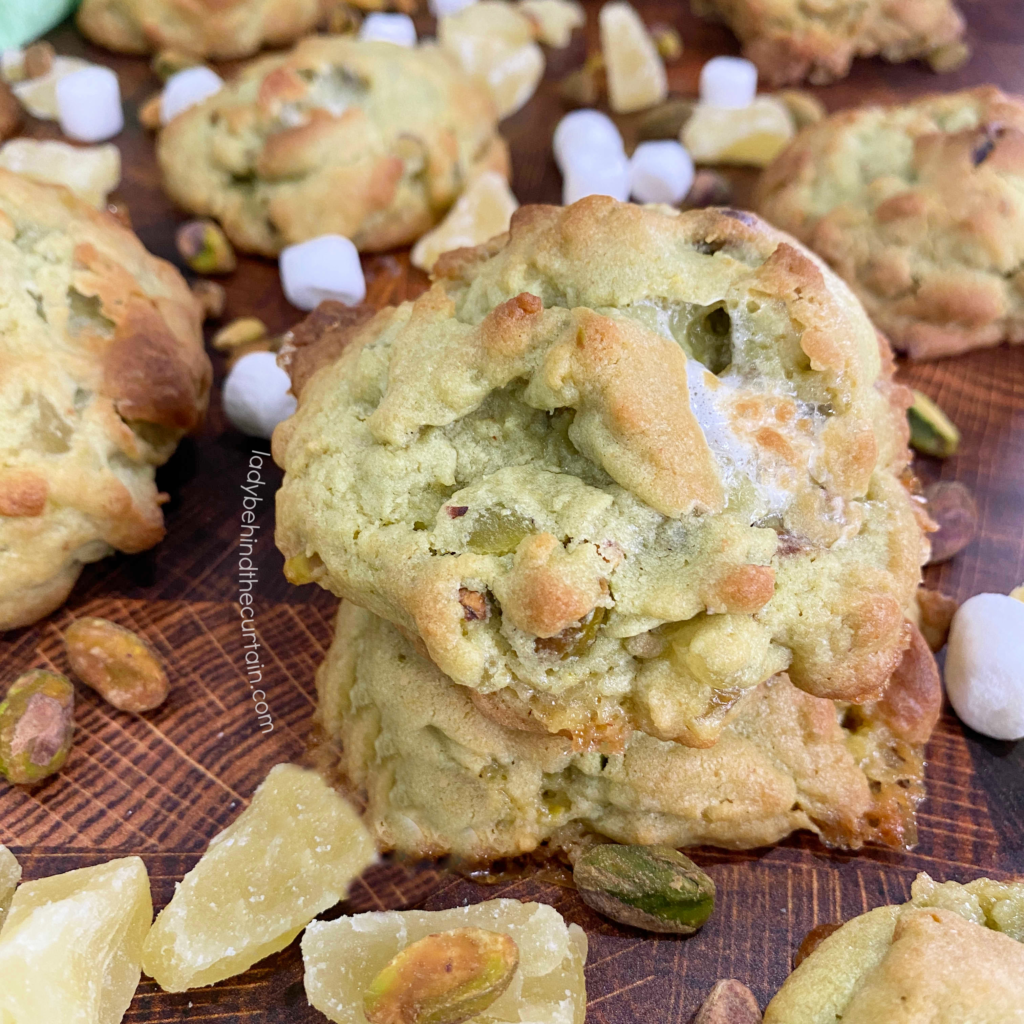 BUTTER VS MARGARINE
Don't skimp on this ingredient….YOU MUST USE REAL BUTTER. WHY? There are several reasons for choosing butter over margarine.
FLAVOR: Butter provides a rich flavor. BAKERS TIP: Always use unsalted butter when baking. You want to be in control of how much salt is in your recipe.
FAT CONTENT: Margarine contains more water and less fat, which makes for thin cookies that spread out while baking.
TIP: When baking always use unsalted butter. You want to be in control of the salt.
CAN THIS RECIPE MAKE SMALLER COOKIES?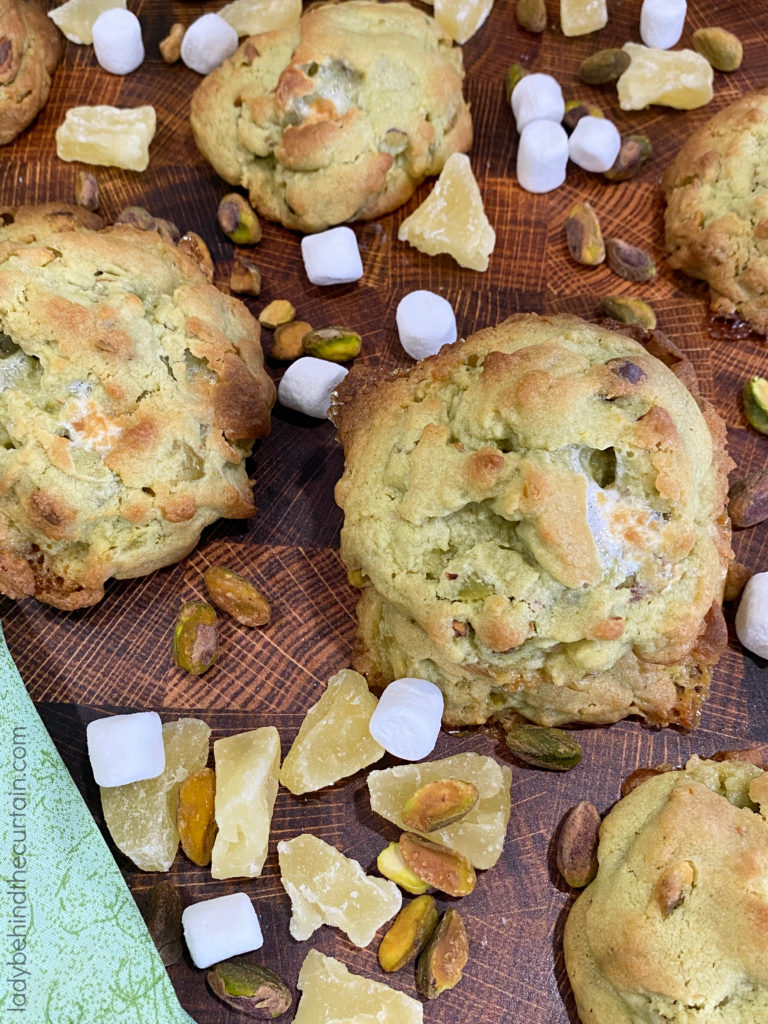 CAN THIS COOKIE DOUGH BE MADE AHEAD?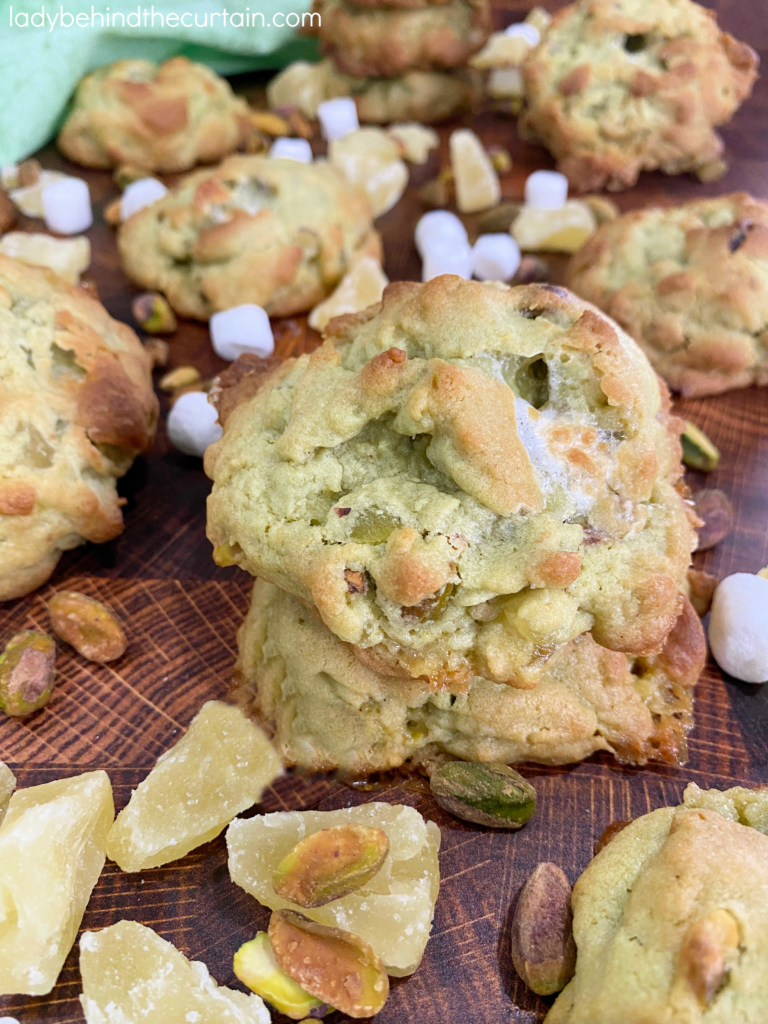 REFRIGERATOR: The cookie dough can be kept chilled in the refrigerator for up to 4 days.
FREEZER (BAKED COOKIES): Place baked cookies in a freezer safe bag. The cookies will stay fresh in the freezer up to 3 months.
FREEZER (COOKIE DOUGH BALLS): Cookie dough balls will stay fresh in the freezer up to 3 months. HOW TO FREEZE: Place the balls on a cookie sheet for a few hours before placing them in a freezer bag to store. BAKE FROZEN COOKIE DOUGH FOR AN EXTRA MINUTE, no need to thaw.
NEVER MISS A POST