Light Cranberry Orange Scones
Anybody that knows me knows that my favorite flavor for baked goods is cranberry orange.  But eating full calorie baked goods is not a "good" thing.  That's why I created these Light Cranberry Orange Scones.  I can eat them without guilt!  To complete my breakfast I add a low fat yogurt.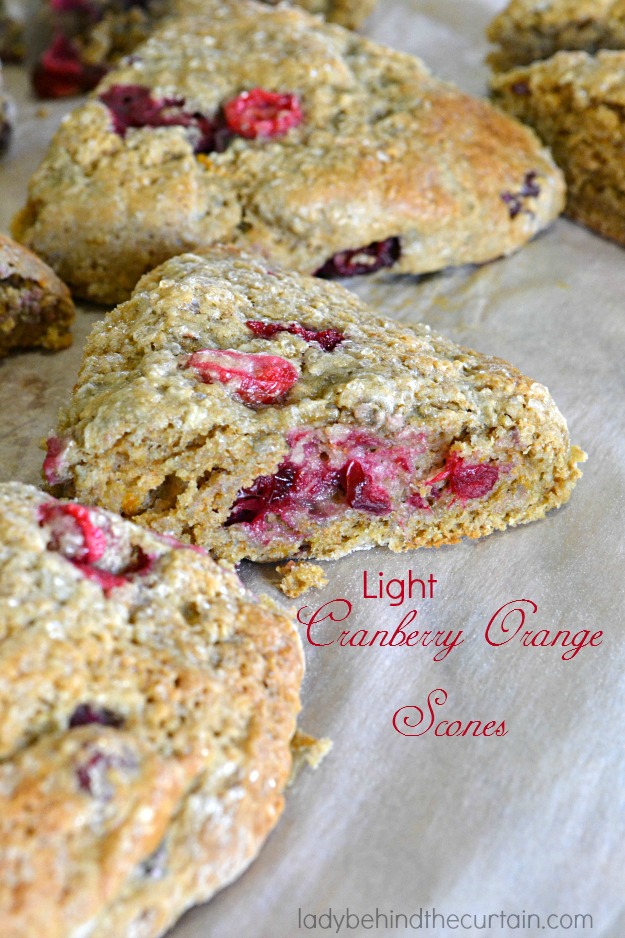 With healthy ingredients like whole wheat flour and oat bran I know I'm doing something good for me.  This recipe makes enough dough to make TWO rounds.  That way you can freeze one or bake all the scones and freeze half of them already baked.  For this recipe I used fresh cranberries.  You can substitute dried cranberries in a smaller quantity.  Remember by using dried cranberries you will be adding more sugar.  TIP:  I always buy extra cranberries when they're in season and put them in the freezer.  That way I can have fresh cranberries anytime I want.
Separate dough into two pieces.  Pat dough into 2 6-inch disks and cut into 6 wedges.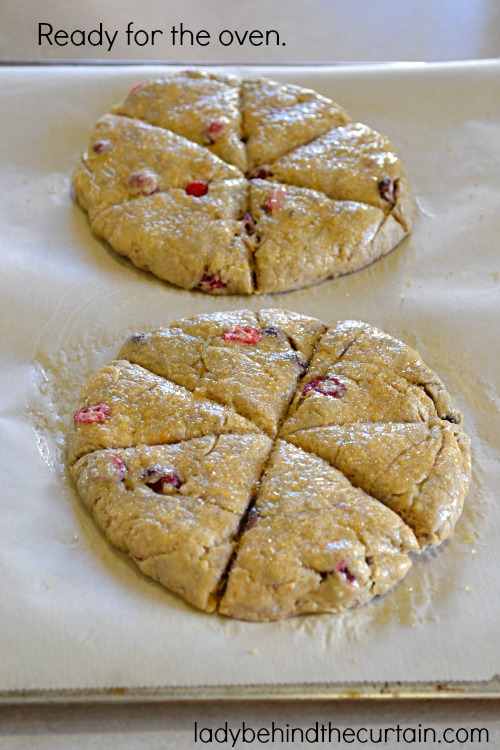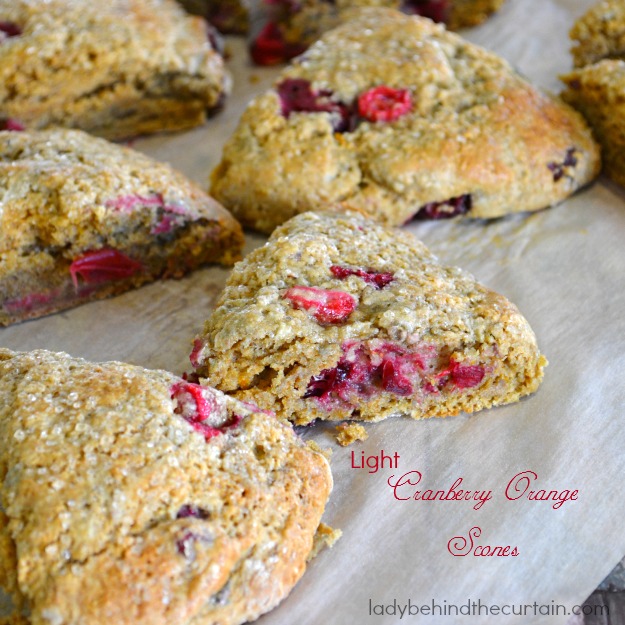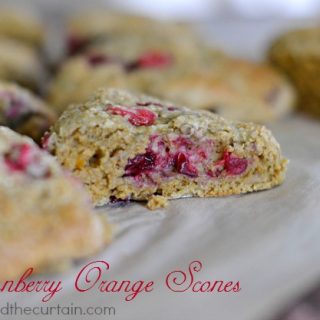 Light Cranbery Orange Scones
Ingredients
2/3 cup fresh cranberries, divided
2 tablespoons Splenda
1 1/2 cups white whole wheat flour
1/2 cup oat bran
1/3 cup light brown sugar
2 teaspoons baking powder
1 teaspoons baking soda
1/2 teaspoon salt
2/3 cup 2% milk
1/3 cup light sour cream
2 tablespoons butter, melted
2 teaspoons orange zest
1/2 teaspoons vanilla extract
1 egg
1 tablespoon water
1 teaspoon turbino (raw) sugar
Instructions
Preheat oven to 400 degrees.
Line a cookie sheet with parchment paper.
Slice 1/2 cup of the cranberries and leave the remaining 1/3 cup whole.
Put in a small bow, sprinkle Splenda over cranberries and set aside.
In a large bowl, combine flour, oat bran, brown sugar baking powder, baking soda and salt.
In another medium bowl whisk together the milk, sour cream butter, orange zest and vanilla.
Add wet ingredients to dry ingredients and fold in prepared cranberries.
Stir until a soft dough is formed. NOTE: Add a more flour if the dough is sticky.
Divide into 2 pieces.
Shape each piece into a ball, place balling on the prepared cookie sheet, pat dough into a 3/4-inch thick disk about 6-inches in diameter.
Using a sharp knife cut each circle into 6 wedges, BUT DO NOT SEPARATE THEM.
In a small bowl add the egg and water, light beat.
Brush egg wash lightly over top of dough, sprinkle with trubino (raw) sugar.
Bake 19 minutes or until scones are puffed up and golden.
Cool slightly, pull scones apart and serve warm.