Light Vanilla Cherry Chocolate Frozen Yogurt
When that urge to snack hits me late at night and I want something good.  I choose to have this guilt free Light Vanilla Cherry Chocolate Frozen Yogurt!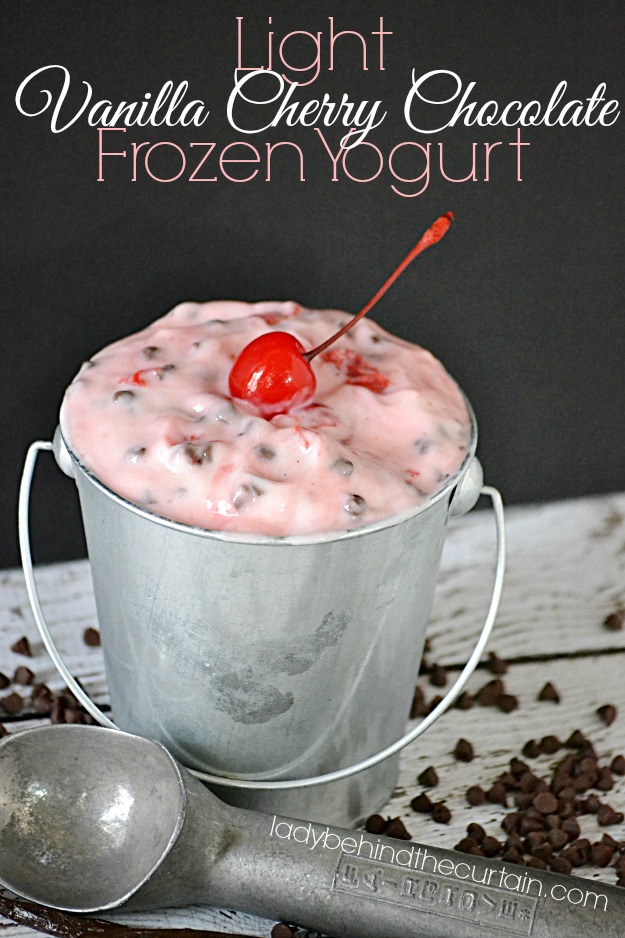 We are big ice cream eaters, having this Light Vanilla Cherry Chocolate Frozen Yogurt on hand helps us with our ice cream craving but doesn't hurt the waistline.
This frozen yogurt is creamy and full of mini chocolate chips.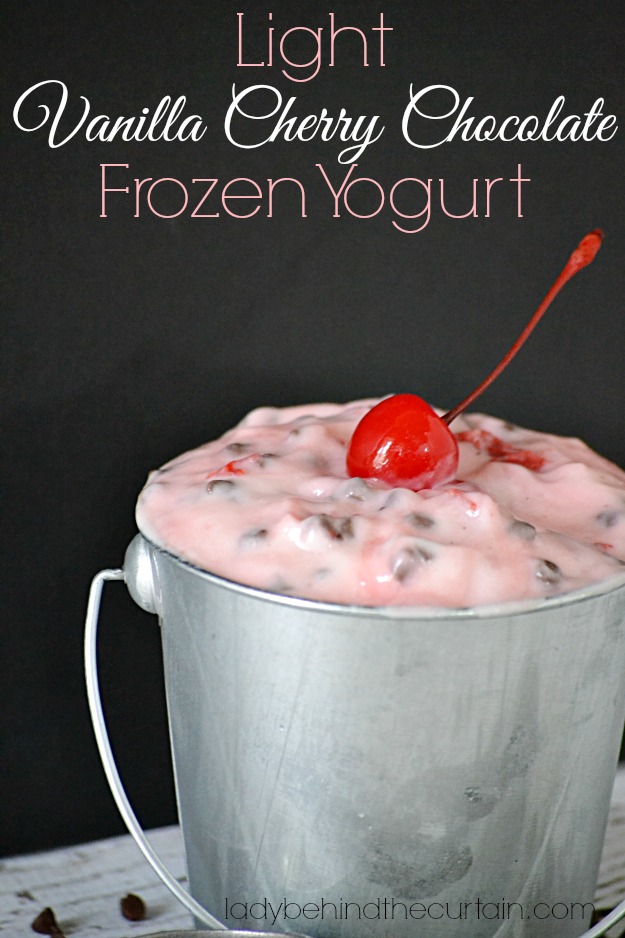 Putting aside that this recipe is a light recipe it would be amazing along side a big slice of these CLASSIC BROWNIES.
Create your own Recipe Box and save your favorite Lady Behind The Curtain recipes.  Make a Meal Plan with your favorite recipes and ZipList will automatically add the ingredients to a Shopping List.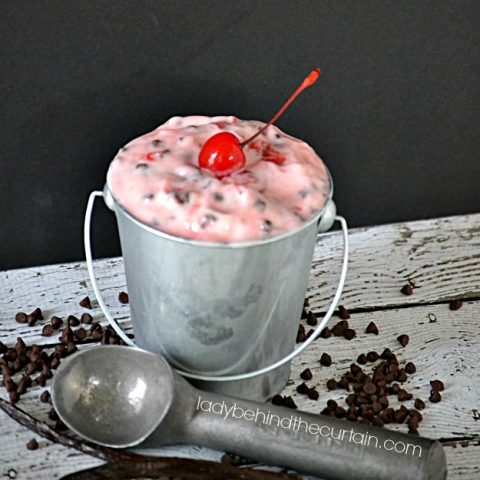 Light Vanilla Cherry Chocolate Frozen Yogurt
Ingredients
1 1/2 cups 2% milk
1/3 cup granulated sugar
4 cups low fat vanilla yogurt
1 1/2 cups sugar free with Splenda cherry pie filling, divided
1 teaspoon vanilla paste or extract
1 teaspoon cherry extract
1 cup mini semi sweet chocolate chips
Instructions
Use a hand mixer to combine the milk and sugar until the sugar is dissolved, about 1 to 2 minutes.
Stir in yogurt, 1/2 cup cherry pie filling, vanilla and cherry extracts until combined.
Turn the ice cream machine on; pour the yogurt mixture into the freezer bowl, and let mix until thickened, about 20 to 25 minutes or as your machine instructs.
During the last 5 minutes add the remaining cherry pie filling and mini chocolate chips.
If you prefer the yogurt to be firm transfer the frozen yogurt to an airtight container and freeze for an additional 2 hours.
MORE FROZEN TREATS
1. SPARKLING PEACH SLUSH PUNCH  2. KID FRIENDLY SANGRIA FRUIT POPS  3. PISTACHIO PUDDING ICE CREAM  4. PICK YOUR COLOR VANILLA PUDDING POPS