Maple Pecan Butter. A light a creamy butter with tons of maple flavor—a wonderful crunch from the toasted pecans. Take regular toast up a notch with this creamy delicious Maple Pecan Butter—or add it on top of a pile of fluffy pancakes. For an added bonus—add crumbles of crispy cooked bacon! Place this delicious butter next to the plain butter on your breakfast buffet.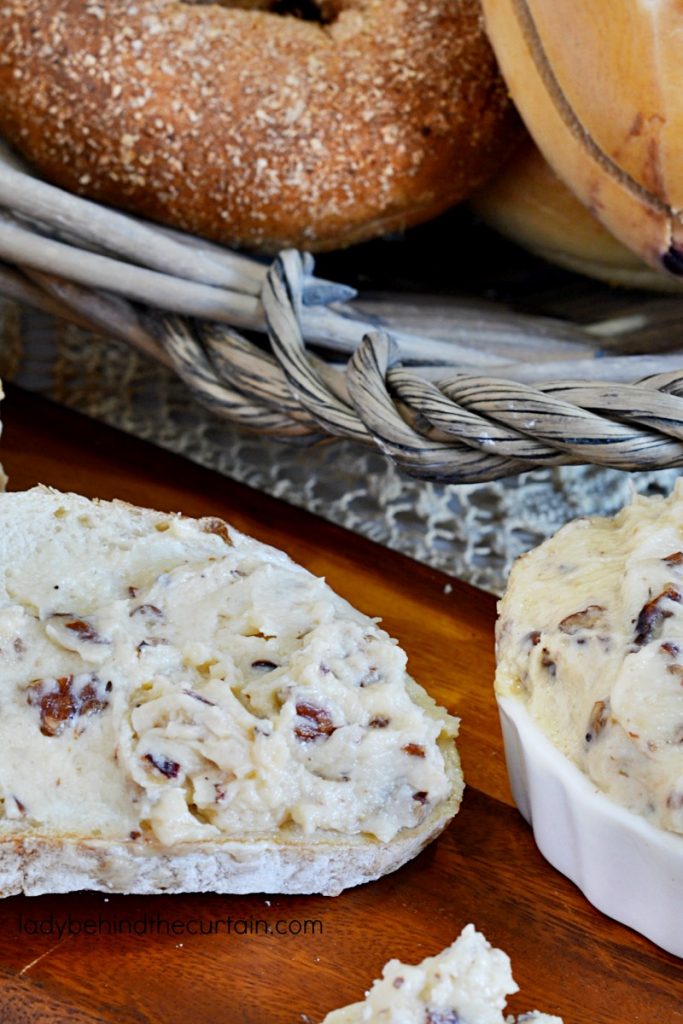 I love this Maple Pecan Butter
Here's why….
Easy to make
Lasts a long time in the refrigerator
Tastes incredible
Versatile: can be used as a spread or as a topping on pancakes and waffles
Makes any breakfast or buffet table special
Can also be served on hot rolls for dinner
How to make Maple Pecan Butter?
How to toast nuts
Pour nuts into a skillet (size depends on the amount of nuts that are being toasted—do not crowd nuts).
Heat on medium, stir to keep the nuts from burning
Once you can smell the toasted aroma and see a little brown the nuts are done.
Pour into a bowl to cool
Tips for storing this Maple Pecan Butter
You can store the cinnamon butter on the counter for 1-2 days.
To extend the life, store in the refrigerator (up to a month)
Freeze up to 6 months without the quality becoming affected.
What to serve with this Maple Pecan Butter:
Maple Pecan Butter
Yield:
Makes About 1 1/3 Cups
Perfect for breakfast or dinner!
Ingredients
1 cup unsalted butter, softened
¼ cup maple syrup
2 tablespoons powdered sugar
1/3 cup pecans, chopped and toasted
Optional: 3 slices bacon, fired crisp and crumbled
Instructions
Cream together the butter, syrup and powdered sugar. Stir in the pecans and optional bacon pieces. Refrigerate—take out an hour before serving time or store on the counter in a container with a tight fitting lid, up to 2 days.
NEVER MISS A POST
Some recipes to go with the Maple Pecan Butter. HOMEMADE ENGLISH MUFFINS and PLAIN BAGELS.