Halloween Marshmallow Pumpkin Pops
Halloween Marshmallow Pumpkin Pops| These fun easy to make creepy pumpkin pops are covered with orange colored vanilla candy and dipped in crunchy orange sugar.  The cute spider hanging from the leaf adds a touch of whimsy to this delicious Halloween Party Treat!  They can also be used as yummy place card holders or party favors.  I love handing out homemade goodies to the neighborhood kids (I usually hand deliver them) and this is one of their favorites.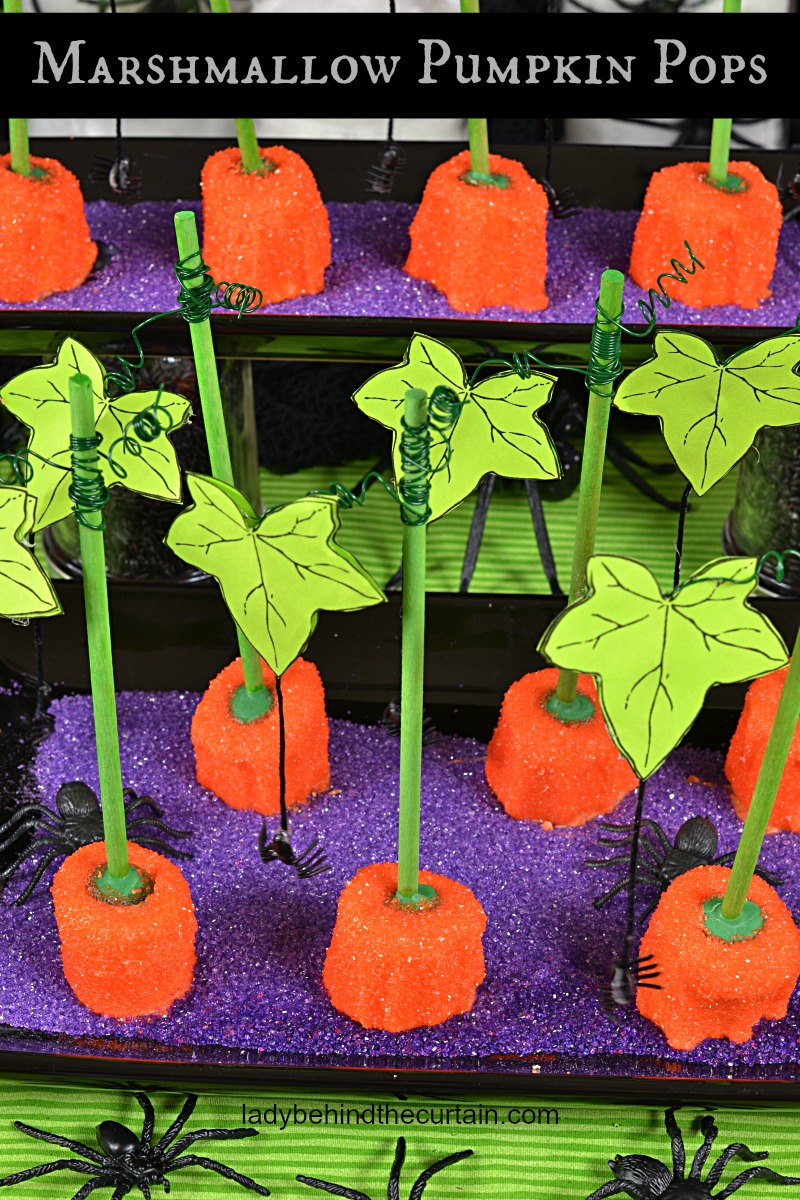 Halloween Marshmallow Pumpkin Pop Creepy Spider Topper Supplies
small dowels cut into 6½ inches
Green gel food color
paint brush (new or only used on food items)
wax paper
green card stock paper
low temp glue gun
scissors
22 gauge green wire (Michaels)
black crochet thread (cut into 4-inch pieces)
small spider
Directions
Add a small amount of the green gel food coloring to a bowl.  Dilute it with water, stir to combine.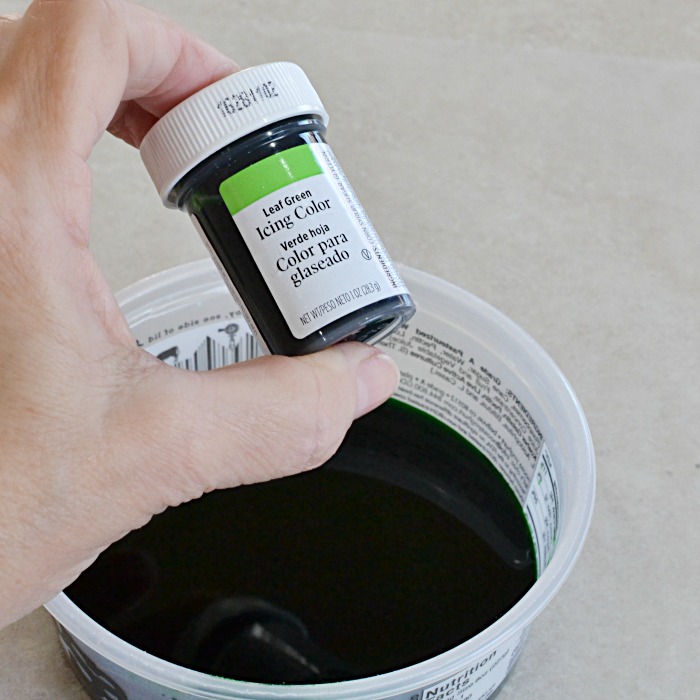 Paint the dowels with the food coloring.  Place on wax paper to dry.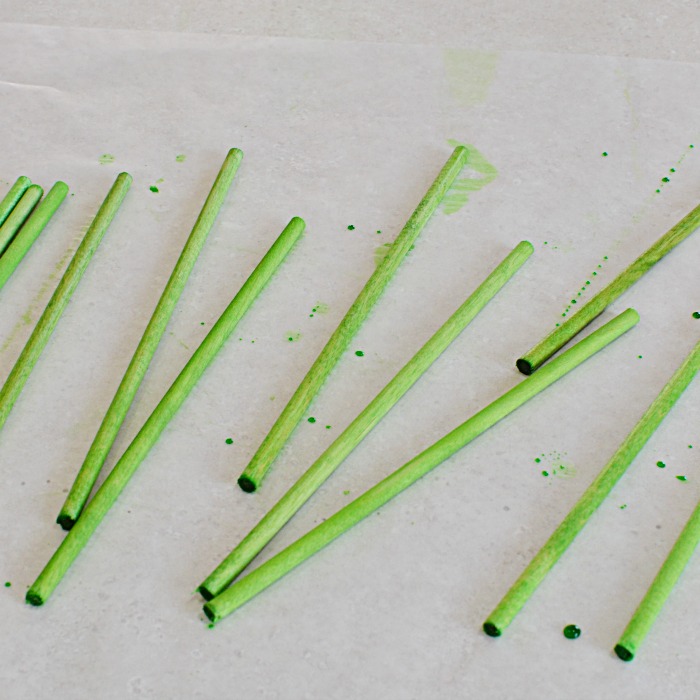 Print out the LEAF TEMPLATE on the green card stock paper and cut out.  You'll need two leaves per topper.  Hot glue spider to cut thread.
Cut a piece of wire 24-inches.  Fold the wire in half.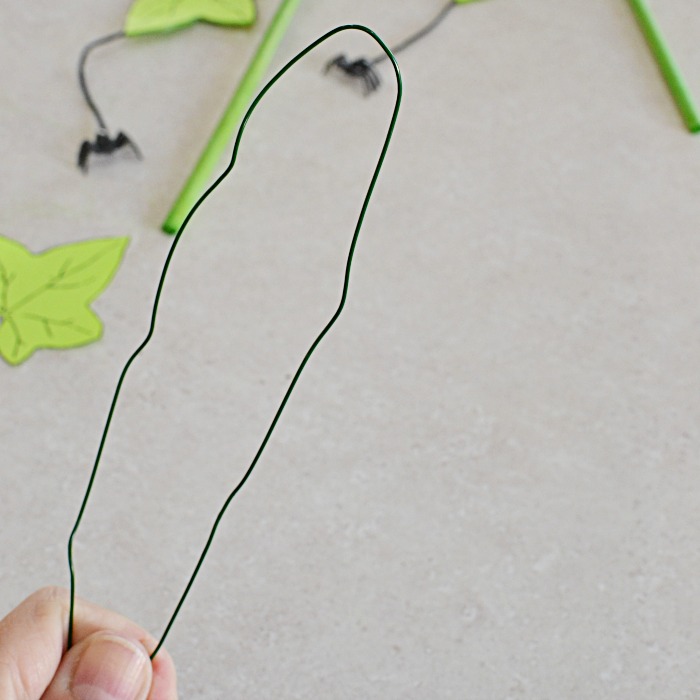 Wrap the wire (around the painter dowel) on the left side.  Then on the right side.
Use another dowel and wrap one end around to make the spiral vine (save the other side for the leaf).
Lay wire on top of the bottom leaf, add hot glue to the wire and the outer edge of the leaf, lay a piece of the cut thread with the spider on top of the wire.
Set aside and prepare to make the marshmallow pop.
Halloween Marshmallow Pumpkin Pop Supplies
regular size marshmallows
green candy melts
orange candy melts
orange sugar sprinkles
Directions
Place a marshmallow on a flat surface covered with parchment or wax paper.  Melt the green candy in a microwave safe bowl.  Dip the tip (the opposite end from the leaf) of the dowel into the melted candy.
Press straight down in the center of the marshmallow (making sure you don't go through the bottom).  Let the candy harden.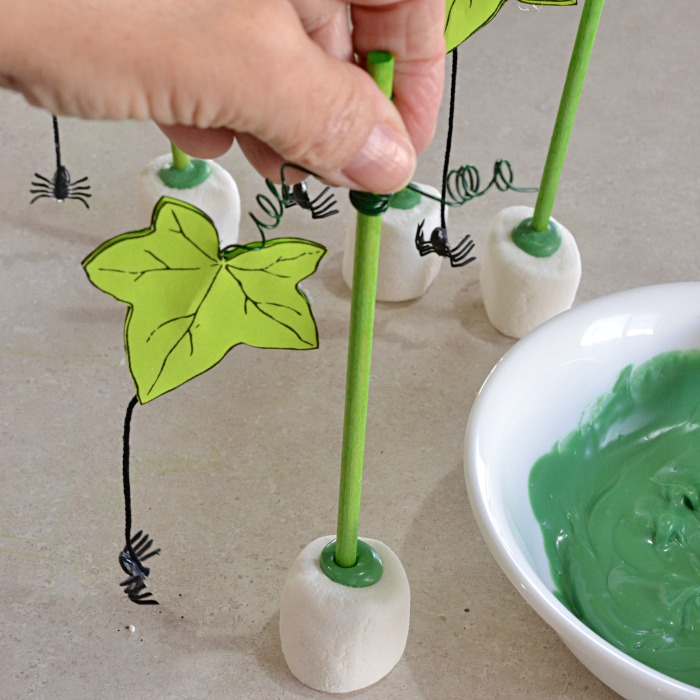 Melt the orange candy in a microwave safe bowl (about half a bag per 6).  If candy is too thick add a tablespoon of shortening.  Have another bowl available to catch the sprinkles.  Dip the marshmallow into the melted candy.  NOTE:  I used a spoon to help with this process.  Completely coat the marshmallow with the candy and with a spoon coat the marshmallow.  Also use the spoon and drag down to make pumpkin like ridges.  Add the orange colored sugar immediately while the candy is still wet.  Set on the paper lined cookie sheet to harden.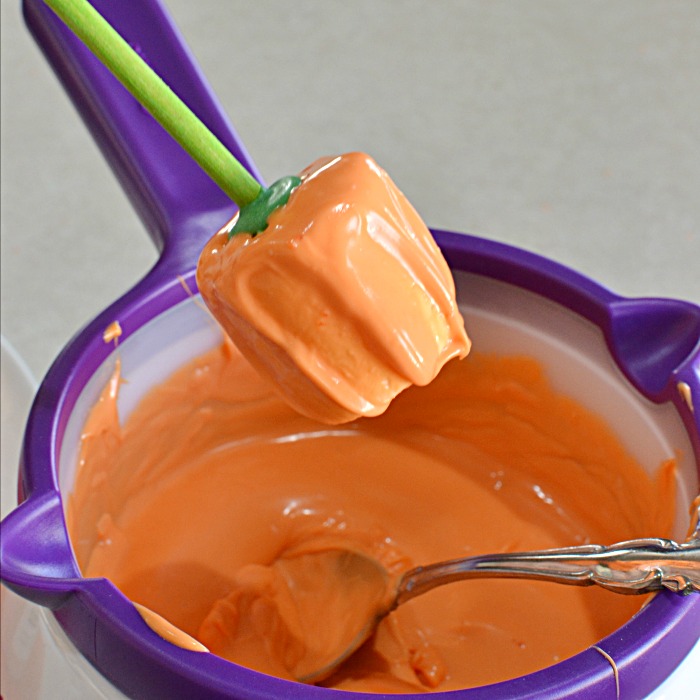 MORE HALLOWEEN SPIDER TREAT IDEAS
HALLOWEEN MARBLE CAKE IN A JAR  2. HALLOWEEN SPIDER PRETZELS  3. HALLOWEEN PUMPKIN CAKE
NEVER MISS A POST!
Sign up for my newsletter (two per month) and receive my recipes in your inbox. Easy to see anytime and saved for safe keeping. Click Here and sign up today! —->>>>CURTAIN CALL NEWSLETTER