No Bake Strawberry Cheesecake
No Bake Strawberry Cheesecake |  Light, fluffy, creamy and delicious!  The best Valentine's Day Dessert!  This easy to make dessert is perfect for any occasion and reminds me of a Chiffon Dessert.
What's cheesecake without a graham cracker crust?  I decided to change up the normal crust and add Homemade Graham Cracker Toppers.  Fill half pint jars with this light and airy delight, submerge an appetizer size spoons into the cheesecake and add a delicious graham cracker topper.  So much fun and yummy too!
Yield: Serves 10
Strawberry Cheesecake with Graham Cracker Topper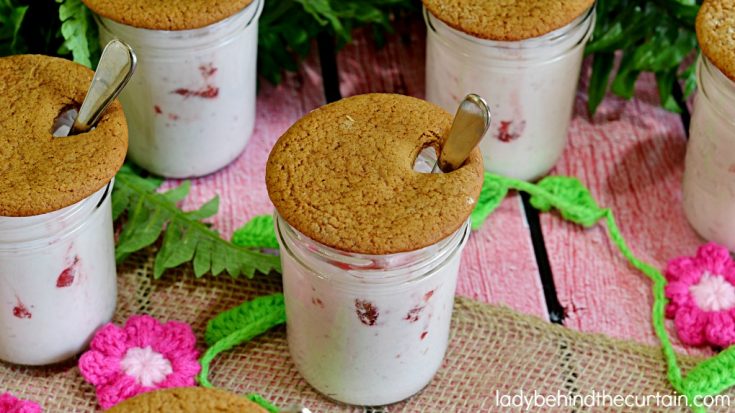 Ingredients
2 (8 ounce) cream cheese, room temperature
1 (8 ounce) tub cool whip
2 cups confectioners' sugar
2 cups chopped fresh or frozen (thawed) strawberries
2 tablespoons cornstarch
10- half pint jars
Instructions
Beat cream cheese until creamy, add cool whip and confectioners sugar.
Blend until well combined.
Add in strawberries and cornstarch.
Blend to break up the strawberries.
Store in refrigerator.
When ready to serve spoon cheesecake into 10 half pint jars; insert appetizer size spoons and top with graham cracker toppers.
MORE NO BAKE CHEESECAKE DESSERTS
STRAWBERRY LEMONADE CHEESECAKE SANDWICH COOKIES  2. PEACH CHEESECAKE DIP  3. CHEESECAKE PARTY BITES