Banana Bread No Bake Cheesecake
This delicious Banana Bread No Bake Cheesecake is the perfect summer and potluck dessert. More like a banana cream ice box pie or banana cream frozen pie. The perfect ending to the perfect dinner party. This amazing pie starts with my grandmas banana nut bread recipe and then, has a vanilla no bake cheesecake filling and topped with a homemade banana whipped cream that really makes this dessert phi-nominal!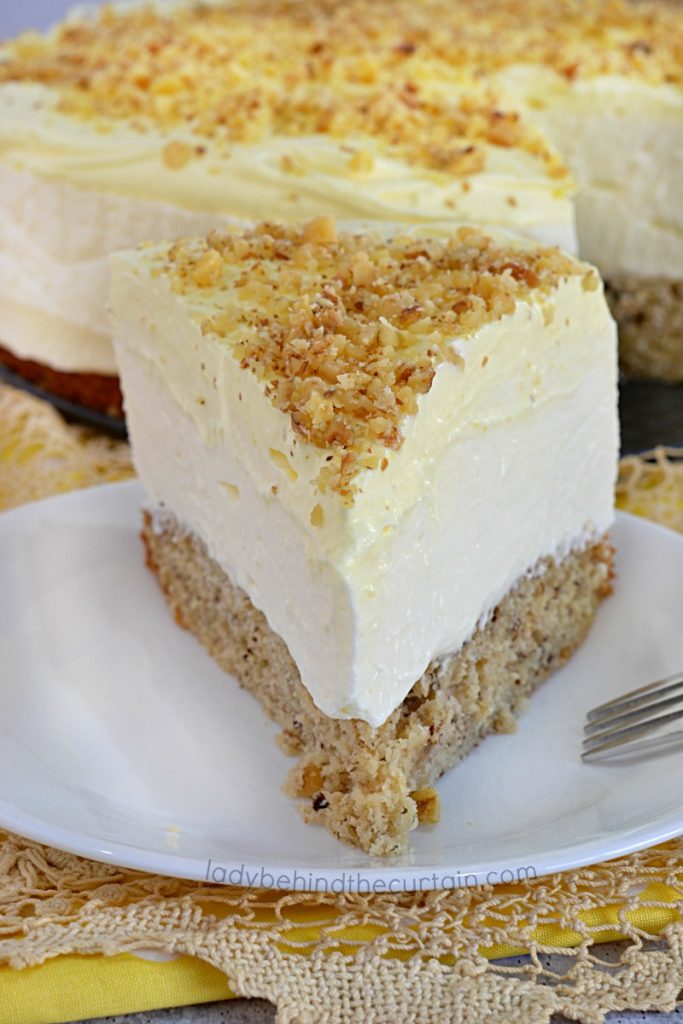 ---
A LITTLE HISTORY BEHIND THIS NO BAKE CHEESECAKE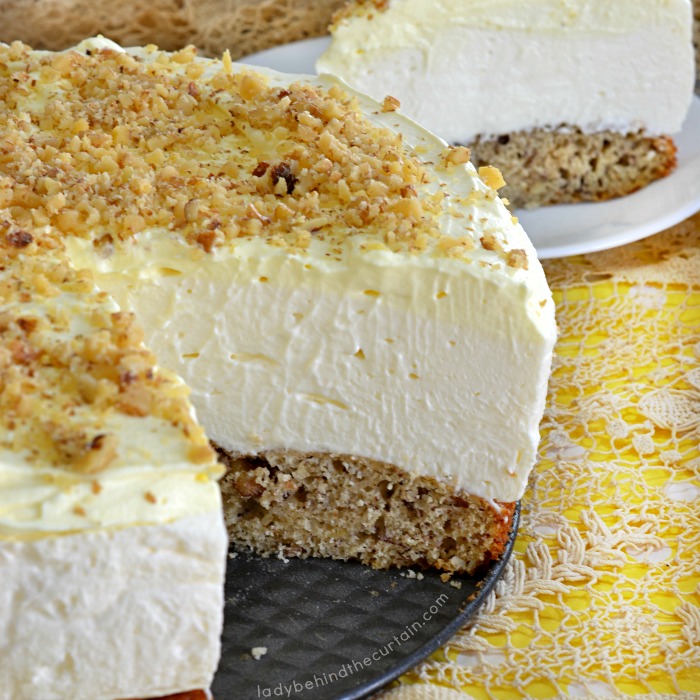 The cheesecake recipe base for this Banana Bread No Bake Cheesecake brings back so many fond memories. My husband and I are both from small towns. When we got married he was going to collage at Biola University which put us in the middle of the biggest city I had ever seen Los Angeles Ca! We found ourselves a small apartment…that had orange carpet and no air conditioning! We didn't care we had each other and our own place….this was 1981 and we had everything we could ever want….including a close by beach, tons of movie theaters and Disneyland! Anyway…..we quickly found out that this apartment building was full of older retired widowed women who would sit out in the courtyard every evening to gossip. It didn't take long for us to join them and bring dessert! It was a version of this no bake cheesecake that I would take down to them. So you see, this recipe has special meaning to me even though I have improved it a bit and made it my own. I still love that store bought graham cracker crust, cool whip, cream cheese and store bought cherry pie filling cheesecake.
---
SO LET'S TALK CHEESECAKE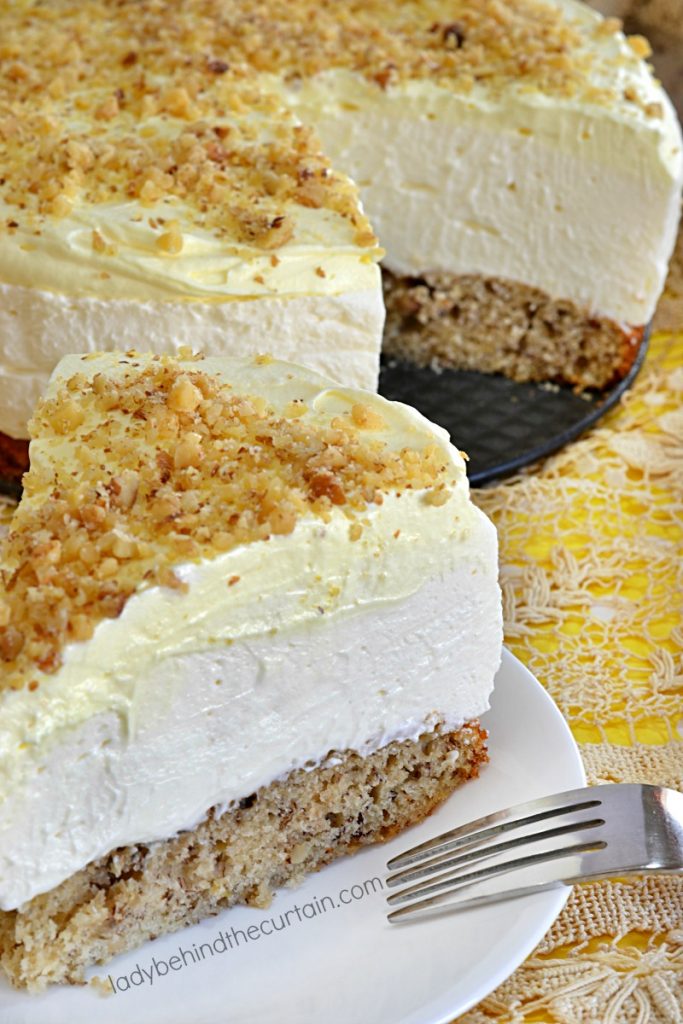 LET'S TALK CRUST
Okay….so you're used to a graham cracker crust and you can totally do that for this recipe. But…..I HIGHLY RECOMMEND making the banana nut bread crust. I think it's what makes this recipe stand out.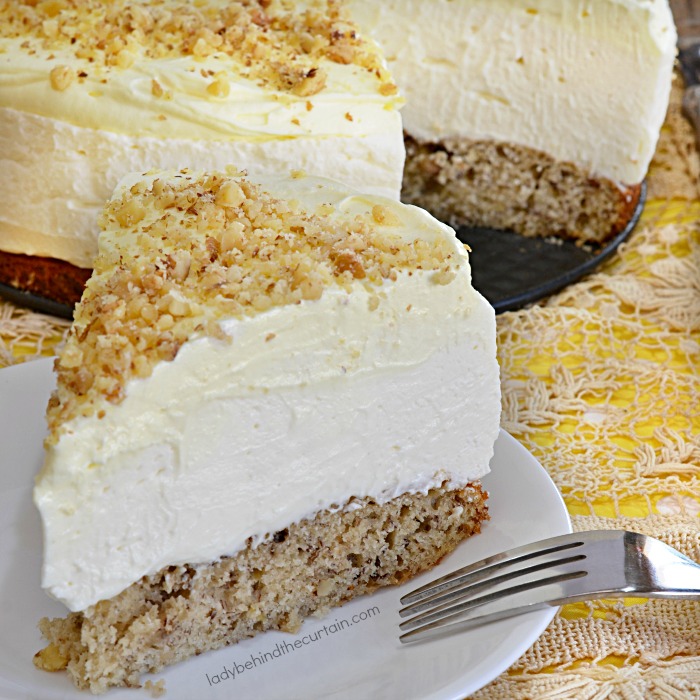 ONE MORE THING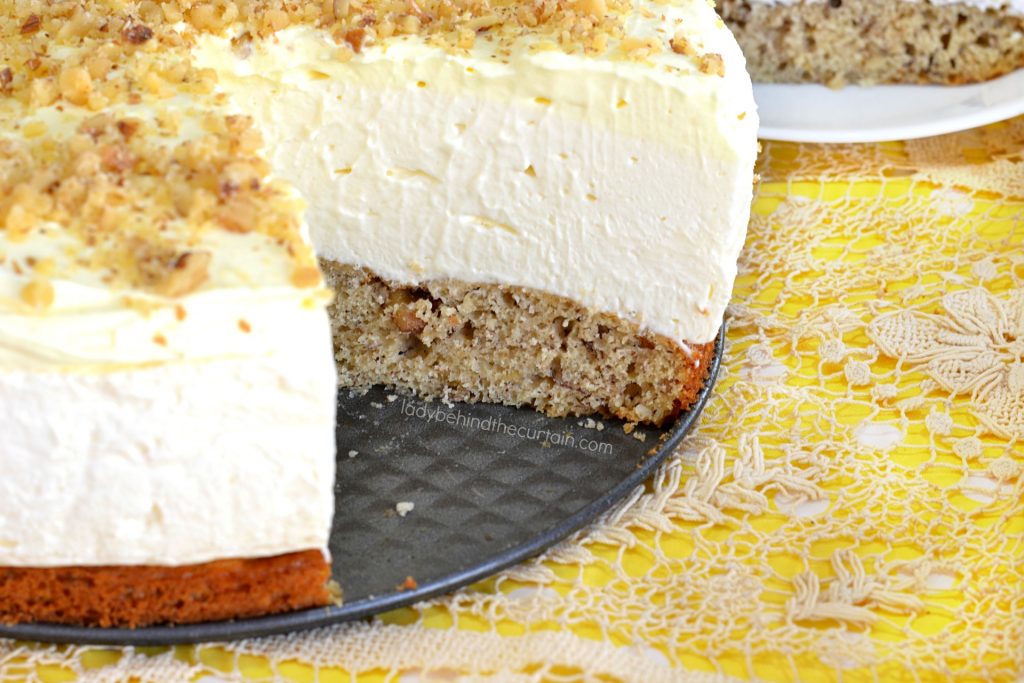 Yield: Serves 8
Banana Bread No Bake Cheesecake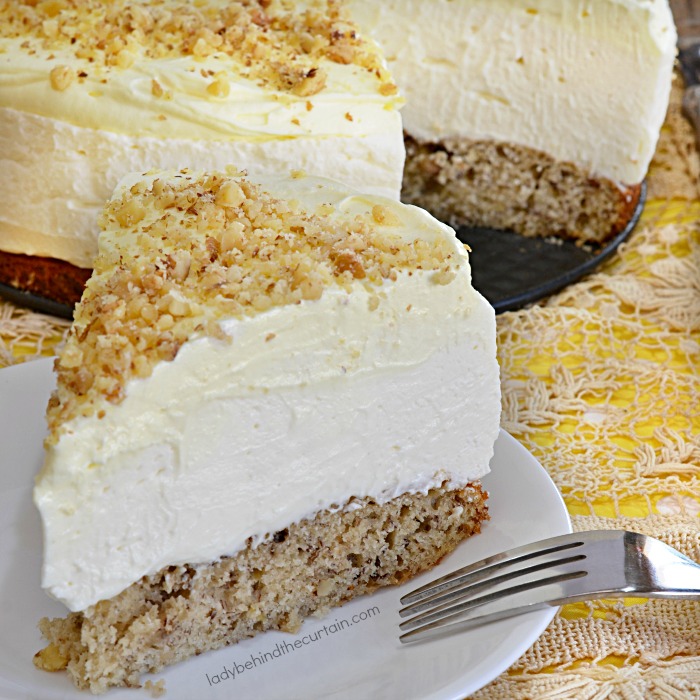 Ingredients
For the Banana Nut Bread Crust:
½ cup mashed banana (about 1 medium banana)
3 tablespoons shortening
1/3 cup granulated sugar
1 large egg
1 tablespoon milk
1 cup all-purpose flour
¾ teaspoon baking powder
1/3 teaspoon salt
¼ teaspoon baking soda
¼ cup walnuts, chopped
For the No Bake Cheesecake Filling:
2 ( 8 ounce) cream cheese, softened
2 cups powdered sugar
all of the Sweet Vanilla Whipped Cream
For the Sweet Vanilla Whipped Cream:
For the Banana Whipped Cream Topping:
1 cup heavy whipping cream
½ teaspoon banana extract
½ cup powdered sugar
3 drops yellow food coloring
For the Optional Topping:
1/3 cup walnuts, finely chopped
Instructions
For the Banana Nut Bread Crust:
Preheat oven to 350°. Spray a 9-inch springform pan with nonstick cooking spray.
In a medium mixing bowl add the banana, shortening, sugar, egg and milk. Mix 3 minutes. While the mixer is going, in a separate small bowl, whisk together the flour, baking powder, salt, baking soda and nuts. Pour into banana mixture and beat until just combined. Pour into the prepared pan. Use an offset spatula and spread batter evenly. Place pan on a cookie sheet, lined with parchment paper. Bake 24 minutes or until a toothpick inserted into the center comes out clean. Set on a wire cooling rack to cool completely. Once crust is completely cooled, run a knife around the edges and release the side. DO NOT REMOVE THE RING. Cut pieces of parchment paper into 2 (4 inch) tall strips. With the side released tuck the strips around the crust. Close the side and set aside.
For the No Bake Cheesecake Filling:
In a large mixing bowl add the cream cheese and powdered sugar. Mix until light and fluffy (about 3 minutes). Transfer to an extra large bowl. THIS STEP IS DONE AFTER THE WHIPPED CREAM IS MADE. Once the whipped cream is made, add half to the cream cheese mixture. Fold in and then add the remaining whipped cream. Fold in. Pour into the prepared pan with the baked crust. Use an offset spatula to even out the top. Refrigerate 2 hours. Remove the ring and the parchment paper.
For the Sweet Vanilla Whipped Cream:
Click here for the recipe---->>>>SWEET VANILLA WHIPPED CREAM. Once the whipped cream is made follow the directions above (no bake cheesecake filling).
For the Banana Whipped Cream Topping:
Place a mixing bowl and whisk attachment in the freezer for 15 minutes. Add the heavy cream, banana extract, powdered sugar and yellow food coloring. Start on low until the cream starts to thicken (making sure to scrap down the sides). Once the cream starts to thicken turn the mixer on high. Whip until stiff peaks form. DO NOT OVER BEAT. Spoon onto the top of the cheesecake, evenly spread and sprinkle on the chopped nuts. Refrigerate until ready to serve, OR place in a freezer safe container with an airtight lid and freeze. Defrost in the refrigerator overnight. ENJOY!
MORE NO BAKE CHEESECAKE RECIPES
NEVER MISS A POST
Sign up for my newsletter and receive my recipes and Etsy store updates in your inbox. Easy to see anytime and saved for safe keeping. Click here and sign up today—->>>>CURTAIN CALL NEWSLETTER
More Potluck/Summer Dessert Recipes you might like. BLUEBERRY ALMOND CRISP and EASY CHOCOLATE ICEBOX PIE.