I love everything orange and these orange sweet rolls are not exception. We all grew up with them, the orange sweet rolls in a can. Now you can make your own Copycat Pillsbury Orange Sweet Rolls at home! Gooey, fluffy, and dripping with orange glaze.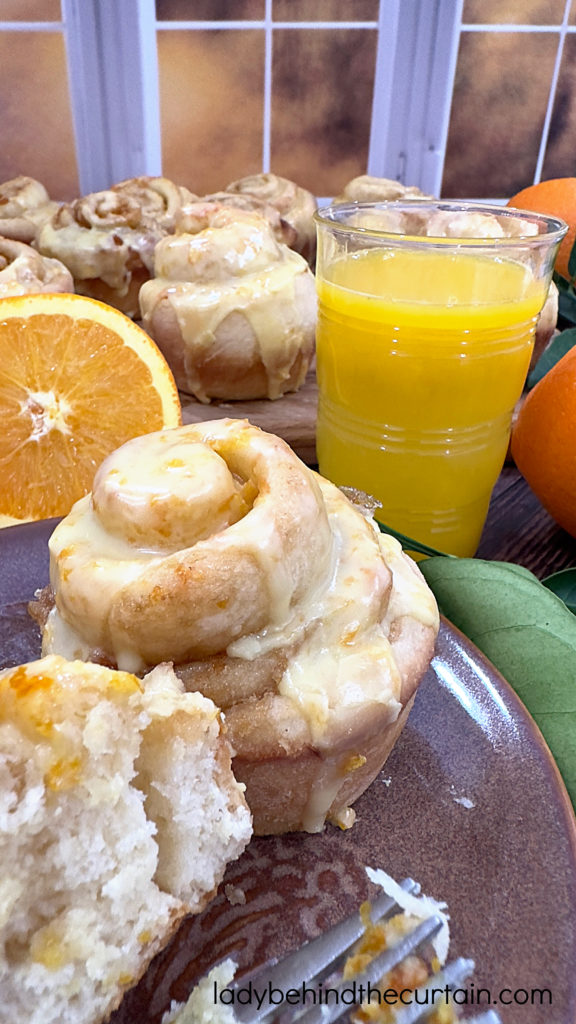 Light and fluffy, these breakfast rolls are full of orange flavor. From orange zest and orange flavor in the rolls to an orange juice glaze. Between my orange scones and these orange sweet rolls I can't decide which one I like more. Wonderfully tender and full of citrus flavor these Pillsbury copycat orange sweet rolls are a must when serving overnight guests.
How to Make Homemade Orange Sweet Rolls
These copy cat Pillsbury orange rolls are super easy to make. Please don't be intimidated by the use of yeast. For this recipe there's no proofing! Basically a dump sweet roll recipe.
In the bowl of a stand mixer fitted with a paddle attachment, place flour, sugar, yeast, and salt. Give it a little whirl to blend.
Add hot water, eggs, melted butter, sour cream, and orange extract, beat until a soft dough forms.
Place dough on a silicone mat or lightly floured surface, knead about 30 times (dough should not stick to hands).
Leave on the mat, cover with towel and let rest, 10 minutes.
Spray 16 muffin cups with nonstick cooking spray.
Divide dough in half (about 14.8 ounces). Set remaining half aside and cover with a towel.
On a floured surface, roll out on portion of dough into a 15 x 9 inch rectangle.
Brush with melted butter, sprinkle with brown sugar and orange zest.
IMPORTANT—starting with the SHORT side, roll up dough jell-roll fashion.
Place seam side down, and tuck ends under, using a serrated knife, cut into 1 inch thick slices. Place slices in prepared muffin cups.
Repeat procedure with remaining half of dough.
Cover rolls with a kitchen towel, and let rise in a warm place free from drafts fro 1 hour or until doubled in size.
Preheat oven to 350°, uncover rolls and bake 10-12 minutes or until done.
Cool rolls in pan 10 minutes, remove from pan to a wire rack, and drizzle with orange glaze.
Dripping with Sweet Orange Glaze
The orange glaze compliments these orange sweet rolls perfectly. Make the orange glaze with freshly grated orange zest. Use the orange to make freshly squeezed orange juice and add it to the glaze! TIP: Place a piece of wax paper under the cooling rack. The paper will catch any drippings. Gather the glaze up to use on rolls. Orange bliss perfection!
Can I Substitute Active Dry Yeast for Instant Yeast?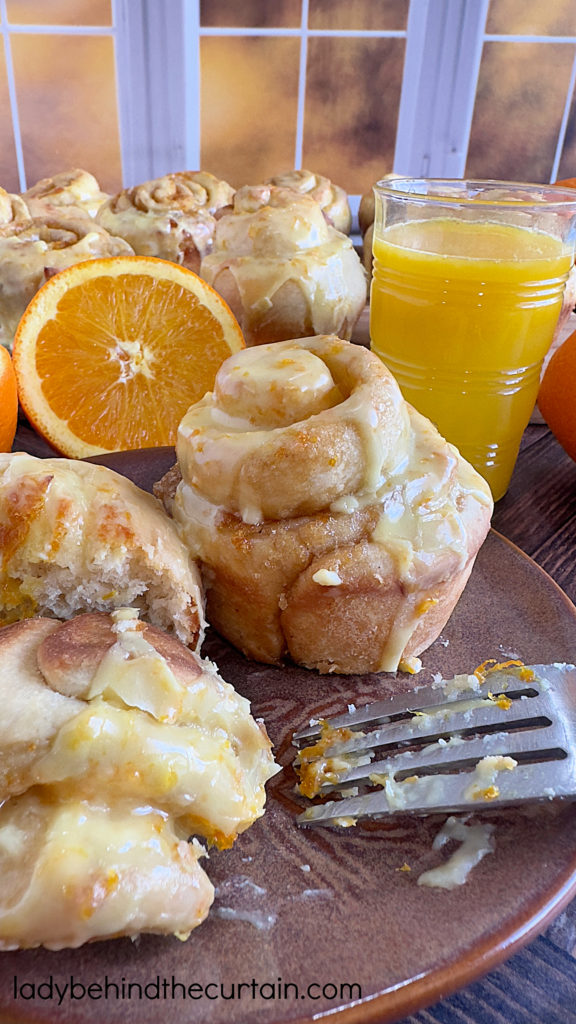 Yes, active dry yeast has a moderate rate of rising and instant dry yeast has a faster rate of rising. Active dry and instant yeast can be used interchangeably in recipe (1 to 1); just keep and eye on your dough so it doesn't rise too much.
HOW TO FREEZE HOMEMADE ORANGE SWEET ROLLS FAQ's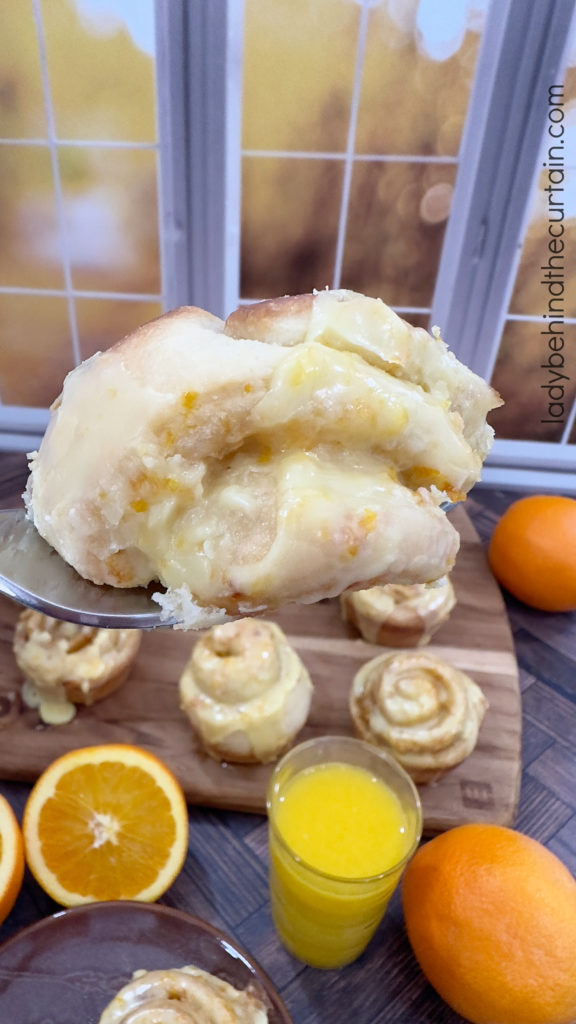 Can you freeze Orange Sweet Rolls?
Yes, rolls can be frozen raw or baked.
Can you freeze sweet rolls before they are cooked?
Yes, the rolls can be frozen. Roll and cut. Instead of placing the cut rolls in a muffin tin, place them on a baking pan lined with parchment paper. Place in the freezer to freeze. Once the rolls are frozen, transfer them to a freezer safe zip top bag. Label, date, and place in the freezer.
How to you cook frozen orange sweet rolls?
When ready to bake your frozen rolls, take them out of the freezer, place them on a baking pan lined with parchment paper. Cover, let them thaw only until they are pliable and can be put into a muffin pan. Place semi soft rolls in a muffin pan, cover and continue to thaw and rise ( about 1 hour or until doubled in size). Bake as the recipe instructs and ice.
Can you freeze baked rolls?
Yes, Remove from the oven and let the rolls cool completely in the pan. Wrap and freeze. Warp the pan in two layers of plastic warp or place them into a large plastic bag and seal. Freeze up to 3 months.
HOW TO MAKE OVERNIGHT ORANGE SWEET ROLLS
OVERNGIHT INSTRUCTIONS: Prepare through step 16 Cover with plastic wrap and let rise in the refrigerator overnight. The next morning, remove from the refrigerator and let rise, about 1 hour.
MORE SWEET ROLL RECIPES YOU MIGHT LIKE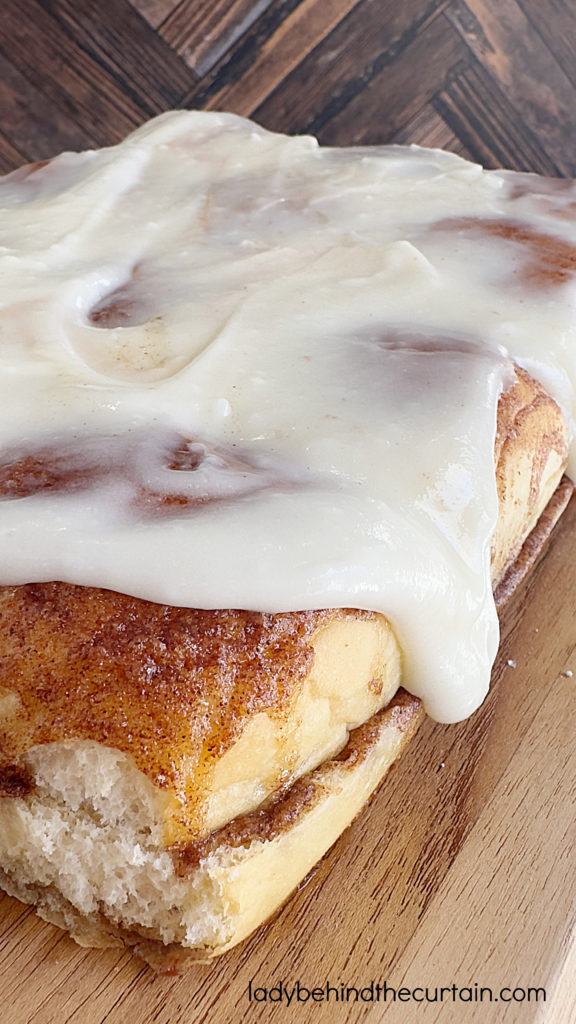 KING'S HAWAIIAN DINNER ROLL CINNAMON ROLLS 2. CHEESE FILLED DANISH ROLLS 3. MORE ROLL RECIPES→CINNAMON ROLLS
SIGN UP FOR THE LADY BEHIND THE CURTAIN NEWSLETTER AND FOLLOW THE LADY BEHIND THE PARTY ETSY SHOP
THANKS FOR VISITING♥