Copycat Panera Orange Scone Recipe
Copycat Panera Orange Scone Recipe | When it comes to scones these orange scones are at the top of my list. If or when I splurge on a breakfast treat it's always an Orange Scone from Panera. I decided why pay and drive for my favorite scone when I could recreate my own? I must say this scone is just as tender and delicious as the one I would get from Panera. With fresh orange juice and orange zest these scones offer just the right amount of citrusy flavor. Serve your guests a basket of freshly baked scones! They will think they checked into a bed and breakfast!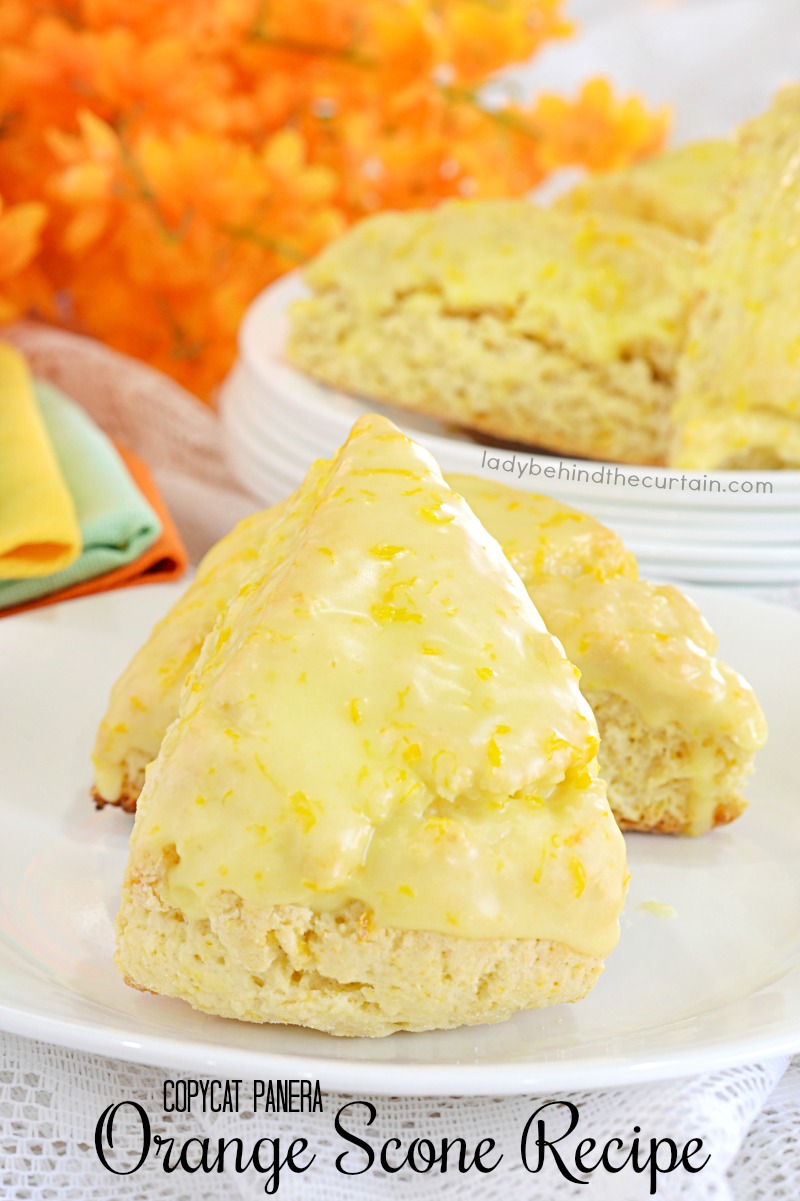 You can make these scones weeks in advance by freezing them! Once the dough is made and cut into triangle forms, place the triangles on a cookie sheet lined with parchment paper. Place the cookie sheet in freezer until scones are frozen. Drop frozen scones into a freezer safe zip top bag and then back into the freezer. When ready to bake place frozen scones on a cookie sheet lined with parchment paper and bake (time may vary when baking frozen scones versus fresh scones)!
---
These scones are a bit smaller then the typical bakery scone. I like that….I get all the delicious flavor with not as many calories. If you want larger scones then form the dough into one large disk and cut into six wedges. Click here for 10 more recipes—->>>>SCONES.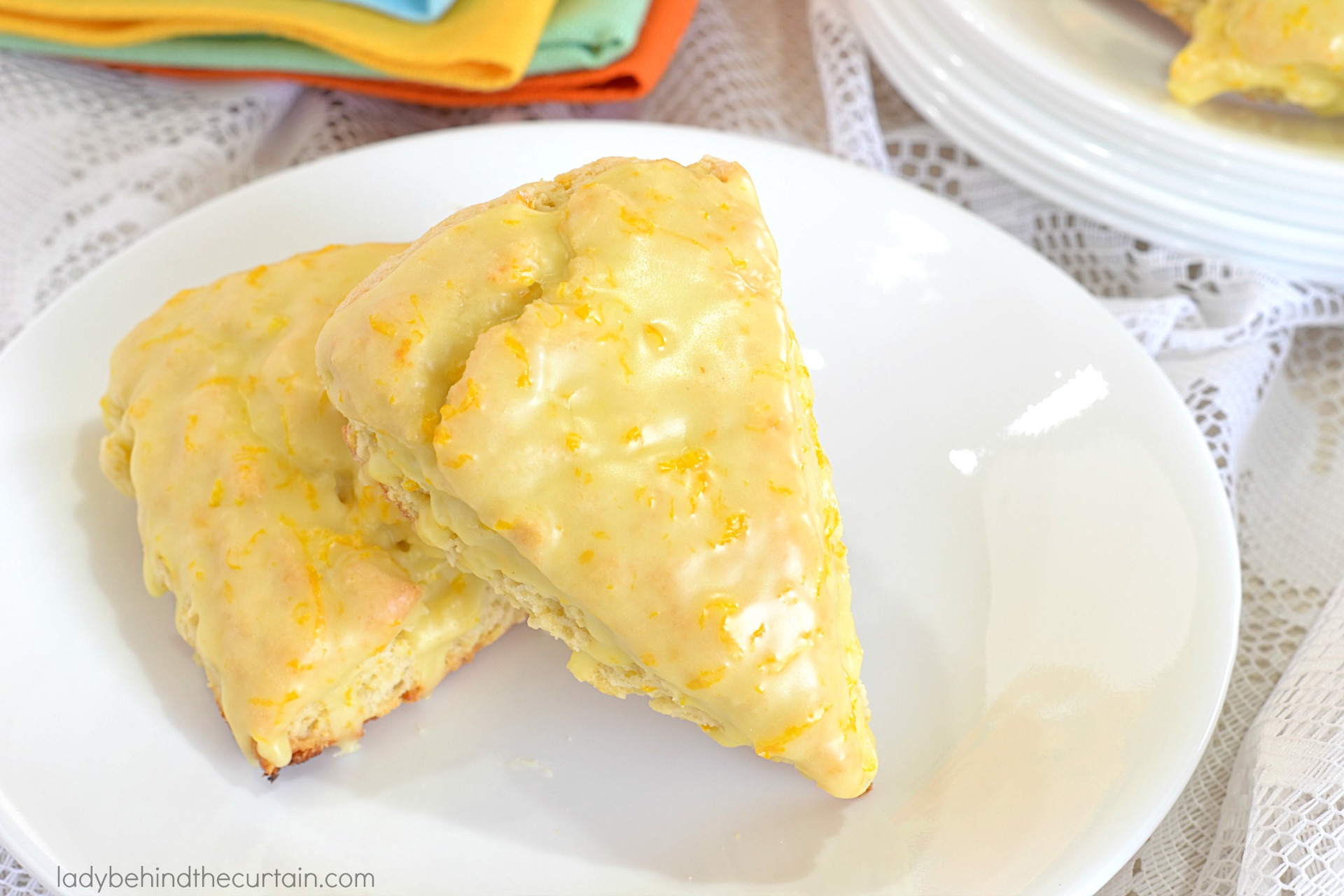 Easy to make Orange Scones:

Separate dough into TWO 6-inch circles. Cut in half and then in thirds. Place on prepared baking pan. What you'll get is a nice thick moist scone. I wouldn't call them mini but they are on the smaller side which is perfect for a brunch! Dip in the orange glaze.

---

Instead of making two 6-inch circles make three 5-inch circles. They're still moist and thick but a lot smaller. Baking time stays the same…..15 minutes.
---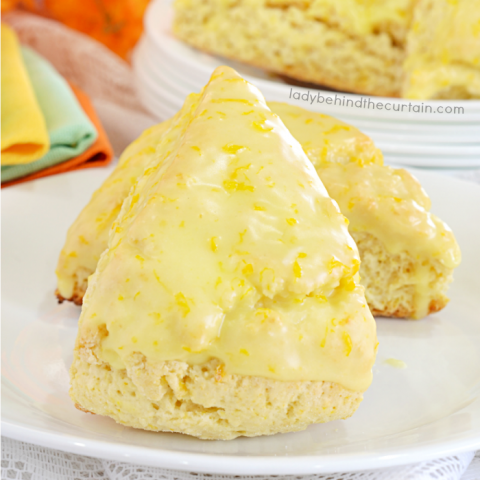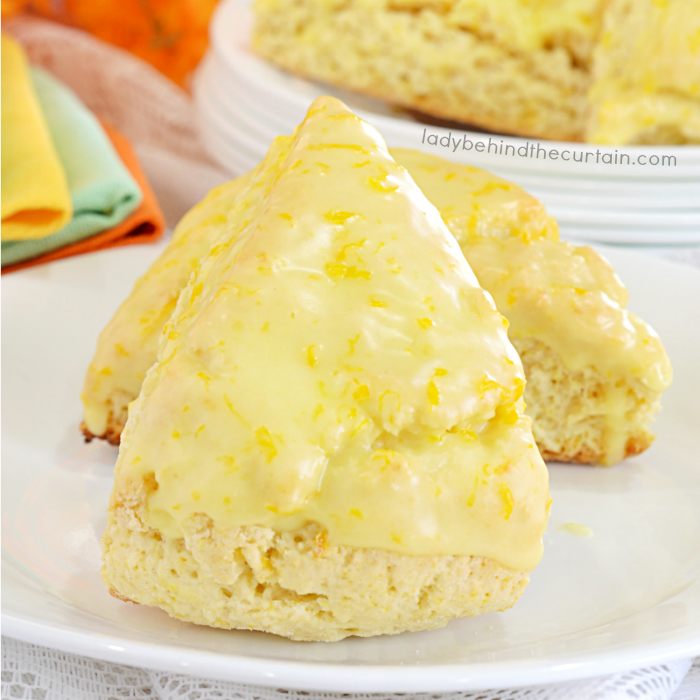 Copycat Panera Orange Scone Recipe
Ingredients
For the Scones
1/4 cup granulated sugar
zest from one large orange
3 cups all-purpose flour
3/4 teaspoon salt
1 tablespoon baking powder
4 ounces cream cheese, cold
6 tablespoons unsalted butter, cold
2 large eggs
1/3 cup milk
2 teaspoons vanilla extract
1 teaspoon orange extract
For the Orange Glaze
2 cups confectioners' sugar
4 tablespoons orange juice
1 teaspoon orange extract
orange zest of one large orange
Instructions
For the Scones:
Preheat oven to 425°.  Line a baking sheet with parchment paper.
In a medium mixing bowl add sugar and orange zest. Rub together with your fingers until fragrant.  Add to the flour, salt and baking powder.  Whisk together with sugar mixture.  Place the cold cream cheese, butter and eggs into the bowl of a food processor (I used a 14 cup processor), add dry ingredients.  Pulse a couple times or until combined.  Pour in the milk, vanilla and orange extracts.  Pulse to mix.  Remove dough from processor on a lightly floured surface.  Divide the dough in 2 equal pieces.  Form each piece into a 6-inch disk.  Use a sharp knife to cut each disk into triangles. Place on prepared baking sheet. Bake 15 minuets or until golden.
Lay a piece of wax paper under a wire cooling rack.  Move baked scones to the wire cooling rack.  Spoon or dip orange glaze over scones.
For the Orange Glaze:
In a medium bowl add the sugar, orange juice, orange extract and orange zest.  Whisk until smooth.
Nutrition Information
Amount Per Serving
Calories

0
Total Fat

0g
Saturated Fat

0g
Cholesterol

0mg
Sodium

0mg
Fiber

0g
Sugar

0g
Protein

0g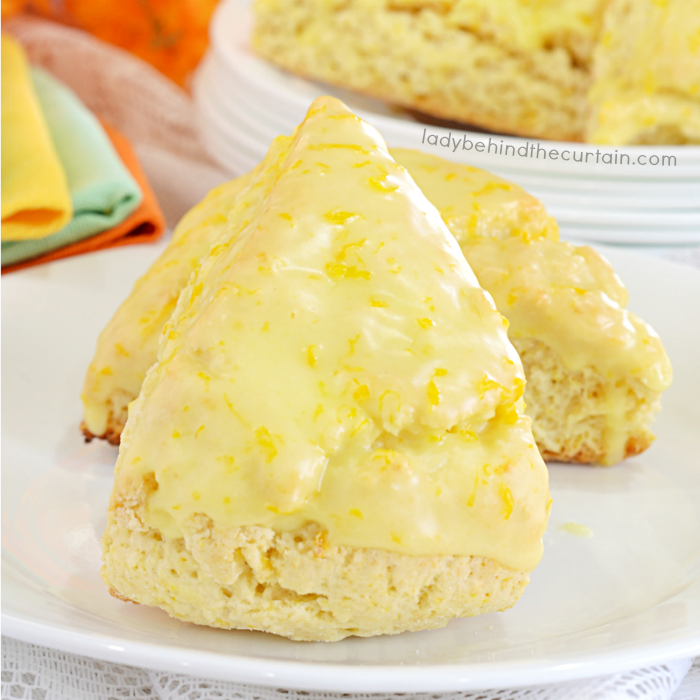 MORE SCONE RECIPES
CRANBERRY ORANGE SCONES 2. HAM AND CHEESE SCONES 3. TRIPLE CINNAMON SCONES
NEVER MISS A POST!
Sign up for my newsletter and receive my recipes in your inbox. Easy to see anytime and saved for safe keeping. Click Here and sign up today! —->>>>CURTAIN CALL NEWSLETTER
More scone recipes you might like. SIMPLE SCONE RECIPE and LEMON BLUEBERRY SCONES.