Patriotic Rice Krispie Poppers
These cute red, white and blue Patriotic Rice Krispie Poppers are so much fun and perfect for a 4th of July or Memorial Day dessert table. Turn an everyday snack into a fun party dessert! Scroll down to see a fun party favor idea. ↓↓↓↓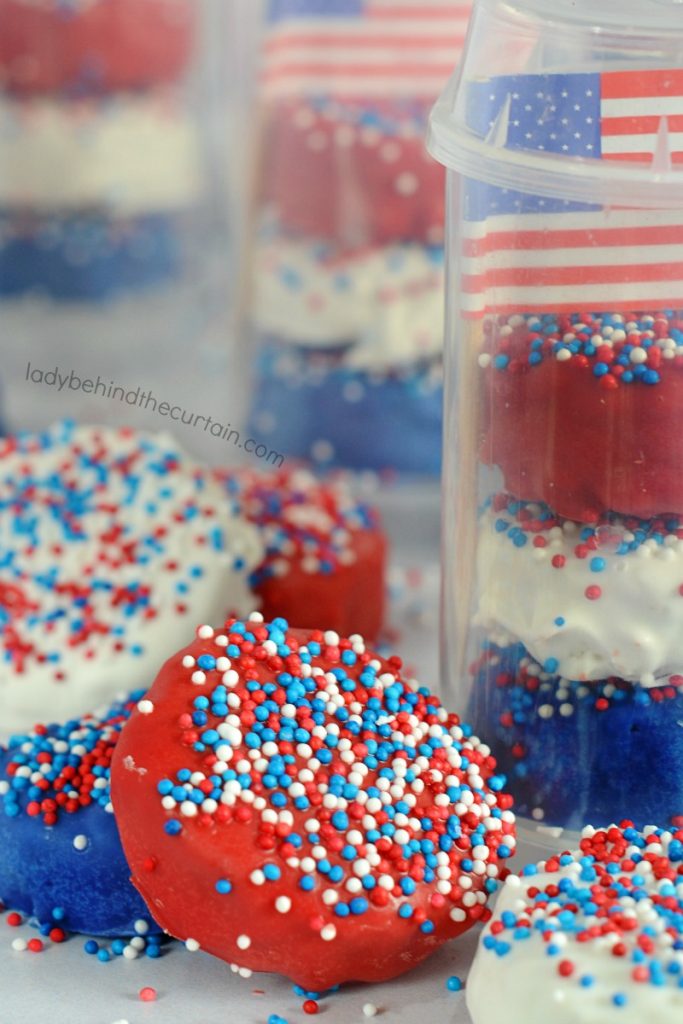 These Patriotic Rice Krispie Poppers are super easy to make and make a huge batch of 70 treats. First, start with my famous Microwave Vanilla Krispy Treats recipe, cut into small rounds, and dip them in melted candy. Add some with sprinkles and voila! INSTANT FUN! ALSO, how about instead of dropping them into a bowl you style them in push up pops and insert an American Flag pick?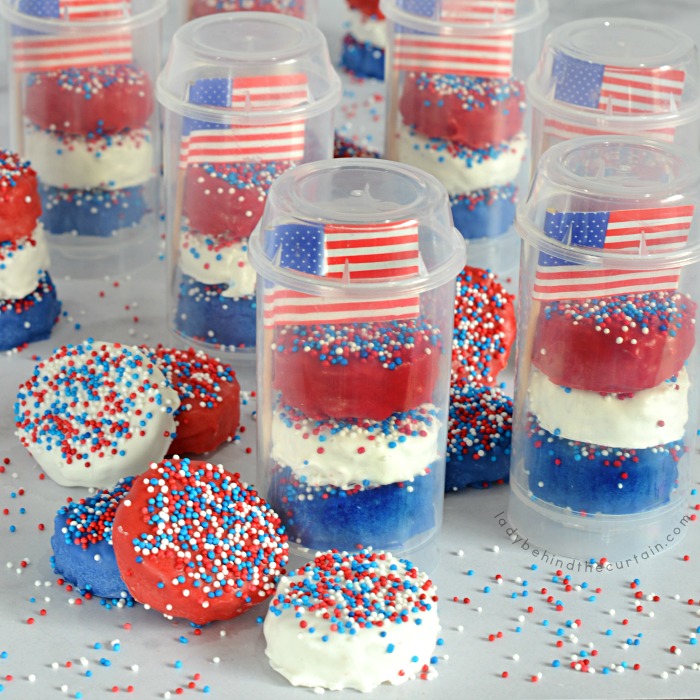 CUSTOMIZE THESE FUN TREATS TO FIT YOUR CELEBRATION!
Not having a red, white and blue patriotic celebration? That's the great thing about these treats. You can customize them to fit whatever type of celebration you're having. Change up the color of the melted candy and the sprinkles is all that's needed to transform the fun patriotic poppers to a pool party!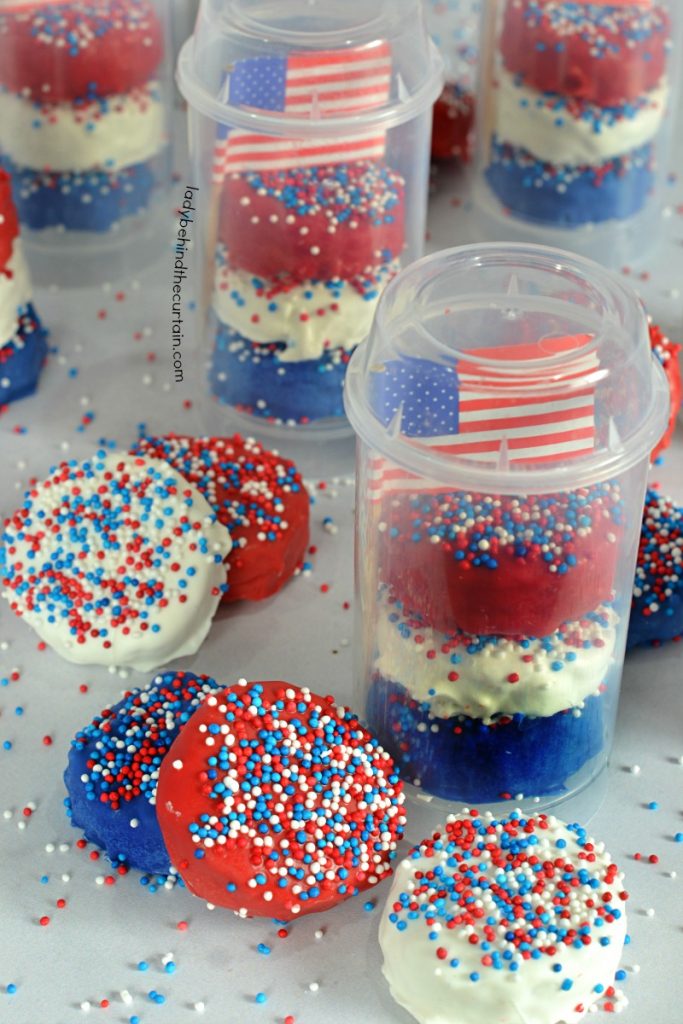 HOW TO DECORATE RICE KRISPY TREAT POPPERS
Place a piece of wax paper on a cookie sheet. Melt the candy….1 minute on high, stir and then 30 seconds at 60%. Stir until creamy. TIP: Only melt one color at a time. Place the cereal round on a fork, spoon melted candy over the round. Make sure the candy has covered all around the sides. Slide the coated cereal round onto the wax paper. Add sprinkles. Once all the rounds have been coated place the cookie sheet in the refrigerator to harden (about 10 minutes). These poppers will stay fresh up to FOUR days. For the full recipe and instructions see the recipe card below.

PARTY FAVOR IDEA
If you choose to hand these Patriotic Rice Krispy Poppers out as party favors here is a handmade (by me) option. 4th of July Pillow Party Favor Boxes! Click here for all the details—->>>>4th of JULY PILLOW PARTY FAVOR BOX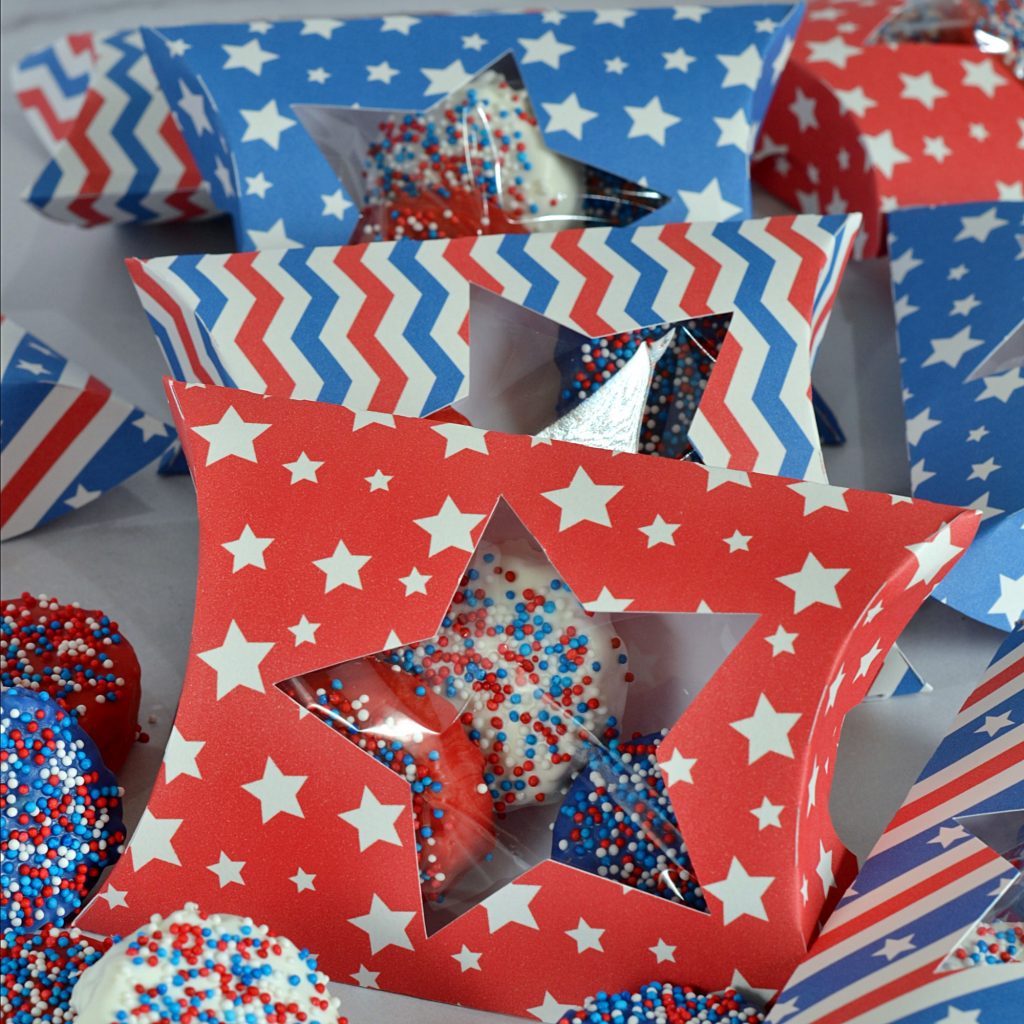 Yield: 70 (1½-inch rounds)
Patriotic Rice Krispy Poppers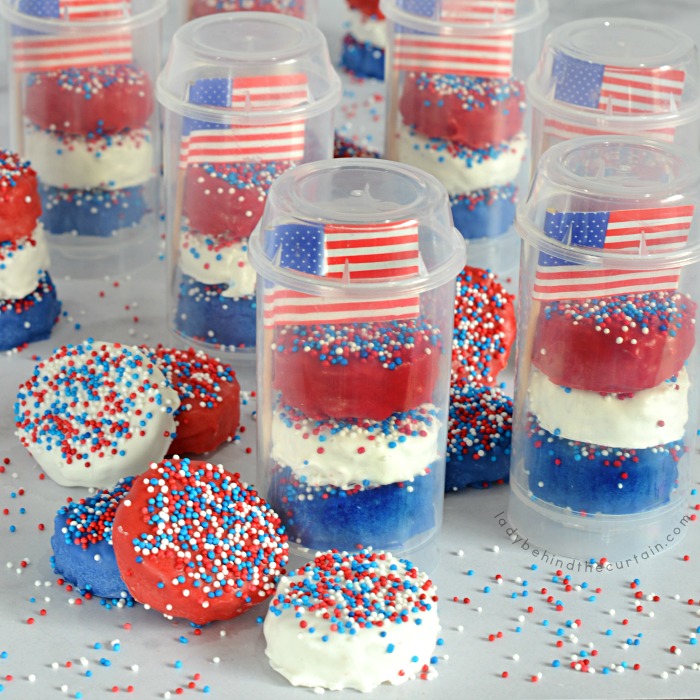 Ingredients
6 cups crispy rice cereal
3 tablespoons unsalted butter
1 (10 ounce) bag mini marshmallows
1 cup red candy melts
1 cup white candy melts
1 cups royal blue candy melts
1/3 cup sprinkles
Optional: push up pops and American Flag picks
Instructions
For the Rice Krispy Treats:
Spray a 15 x 11-inch baking pan with non stick cooking spray. Measure cereal into a large bowl. Add the butter and marshmallows to a microwave safe bowl. Heat on high 30 seconds, stir, continue heating in 30 second intervals until the marshmallow and butter are melted and creamy (about 1 minute and 30 seconds). Stir in vanilla. Pour melted marshmallow mixture onto the measured cereal, stir until combined. Press into prepared pan. Cover with plastic wrap and let cool completely before cutting. When cooled use a 1½ inch round cookie cutter to cut out circles. Make the cuts as close as possible. EAT THE SCRAPS!
How to Melt the Candy:
THREE COLORS ONE PROCEDURE. Pour ONE color into a microwave safe bowl. Heat 1 minute on high, stir, heat an additional 30 seconds at 60%, stir until creamy.
Putting it All Together:
Link TWO cookie sheets with parchment or wax paper. Take one round, place it on a fork or a candy melt tool (click here to see---->>>>Wilton Candy Melts Candy Dipping Tool Set.) Spoon melted candy over the round, make sure the candy has coated all the sides. Tap off and excess, place on the prepared cookie sheet and add sprinkles. Make sure to add the sprinkles while the candy is still wet. I was able to coat three before adding the sprinkles. Once all the round have been coated with the candy and sprinkles, place the cookie sheet in the refrigerator to harden (about 10 minutes). Use the other lined cookie sheet and continue with the next color. These Patriotic Rice Krispy Poppers will stay fresh up to FOUR days.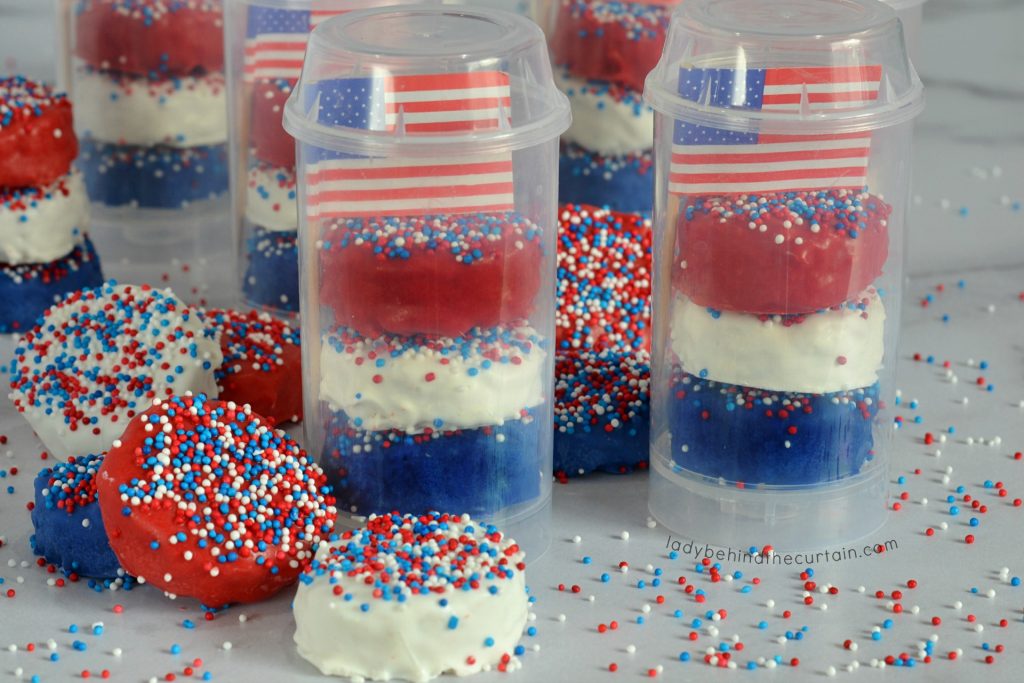 MORE PATRIOTIC PARTY RECIPES
RASPBERRY COCONUT ZINGER CUPCAKES 2. PATRIOTIC WHITE CHOCOLATE PUDDING POPS 3.CHERRY BERRY AMERICAN PIE

NEVER MISS A POST

Sign up for my newsletter and receive my recipes and Etsy store updates in your inbox. Easy to see anytime and saved for safe keeping. Click here and sign up today—->>>>CURTAIN CALL NEWSLETTER