Potluck Peach Slab Pie | Forget about a little 9-inch pie…..LET'S GO BIG!  This large pie is perfect for large gatherings such as family reunions, potlucks and barbecues.  Everything you love about peach pie!  Lots of creamy syrup, crisp peaches, cinnamon and delicious crust!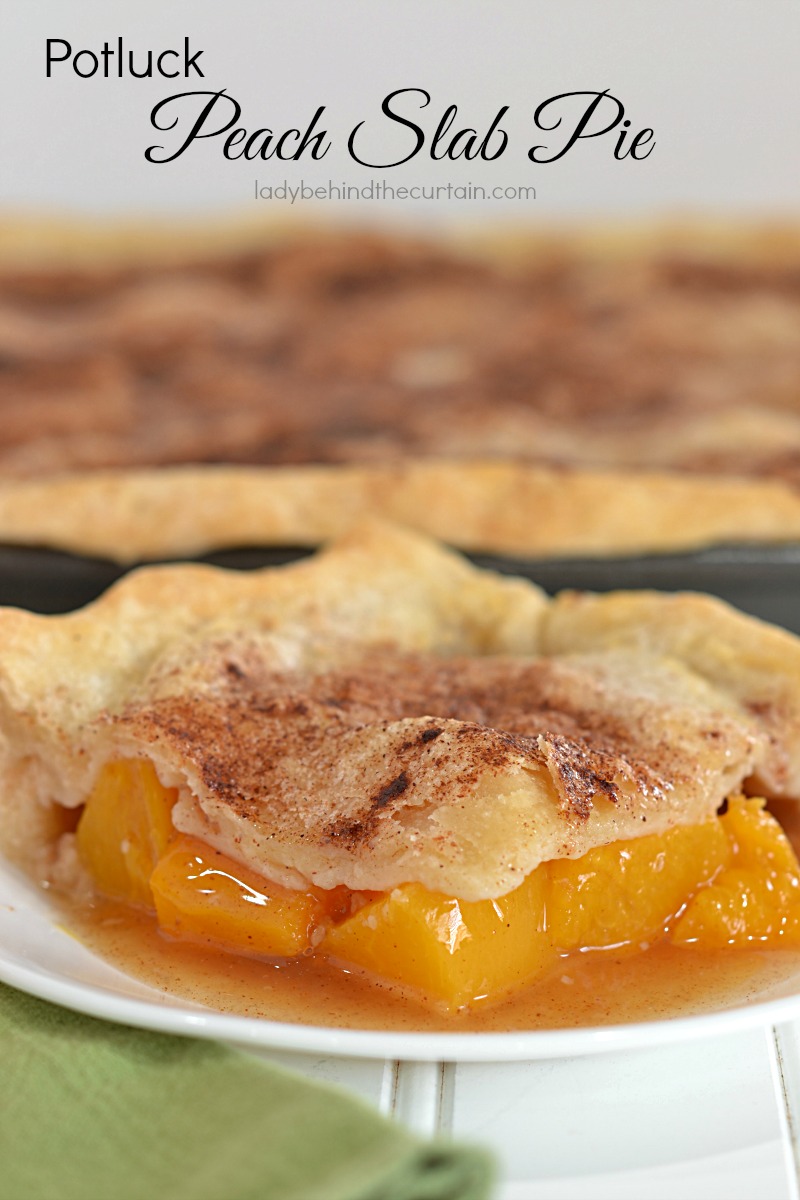 A slab pie is simply a shallow pie that's made in a rimmed baking sheet.  The difference between this pie and a cobbler is this pie has a bottom crust unlike a cobbler that has a dumpling layer in the center.  Still all the same yummy ingredients but translated differently.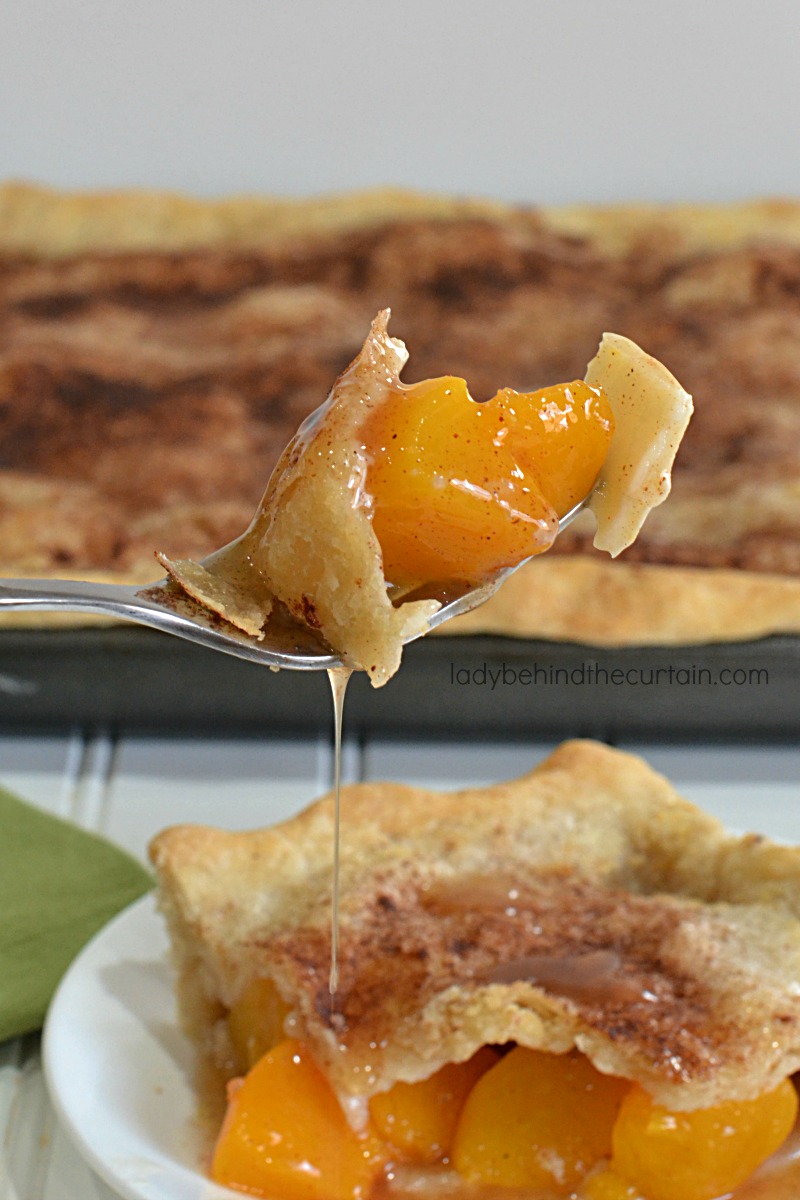 What I love about this Peach Slab Pie (other then the flavor) is the size!  When I was planning a lunch for the senior citizens of our church I tried to think of something they would like….you know something southern.  Peach cobbler came to mind but I was worried about the size.  That's when I remembered about slab pies.  The size is perfect!  I served it with a scoop of vanilla ice cream.  They LOVED it!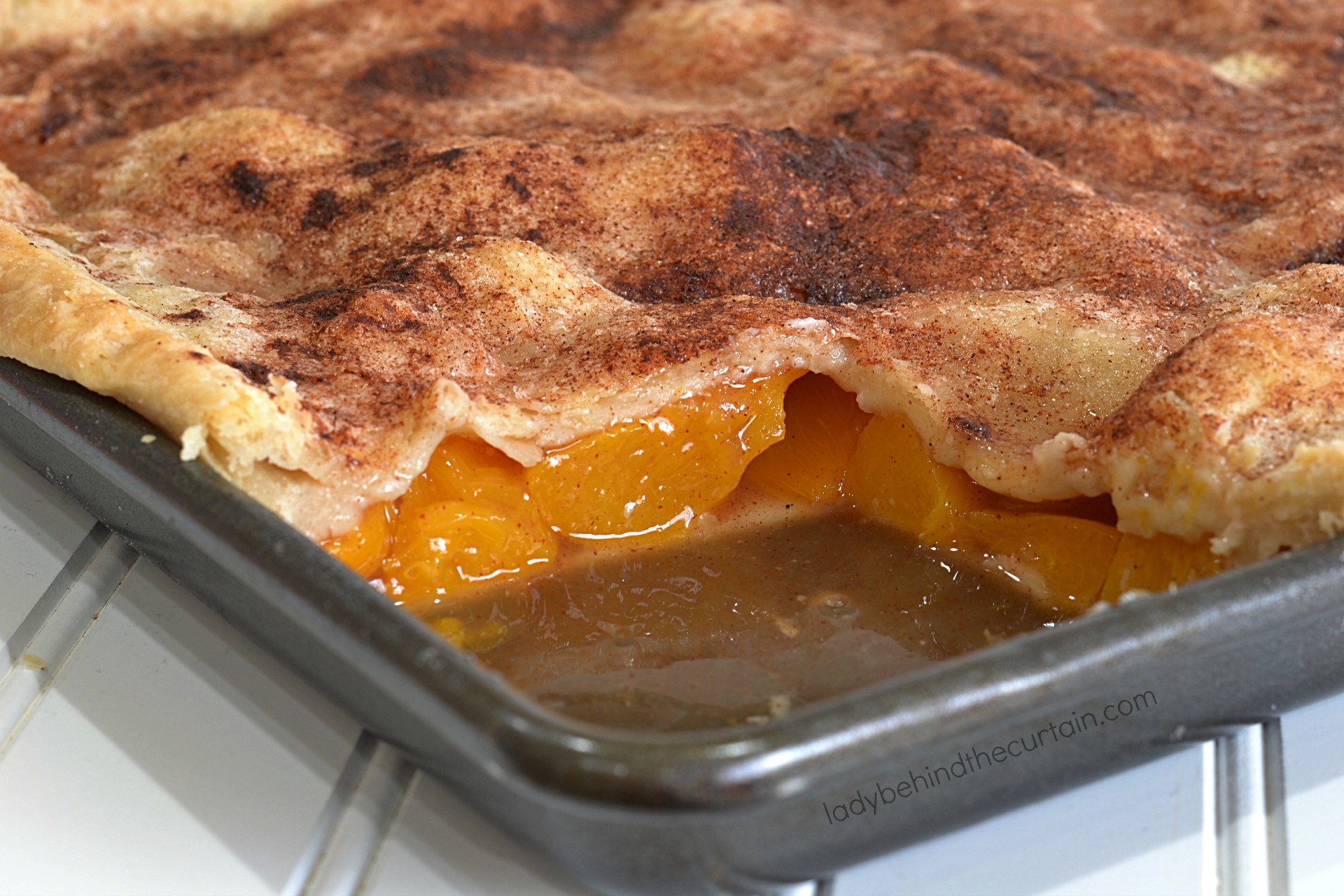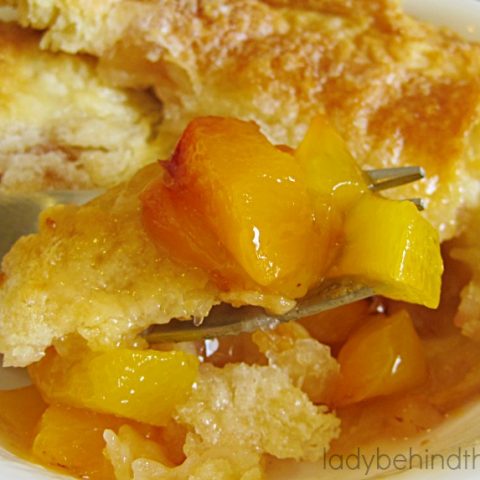 Peach Slab Pie
Total Time:
1 hour
35 minutes
Ingredients
For the Crust:
4 cups all-purpose flour
2 teaspoons salt
1-1/2 cups unsalted butter, at room temperature
1-1/2 cups cold water
For the Filling:
7 medium peaches (2-3/4 pounds). cut into 1/2-inch pieces (about 8 cups)
1-1/4 cups granulated sugar
1/4 cup cornstarch
1/4 teaspoon salt
For the Crunchy Topping:
2 tablespoons heavy cream
1/4 cup granulated sugar
Instructions
For the Pie Crust:
Mix together the flour and salt.
Using a pastry blender, blend in the butter into the flour mixture until the pieces are the pea sized. Add water and mix until combined.
Divide dough in half; roll one piece into a 18 -x- 13 - inch piece.
Fit into a 15 x 10 - inch rimmed baking sheet, pressing into corners (pastry will hang over sides). Chill while assembling the filling.
For the Filling:
Preheat oven 375 degrees.
In a large bowl, combine the fruit, granulated sugar, cornstarch, and salt.
Stir to combine and spread mixture over chilled pie shell.
On a lightly floured surface, roll out remaining piece of dough to a 16 - x - 11- inch rectangle; drape over filling.
Fold edge of bottom dough over top dough.
Pinch edges to seal.
Prick the top dough all over with a fork.
For the Crunchy Topping:
Brush the entire surface of the pie with the cream, and sprinkle with the 1/4 cup sugar.
Bake until the crust is golden brown and the filling is bubbling, 40 to 55 minutes.
Transfer to a wire rack, and let the pie cool until it is just warm to the touch, about 45 minutes.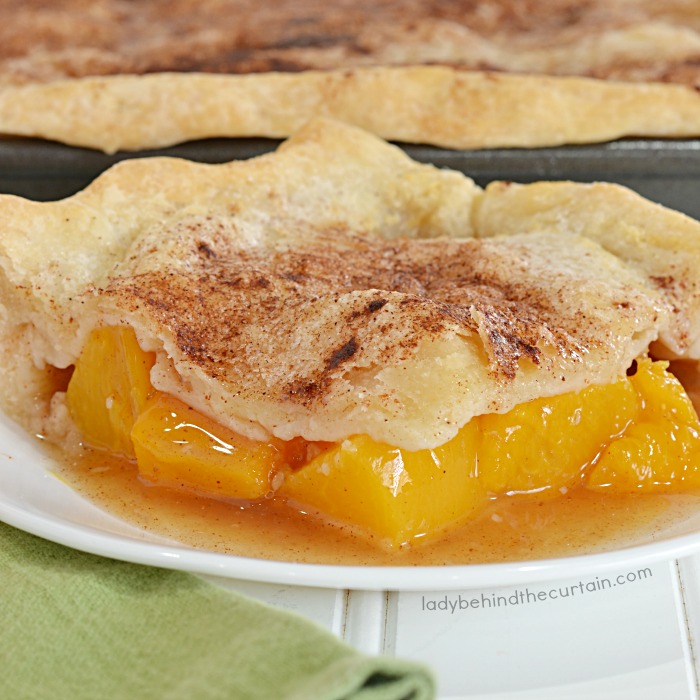 MORE PIE RECIPES
1. BLUEBERRY COBBLER  2. MASON JAR LID CHERRY PIES  3. MOM'S PEACH COBBLER
NEVER MISS A POST!
Sign up for my newsletter and receive my recipes in your inbox. Easy to see anytime and saved for safe keeping. Click Here and sign up today! —->>>>CURTAIN CALL NEWSLETTER