Peanut Butter Cup Cupcakes
Peanut Butter Cup Cupcakes: Peanut butter cupcakes with a chocolate covered peanut butter cup in the center, covered with a light and fluffy peanut butter frosting…I'd say that's an peanut butter explosion and the perfect birthday party cupcake!
How to Make Peanut Butter Frosting
TIP: Use a commercial brand of peanut butter, NOT NATURAL OR HOMEMADE PEANUT BUTTER. I recommend Skippy of Jif. If you use a different kind of peanut butter you may experience separating, oil or texture issues.
In a medium mixing bowl mix together the peanut butter, butter, milk and vanilla until light and fluffy (about 2 minutes).
Add sugar one cup at a time, mixing between additions.
Whip on medium high until light and fluffy (about 3 minutes)
Time Does Matter
How to Store Frosting
STORE: Frostings that are made with shortening can be stored at room temperature in an air tight container on the counter up to 2 weeks. Frostings with butter and milk should be stored in the refrigerator with an air tight lid up to 2 weeks or freezer up to 3 months. REVIVE: For frostings that are frozen or refrigerated. Set them on the counter and wait for them to come to room temperature. Spoon into a large mixing bowl. Fit the mixer with a paddle attachment, beat on medium high until light and fluffy (about 3 minutes).
How to Make Peanut Butter Cup Cupcakes
½ cup unsalted butter, softened
¾ cup light brown sugar, packed
½ granulated sugar
½ cup creamy peanut butter
4 large eggs, separated
2 cups all-purpose flour
1 teaspoon baking powder
¼ teaspoon salt
1 cup milk
24 chocolate covered peanut butter cups
Preheat oven to 350°. Line muffin pans with paper liners.
In a large bowl, beat butter, brown sugar, white sugar and peanut butter until fluffy.
Add egg yolks, beat until combined.
In a small bowl, stir together the flour, baking powder, and salt.
Gradually add to the butter mixture, alternately with milk, beating just until combined after each addition.
In a medium bowl, beat egg whites on high sped until stiff peaks form.
Gently fold beaten egg whites into butter mixture.
Spoon or using an ice cream scoop, fill prepared muffin cups to two-thirds full.
Place ONE chocolate covered peanut butter cup in the center of each muffin cup, pressing down until edges of peanut butter cup are even with cupcake batter.
Bake for 15-20 minutes or until edges of cupcakes are golden brown.
Cool in pans 10 minutes, transfer to wire cooling racks and cool completely.
Pipe Peanut Butter Frosting evenly over cupcakes.
Garnish with quartered chocolate covered peanut butter cups.
Cover and store in the refrigerator.
Can I Use Chunky Peanut Butter?
Try Something Different!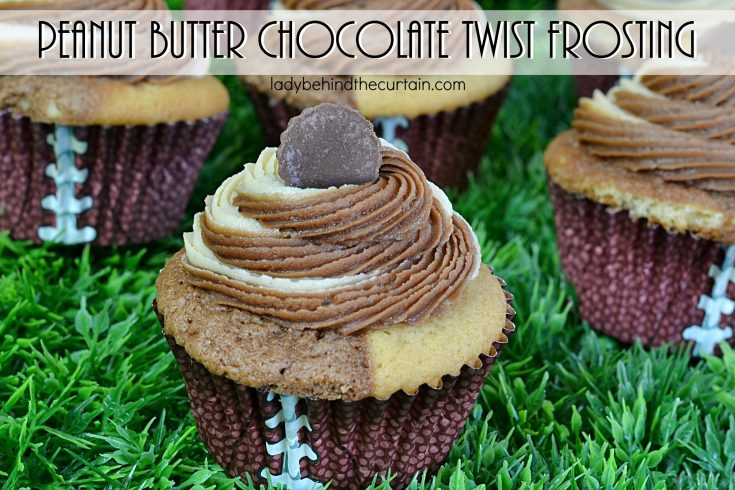 Tips for Tender Moist Cupcakes (any cupcake recipe)
Good ingredients equals great taste. To send your guests straight to cupcake heaven use only the best ingredients. Like real butter, real vanilla and dark Dutch cocoa.
Never over bake a cupcake. You can never save an over baked cupcake. You're doing it right when your cupcakes look slightly sunken, rather than peaked. Test them with a toothpick if you're unsure–if no batter clings to the pick, they're done.
Mix batter with a light hand. Baking fluffy, moist cupcakes is all about creating air bubbles in your batter that expand in the oven. If you over mix your batter, you collapse those bubbles. To avoid this mix on a low speed, stopping just as all ingredients blend.
Let all ingredients come to room temperature before baking. All ingredients incorporate into batter mush more easily if they're at similar temperatures.
Baking in advance? Freeze cupcakes. If you're baking to eat right away, we recommend storing cupcakes at room temperature. But if they're for tomorrow, freezing will retain their moisture much better than leaving them on a counter overnight.
MAKE AHEAD/FREEZING INSTRUCTIONS
Cupcakes can be made ahead 1 day in advance, covered, and stored at room temperature or in the refrigerator. Frosting can also be made 1 day in advance, covered, and stored in the refrigerator until ready to use. Frosted or unfrosted cupcakes can be frozen up to 2-3 months. Thaw overnight in the refrigerator.
WHY SHOULD MY INGREDIENTS BE AT ROOM TEMPERATURE?
MORE CUPCAKE RECIPES
SALTED CARAMEL CHOCOLATE CUPCAKES 2. PECAN PIE FILLED CUPCAKES 3. CARAMEL APPLE PARTY CUPCAKES
SIGN UP FOR THE LADY BEHIND THE CURTAIN NEWSLETTER AND FOLLOW THE LADY BEHIND THE PARTY ETSY SHOP
THANKS FOR VISITING♥