If you only make one gooey recipe this fall make sure it's this Pecan Pie Bread Pudding.  Of course having an excuse to eat pie for breakfast doesn't hurt.  Treat your family and guests to a special Thanksgiving or Christmas breakfast.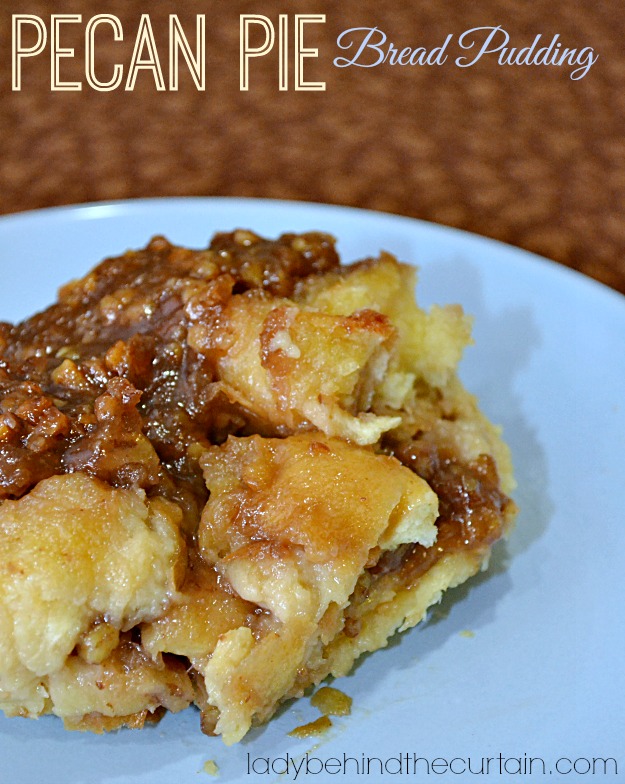 This pecan pie bread pudding is ridiculous.  I mean that in a good way.  Maybe I should say DELICIOUS!  A TREAT to eat!  I could go on and on about how much I LOVE this pecan pie bread pudding. What makes this Pecan Pie Bread Pudding so delicious?  Well it could be that instead of adding cream I added Butter Pecan Coffee Cream and enough pecan pie filling for TWO pies!  🙂
USE LEFTOVER PECAN PIE TO CREATE A DELICIOUS BREAKFAST!  DON'T FORGET TO PIN THIS TO YOUR BREAKFAST, FALL BOARDS!
MORE GREAT BREAD PUDDING RECIPES
1.  PUMPKIN PIE BREAD PUDDING  2.  EGGNOG BREAD PUDDING CRUNCH  3.  PECAN PRALINE BREAD PUDDING  4.  BREAD PUDDING MUFFINS