Pimiento Cheese Breakfast Casserole
Pimiento Cheese Breakfast Casserole:  A stick to your ribs Southern dish that will quickly become a family favorite.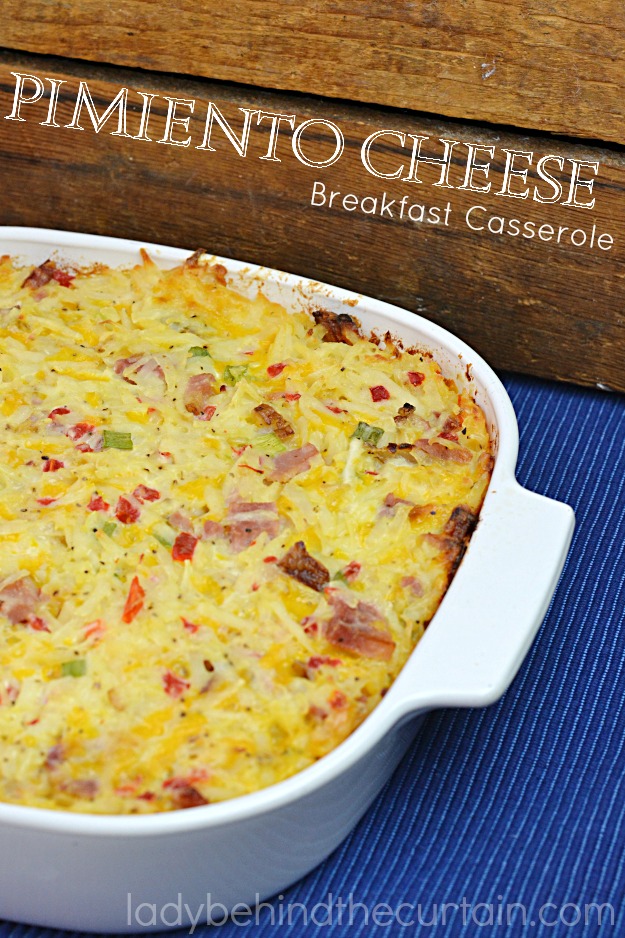 Serving up something hearty for breakfast is a must on the weekends.  With all the weekend activities we really need something that will keep us going until lunch.  I made this casserole with country ham.  Bacon and sausage would work too.  Substitute in your families favorite meat. To dress up this dish for a brunch you could serve with a dollop of sour cream and a sprinkling of chopped chives.
Make this casserole the night before and pop it in the oven when you get up for a quick meal.  This casserole is also wonderful as leftovers.  That night I served it with grilled steaks and a salad.  Now that's what a call the perfect dish.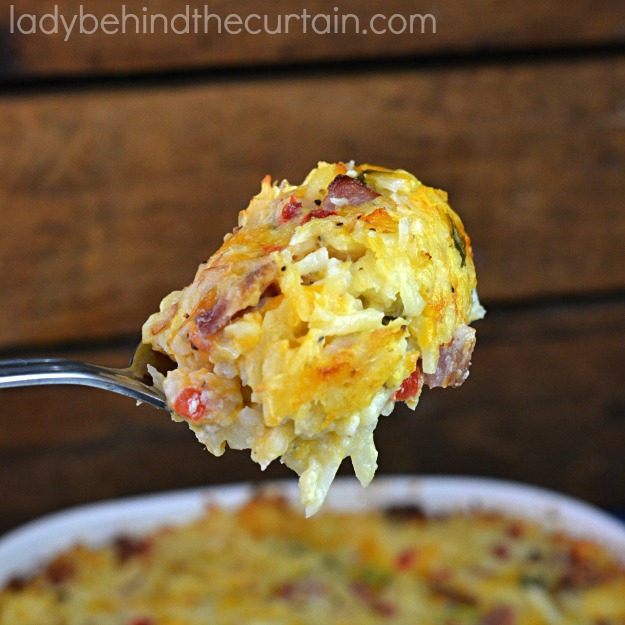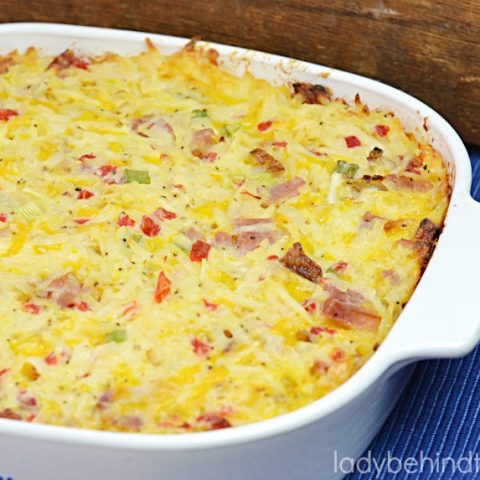 Pimiento Cheese Breakfast Casserole
Ingredients
1/2 pound country smoked ham, diced
1 (30 ounce) package frozen shredded hash browns, thawed
1 (8 ounce) container sour cream
1 (4 ounce) jar pimientos, drained
2 cups shredded sharp Cheddar cheese
1 cup shredded pepper jack cheese
1/2 cup milk
1/2 cup green onion, chopped
2 large eggs, lightly beaten
1 tablespoon salt
1 teaspoon black pepper
Optional Toppings:
sour cream
chives, chopped
Instructions
Preheat oven to 375 degrees.
Spray a 2 1/2 quart casserole dish with non stick cooking spray.
In a large bowl add the ham, potatoes, sour cream, pimientos, Cheddar cheese, pepper jack cheese, milk, green onion, eggs, salt and pepper.
Stir to combine.
Pour into prepared casserole dish.
Bake 40 to 45 minutes or until heated through and the cheese is melted.
Optional: Serve with a dollop of sour cream and chopped chives.
MORE CASSEROLE RECIPES
1. GREEN CHILI BREAKFAST CASSEROLE  2. CREAMY CHICKEN ENCHILADA CASSEROLE  3. CHEESY ARTICHOKE POTATO CASSEROLE