Herb Rubbed Prime Rib | This juicy flavorful Prime Rib is for when you want to pull out all the stops and celebrate in style!  If you served Turkey for Thanksgiving change it up for Christmas with beef!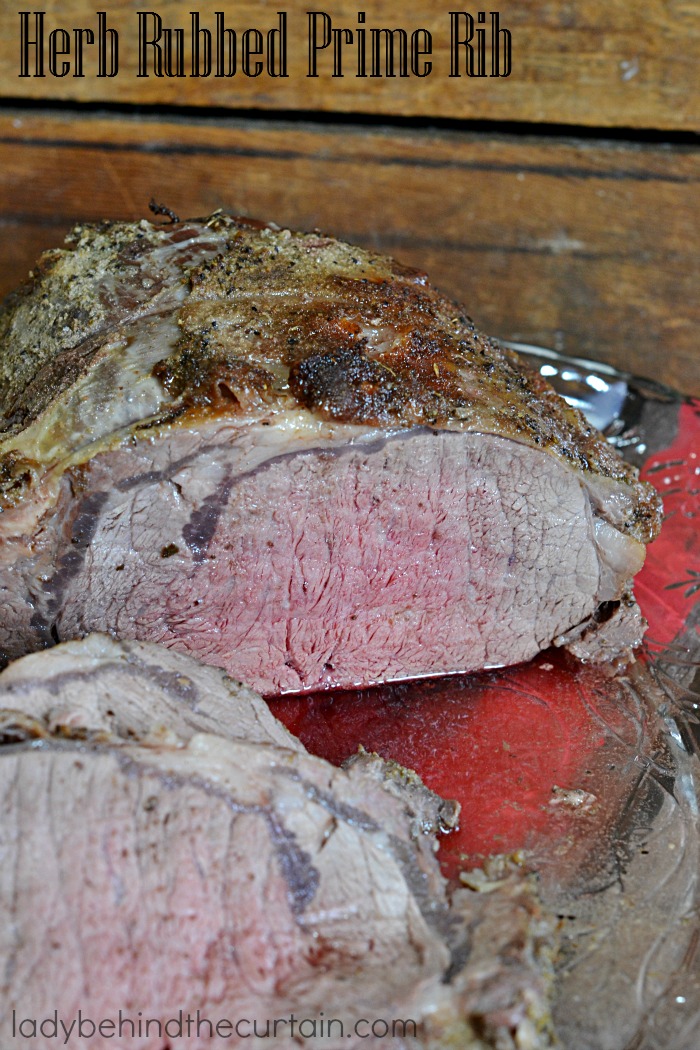 The homemade rub for the Prime Rib does all the work!  It gives the meat delicious flavor.  Cut small slits in the meat so that the rub melts into it.  Delicious, juicy and tender.  I also added a recipe for a Creamy Horseradish dip.  I'm not a fan of horseradish but I really liked this dip.  For those of you that love horseradish you'll probably want to add more of it to your portion.  That's what my daughter did.  Serve this with my Brown Butter Brussels Sprouts, Creamy Slow Cooker Scalloped Potatoes or Roasted Vegetable Salad.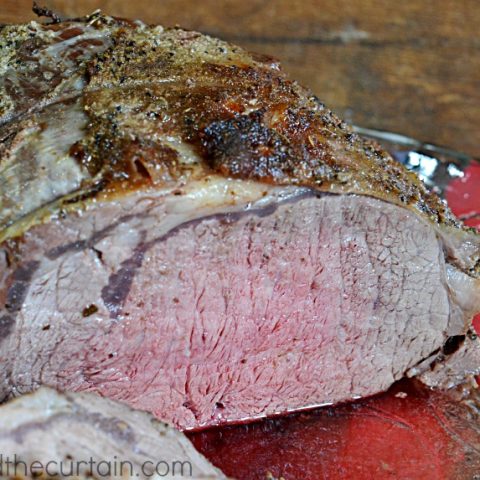 Herb Rubbed Prime Rib
Cook Time:
2 hours
15 minutes
Total Time:
2 hours
35 minutes
Ingredients
For the Horseradish Cream:
1 (8 ounce) container sour cream
1/2 cup mayonnaise
1 tablespoon green onion, finely chopped
2 teaspoons prepared horseradish
2 teaspoons Dijon mustard
2 teaspoons white balsamic or white wine vinegar
1/4 teaspoon kosher salt
For the Rub:
4 teaspoons kosher salt
1 tablespoon dry mustard
1 1/2 teaspoons instant espresso coffee powder
1 1/3 teaspoons coarsely ground black pepper
1 teaspoon granulated garlic
1 teaspoon onion powder
1/2 teaspoon dried thyme
1/2 teaspoon dried oregano
1/2 teaspoon ground coriander
1/2 teaspoon celery seeds
4 to 6 pounds beef rib roast
Instructions
For the Horseradish Cream:
In a medium bowl mix together the sour cream, mayonnaise, onion, horseradish, mustard, vinegar and salt until combined.
For the Rub:
In a medium bowl stir together the salt, mustard, espresso, pepper, garlic, onion, thyme, oregano, coriander and celery seeds until combined.
For the Beef:
Preheat oven to 350 degrees.
Sprinkle dry rub evenly over roast; rub with fingers.
Use a sharp knife and make six 1 1/2-inch slits into the fat side of the roast (this will allow the rub to penetrate the meat).
Place roast, fat side up, in a large roasting pan.
Insert an oven proof thermometer into the center of the roast.
For Medium Rare: Roast for 1 3/4 to 2 1/4 hours or until thermometer reaches 135°.
For Medium: Roast for 2 1/4 to 2 1/4 hours or until meat thermometer registers 150°.
Transfer roast to a cutting board; cover with foil; let rest for 15 minutes before carving.
After resting the temperature should reach 145° for medium rare ot 160° for medium.
Slice and serve.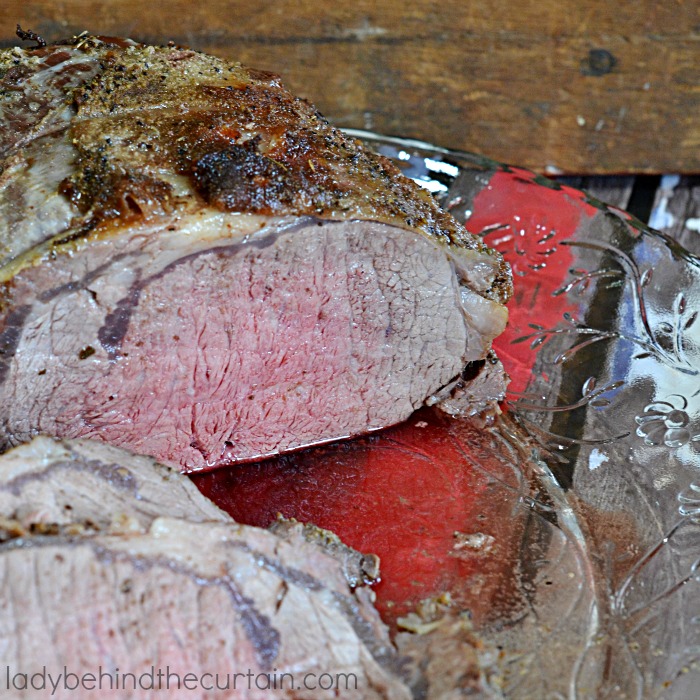 MORE MAIN DISH RECIPES

FRUIT AND WALNUT STUFFED PORK TENDERLOIN  2. MAPLE BLACKBERRY ORANGE GLAZED HAM  3. PESTO STUFFED PORK CHOPS