Raspberry Zinger Christmas Cupcakes
Raspberry Zinger Christmas Cupcakes |  Remembering the days of when I was younger and loved eating Hostess Zinger cakes!  These cupcakes are filled with raspberry, topped with a creamy frosting and then smothered with coconut!  Perfect for any occasion, just swap out the colors of the coconut.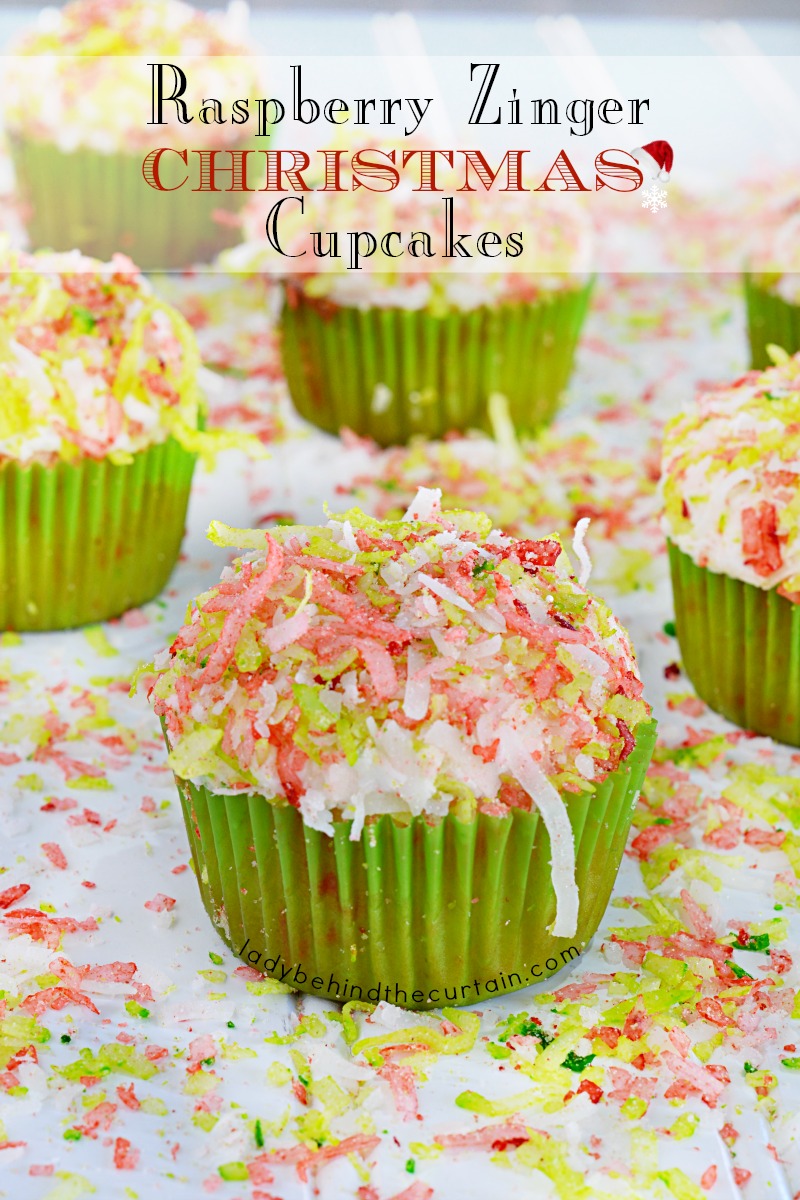 Create a fun and festive cupcake for your next party.  It's as simple as adding colored coconut!  Click here to find out how to transform coconut into magical colors—->>>>HOW TO COLOR COCONUT.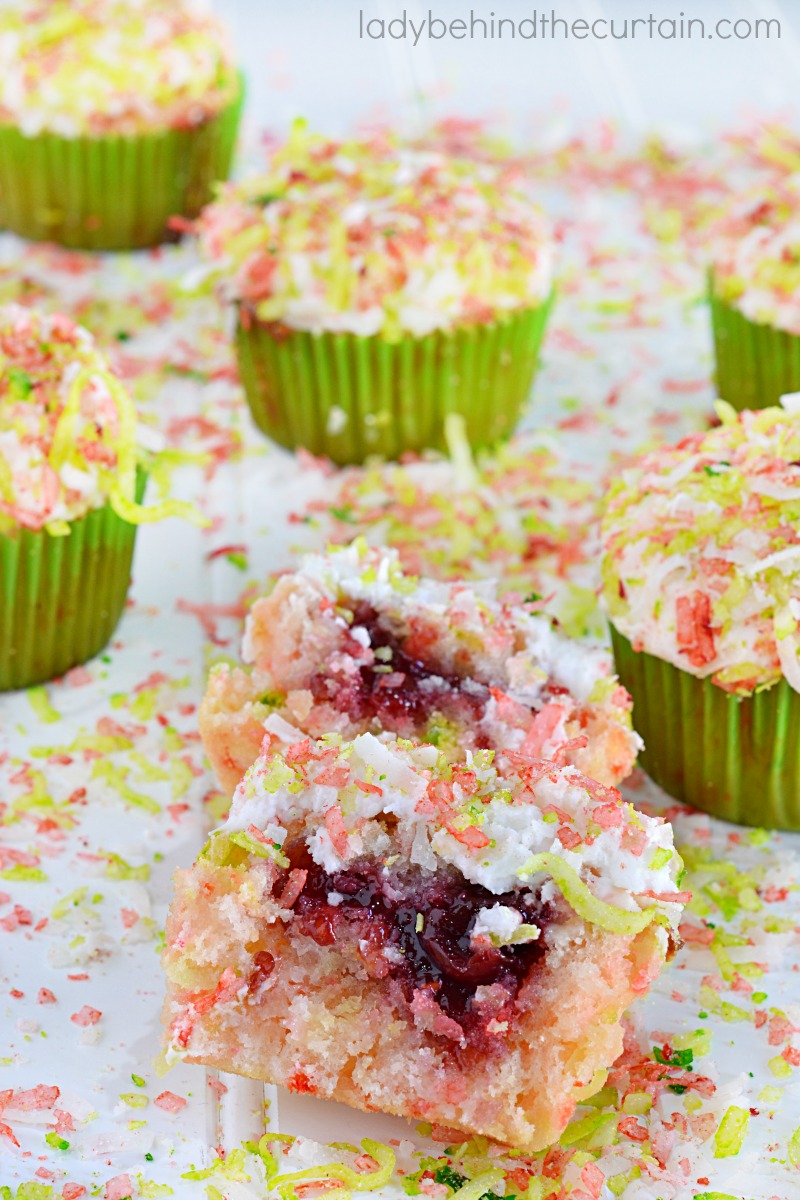 How to make these delicious fun and festive cupcakes!
Add a pop of color by adding some of the colored coconut to the cupcake batter.  Hollow out some of the inside (I like using the wide end of a pipping tip).  Fill with seedless raspberry preserves.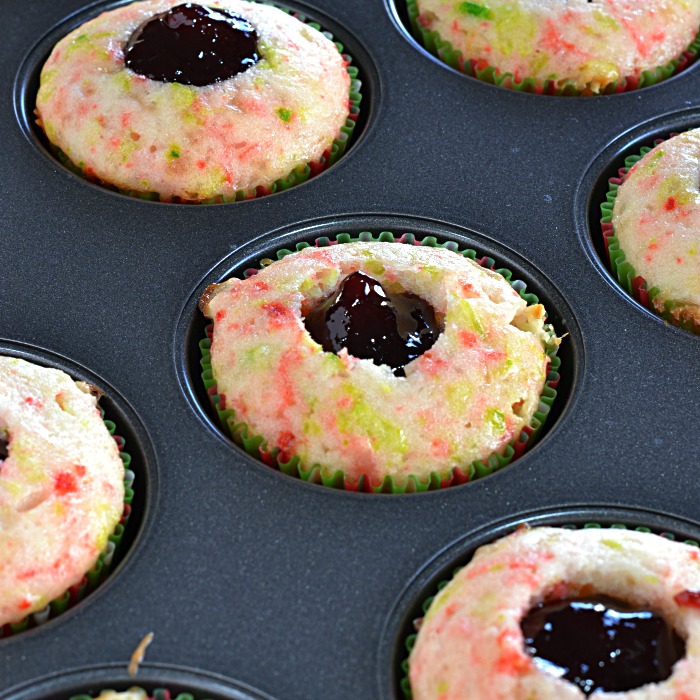 Save those tops and add them back onto the cupcakes.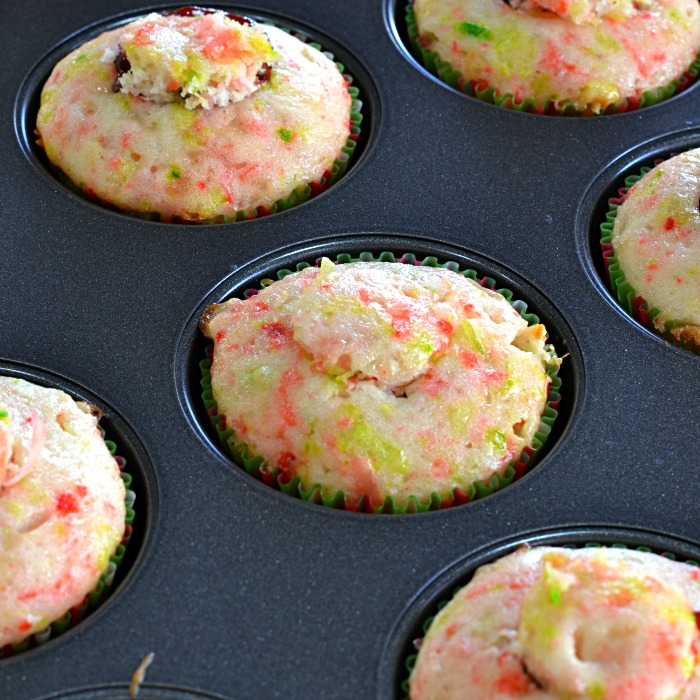 Another great thing about these cupcakes (other then the fact that they're delicious) is you don't have to be fancy with the frosting.  Since the tops of the cupcakes are dipped and pressed with coconut there's no need for any fancy piping techniques.  WooHoo!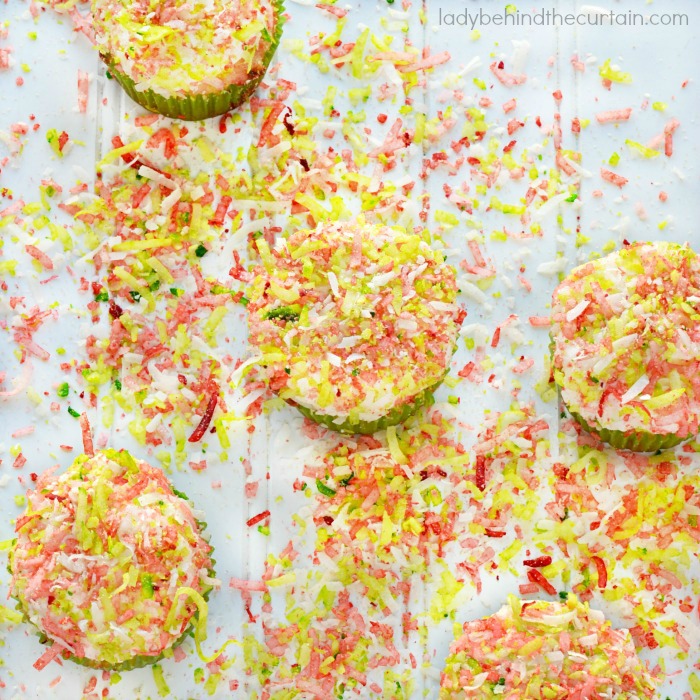 Raspberry Zinger Christmas Cupcakes
Ingredients
For the Cupcake Batter
1 (15.25 ounce) white cake mix
1 1/4 cups water
1/2 cup vegetable oil
4 large egg whites
1 cup white chocolate chips
1 cup sweetened shredded coconut, divided (1/2 cup red and 1/2 cup green)
1 cup seedless reapsberry preserves
For the Frosting
1 cup shortening
1 1/2 teaspoons clear vanilla extract
1/2 teaspoon almond extract
4 cups confectioners' sugar
3 to 4 tablespoons milk
3 cups sweetened shredded coconut (1 cup white, 1 cup red and 1 cup green) link below
Instructions
For the Cupcakes:
Preheat oven to 350°.  Line 18 muffin cups with cupcake liners.  Place cake mix, water, oil and egg whites in a mixing bowl.  Mix on medium speed until combined and creamy.  Stir in the white chocolate chips.  If using colored coconut lightly fold in coconut other wise it can be added with the chips.  Using an ice cream scoop divide cake batter.  Bake 20 minutes or when a toothpick inserted into the center comes out clean.  Cool cupcakes in pan 10 minutes.  Remove from pan and cool completely on a wire cooling rack.
Using a small paring knife or the wide end of a piping tip hollow out some of the cupcake (save the tops)  Fill a piping bag or zip top bag with raspberry preserves, snip one corner and fill the hollowed cupcakes with preserves.  Press on the tops.
For the Bakery White Frosting:
Add the shortening to a medium mixing bowl.  Beat until shortening is light and fluffy.  Add extracts and beat until incorporated into the shortening.  Add the sugar 1 cup at a time; beat until smooth between each addition.  Add milk only if frosting is too thick (I usually add 3 tablespoons).  Drizzle in 1 tablespoon at a time until the frosting reaches spreading or piping consistency.  Fill a piping bag with frosting or spread frosting on filled cupcakes.  Dip and press coconut into frosting (use the frosting as the glue to hold the coconut on the cupcake).
Nutrition Information
Amount Per Serving
Calories

0
Total Fat

0g
Saturated Fat

0g
Cholesterol

0mg
Sodium

0mg
Fiber

0g
Sugar

0g
Protein

0g

MORE HOLIDAY RECIPES
PEPPERMINT MARSHMALLOW FILLED CHOCOLATE CUPCAKES  2. PEANUT BUTTER BROWNIE FUDGE  3. BROWN BUTTER GLAZED PECAN CRESCENT COOKIES
NEVER MISS A POST!
Sign up for my newsletter and receive my recipes in your inbox. Easy to see anytime and saved for safe keeping. Click Here and sign up today! —->>>>CURTAIN CALL NEWSLETTER