Semi Homemade Grilled Pad Thai Pizza
Make your favorite pizza at home in minutes! This Semi Homemade Grilled Pad Thai Pizza is on the healthier side without high fat meats and loaded with FRESH vegetables. A refrigerated crust makes this pizza a snap to prepare. From the crunchy smokey crust to the peanut sauce, fresh mozzarella, carrots, snow peas, cilantro and green onion, with a list like that you know this pizza is a winner!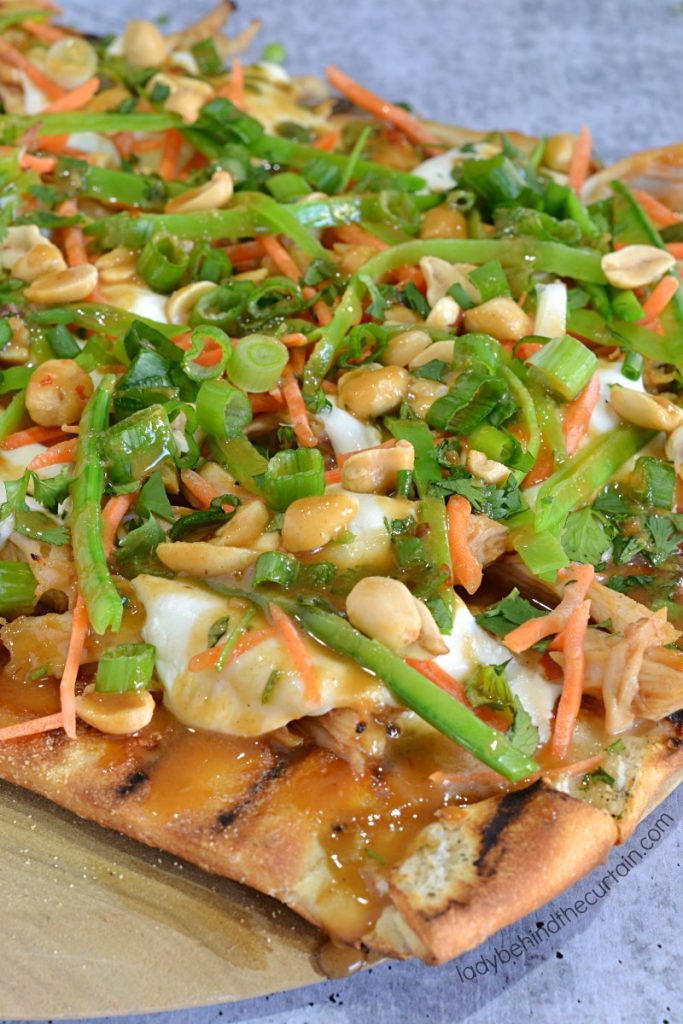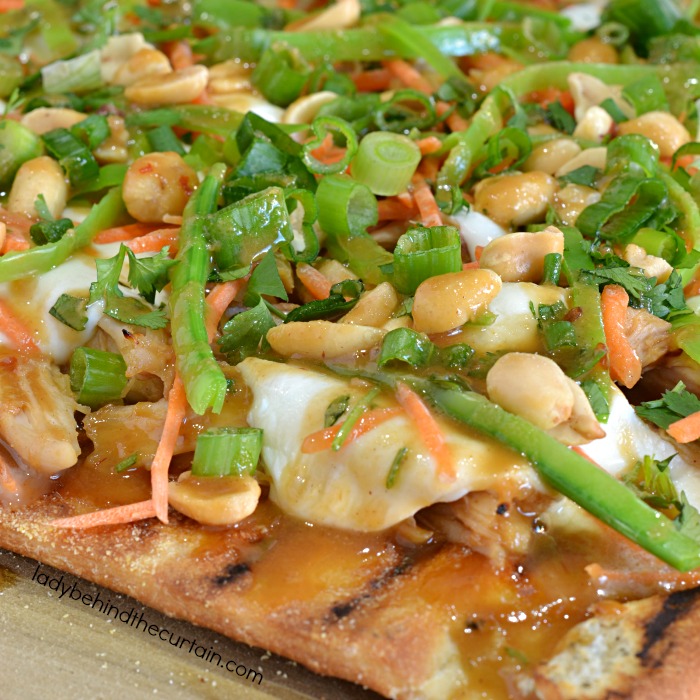 TIP #1: FOR THE GRILLED PIZZA:
When grilling pizza make sure to grill one side BEFORE adding toppings. Here's How: Add the rolled dough to a medium heat grill, grill on one side 7 to 10 minutes. Take the pizza off the grill, add the sauce and toppings. Place back on the grill and cook until the cheese has melted.
TIP #2: FOR THE SAUCE:
If you want an extra punch of flavor, make another half recipe of the peanut sauce. You may want to thin it out a bit for a drizzle consistency. For that you would add a little water. Drizzle sauce over finished pizza. OR…use an ASIAN DRESSING.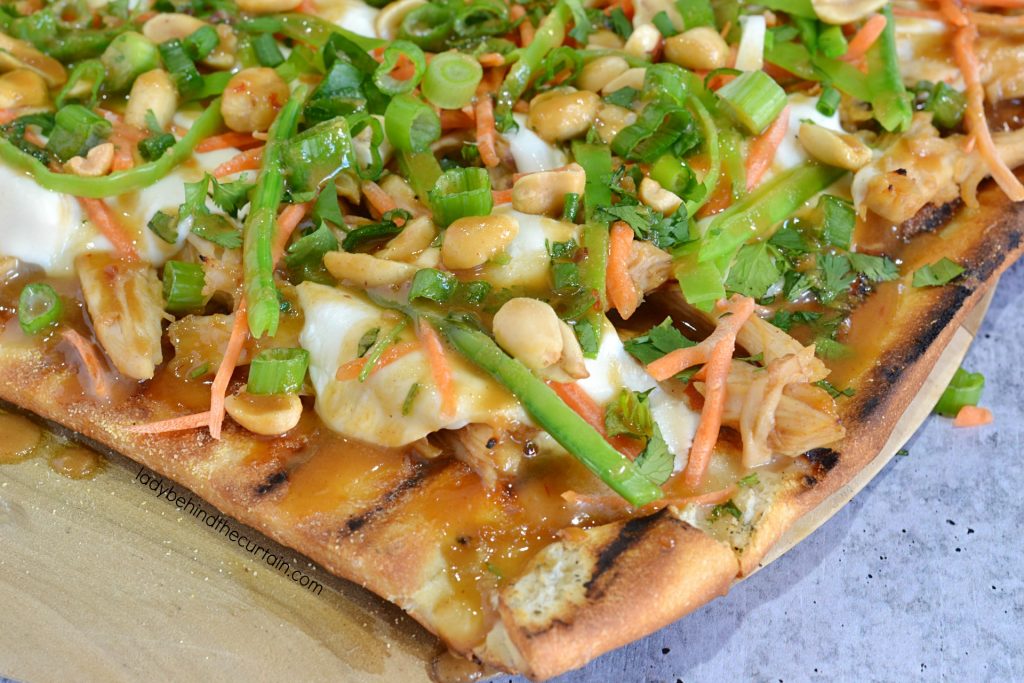 THE PIZZA DOUGH
If the thought of using store bought pizza dough makes you cringe then I have a couple other suggestions for you. ONE: Go to your favorite pizzeria and purchase some pizza dough from them. Most pizzerias will have dough to purchase. TWO: Make your own! I have a delicious easy recipe. Click here for the printable recipe—->>>>EASY PIZZA DOUGH.
THE CHICKEN
This pizza is perfect for leftover chicken! Simply take the chicken off the bone the night before and store it in a airtight container in the refrigerator. For an extra layer of flavor, the chicken is rolled in the sauce. Don't have any leftover chicken but really want to make this amazing pizza? No worries….use rotisserie chicken from the deli.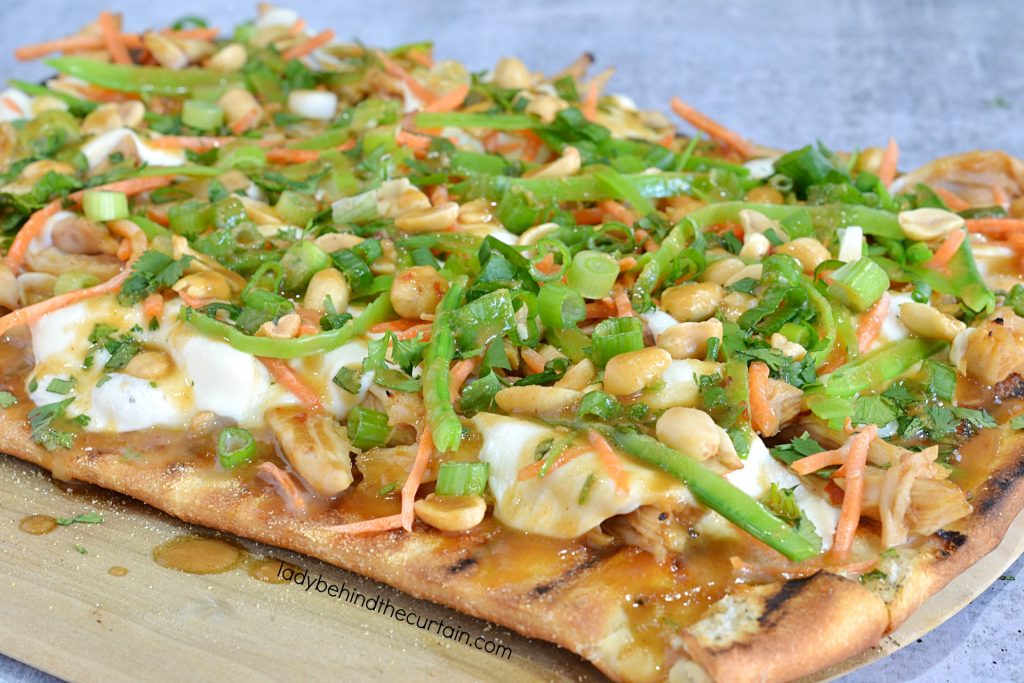 MORE PIZZA RECIPES
NEVER MISS A POST
What goes best with pizza? HOT WINGS! Here are some recipes you might like. STICKY HOT CHICKEN WINGS and THE MOST AH-MAZING BUFFALO CHICKEN WINGS.