Blueberry Pear Dutch Pancake
This Dutch version of an American popover is a light and fluffy dream to eat and can be filled with any fruit or cream! In this recipe you will find piles of fresh pear and blueberries. At only 356 calories this Blueberry Pear Dutch Pancake serves up generous portions that allows you to eat something filling, delicious and low in calories. Scroll down for a bonus apple version recipe.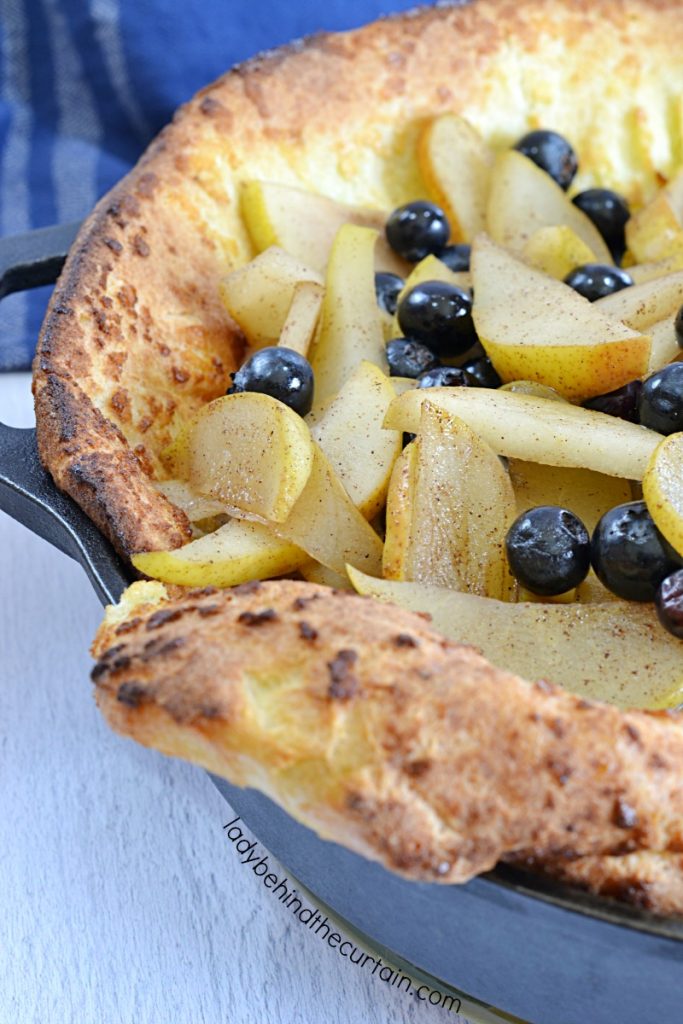 SERVE FOR DESSERT OR BREAKFAST
For dessert the choices are endless. Like ice cream, whipped cream, caramel sauce, hot fudge and nuts! For breakfast a simple sprinkling of powdered sugar with a drizzle of your favorite maple syrup will do fine. OR….before adding the fruit, slather on your favorite jam.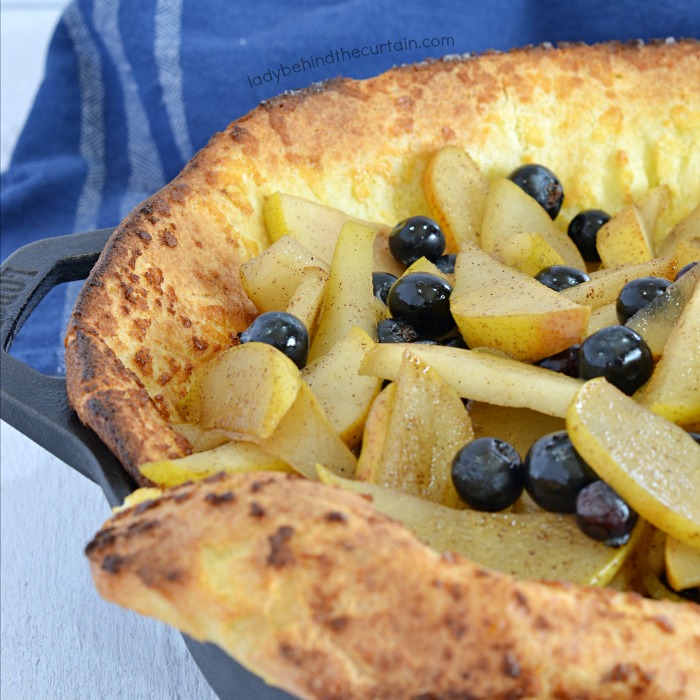 CREATE A BREAKFAST BAR!
Here I am again with another bar idea. Take something simple and build a whole bar around it. Whether it's a breakfast buffet or dessert buffet this Blueberry Pear Dutch Pancake will fit right in. IT'S ALL ABOUT THE TOPPINGS! What toppings you set out will determine….is this for breakfast or for dessert. If you plan on transforming this recipe into a bar, you'll need to also adjust the size of the pancake (this is so you will have individual pancakes for each guest to fill). Look below to see how!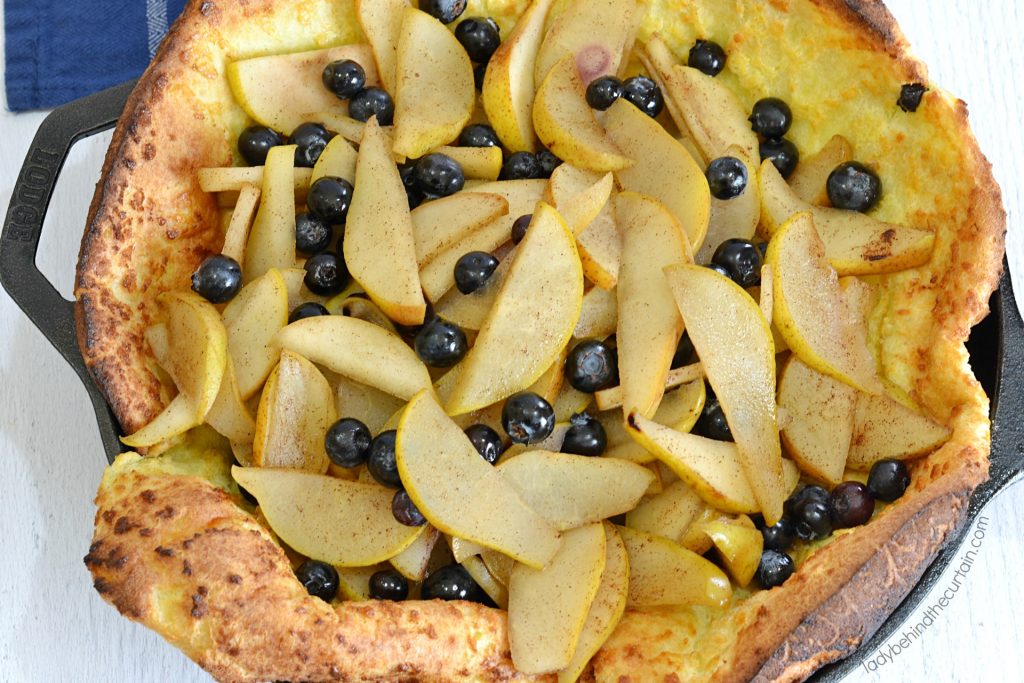 HOW TO MAKE MINI DUTCH PANCAKES
While making the batter, place a 12-cup muffin pan in the oven (preheated to 425°). Before filling cups, melt 2 tablespoons of unsalted butter. Brush each cup bottoms and sides with melted butter. While cups are still hot pour batter into cups filling about 1/2 to 2/3 full. Place back in the oven and bake 15-18 minutes or until puffy and golden.
BREAKFAST MINI DUTCH PANCAKE BAR ITEMS
sauteed fruit (apples, pears or both)
sauces (like blueberry…click here for the printable recipe—->>>>BLUEBERRY SAUCE)
jams or jellies
syrup
honey
spreads (flavored cream cheese)
powdered sugar
DESSERT MINI DUTCH PANCAKE BAR ITEMS
store bought pie fillings (cherry or apple)
sauteed fresh fruit (apples, pears or both)
spreads (pudding, pastry filling, no bake cheesecake) click here for a printable recipe—->>>ORANGE CREAM and NO BAKE CHEESECAKE.
ice cream
whipped cream
sauces (hot fudge or caramel)
nuts
powdered sugar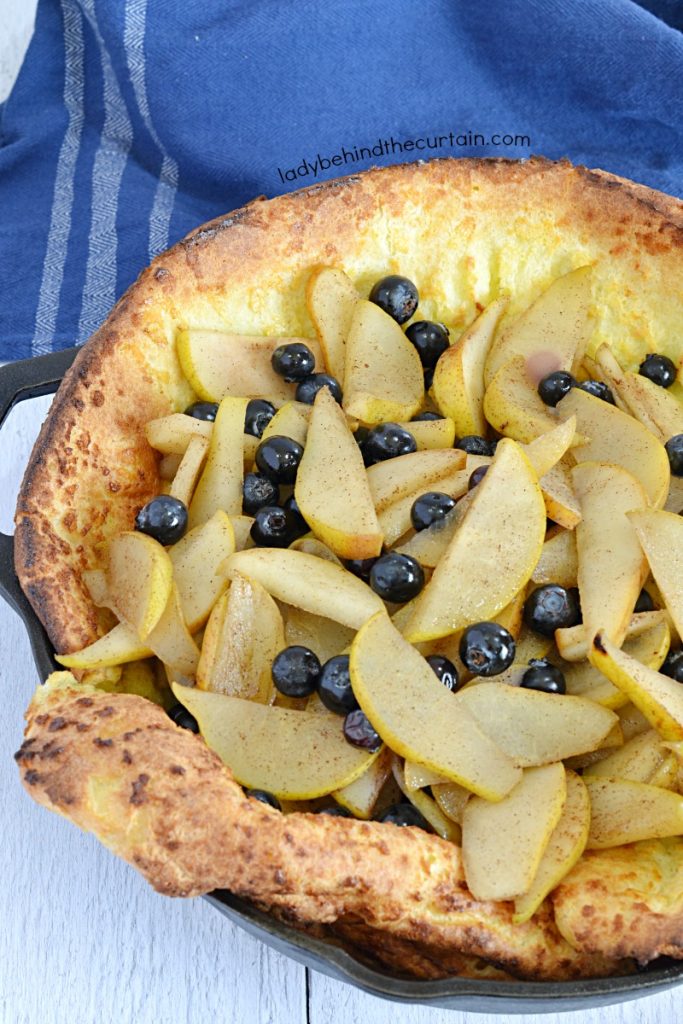 BONUS RECIPE
CINNAMON APPLE DUTCH PANCAKE
3 large apples or 4 medium, cored and thinly sliced
¼ cup Splenda
1 teaspoon ground cinnamon
¼ teaspoon salt
¼ water
Place sliced apples in a medium bowl. Add the Splenda, cinnamon, salt and water. Stir to combine; set aside. Preheat oven to 425°. Heat a 10-inch cast iron skillet or heavy ovenproof skillet over medium heat. Add the apple mixture into the warm skillet. Saute until apples are golden with a little bit left to them (about 10 minutes). Remove from the skillet into a bowl, cover and keep warm by placing on top of a burner (NOT TURNED ON). The fruit will be kept warm from the warmth that the oven brings up through the burner. Follow the same instructions as for the blueberry pear Dutch pancake for the batter.
MORE PANCAKE RECIPES
NEVER MISS A POST
More breakfast recipes you might like. MEXICAN BREAKFAST CASSEROLE and LOADED OVERNIGHT BREAKFAST CASSEROLE.