Dark Chocolate Christmas Decorated Pretzels
Dark Chocolate Christmas Decorated Pretzels. An easy Christmas treat that offers the perfect balance of sweet and salty. These fun treats are just what a fun Christmas Party Dessert Table needs! They add a pop of color and interest. Your guests will be drawn to how pretty they look ….PLUS….it's not at every party you get to have a freshly handmade decorated pretzel!
How to make Dark Chocolate Christmas Decorated Pretzels
Add Drizzle…

Transfer from messy paper…

to clean paper to harden
Pour 1 (10 ounce) bag of dark chocolate melting chips (I used Ghiradelli) into a medium microwave safe bowl. Heat in 30 second increments (about a total of 1½ minutes), stirring between each time.
Spoon warm dark chocolate over a pretzel rod, tap the edge of the bowl to release any extra chocolate.
Place coated pretzel rod on a cookie sheet lined with parchment paper.
Continue with the remaining pretzel rods (this recipe makes 20 decorated pretzels).
To speed up the cooling process—place pretzel rods (on the cookie sheet) in the refrigerator to harden (about 10 minutes).
While chocolate coating is hardening heat the remaining candy (red, green and white)
Pour ONE cup of each color into its own microwave safe bowl.
Heat one color at a time (the same as you did with the dark chocolate).
Pour melted candy into a small piping bag or zip top bag—set aside and continue with the remaining two colors. SEE MY TIP BELOW ABOUT MY FAVORITE TOOL FOR THIS JOB AND WHY I LOVE IT.
Take the pretzels out of the refrigerator
Snip the end of each bag with the colored candy.
In a sweeping motion back and forth separately add a drizzle of each color. TIP: For the best affect start with the darkest color and end with the lightest.
Add red, green and white sprinkles
Move the pretzel rods from the messy piece of parchment to a clean piece to harden. Place in the refrigerator to harden (about 10 minutes).
My favorite tool for needing multiple colors of candy to stay melted at one time—is…..THE MELTING POT from Wilton
HOW TO DISPLAY YOUR DARK CHOCOLATE CHRISTMAS DECORATED PRETZELS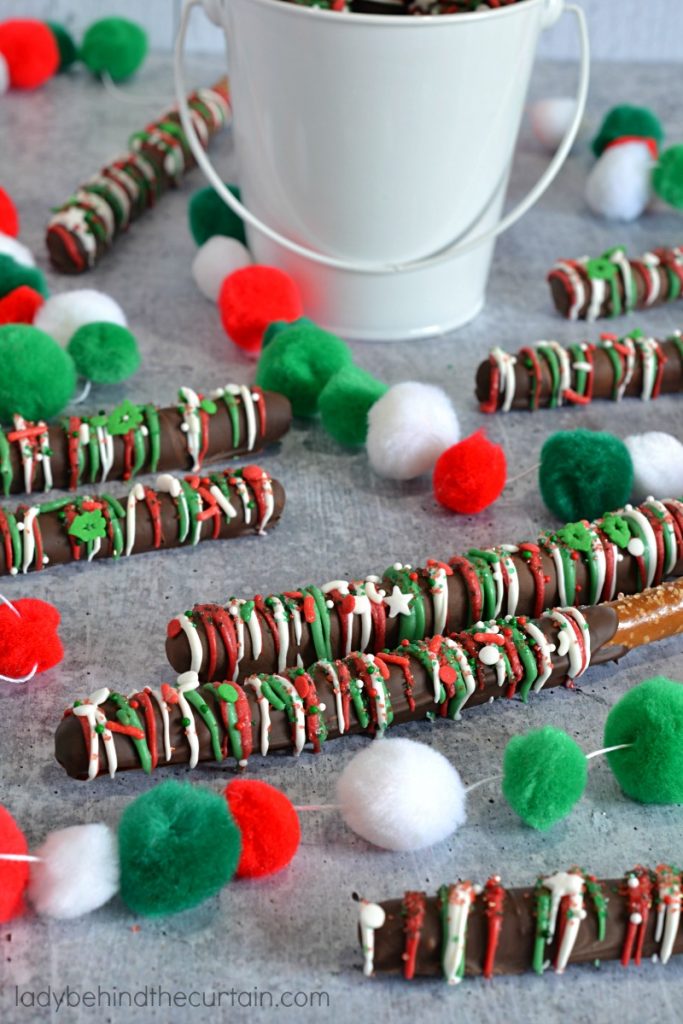 CANDY COATING VS CHOCOLATE BARS
DIFFERENT CANDY COATING CHOICES
Wilton Candy Melts—Comes in a variety of colors (most of them are a vanilla candy NOT CHOCOLATE) and some flavor choices. For the most part they melt good. I have a hard time with some of the colors.
Chocoley—The BEST melting chocolate. All the wafers are actually made with chocolate. A little on the pricey side and can only be ordered. But if you have a special event this product is totally worth the cost. The chips melt beautifully and taste amazing.
Ghirardelli Melting Wafers—These wafers are also made with chocolate but do not come in colors. Special water free colors can be purchased to color the wafers. This is my second choice of a good tasting melting wafer.
You can also find vanilla and chocolate flavored coating (at most grocery stores) that comes in a microwavable tray. This coating is great for muddy buddies, puppy chow and bark.
Adding color to your melted candy
MORE DECORATED PRETZEL IDEAS
NEVER MISS A POST