Shrimp Po' Boys with Light Spicy Sauce
This sandwich reminds me of summer!
Have something different for lunch!  How about these Shrimp Po' Boys with Light Spicy Sauce!  A nice alternative to the heavy sub sandwich.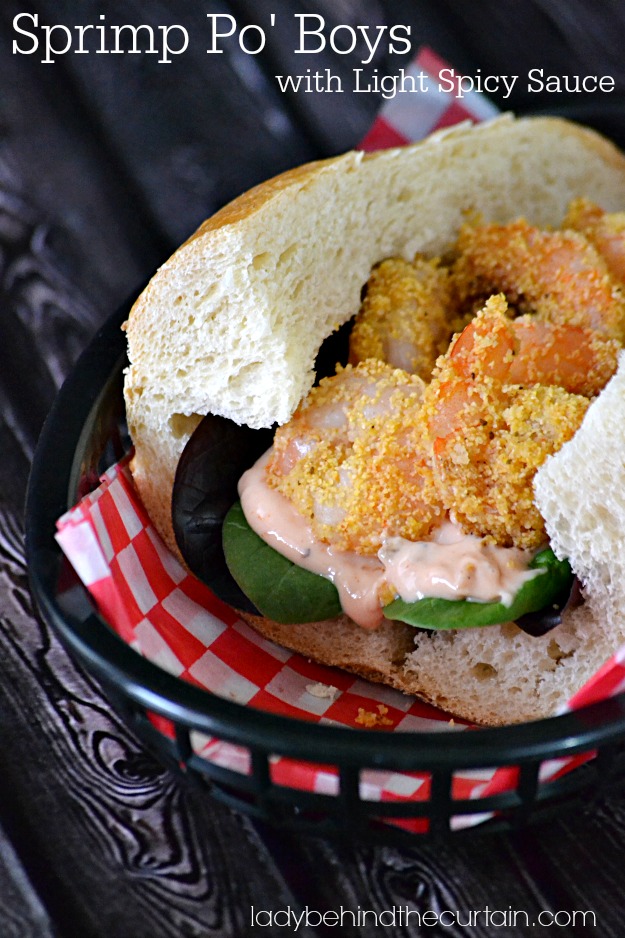 First you coat the shrimp with a seasoned cornmeal and then bake.  Juicy and full of flavor on their own.  This succulent shrimp sandwich is slathered with a delicious Light Spicy Sauce.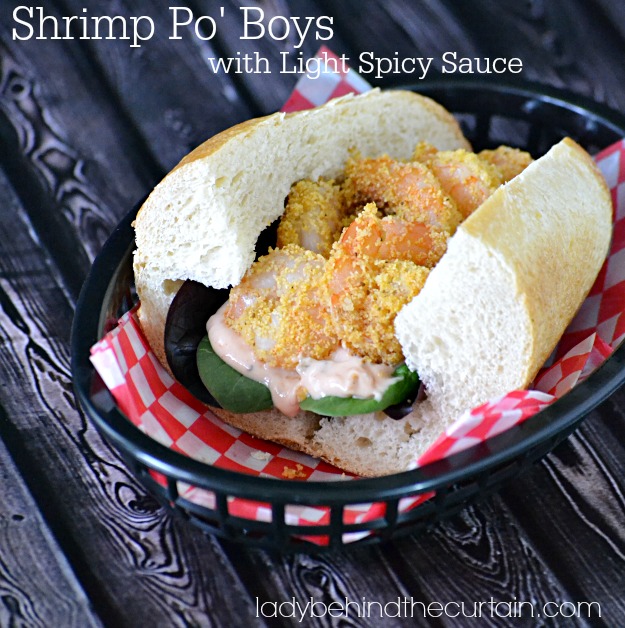 Create your own Recipe Box and save your favorite Lady Behind The Curtain recipes.  Make a Meal Plan with your favorite recipes and ZipList will automatically add the ingredients to a Shopping List.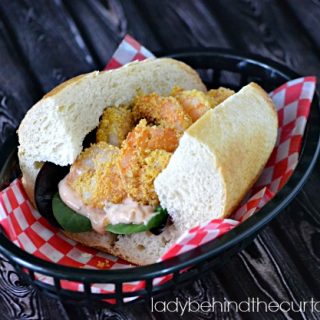 Shrimp Po' Boys with Light Spicy Sauce
Bring back Summer with this delicious Shrimp Sandwich!
Ingredients
2 pound bag of 31 to 40 count Shrimp
2 tablespoons buttermilk
1/2 cup yellow cornmeal
2 teaspoons old bay seasoning
2 (12 ounce) French bread baguette, each cut crosswise into 4 pieces
lettuce
Instructions
Preheat oven to 450 degrees.
Line a baking sheet with foil and spray with non stick cooking spray.
Place cleaned shrimp in a medium bowl, add the buttermilk, cornmeal and old bay.
Stir until all the shrimp is coated with the cornmeal mixture.
Place on prepared baking sheet.
Bake 16 minutes or until the shrimp is pink.
Cut bread pieces to but not through the bottom, hollow out some of the bread, leaving 1/2-inch thick shell.
Add 2 tablespoons of the Light Spicy Sauce to the bread.
Add lettuce and shrimp.