Gingerbread Cake Roll |Gingerbread becomes something special when filled with a homemade Almond Pastry Cream!  What do you serve when making a layered cake isn't special enough and you want to knock the socks off your guests?  A CAKE ROLL of course!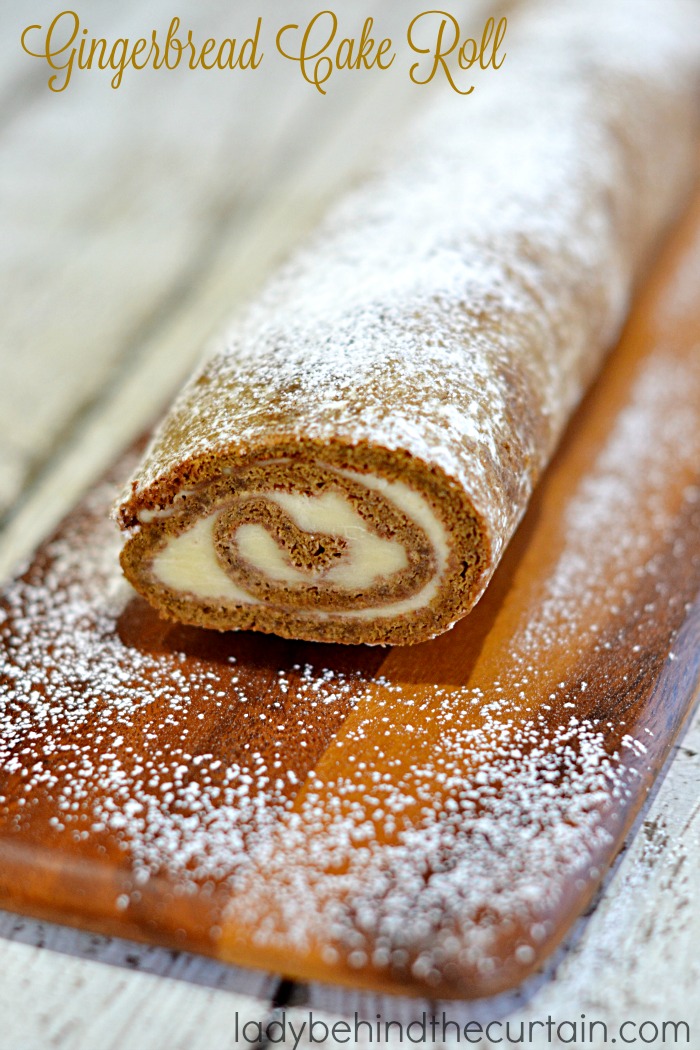 Cake rolls look elaborate, but are super simple to make.  If you are feeling hesitant about making one watch my step by step video below.  Then you'll see how easy they are to make and make one for your guests this year.
If Gingerbread is your flavor you might also like my GINGERBREAD FUDGE, GINGERBREAD CUPCAKES or my GINGERBREAD TURTLE THUMBPRINT COOKIES.
FOR A DETAILED LOOK….WATCH MY VIDEO "HOW TO MAKE A CAKE ROLL"!
Ingredients
For the Almond Pastry Cream Filling:

1/2 cup granulated sugar
4 teaspoons cornstarch
1/4 teaspoon salt
2 cups half and half
4 egg yolks
1/2 teaspoon almond extract

For the Gingerbread Cake:

4 large eggs
1/2 cup all-purpose flour
1 teaspoon baking powder
1 teaspoon ground ginger
3/4 teaspoon ground cinnamon
1/2 teaspoon salt
1/4 teaspoon ground cloves
1/3 cup molasses
1/2 cup granulated sugar
confectioners' sugar for dusting
Instructions
For the Almond Pastry Cream:

In a medium saucepan stir together sugar, cornstarch and salt
Gradually stir in half and half.
Cook and stir on medium heat until thickened and bubbly.
Cook and stir an additional 1 minute.
Gradually stir in half of the hot mixture into the egg yolks.
Return egg yolk mixture to the saucepan.
Bring to a boil; reduce heat and cook for 2 minutes constantly stirring.
Remove from heat; strain pastry cream into a bowl and stir in almond extract..
Cover with plastic wrap, chill about 4 hours or until cold

DO NOT STIR

.

For the Gingerbread Cake Roll:

Separate eggs; allow to stand at room temperature for 30 minutes.
Spray a 16x12x1-inch baking pan with non stick cooking spray; line with parchment paper and spray the parchment paper.
Preheat oven to 375°.
In a mixing bowl stir together the flour, baking powder, ginger, cinnamon, salt and cloves; set aside.
In a medium bowl beat egg yolks on high about 4 minutes or until thick and lemon color; beat in molasses until combined.
Wash beaters; in another medium mixing bowl beat the egg whites on medium speed until soft peaks form (tips curl).
Add 1/2 cup granulated sugar, scrap down the sides; beat until stiff peaks form (tips stand straight).
Fold egg yolk mixture into beaten egg whites.
Sift flour mixture over the egg mixture; fold in just until combined.
Spread batter in the prepared baking pan.
Bake 12 to 15 minute or until cake springs back when lightly touched.
Immediately loosen edges of cake from pan and turn cake out onto a clean kitchen towel sprinkled with confectioners' sugar.
Remove parchment paper.
Roll towel and cake into a spiral, start from a short side of the cake.
Cool on wire rack.
Unroll cake; remove towel;
Spread cake with Almond Pastry Cream Filling to within 1-inch of the edges.
Roll up cake; cover with a layer of plastic wrap and foil.
Freeze until ready to serve.
Before serving dust with additional confectioners' sugar.
https://www.ladybehindthecurtain.com/gingerbread-cake-roll/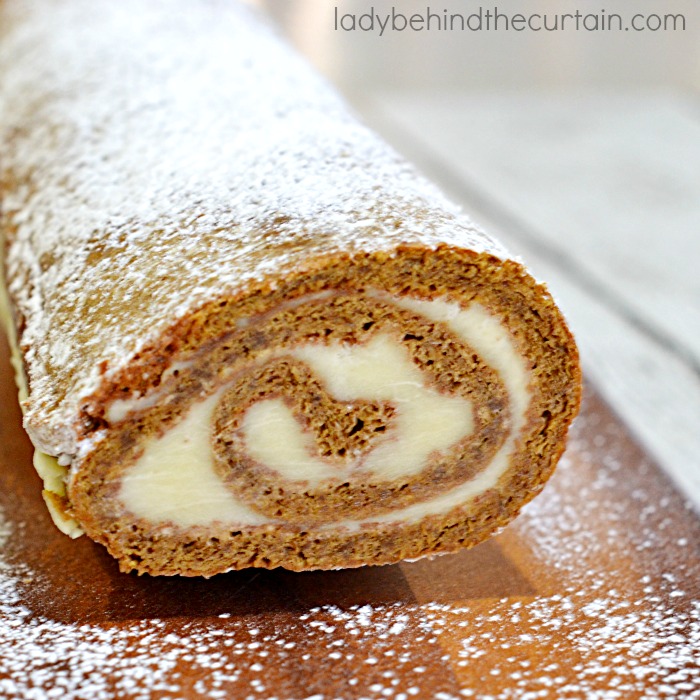 MORE CAKE ROLL RECIPES

LEMON CREME CAKE ROLL  2. STRAWBERRY MALLOW CAKE ROLL 3. PUMPKIN CAKE ROLL