Slow Cooker Asian Beef |Put everything in your slow cooker and forget about it.  That is…. if you can, because the smell coming from this recipe is amazing!  This hearty Asian recipe is also full of yummy vegetables, like snow peas, carrots and sliced red pepper.  The perfect weeknight meal for after soccer practice, dance class or cheer.  No matter what your kids schedule is you can still have a healthy home cooked meal waiting for you!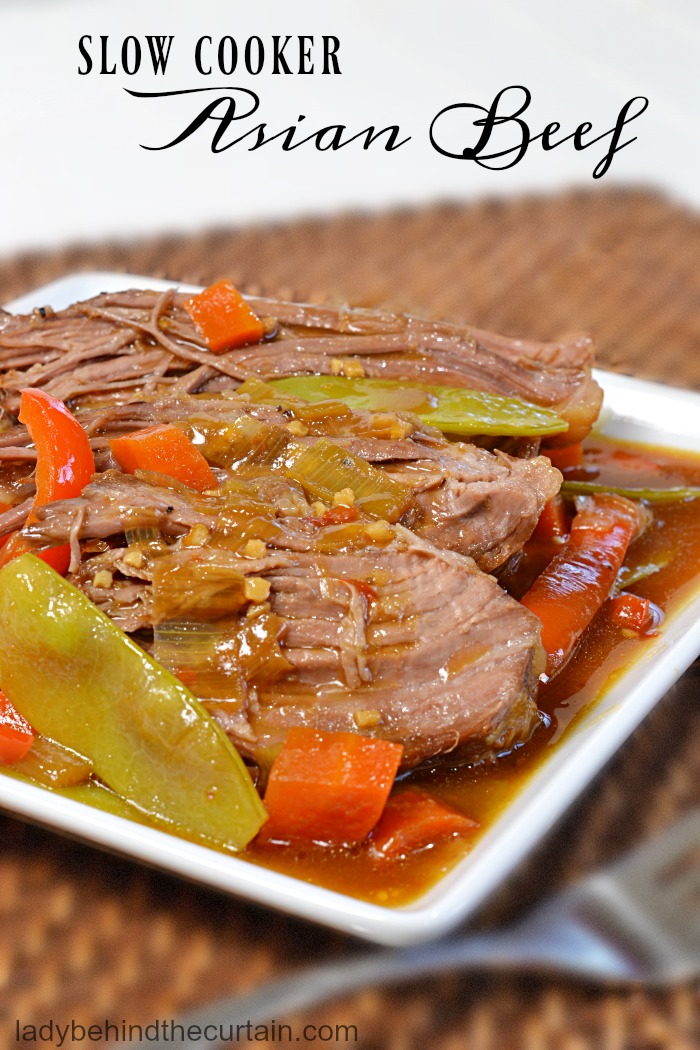 Good News!  Use your slow cooker to create the building blocks for two super-tasty meals.  Less time spent in the kitchen and two delicious weeknight dinners!  Win, win!  The leftovers from this recipe can be made into an incredible noodle bowl!  CLICK HERE FOR THE RECIPE—->>>>ASIAN NOODLE BOWL.  Asian food is my number one go to when eating out.  Some nights I would rather stay home and cozy up.  On those nights I'm happy I have some good recipes I can fall back on to satisfy my Asian food craving.
FUN FACT: Asian Food includes basically any food native to countries of Asia.  this includes Thai, Chinese, Japanese, Vietnamese…..Lots of different flavors and styles are represented.
Because when it's 79° in your house the last thing you want to do is stand over a hot stove.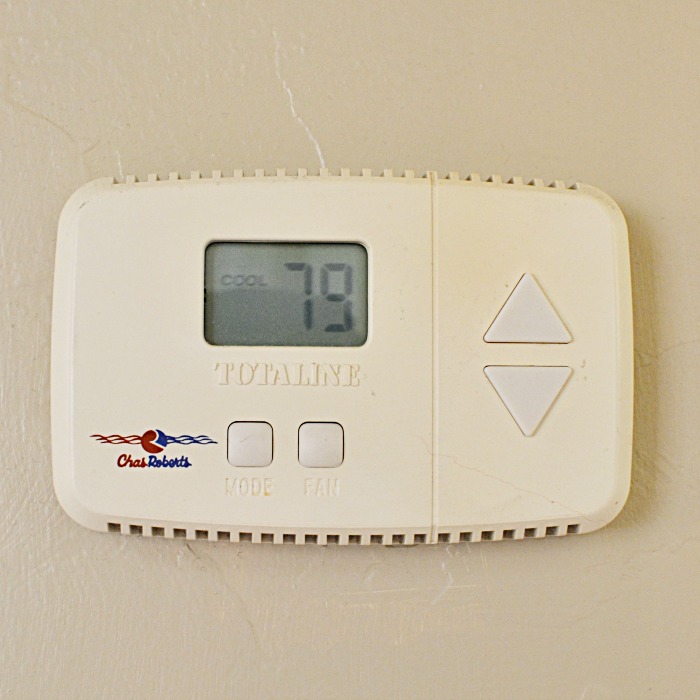 Who doesn't love creating two recipes from one?  Here is another duo, SLOW COOKER MOROCCAN RIBS and MOROCCAN FLATBREAD.  With wonderful ingredients like turmeric, garbanzo beans and an added touch of sweetness from dried apricots!  I know you're going to love these recipes!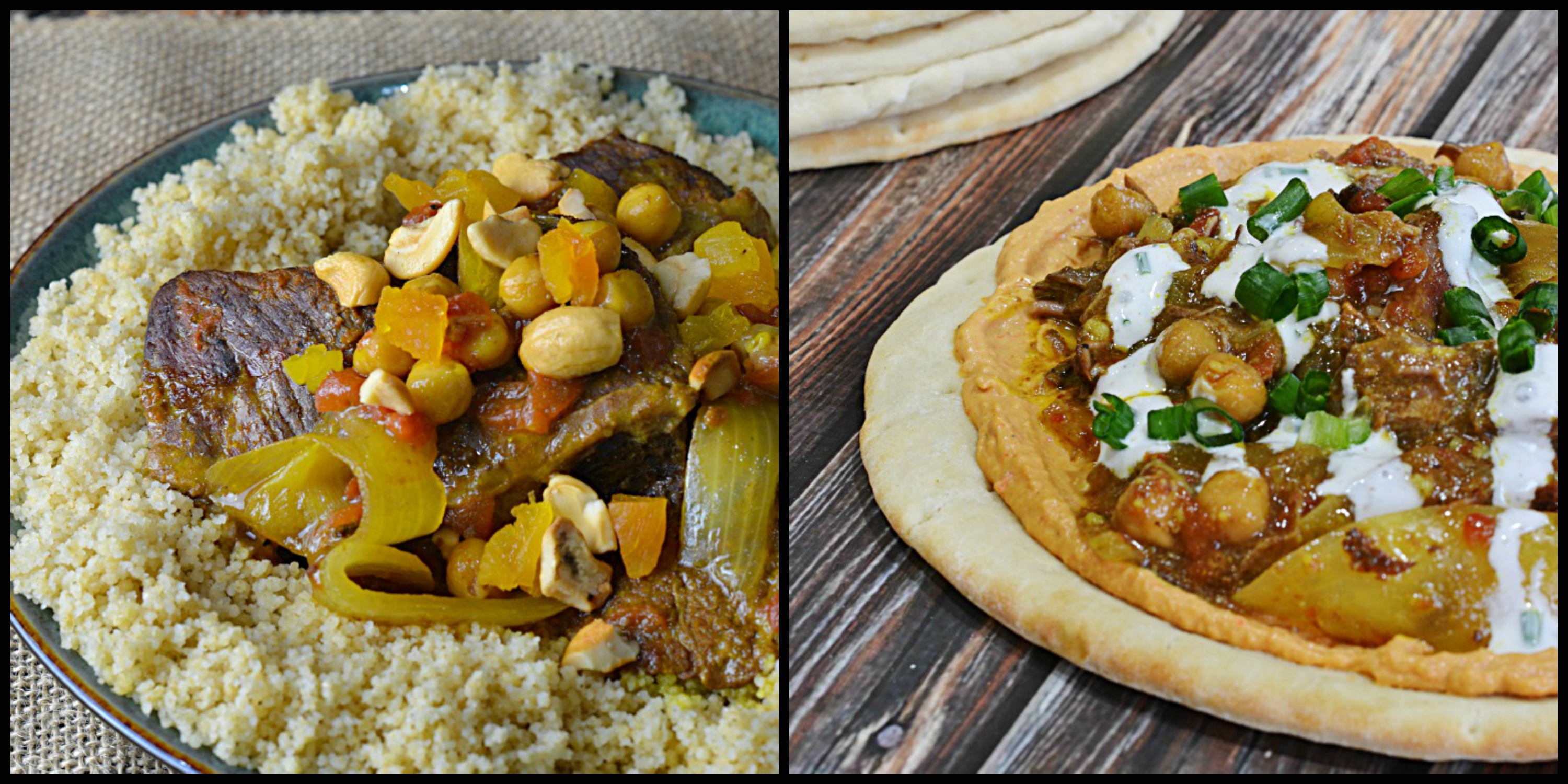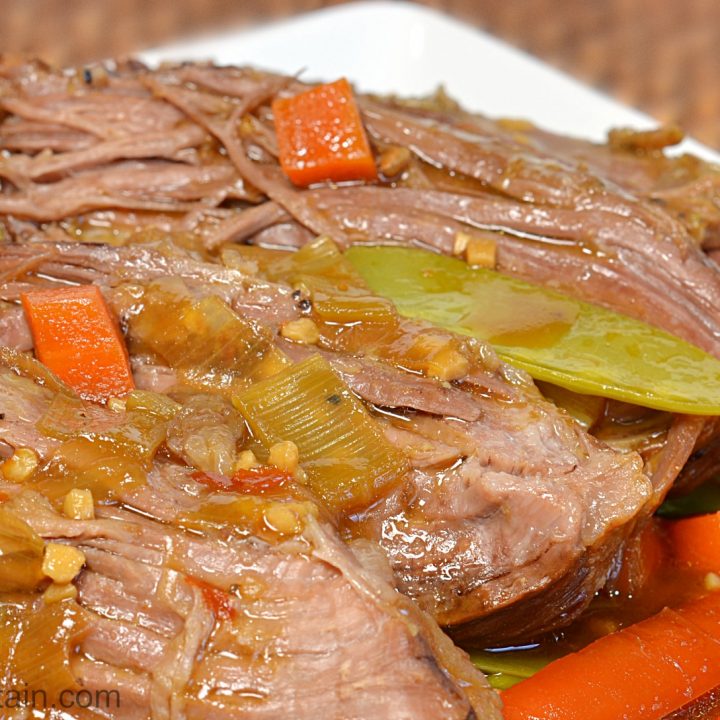 Slow Cooker Asian Steak
Yield:
Serves 4 without the Asian Noodle Bowl
Ingredients
¾ cup hoisin sauce
1 cup orange juice
¾ cup beef broth
2 tablespoons of chopped bottled or fresh garlic
1 teaspoon ground ginger
½ teaspoon crushed red pepper
1½ teaspoons salt
1 teaspoon black pepper
2 tablespoons quick cooking tapioca
1½ cups carrots, sliced
1 large onion thinly sliced
3 pounds beef (roast)
1½ cups snow pea pods, end cut off
1½ cups red sweet pepper, cut into strips
Instructions
In a 5 quart slow cooker stir together the hoisin sauce, orange juice, broth, garlic, ginger, red pepper, salt and pepper.
Sprinkle on the tapicoa; stir in carrot and onion.
Trim off fat from the meat; place in the slow cooker, cover and cook on low for 8 to 9 hours or on high for 4 to 4½ hours.
If using low, turn on high and add the snow pea pods and the sweet red pepper slices to the slow cooker. Cover and cook an additional 30 minutes.
Remove beef from cooker; slice.
If you are planning on transforming the leftovers into an Asian Noodle Bowl, reserve 12 ounces of the beef, 1¾ cups of the juices and ¾ cup of vegetables.
Store in an air tight container in the refrigerator for the next day or up to 3 days.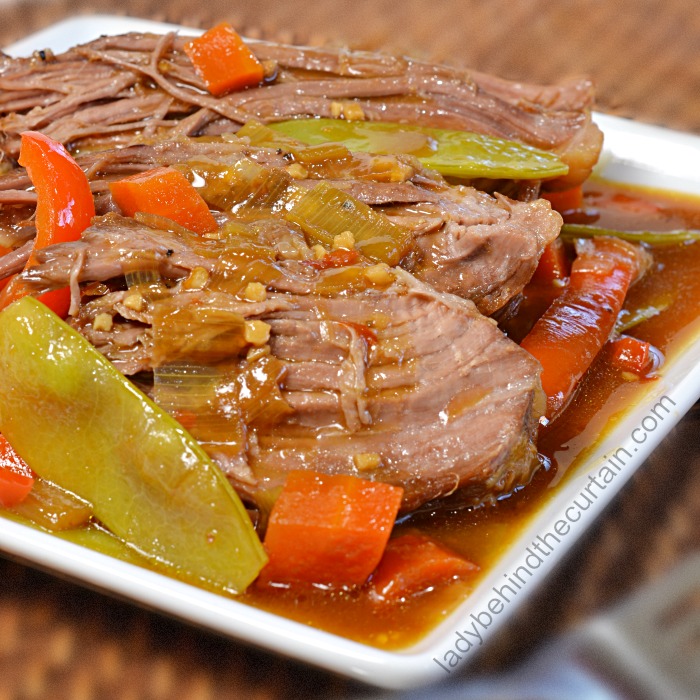 MORE SLOW COOKER RECIPES

SLOW COOKER PORK TACOS  2. SLOW COOKER BARBECUE BEEF SANDWICHES  3. SLOW COOKER CREAMY RANCH POTATOES

NEVER MISS A POST!
Sign up for my newsletter (two per month) and receive my recipes in your inbox.  Easy to see anytime and saved for safe keeping.  Click Here and sign up today! —->>>>CURTAIN CALL NEWSLETTER
Save