Slow Cooker Root Beer Pulled Pork
Slow Cooker Root Beer Pulled Pork: Move over grill. Your slow cooker just became the go-to appliance for making pulled pork sandwiches. The secret to most loved recipes is sheer simplicity. With a handful of ingredients and a little prep time, you can turn out this awesome 5 ingredient saucy pulled pork recipe that is ready when you are.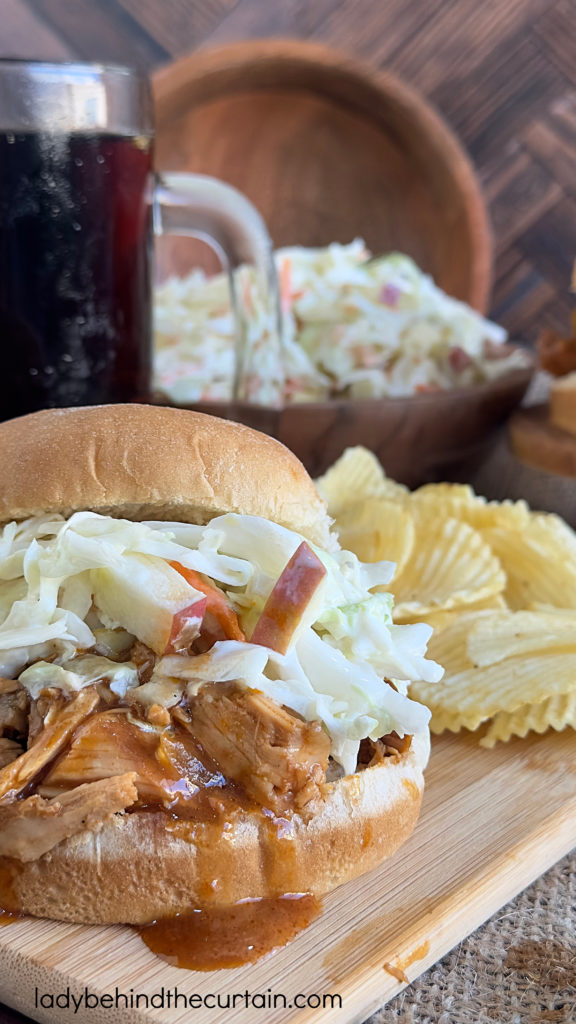 No matter what time of year it is, feeding a crowd can be daunting. Not with this slow cooker root beer pulled pork recipe. Full of barbecue flavor, this incredible easy to make sandwich will even satisfy hungry game day watchers.
How to Make 5-Ingredient Slow Cooker Root Beer Pulled Pork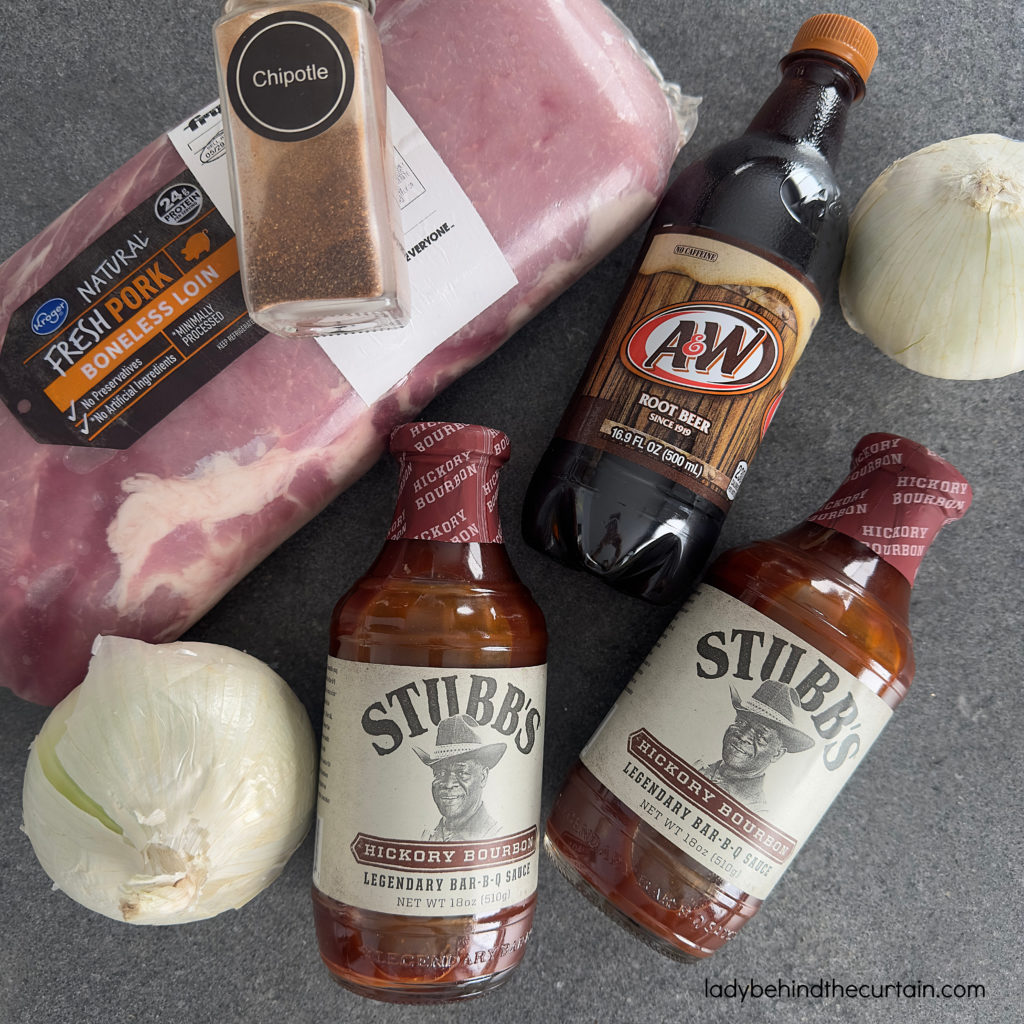 INGREDEINTS (full printable recipe below)
pork tenderloin
onion
barbecue sauce (I used Stubs Hickory Bourbon)
ground chipotle pepper
root beer
DIRECTIONS
Place pork and onion is a 3 to 4 quart slow cooker.
In a bowl, stir together the sauce, root beer, and chipotle pepper.
Pour over meat, cover and cook on high 4 hours or low 6 to 7 hours.
Adding Coleslaw to your Root Beer Pulled Pork Sandwich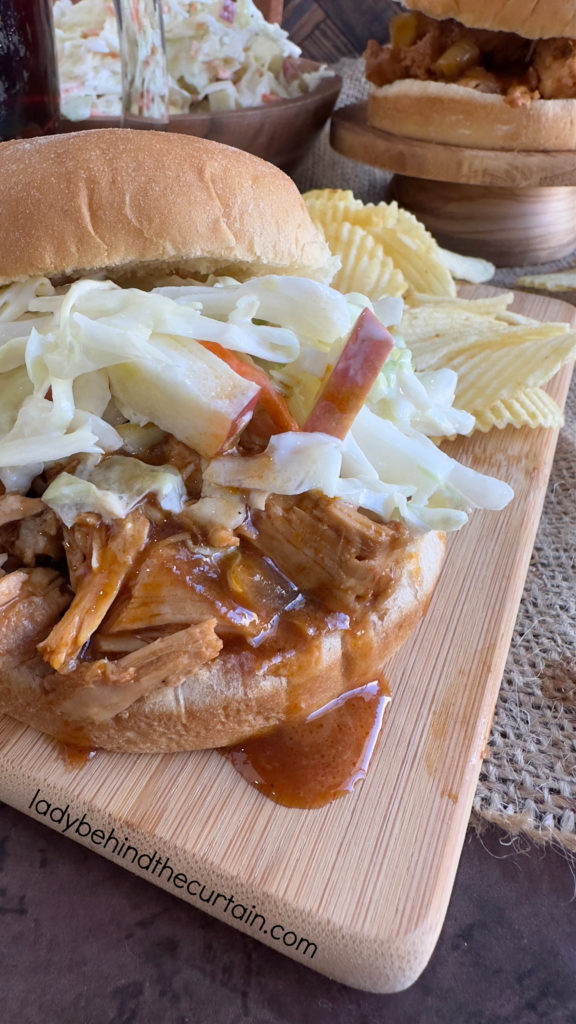 Adding sweet coleslaw on top of a savory pile of meat is my favorite way to have a pulled pork sandwich. You can't beat the savory sweet combo and wonderful sloppy mess. Click here for the recipe→CLASSIC SEMI HOMEMADE COLESLAW
How to Serve Root Beer Pulled Pork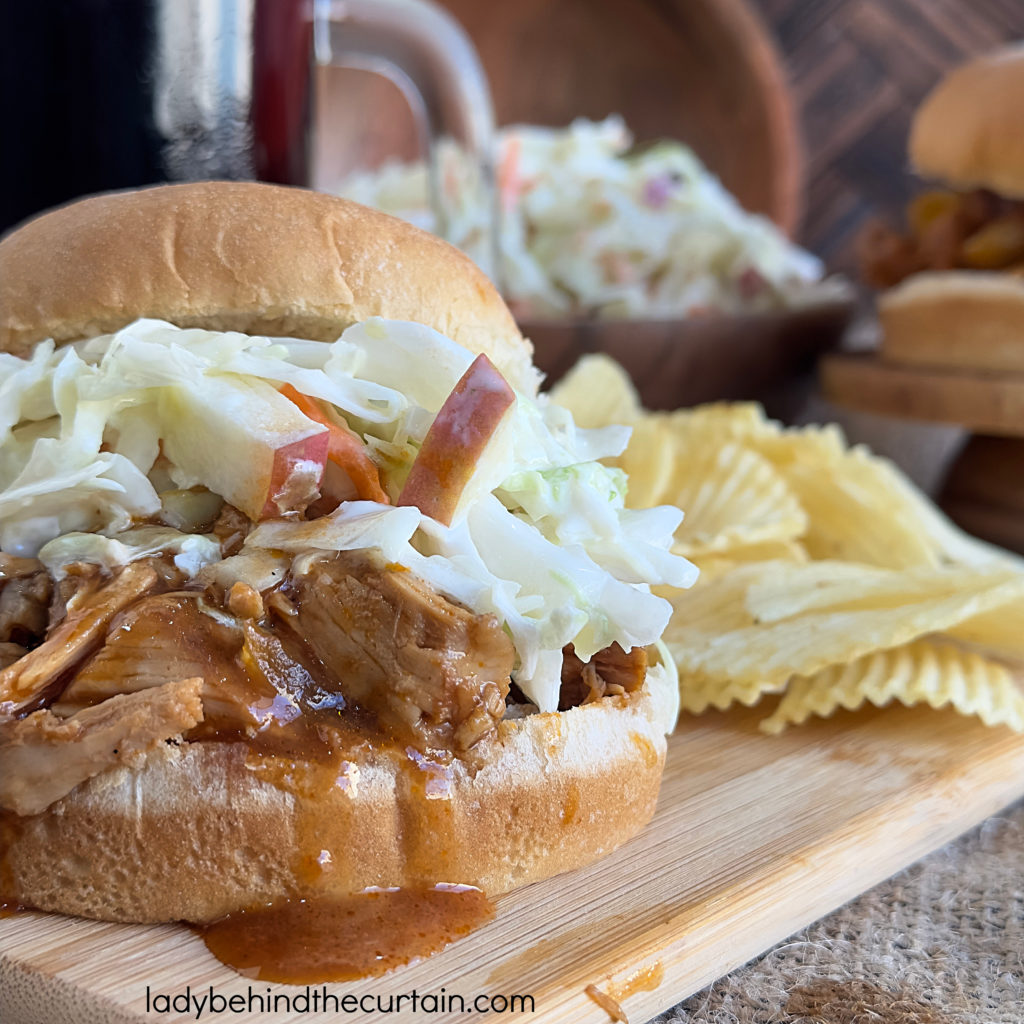 SANDWICH: Pile high and top with coleslaw on hamburger buns
STEAMED RICE: A great way to use up leftovers! Spoon this saucy pulled pork on top of a mound of rice
MASHED POTATOES: Create a pulled pork bowl! Mashed potatoes, pulled pork, roasted corn, and cheese. YUM!
Should I Brown the Pork?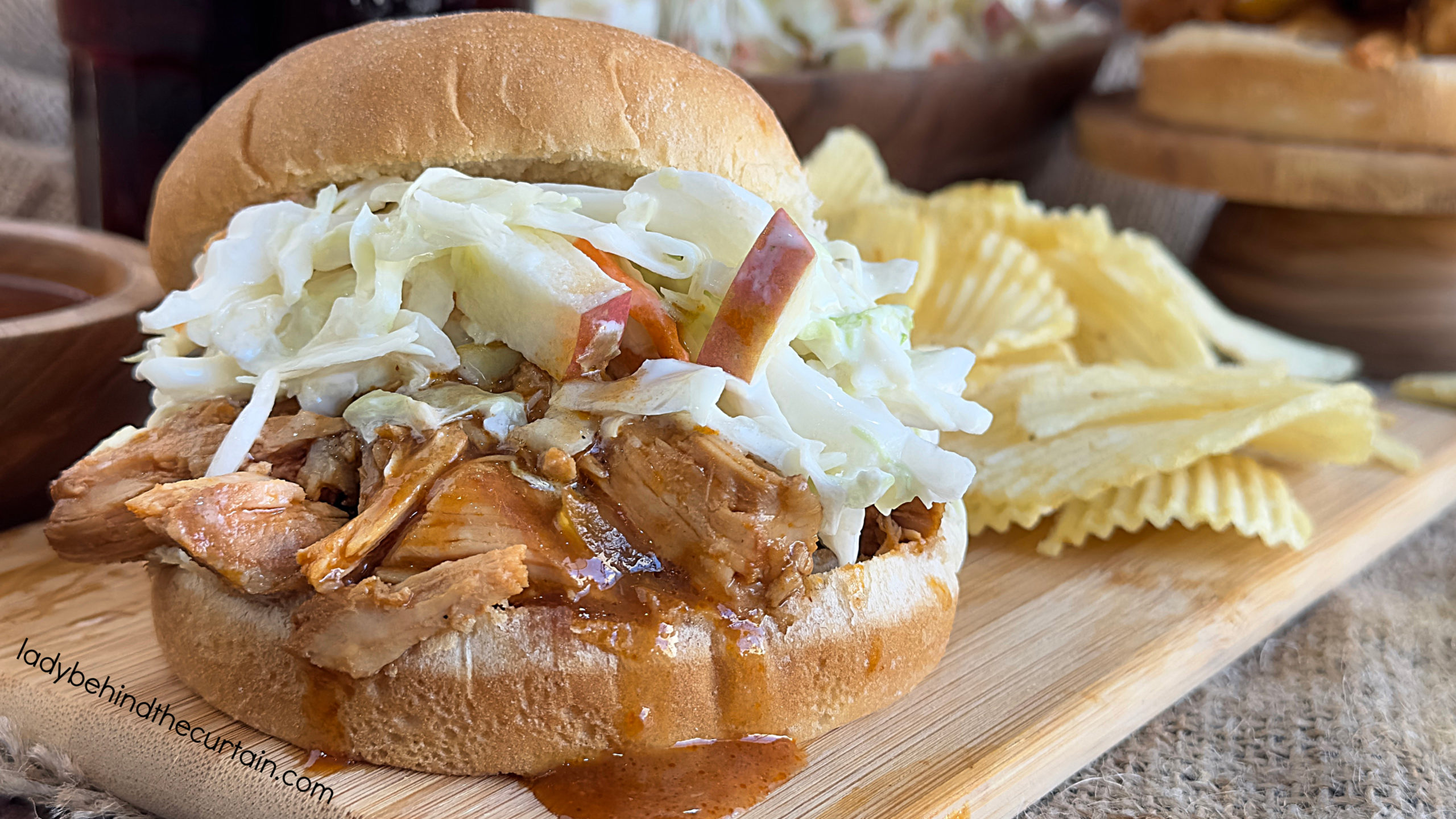 Browning meat before adding to the slow cooker is not necessary. Some say browning the meat can add more flavor to a dish. If you want to brown the pork you can. The cook time remains the same.
Different Sodas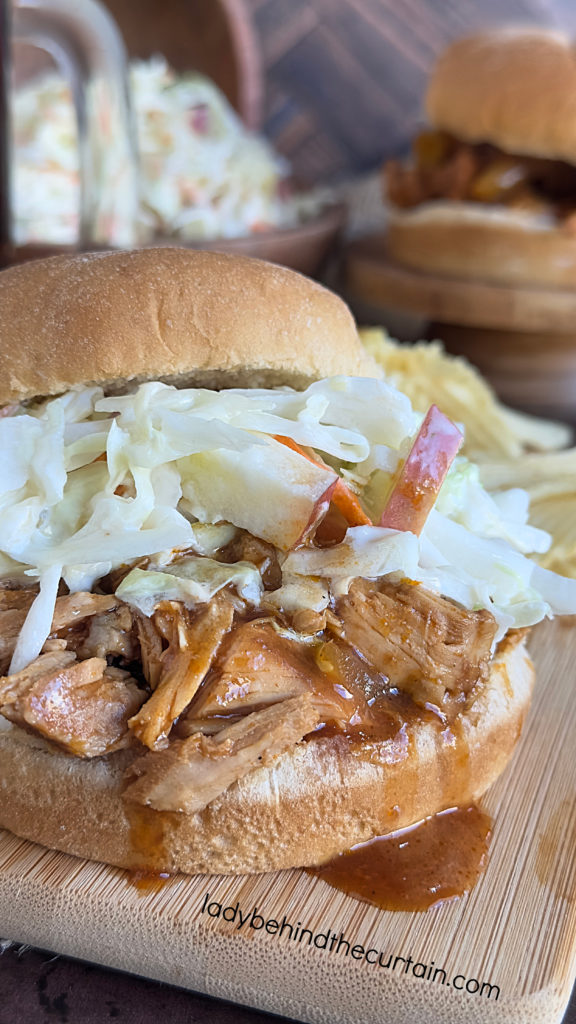 Switch the soda and change up the flavor of your Root Beer Pulled Pork. Below are a few of my favorite substitutions.
Dr. Pepper
Coke or Pepsi
Diet Sodas
Beer
Instant Pot Cooking Option
If you're short on time then cooking with an instant pot is the way to go. Pork does great in an instant pot. Click here for the recipe→INSTANT POT PULLED PORK
MORE PULLED PORK RECIPES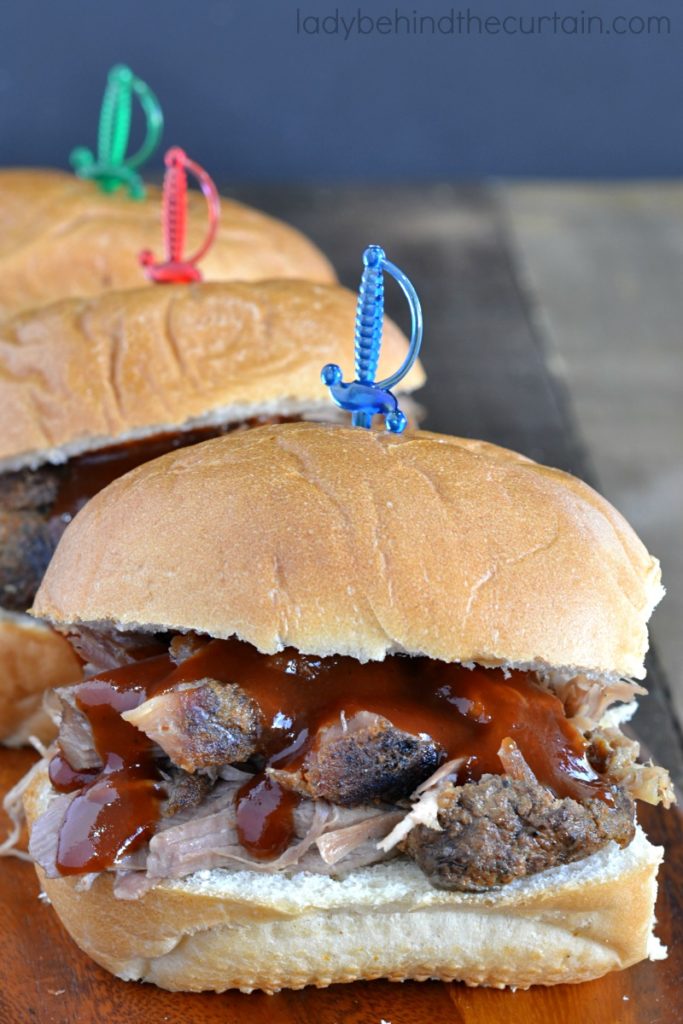 SMOKED PULLED PORK 2. SWEET AND SOUR PULLED PORK 3. ISLAND PULLED PORK
SIGN UP FOR THE LADY BEHIND THE CURTAIN NEWSLETTER AND FOLLOW THE LADY BEHIND THE PARTY ETSY SHOP
THANKS FOR VISITING♥