Sweet and Sour Pulled Pork Sandwiches
These Sweet and Sour Pulled Pork Sandwiches have a savory flavor from the barbecue sauce but the addition of the sweet coleslaw really makes this sandwich standout!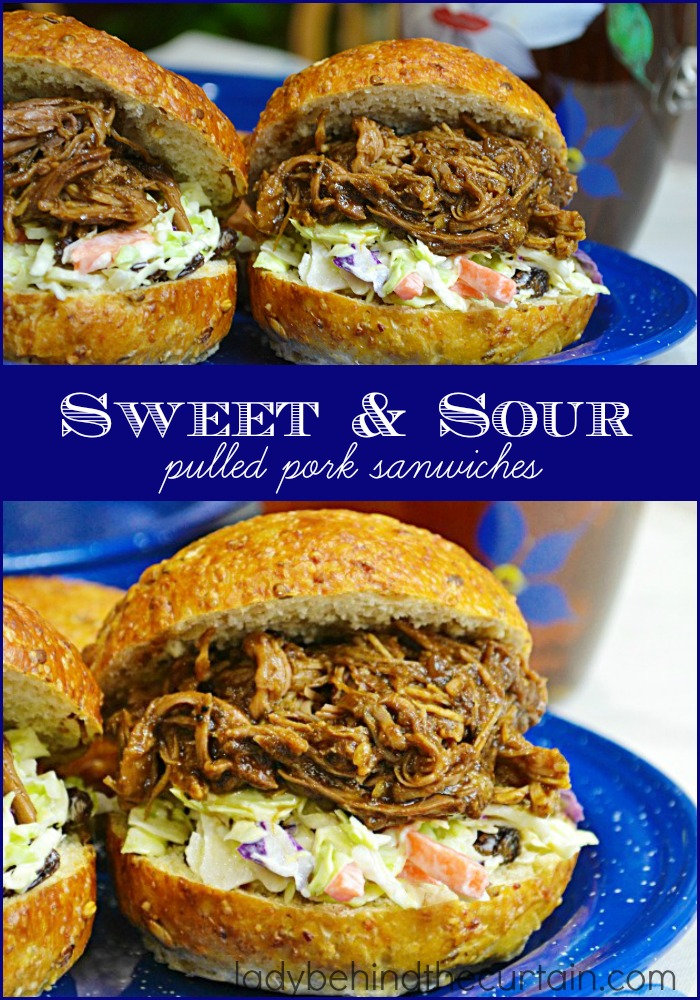 Kick up the summer with these easy to make, low calorie sandwiches.  Turning on the oven in the summer makes the kitchen extra hot.  So take the cooking outside and by that I mean your slow cooker!  Who says the slow cooker is just for kitchen counter?  Plug it in outside to completely free your kitchen of any extra heat and spend the whole day relaxing by the pool while your slow cooker does all the cooking.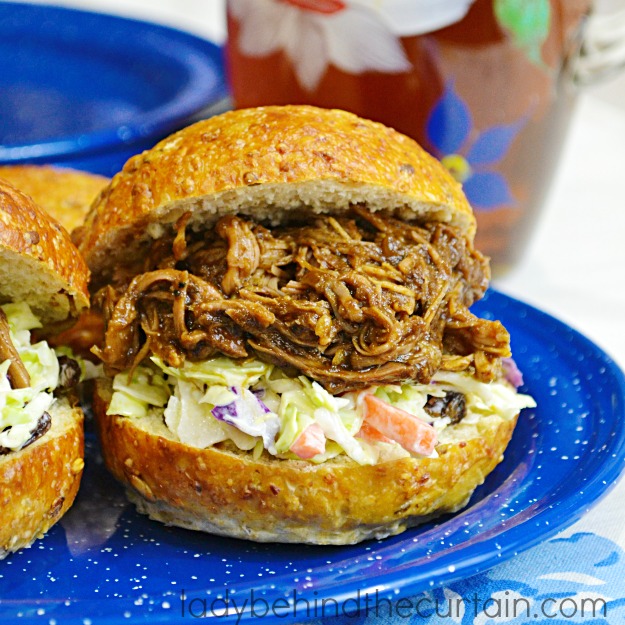 For added ease, make the barbecue sauce the evening before when it cools down.  Add another slower cooker of my SLOW COOKER LOADED POTATOES and to complete the meal my SLOW COOKER PEACH COBBLER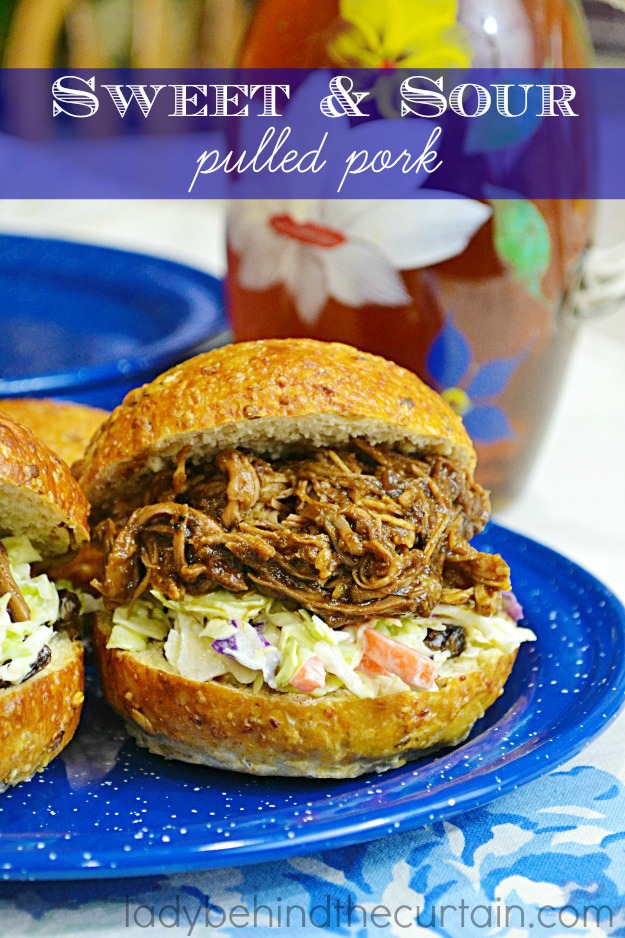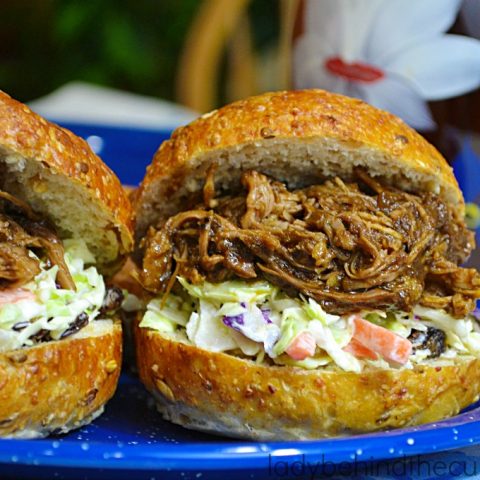 Sweet and Sour Pulled Pork Sandwiches
Total Time:
9 hours
20 minutes
Ingredients
For the Pork Sliders:
2-1/2 to 3-pound boneless pork shoulder roast
1 onion (medium), chopped
1 green bell pepper (medium), chopped
1 teaspoon dried thyme
1/2 teaspoon dried rosemary
1 teaspoon salt
1/2 teaspoon pepper
1/2 cup chicken broth
20 whole grain slider buns or dinner rolls
Optional:coleslaw (homemade or from the deli)
For the Sauce:
1 cup balsamic vinegar
3/4 cup ketchup
1/3 cup light brown sugar, packed
1/4 cup honey
1 tablespoon Worcestershire sauce
1 tablespoon Dijon-style mustard
1 clove garlic, minced
1/2 teaspoon pepper
1/4 teaspoon salt
Instructions
For the Pork Sliders:
Trim fat from meat.
In a 3-1/2 to 4 quart slow cooker combine onion and bell pepper.
Add meat; sprinkle with thyme, rosemary, salt and pepper.
Pour broth over meat.
Cover and cook on low 9 to 10 hours or on high 4-1/2 to 5 hours.
For the Sauce:
In a medium saucepan combine vinegar, ketchup, brown sugar, honey, Worcestershire sauce, mustard, garlic, pepper and salt.
Bring to a boil; reduce heat.
Simmer, uncovered, for 20 to 25 minutes or until slightly thickened, stirring occasionally.
Transfer meat to a cutting board. Using two forks, pull meat apart into shreds, discarding fat. Strain vegetable mixture, discarding liquid.
Return shredded meat and strained vegetables to cooker.
TIP: Because I have some family members that aren't a big fan of onions I added the vegetables to the saucepan with the sauce and blended them with my submersible blender.
If you left the vegetables intact, stir into the barbecue sauce.
Add sauce to the shredded pork; serve on buns and for a delicious touch add coleslaw!
MORE SUMMERTIME SLOW COOKER RECIPES

1. SLOW COOKER BERRY COBBLER  2. SLOW COOKER COUNTRY STYLE PORK RIBS  3. SLOW COOKER AU GRATIN POTATOES