Soft Pretzel Rolls | I love the aroma of a pretzel shop.   But my mall is 30 minutes away and the cost is…well, more then I want to pay.  Now I can make my own Soft Pretzel Rolls!  They freeze beautifully too! ♥  I decided to make them for my son, who loves pretzel pizza.  NO MORE mall pretzels for him.  He loved the flavor of these and I loved how easy they were to make.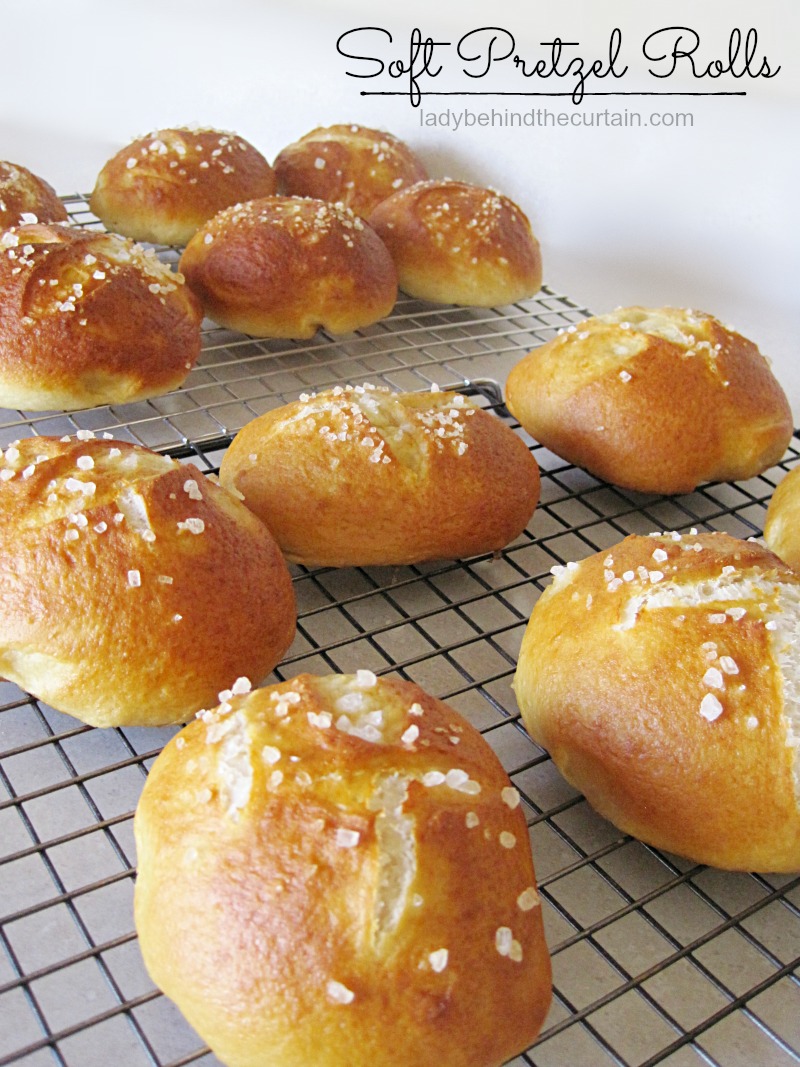 Slice in half and make a pretzel pizza, dip in melted butter, roll in a cinnamon sugar mixture and make my CINNAMON CREAM CHEESE FROSTING to dip into … OR … simply slice in half and fill with my CRANBERRY CHICKEN SALAD.
Follow these simple directions for the BEST Soft Pretzel Rolls!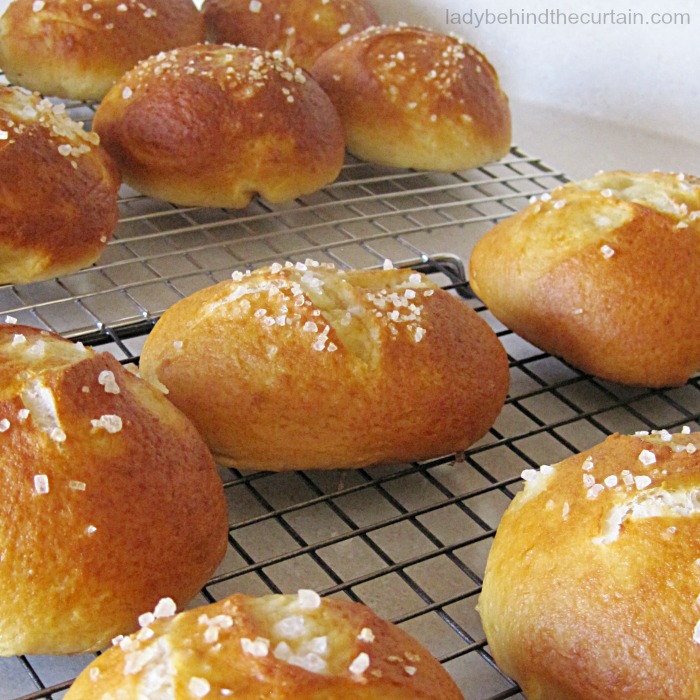 Roll dough into a 24-inch log.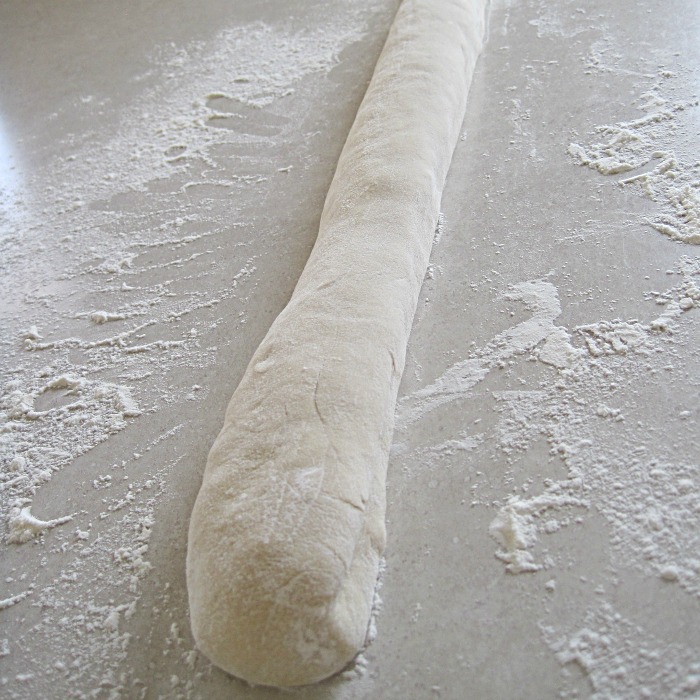 Cut into 12 – 2-inch pieces.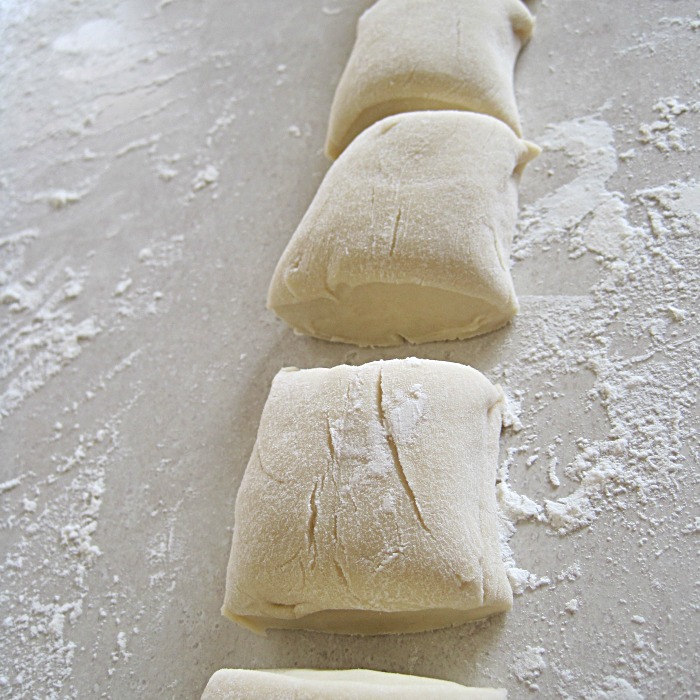 Cut an X into each roll.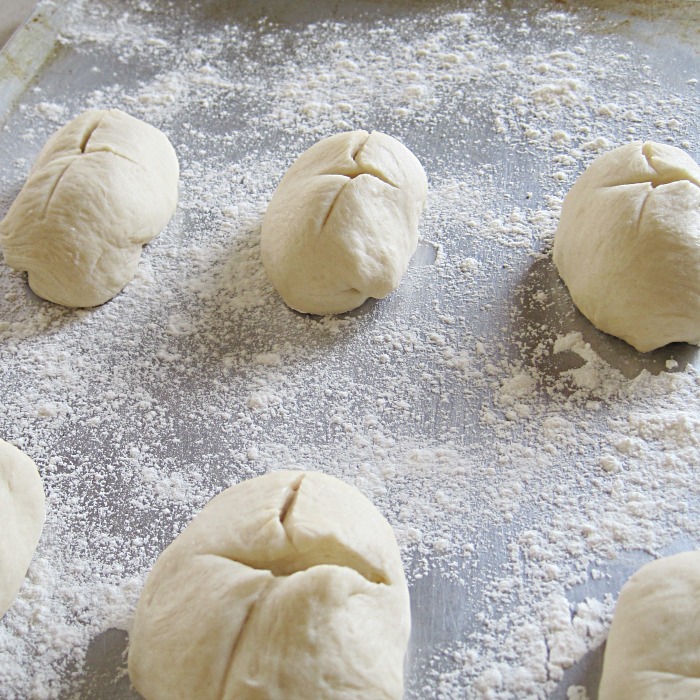 Let rest to rise.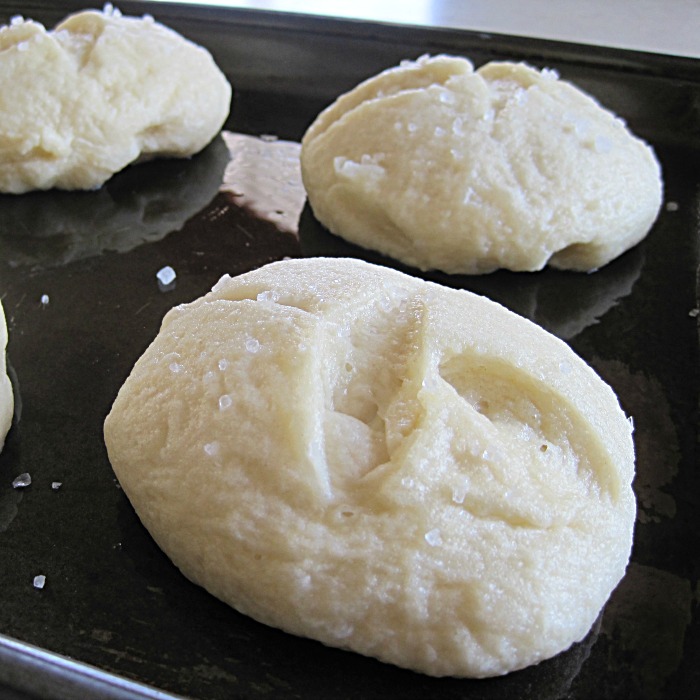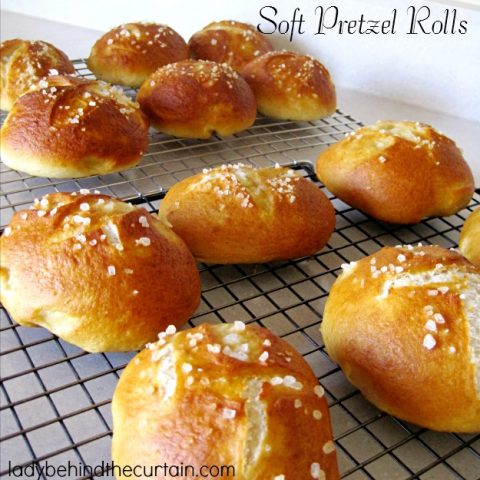 Soft Pretzel Rolls
Ingredients
1-1/3 cups warm water
2 tablespoons warm milk
2-1/2 teaspoons active dry yeast
1/3 cup light brown sugar
2 tablespoons butter, melted
4 cups all-purpose flour
Kosher salt or Pretzel salt
2 quarts cold water
1/2 cup baking soda
Instructions
In the bowl of a standing mixer fitted with a dough hook, mix 1/3 cup warm water with the yeast and let stand until foamy.
Add remaining cup of warm water along with milk, sugar and melted butter.
Mix with a spoon to combine.
Add flour and mix until it forms a nice and firm pliable dough ball.
Turn dough out onto a lightly floured table.
Roll into a 2 foot long log and cut into 12 - 2-inch pieces.
Cover dough with a damp cloth and let sit for 10 minutes.
Pat dough into rolls and arrange on a lightly floured surface about an inch apart.
Using a pairing knife cut a X about 1/4-inch into each roll.
Cover with a dry towel.
Let the pretzels rest for an additional 30 minutes.
Preheat the oven to 425 degrees.
Lightly oil 2 baking sheets.
In a large stockpot, bring the cold water to a rolling boil and add baking soda.
Drop two rolls into the boiling water and boil for 30 seconds, turning once.
Carefully remove with a slotted spoon and hold above pot and let drain.
Sprinkle lightly with salt.
Repeat with the remaining rolls.
Arrange rolls on the oiled baking sheets and bake on the upper and middle racks of the oven for about 8-10 minutes, or until browned all over; shift pans from top to bottom and back to front halfway through, for even baking.
Let rolls cool on the baking sheets for about 5 minutes, and then transfer to a rack.
MORE BREAD RECIPES
PRETZEL HAMBURGER BUNS  2. EASY HAMBURGER BUNS 3. FAN TAN ROLLS
NEVER MISS A POST!
Sign up for my newsletter (two per month) and receive my recipes in your inbox. Easy to see anytime and saved for safe keeping. Click Here and sign up today! —->>>>CURTAIN CALL NEWSLETTER