Spicy Sweet & Sour Pork
Lady Behind the Curtain
Posted on
by
Sheryl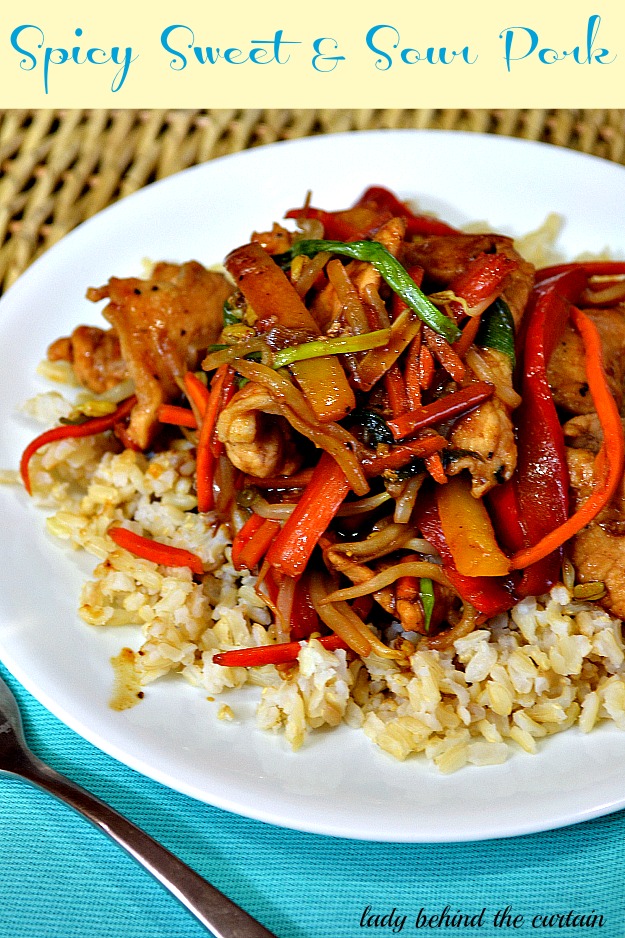 This spicy sweet & sour pork is low on calories and with only a few ingredients very easy to make.  Perfect for a busy weeknight meal.
Yield:

Serves 4
Spicy Sweet & Sour Pork
Ingredients
1 cup brown rice, cooked
2 tablespoons hoisin sauce
1 tablespoons lime juice
2 tablespoons canola oil
2 carrots, cut into matchsticks
1 red bell pepper, cut into strips
1 teaspoon minced garlic
1/2 teaspoons salt
1/4 teaspoon black pepper
1/2 pound pork tenderloin, thinly sliced
1 cup bean sprouts
2 green onions, thinly sliced on a diagonal
Instructions
Cook rice according to package directions.
In a bowl, whisk together the hoisin, lime juice and 1 tablespoon of water.
Set aside.
In a large skillet heat 1 tablespoon of oil.
Add carrots,bell pepper and sprouts. Cook 4 to 5 minutes or until vegetables are just tender.
NOTE: During the last minute of cooking the vegetables add the garlic and salt and pepper.
Transfer to a bowl.
Add the remaining 1 tablespoon of oil to skillet.
Season pork with 1/2 teaspoon salt and 1/4 teaspoon black pepper.
Cook 3 to 4 minutes, or until browned.
Add hoisin mixture and cook 1 minutes.
Return vegetables to skillet, add green onions.
Cook until all ingredients are heated through.
Serve over rice.
Notes
This recipe was adapted from the Eating Light 2013 magazine