Today we're serving up a big hot steaming bowl of Short Rib Vegetable Soup.  You're on your own with this one.  I don't have exact amounts on some of the vegetables.  DON'T WORRY you can't mess up this recipe!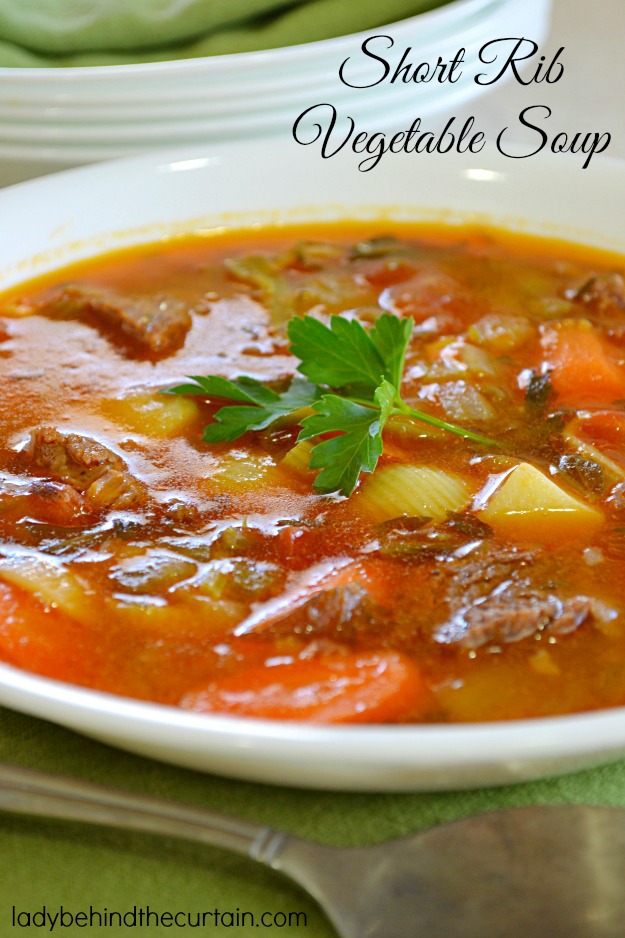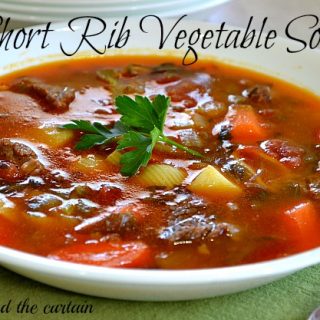 Short Rib Vegetable Soup
Ingredients
2 packages of short ribs
1 large onion, chopped
3 celery stalks, chopped
5 small potatoes, peeled and chopped
3 Carrots, peeled and chopped
1 can french cut green beans (or fresh)
1 can creamed corn or frozen
1 28 ounce can chopped tomatoes
half a bunch flat leaf parsley, chopped
2 bay leaves
1 cup pasta
Salt and pepper to taste
Instructions
Put the short ribs in a large soup pot; add the parsley, onion, bay leaves, chopped tomatoes and salt to the pot.
Cover with water.
Boil for 30 minutes or until flavors combine.
Then add the potatoes, celery, carrots, green beans (it using fresh) and add more salt.
When potatoes start to become fork tender add the pasta, green beans (if using canned) and corn.
Cook until pasta is done about 8 minutes.
Remove the bay leaves and ribs.
Cut meat off of ribs and add back to the soup.
Serve with crusty sourdough bread.
MORE SOUP RECIPES

1. FAGIOLI SOUP  2. CHICKEN AND POTATO FLORENTINE SOUP  3. CHICKEN VERDE SOUP