American Style Breakfast Enchiladas
American Style Breakfast Enchiladas |  Treat your guests to the BEST breakfast in the West!  These Enchiladas are a twist on the favorite red enchiladas you would normally serve for dinner.  They're not only delicious but…..THEY ARE MADE THE NIGHT BEFORE!  So I'd say that's two bonuses in one recipe!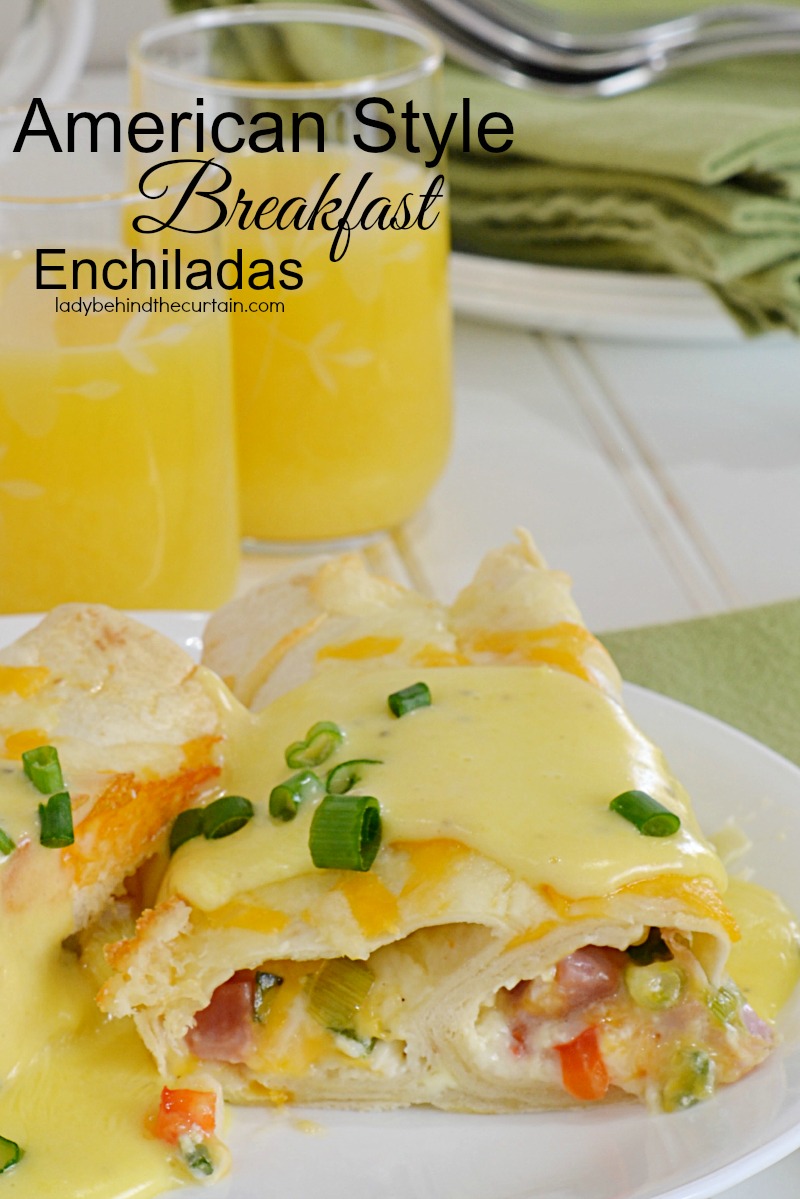 These delicious enchiladas are packed full of flavor!  With ingredients like ham, bell pepper, green onion and cheese.  But that's not all….they're also encased in an egg custard and baked to perfection with a dollop of homemade Hollandaise Sauce!   What a breakfast treat!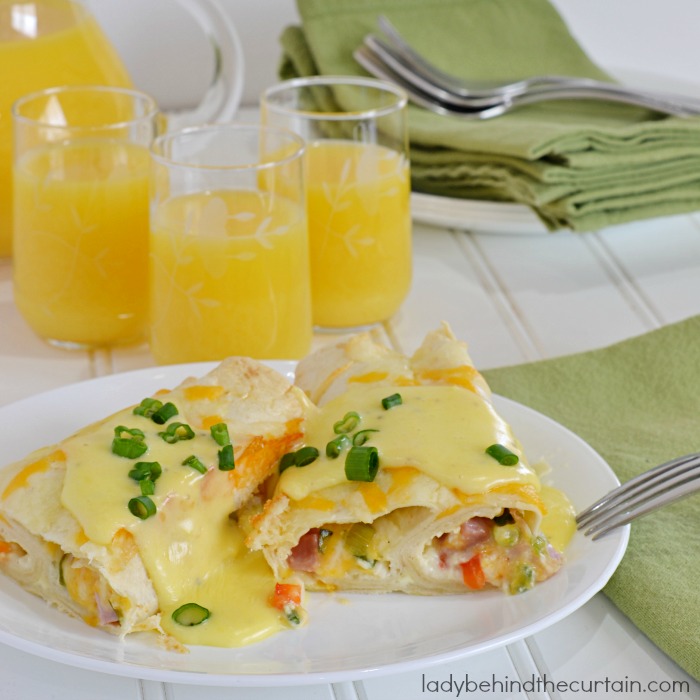 One recipe makes 10 hearty enchiladas.  Perfect for Sunday Brunch, ladies luncheon, or Easter!  If you don't want to mess with making hollandaise sauce another great option is gravy.  I've served these enchiladas both ways and loved them!  The gravy is a little bit more casual then the hollandaise sauce.  I have the perfect gravy recipe.  Click here to get the recipe —->>>> OLD FASHIONED COUNTRY BACON GRAVY
American Style Breakfast Enchiladas
Yield:
10 Breakfast Enchiladas
Ingredients
For the Enchiladas
2 cups deli ham cut into a 1/4-inch to 1/2-inch thickenss, chopped
1 cup red bell pepper, chopped
2/3 cup green onion, chopped
3 1/2 cups cheddar and jack cheese (combined), shredded, divided
10 flour tortillas (8-inches)
For the Egg Custard
4 large eggs
1/2 teaspoon salt
1 tablespoon flour
1 1/4 cups half and half
For the Hollandaise Sauce
4 large egg yolks
1 tablespoon fresh lemon juice
1/2 cup unsalted butter, melted
pinch of salt and pepper
optional garnish: chopped green onion
Instructions
For the Enchiladas:
Spray a 9x13-inch baking pan with non stick cooking spray.
In a medium bowl add the ham, bell pepper, green onion and 2 1/2 cups shredded cheese.  Stir to combine.  Lay a tortilla in the prepared pan, add 1/2 cup of filling, roll and place in the pan seam down.  Repeat for remaining tortillas.
For the Egg Custard:
In a medium bowl add the eggs, salt and flour.  Whisk until flour is combined into the egg mixture.  Whisk in the half and half.  Pour over the enchiladas.  Cover and refrigerator overnight.
The next morning preheat oven to 350°.  Bake, covered 45 minutes.  Take off the cover, sprinkle on the remaining 1 cup of cheese.  Continue baking an additional 10 minutes or until cheese is melted and tops are golden.  Serve hot with a scoop of Hollandaise Sauce and a sprinkle of green onion.
For the Hollandaise Sauce:
Before starting fit a bowl over a saucepan, make sure the bowl does not touch the bottom.  Add about 2 inches of water to the saucepan.  Turn heat on medium high, once the water is about to boil turn the heat down.  Only have the water at a low simmer.  You don't want to get scrambled eggs.  In the glass or metal bowl, whisk together the yolks and lemon juice until the eggs double in volume and thicken (about 3 minutes).  Place bowl with the egg yolks on the simmering water, continue whisking and slowly drizzle in the melted butter, whisking the whole time until the sauce is thickened.  Remove the sauce from the heat, whisk in the salt and pepper.  Keep warm until ready to serve.  If sauce gets too thick, whisk in a few drops of warm water before serving.  Spoon over each enchilada.  Garnish with chopped green onion.
Nutrition Information
Amount Per Serving
Calories

0
Total Fat

0g
Saturated Fat

0g
Cholesterol

0mg
Sodium

0mg
Fiber

0g
Sugar

0g
Protein

0g
MORE BREAKFAST RECIPES
BLUEBERRY LEMON BREAKFAST CAKE  2. COUNTRY BREAKFAST PIZZA BAKE  3. BIRD IN A NEST TARTS
NEVER MISS A POST!
Sign up for my newsletter and receive my recipes in your inbox. Easy to see anytime and saved for safe keeping. Click Here and sign up today! —->>>>CURTAIN CALL NEWSLETTER