Tater Tot Breakfast Casserole
Tater Tot Breakfast Casserole is easy to make and loaded with all your favorite breakfast ingredients: bacon, mushrooms, zucchini, fresh tomatoes, herbs, two kinds of cheese, eggs and tater tots. This incredible breakfast casserole would make the perfect addition to any breakfast brunch or breakfast buffet.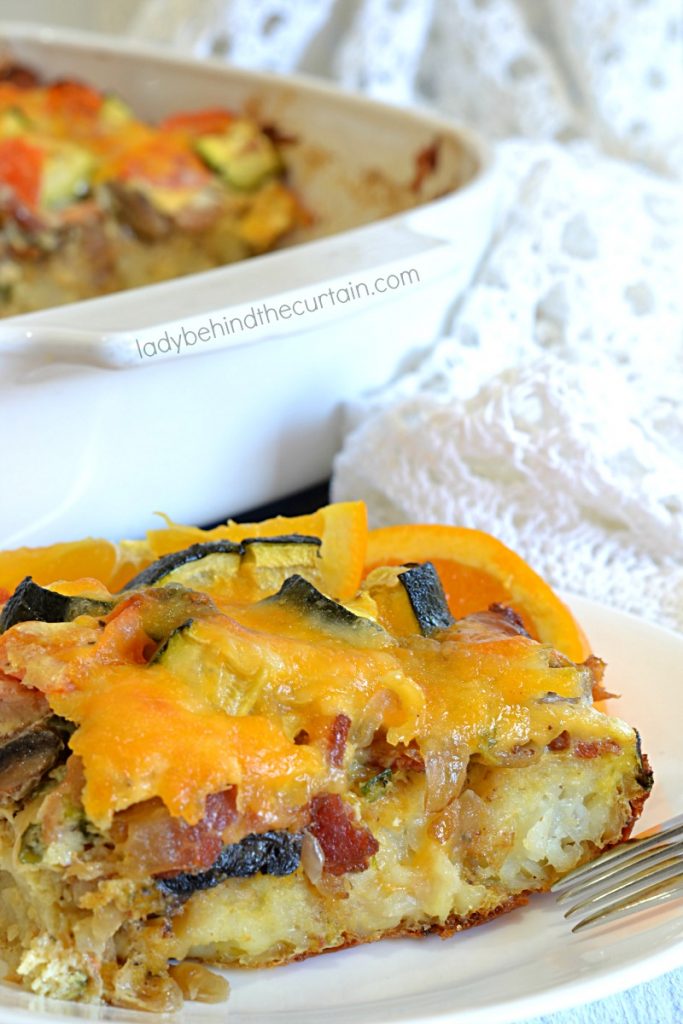 Make Ahead
This delicious casserole makes the best Christmas morning breakfast. Put the casserole together the night before and bake it on Christmas morning. Delicious and easy!
NOT JUST FOR BREAKFAST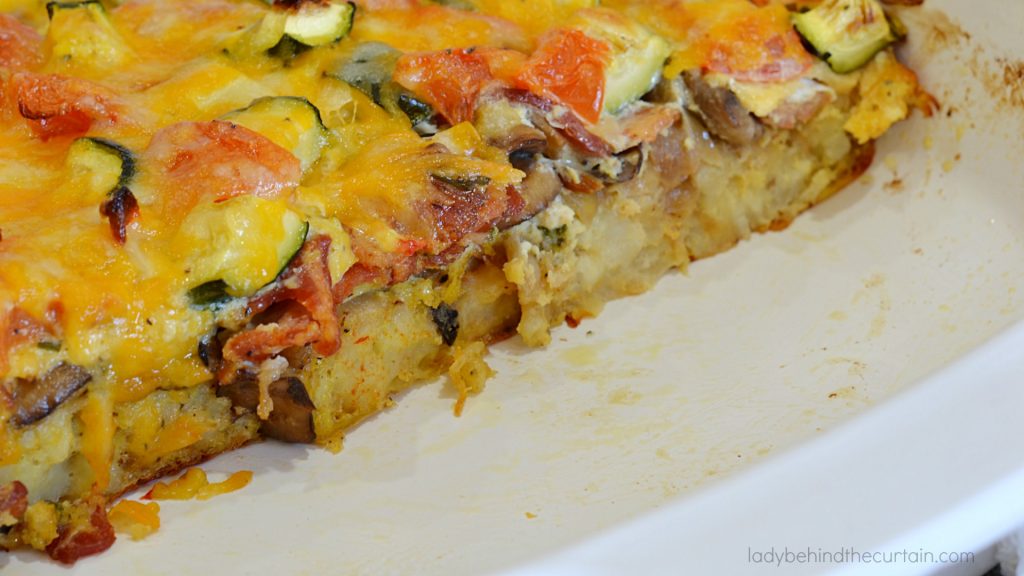 How to make Tater Tot Casserole with Bacon and Zucchini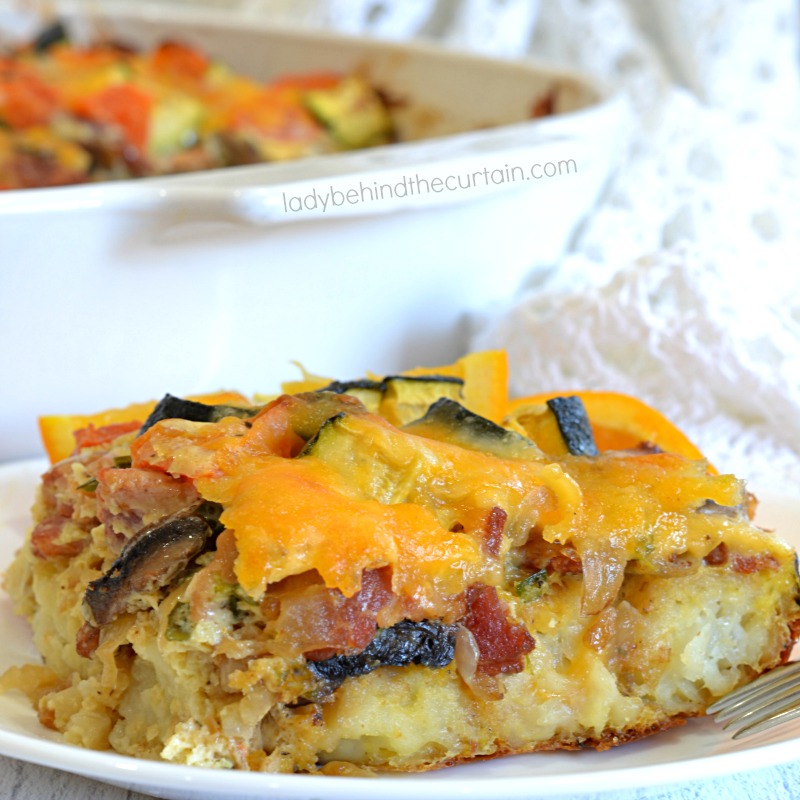 INGREDIENTS

BACON
ONION
MUSHROOMS
ZUCCHINI
FRESH TOMATOES
CHIVES
THYME
GOUDA CHEESE
EGGS
HEAVY CREAM
TATER TOTS
SALT AND PEPPER
COLBY JACK CHEESE

DIRECTIONS

Add tater tots to the bottom of a 9×13-inch baking dish
Now the layers of goodness—Evenly add the bacon, onion, mushrooms and Gouda cheese.
Stir together the cream, chives, thyme, zucchini, tomatoes, salt and pepper.
Pour over tater tots mixture, bake covered 45 minutes.
Uncover, add Colby cheese and bake an additional 10 minutes. YUM!
WHAT TO SERVE WITH YOUR TATER TOT BREAKFAST CASSEROLE WITH BACON AND ZUCCHINI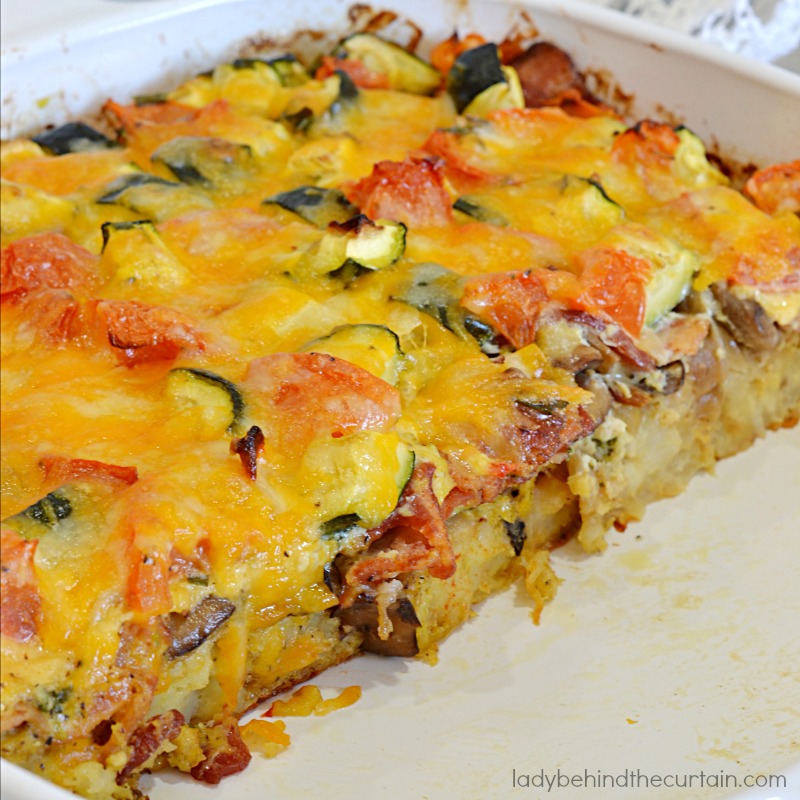 Baked goods are always a hit and pair perfectly of the savory casserole. Blueberry Breakfast Bars: Crisp bits of buttery oatmeal crumb topping, a hint of spice and a sweet blueberry center. Ambrosia Muffins: A moist muffin with pineapple, coconut, cherries and a delicious coconut pecan topping. AND…Copycat Panera Orange Scones: With fresh orange juice and orange zest these scones offer just the right amount of citrusy flavor.
MORE CASSEROLE RECIPES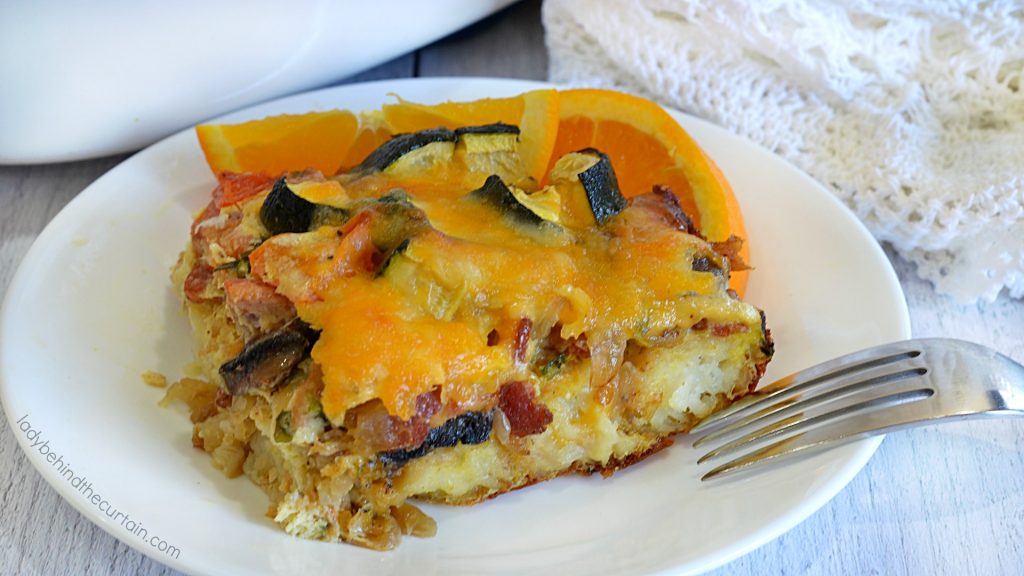 Tater Tot Breakfast Casserole
An easy to make breakfast casserole with layers of your favorite breakfast foods, topped with a gooey cheese topping.
Ingredients
6 bacon slices, cut into pieces and fried
1 medium onion, chopped
1 (8 ounce) container mushrooms, sliced
2 small zucchini, diced
2 medium fresh tomatoes (I prefer Roma), seeded and diced
2 teaspoons chives, chopped
2 teaspoons fresh thyme, chopped
3 ounce Gouda cheese, shredded
6 large eggs
¾ cup heavy cream
1 pound 2 ounces tater tots
2 teaspoons salt
1 teaspoon black pepper
1 cup Colby cheese, shredded
Instructions
Preheat oven to 375°.
Spray a 9x13-inch baking dish with non stick cooking spray.
Add tater tots to the bottom of the dish.
Evenly add the bacon, onion and mushrooms.
Sprinkle Gouda cheese over the top.
In a medium bowl whisk eggs, add the cream, chives, thyme, zucchini, tomatoes, salt and pepper. Mix together.
Pour over tater tot mixture.
Cover (foil) and bake 45 minutes, take off cover (foil), sprinkle Colby cheese over the top.
Continue baking 10 minutes or until cheese is melted.
NEVER MISS A POST