Country Breakfast Pizza Bake
Country Breakfast Pizza Bake | Large enough to feed a crowd and perfect to take as your breakfast throughout the week! With biscuits for the crust and homemade bacon gravy as the sauce what more could you want in a breakfast pizza?  It's like visiting your favorite breakfast buffet!  When I eat out for breakfast I like an assortment of items.  I usually order off the sides menu.  This pizza offers a complete breakfast.  Biscuits, gravy, bacon, eggs and potatoes!  Men will go crazy over this hearty pizza bake.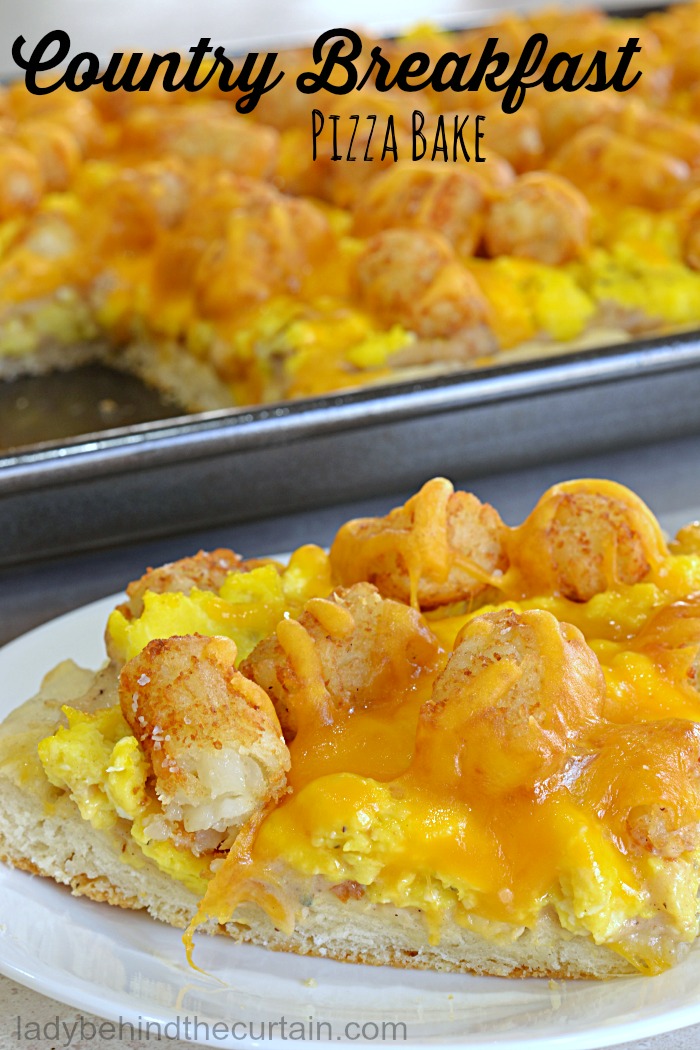 To make things easier, make the gravy up to 3 days in advance!  HERE IS MY AMAZING GRAVY RECIPE—->>>>OLD FASHIONED COUNTRY BACON GRAVY.  The biscuits?  Well…..biscuits are not my thing.  If you have a recipe you love then by all means make your own.  For me using the frozen Pillsbury biscuits works.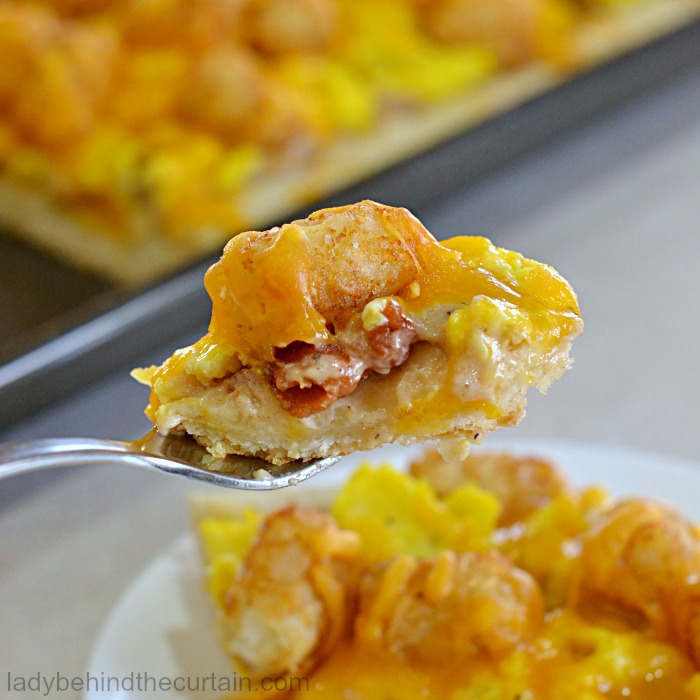 Thaw the biscuits, form into a ball and roll into an oblong shape to fit a 16×12-inch baking pan.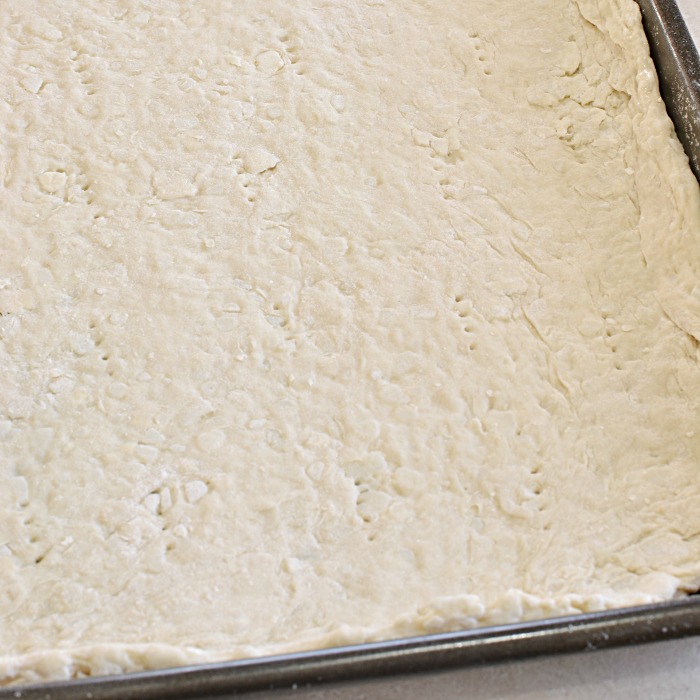 Bake until done.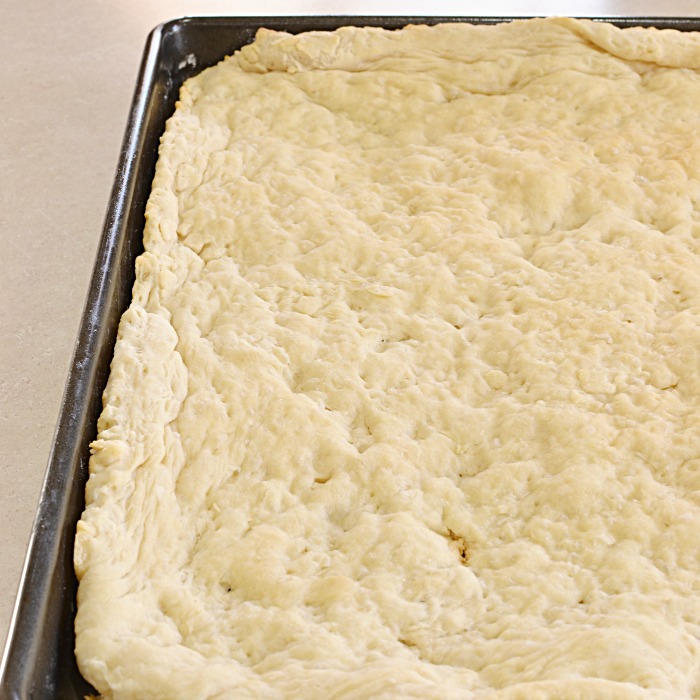 Add a layer of the BEST Country Gravy (see link above and in recipe)!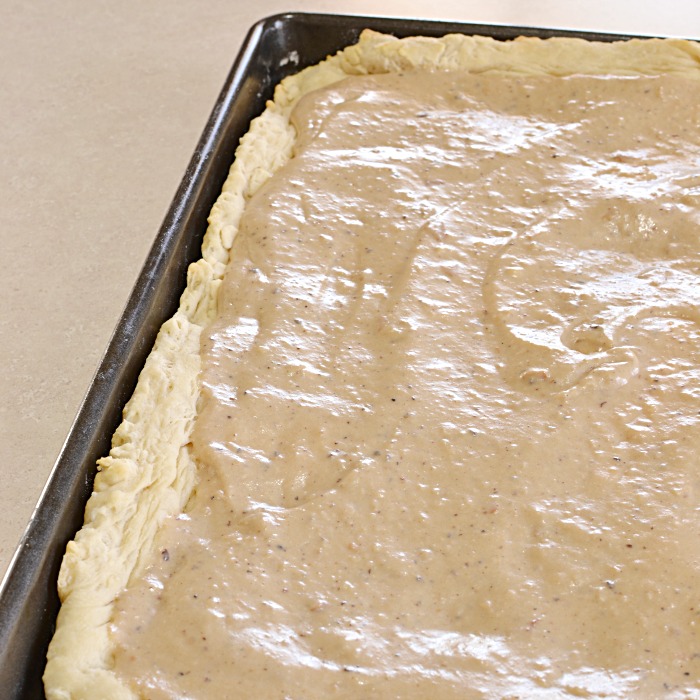 Now cooked bacon (the bacon is added at this point to protect it from over cooking).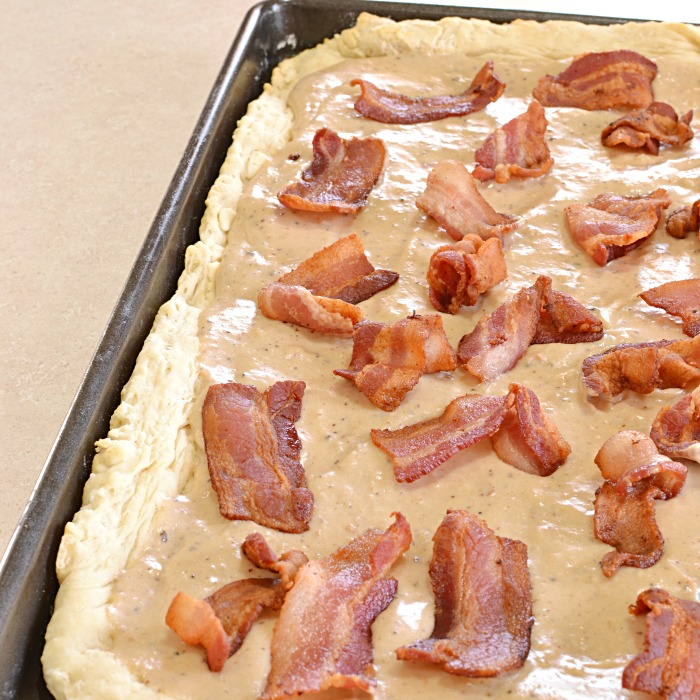 Scrambled eggs.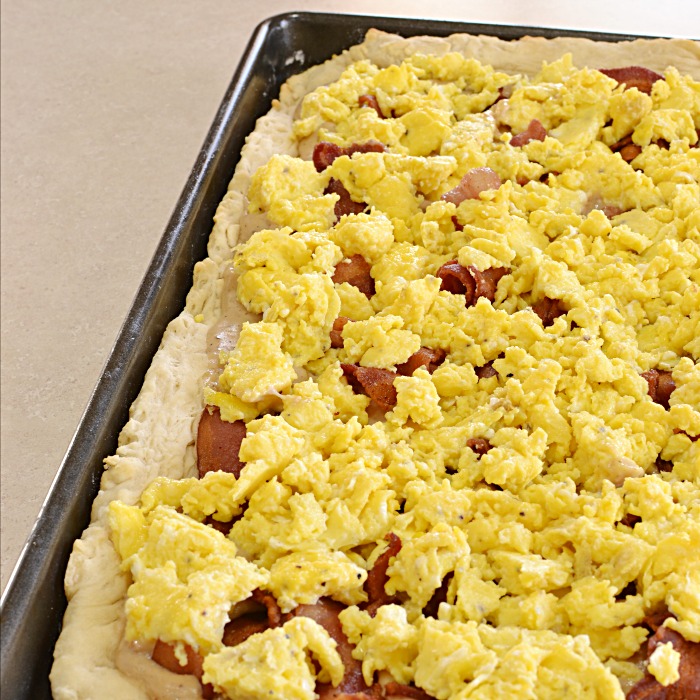 Baked tater tots and cheese.
Bake until the cheese is melted.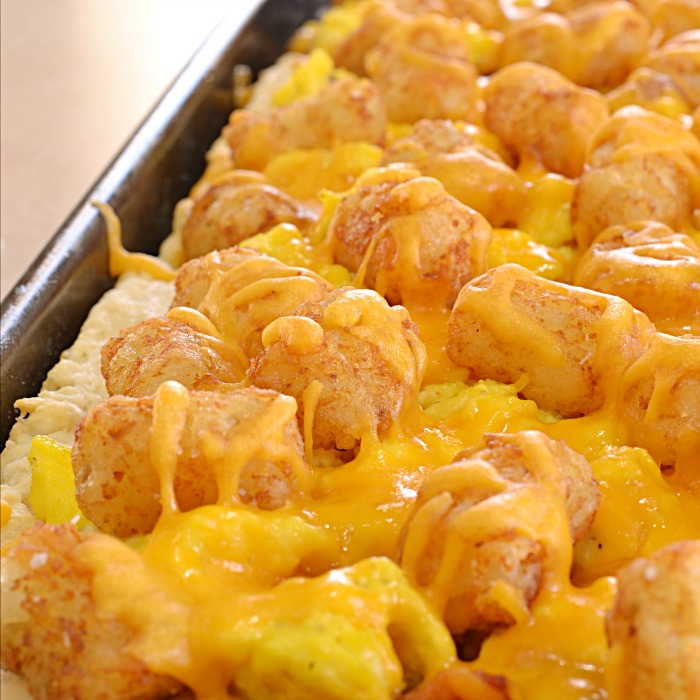 Country Breakfast Pizza Bake
Ingredients
For the Country Gravy:
1 (12 ounce) package bacon, each slice cut into thirds
¼ cup plus 1 tablespoon all-purpose flour
½ teaspoon salt
¼ teaspoon black pepper
For the Crust:
1 (25 ounce) package frozen biscuits, thawed
For the Scrambled Eggs:
1 dozen large eggs
1/3 cup milk
½ teaspoon salt
¼ teaspoon black pepper
For the Toppings:
¾ of a (32 ounce) bag of tater tots, baked
2 ½ cups cheddar cheese, shredded
Instructions
For the Country Gravy:
Cut bacon into thirds; fry in a large skillet (I use cast iron) until almost crisp.
Remove bacon from the skillet; sprinkle flour over hot bacon grease.
Whisk until the flour is brown; add milk about a half cup at a time, whisking the whole time until all the milk has been added.
Season with salt and pepper; set a side.
For the Crust:
Preheat oven to 350°; spray a 16x12-inch baking pan with non stick cooking spray.
Combine thawed biscuits into a disk; on a lightly floured surface roll until almost the size of the pan; place the dough in the prepared pan and finish pressing the dough to the edges and up the sides. Prick dough with a fork; spray top of dough with non stick cooking spray.
Bake 20 minutes.
Remove crust from the oven; turn the heat to 425°.
Place tater tots on a large baking pan; bake until almost done (about 20 to 25 minutes).
For the Scrambled Eggs:
While the tater tots are baking cook the eggs.
Crack the eggs into a large bowl; whisk in the milk, salt and pepper.
Heat a large skillet on medium high; pour eggs into skillet and cook until light and fluffy.
Time to Build:
Trun oven back down to 350°.
Reheat the gravy if it is cold (you may need to add a splash of milk), Spoon gravy onto the baked biscuit dough all the way to the edges.
Add bacon pieces, scrambled eggs, TIP: The reason for placing the bacon at the bottom is to prevent it from getting overdone., tater tots and cheese.
Bake 15 minutes.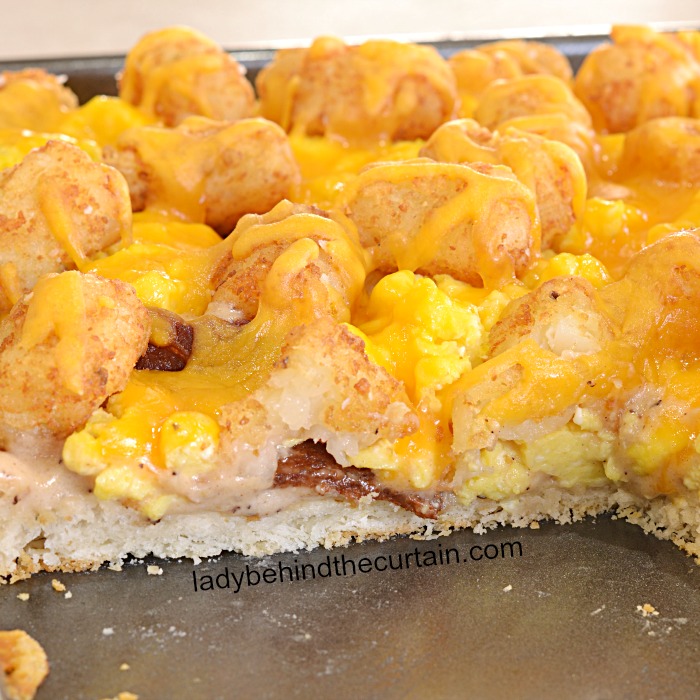 MORE BREAKFAST RECIPES
MONTE CRISTO PIZZA  2. BIRD IN A NEST TARTS  3. GREEN CHILES AND RICE FRITTATA

NEVER MISS A POST!
Sign up for my newsletter (two per month) and receive my recipes in your inbox. Easy to see anytime and saved for safe keeping. Click Here and sign up today! —->>>>CURTAIN CALL NEWSLETTER