Apple Buttermilk Biscuits with Sausage Cider Gravy
Satisfy your apple craving with this sweet and savory Apple Buttermilk Biscuits with Sausage Cider Gravy Recipe. When you get your apple fix first thing in the morning, it's bound to be a good day.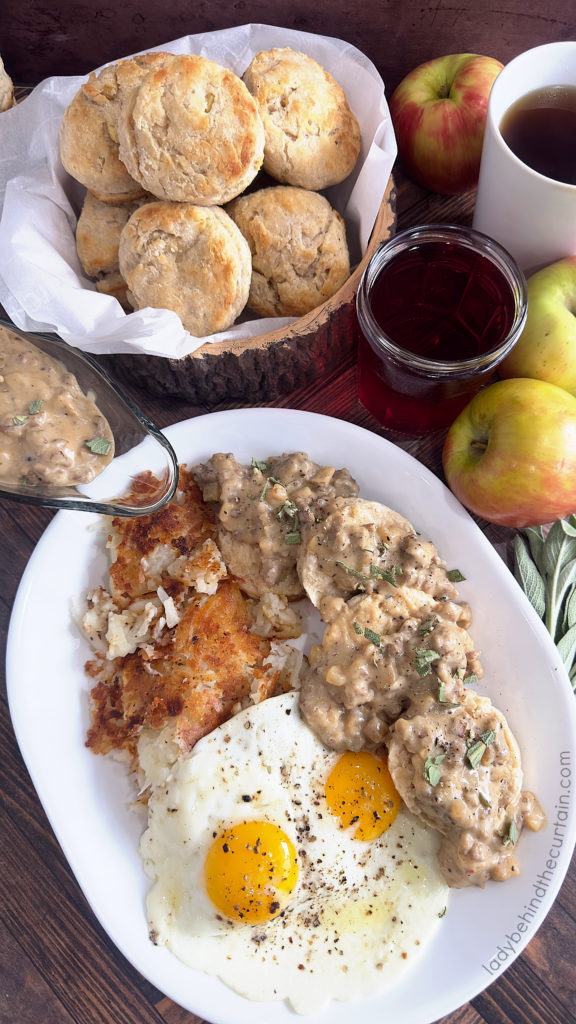 These Apple Buttermilk Biscuits with Sausage Cider Gravy offer such a great combo and is the perfect Fall breakfast.
How to Make Buttermilk Biscuits with Sausage Cider Gravy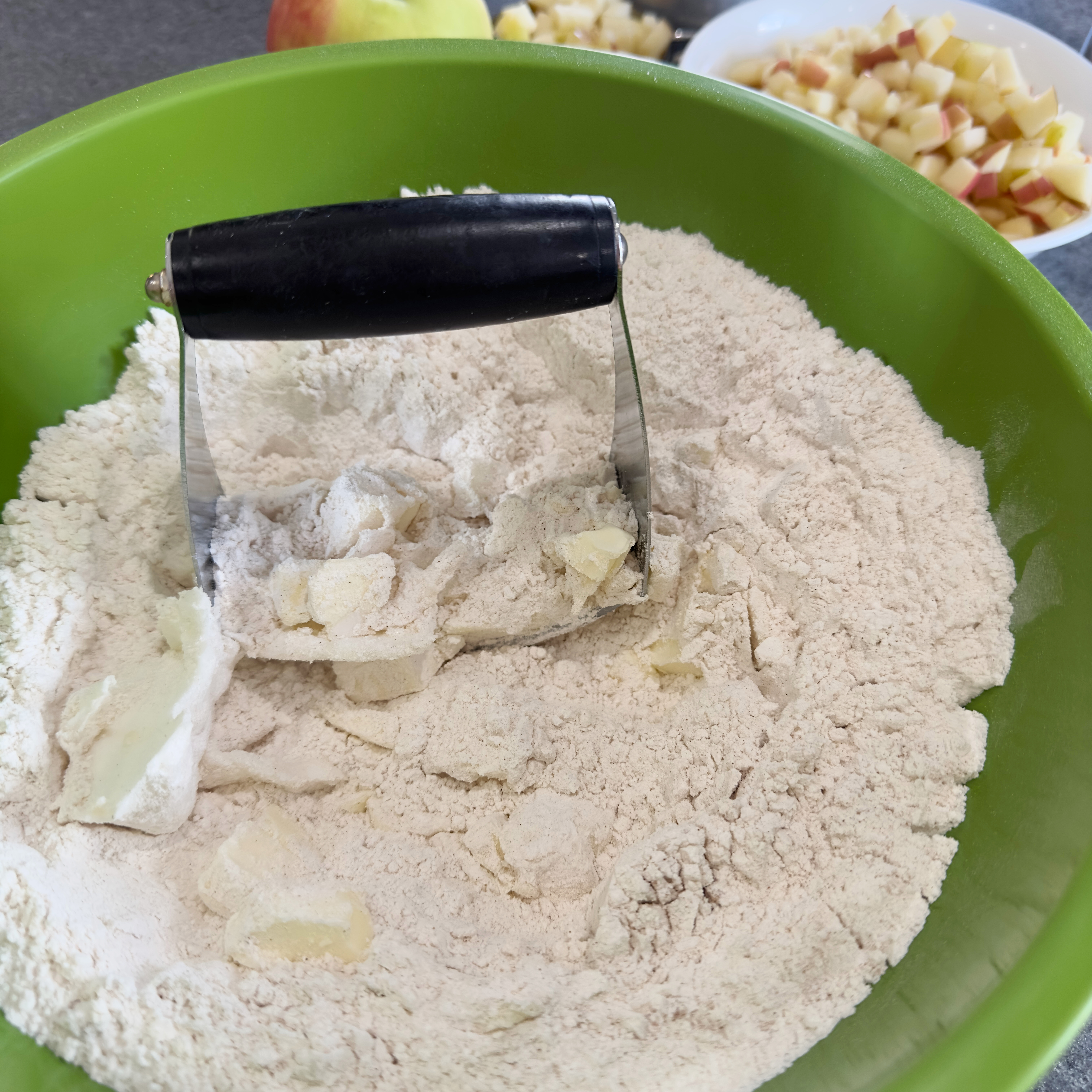 THE APPLE BUTTERMILK BISCUITS (full printable recipe below)
High and fluffy, these apple buttermilk biscuits have chopped apples and a touch of cinnamon. Giving them the perfect balance between sweet and savory.
INGREDIENTS
flour
sugar
baking powder
salt
ground cinnamon
butter
shortening
chopped apple
buttermilk
DIRECTIONS
Preheat oven to 450°.
Whisk together the flour, sugar, baking powder, salt, and cinnamon.
Use a pastry blender to cut butter and shortening into flour mixture until crumbly.
Stir in chopped apples.
Add buttermilk, use a fork to stir until just moistened.
Turn dough out onto a floured surface. Knead gently 10 to 12 times until nearly smooth.
Pat into an 8½ inch circle (¾ inch thick)
Cut with a floured 2½ inch round cutter. Reroll scrapes and continue cutting until all the dough has been used.
Bake 12-14 minutes.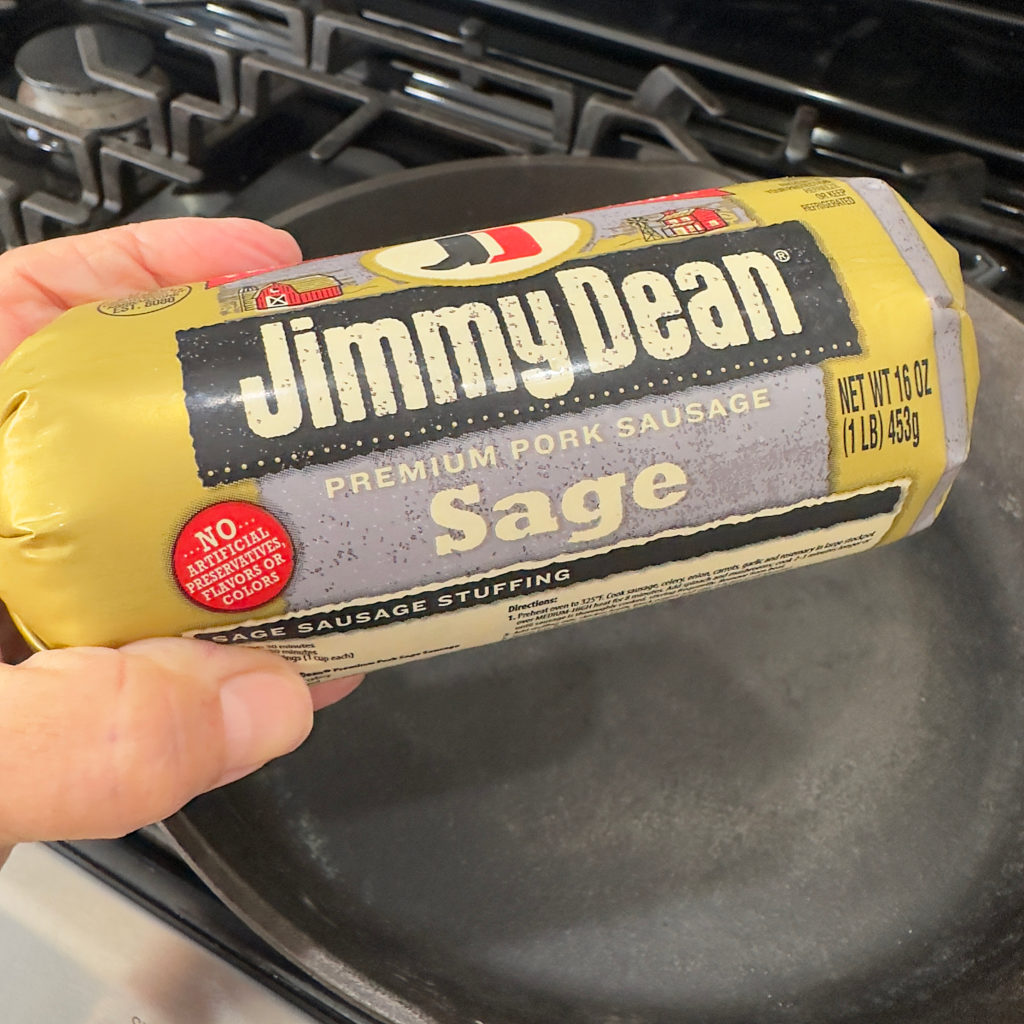 SAUSAGE CIDER GRAVY (full printable recipe below)
A delicious sausage gravy base with a touch of sweetness from apple cider and chopped apples.
INGREDIENTS
sausage (I used Jimmy Dean Sage Sausage)
chopped apples
chopped onion
milk
apple cider
black pepper
Optional: fresh sage as a garnish
INSTRUCTIONS
In a 12 inch skillet cook sausage, apples, and onion until brown.
Stir in flour, milk, cider, and salt.
Cook and stir until thickened and bubbly.
What Apples Should I use to Make Apple Butter Biscuits with Sausage Cider Gravy?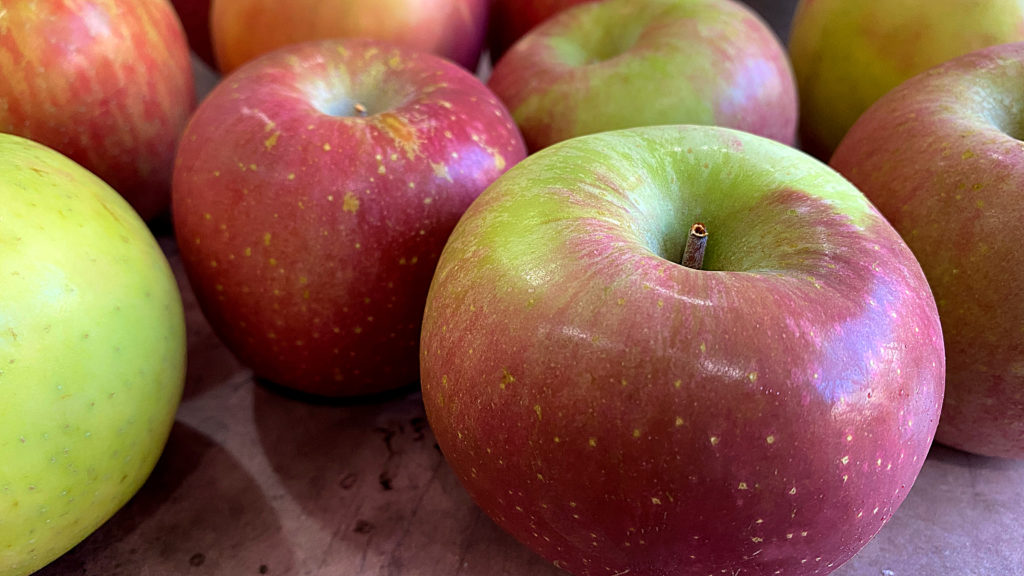 BEST APPLES FOR BAKING AND COOKING
BRAEBURN
CAMEO
CORTLAND
CRISPIN
EMPIRE
FUJI
GALA
GOLDEN DELICIOUS
IDARED
JAZZ
JONAGOLD
JONATHAN
LUCY
PINK LADY
SUNRISE MAGIC
Mix Your Apples
Have you ever thought to mix your apples? I love splitting them into half sweet and half tart. If baking with one variety is good, two (or more) varieties make it even better!
| | | | | |
| --- | --- | --- | --- | --- |
| TASTY TART | SWEET | SWEET + TART | CRISP | JUICY |
| Granny Smith, Idared, Cameo, Cortland | Empire, Fuji, Gala, Golden Delicious, Honeycrisp, Pink Lady | Jonathan, Jonagold | Braeburn, Empire, Gala, Honeycrisp, Pink Lady | Cameo, Granny Smith, Fuji, Sunrise, Magic |
Apple Cider Substitute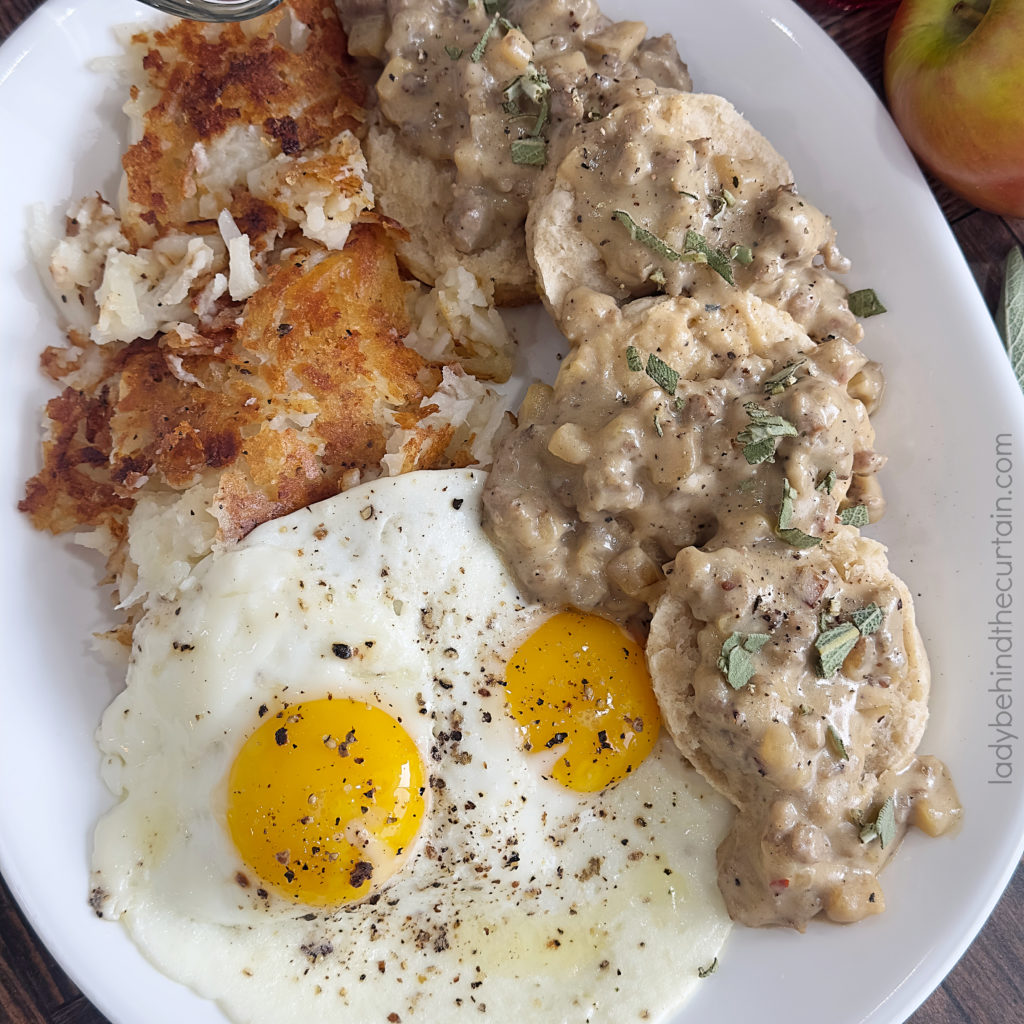 If you think using apple cider in your gravy will be too sweet then you can use milk instead. For something different I encourage you to try it at least once.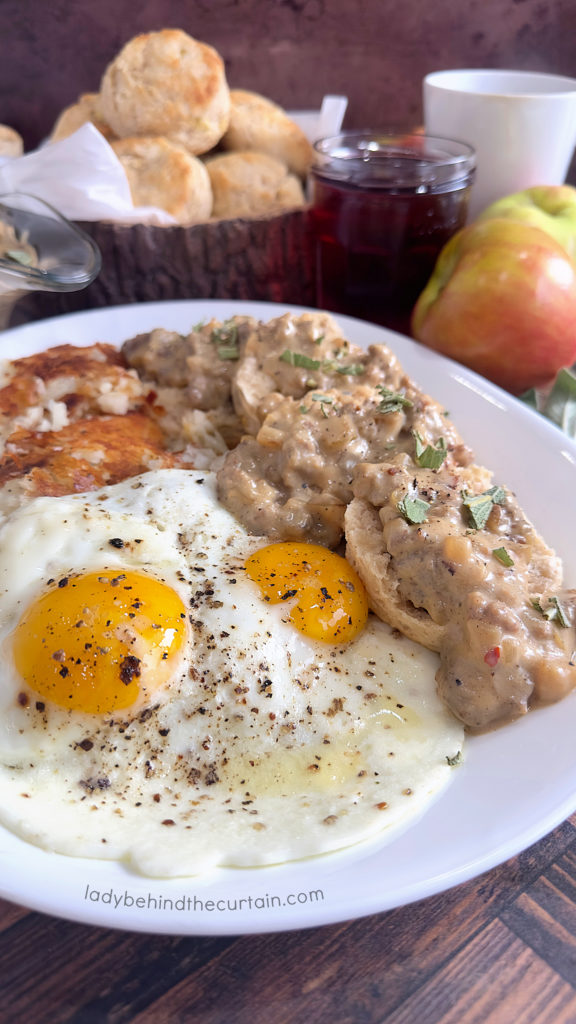 SAUSAGE GRAVY AND BISCUIT FAQ's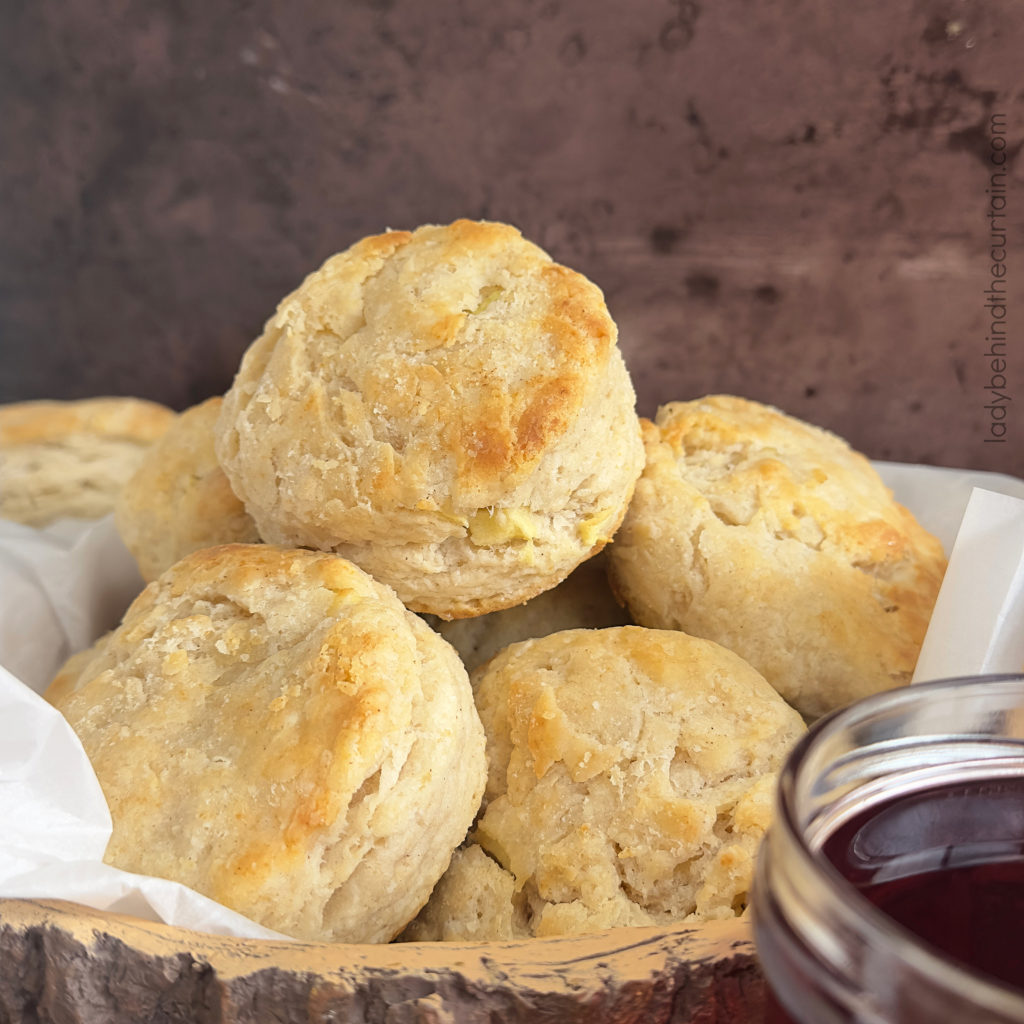 What's the difference between country gravy and sausage gravy?
The main difference is that country gravy does not use sausage. Country gravy uses butter to make its roux, while sausage gravy uses the rendered fat from the meat, cooked with flour, to thicken the gravy.
Why does my sausage gravy have no flavor?
Usually adding a little more salt and pepper will adjust the flavor of your sausage gravy enough to be delicious.
What do you eat with sausage gravy?
1. Breakfast Potatoes or hash browns
2. Biscuits
3. English Muffins
4. Mashed Potatoes
5. Hearty Toast
What is the key to making the best biscuits?
Cold butter is key to making you biscuits fluffy. Warm butter will be absorbed into the flour and prevent them from becoming fluffy.
Do I need to use butter to make biscuits?
Butter yields better results in baking and has qualities that give it a greater depth of flavor.
MORE BISCUITS AND GRAVY RECIPES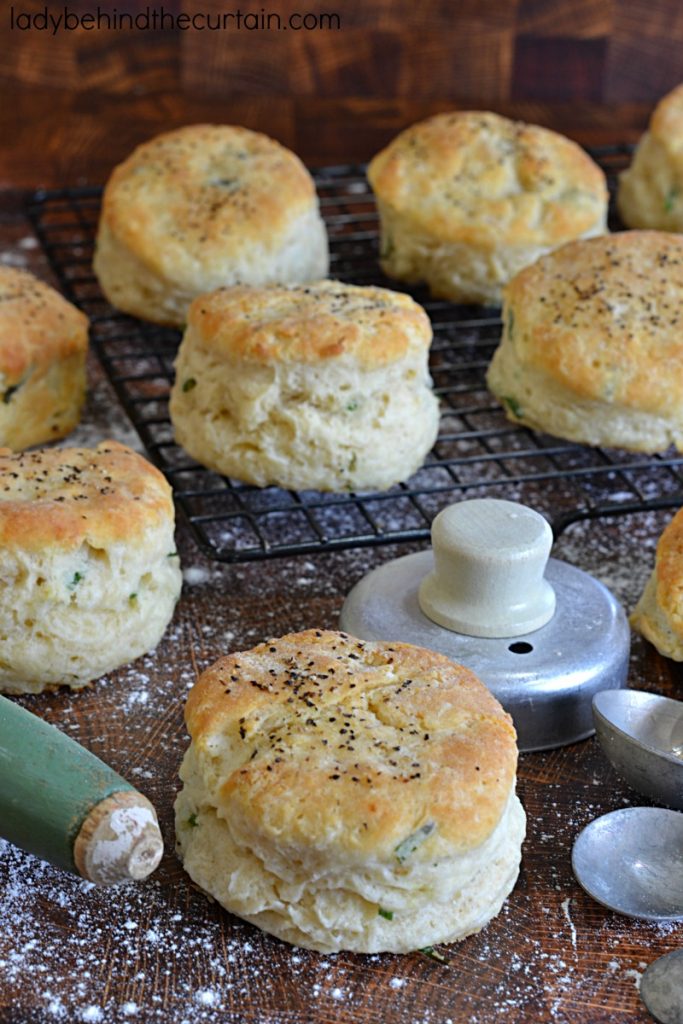 CHIVE BISCUITS 2. 7UP BISCUITS 3. BUTTERMILK BISCUITS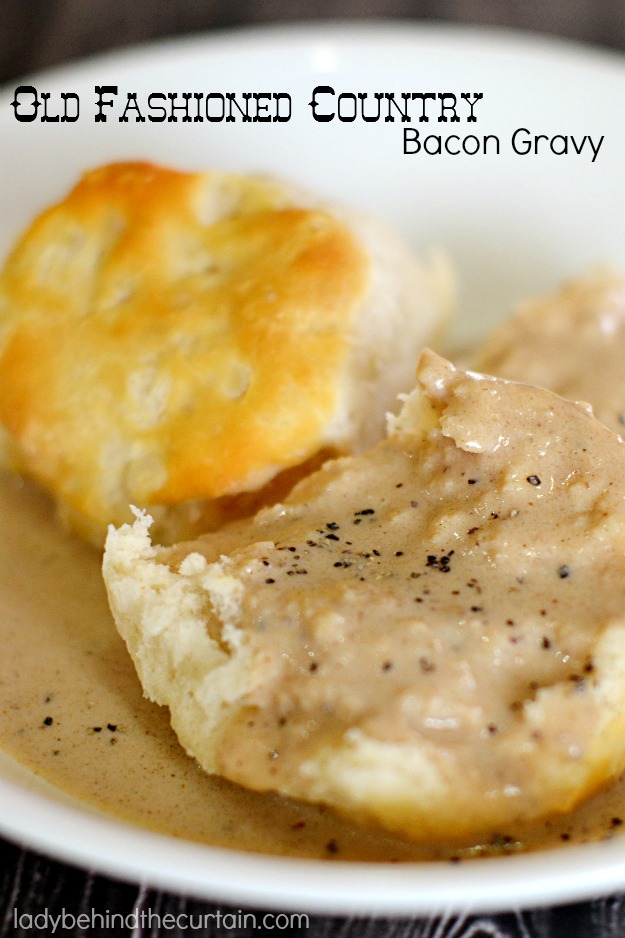 OLD FASHIONED COUNTRY BACON GRAVY 2. FRIED CHICKEN COUNTRY GRAVY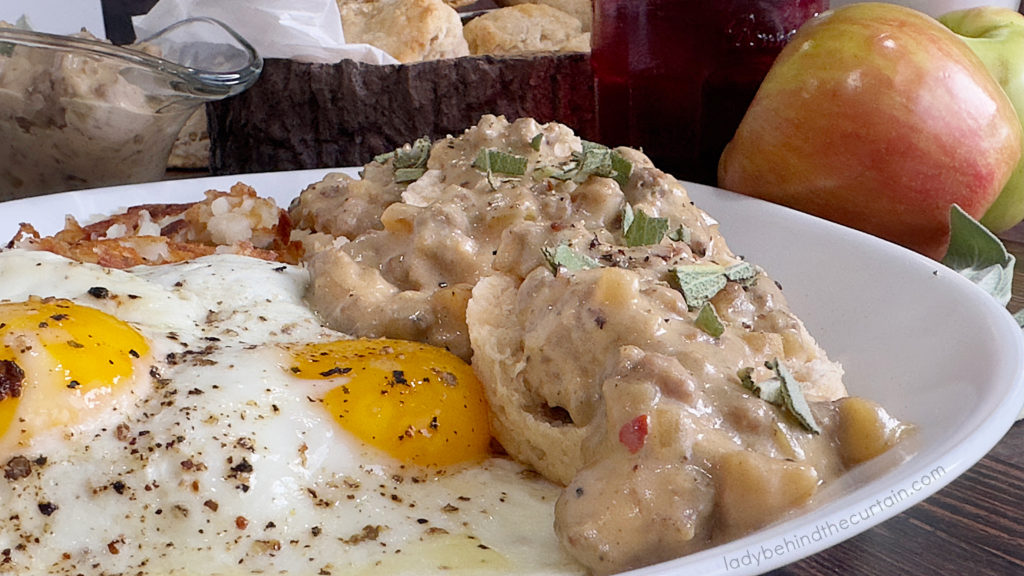 SIGN UP FOR THE LADY BEHIND THE CURTAIN NEWSLETTER AND FOLLOW THE LADY BEHIND THE PARTY ETSY SHOP
THANKS FOR VISITING♥