Fried Chicken Country Gravy
This may sound weird but eating Fried Chicken Country Gravy with a pile of Buttermilk Biscuits is my happy place.  Have you ever thought of making gravy from your fried chicken drippings?  You can and it's the BEST ever!  Make Fried Chicken Biscuit Sandwiches by making my Buttermilk Biscuits, frying some chicken breasts and drizzling some of this Fried Chicken Country Gravy over it.  Perfect for a breakfast brunch, a snack or even dinner!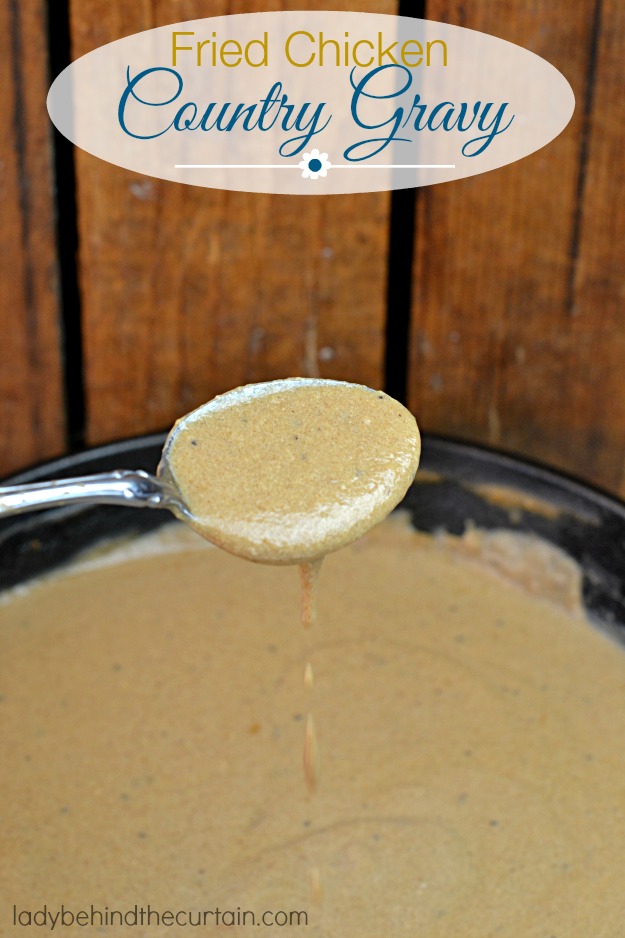 Making the perfect gravy is super easy.  The most important step is browning the flour.  Sprinkle the flour over the surface of the bubbling chicken drippings.  Stir until the flour has browned.  Letting the flour brown will take away a flour taste and create a wonderful nutty flavor.  Once that is done all you do is stir in the milk, salt and pepper, and let is bubble until thickened.  PERFECT!  I do have an important tip when making gravy:  MAKE THE GRAVY THINNER THAN YOU THINK IT SHOULD BE.  As the gravy cools it will thicken.  You can always add more milk if you need to.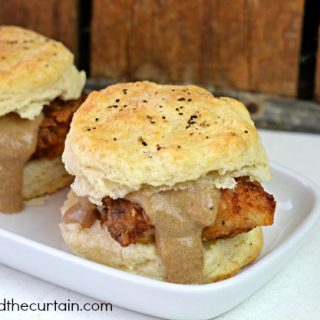 Fried Chicken Country Gravy
Ingredients
1/2 cup chicken drippings
4 tablespoons all-purpose flour
2 1/2 to 3 cups milk
1 teaspoons salt
1/2 teaspoon black pepper
Instructions
Heat drippings in a large skillet until a sprinkle of flour added to it fries.
Once the drippings are hot evenly sprinkle the flour over the hot drippings.
Whisk until flour has browned.
While whisking slowly pour the milk over browned flour.
Continue whisking until all the milk is incorporated, bubbly and thick.
Salt and pepper.
Serve hot.
MORE GRAVY RECIPES
1. TURKEY GRAVY WITHOUT THE DRIPPINGS  2. OLD FASHIONED COUNTRY BACON GRAVY