Pecan Pie Pumpkin Cheesecake
Pecan Pie Pumpkin Cheesecake | Create the best of both worlds!  When everyone's holiday favorite desserts come together what do you get? THE BEST CHEESECAKE YOU'LL EVER HAVE!  With step by step instructions you to can make an eye catching holiday dessert that will leave everyone skipping the turkey and going straight for the dessert table. Keep the kids busy with FREE activity sheets and Coloring Pages! Scroll down for the link. ↓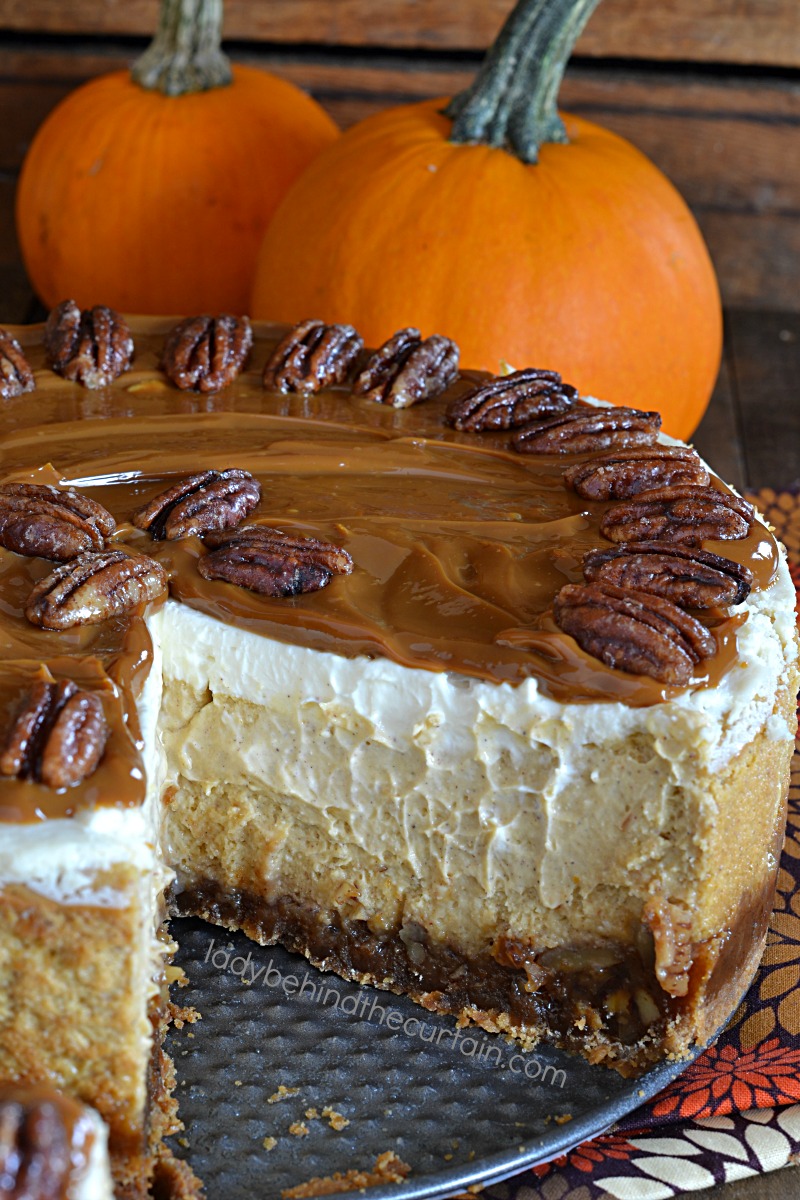 Dulce de Leche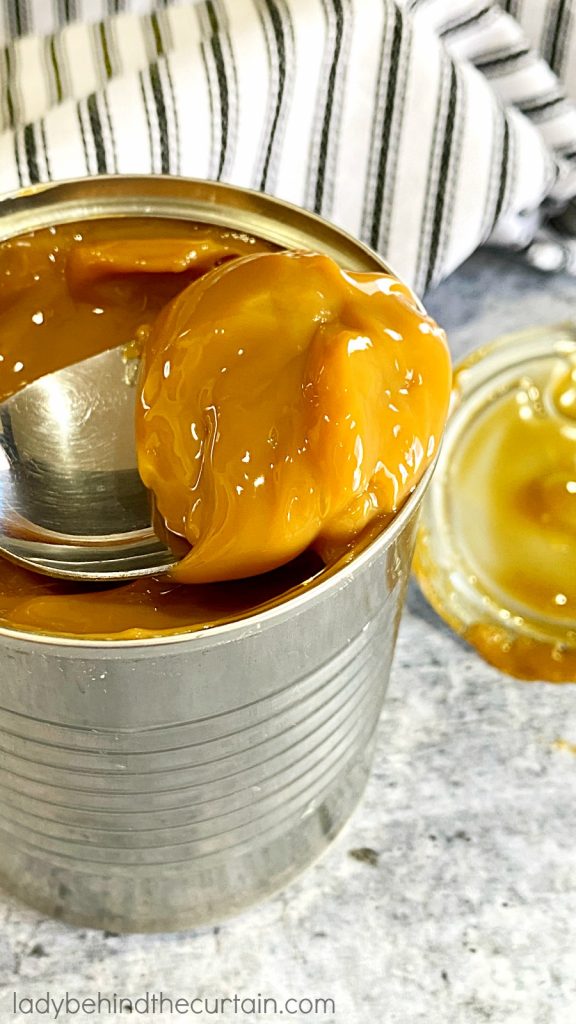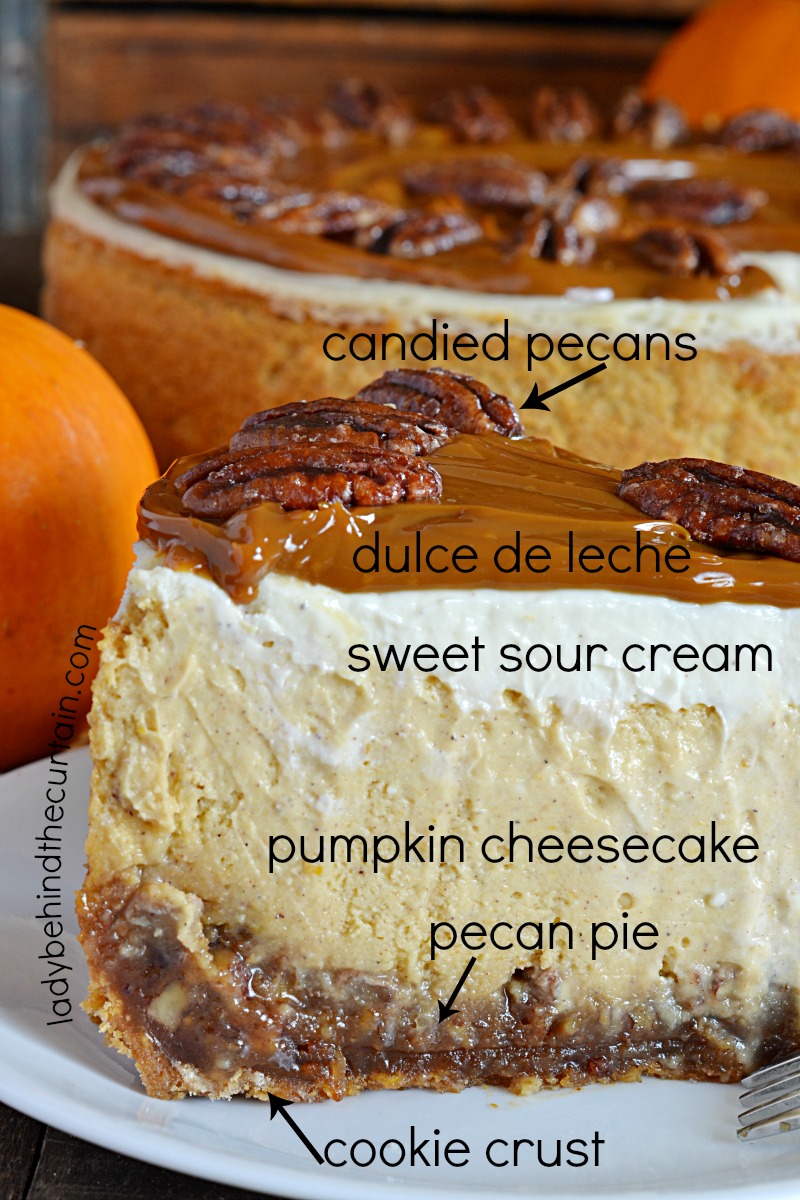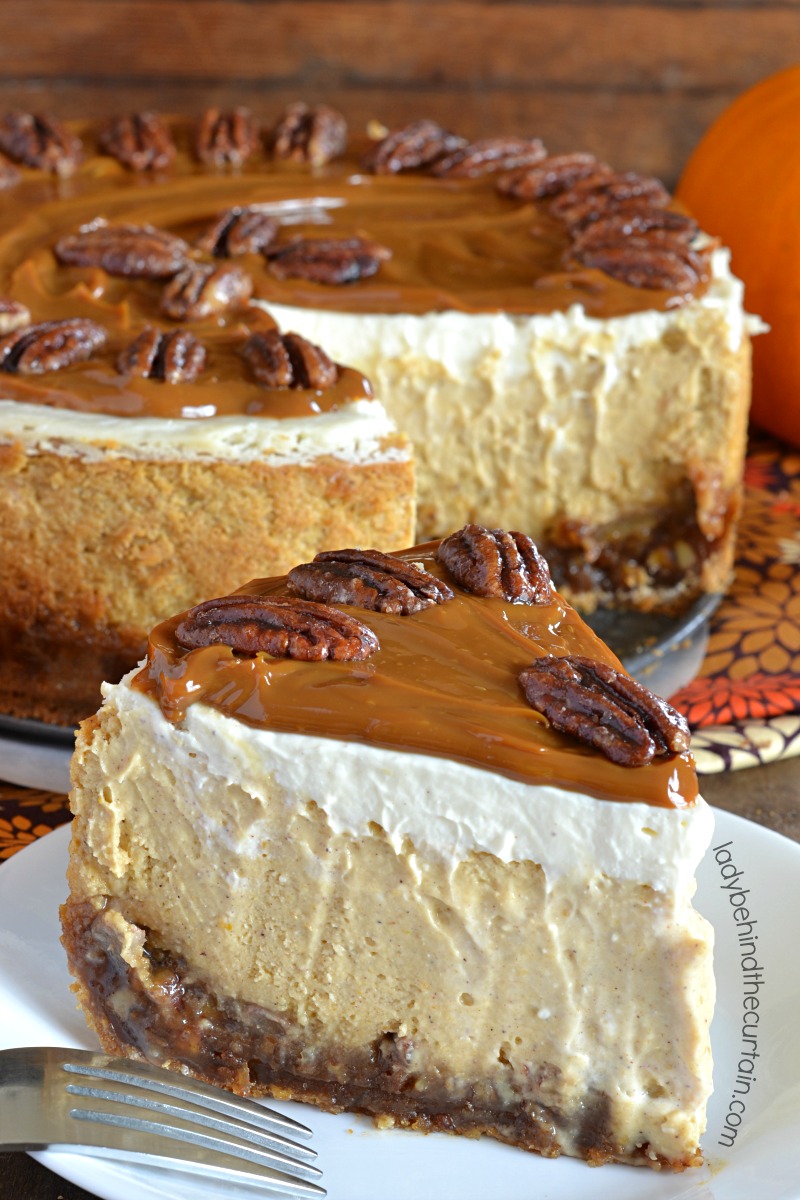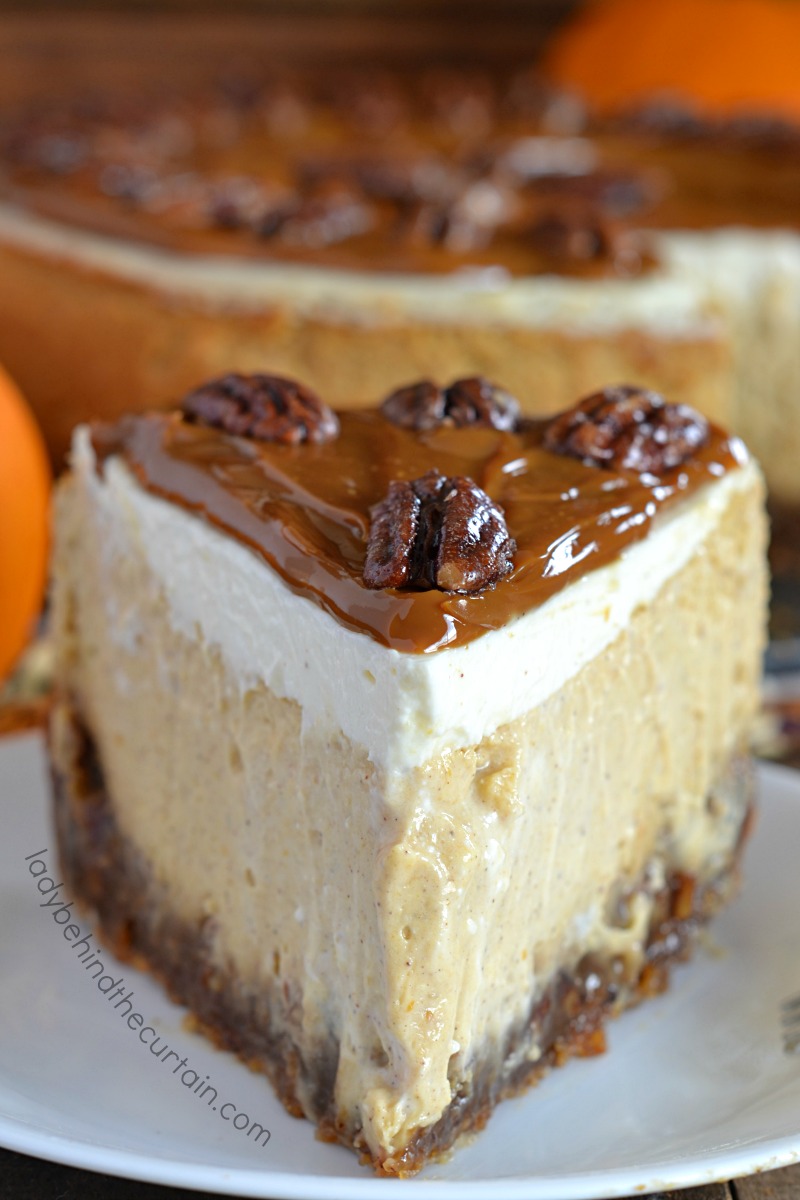 Free Printable Activity Sheets and Coloring Pages!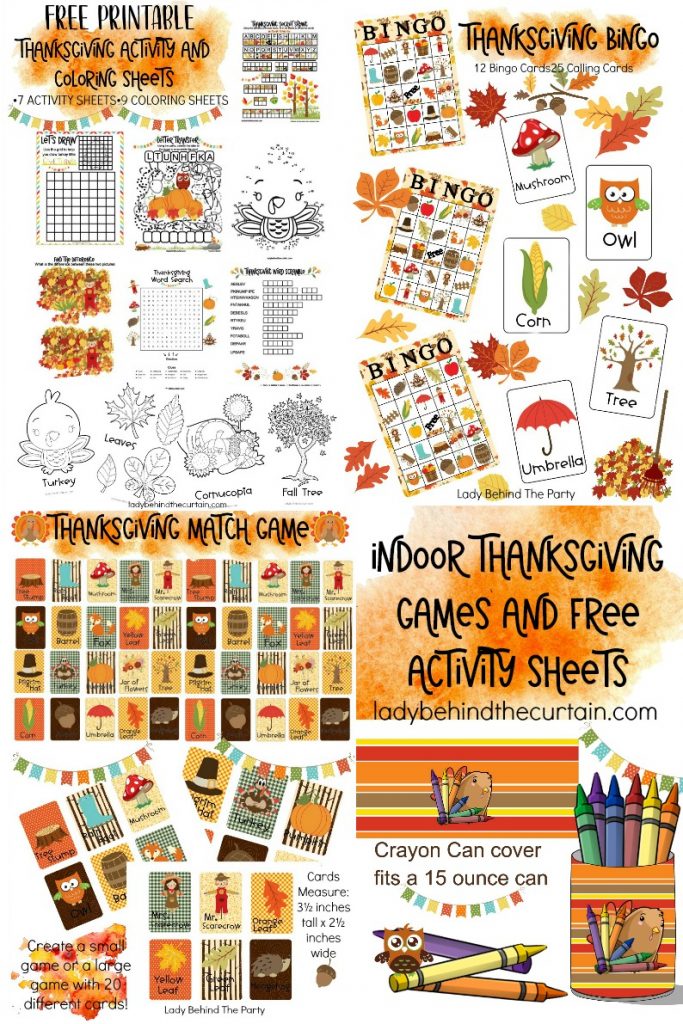 Can this Cheesecake Be Frozen?
I am happy to announce that YES! THIS CHEESECAKE CAN BE FROZEN! I did a test and froze a completed cheesecake (all the layers). I wanted to see if the pecan filling melted from being frozen. I'm happy to report that all the layers stayed the same!
How to Freeze Cheesecake
Freezing for more than a month is not recommended
To use the bottom of springform pan: Once the cheesecake is completely cooled and has been in the refrigerator (in the pan) for at least 4 hours preferably overnight. Release the outer rim of the pan, leaving the cheesecake sitting on the bottom of the pan. Wrap the cheesecake with several layers of plastic wrap and a layer of foil.
To use a cardboard bottom: Once the cheesecake has been refrigerated and if completely cooled and firm, use a knife to separate the cheesecake from the pan bottom. Slide it onto a foil wrapped piece of heavy hardboard. Then wrap with several layers of plastic wrap and a layer of foil. (This method scares me)
For a cheesecake with fruit topping: ALWAYS freeze cheesecake WITHOUT the topping. Add the topping before serving
Always thaw a cheesecake overnight in the refrigerator: When partially thawed, transfer if from the cardboard or springform bottom to a serving plate.
HOW TO SLICE A CHEESECAKE
Candied Pecans
Making the sugared pecans is super easy but adds so much to the look of the cheesecake.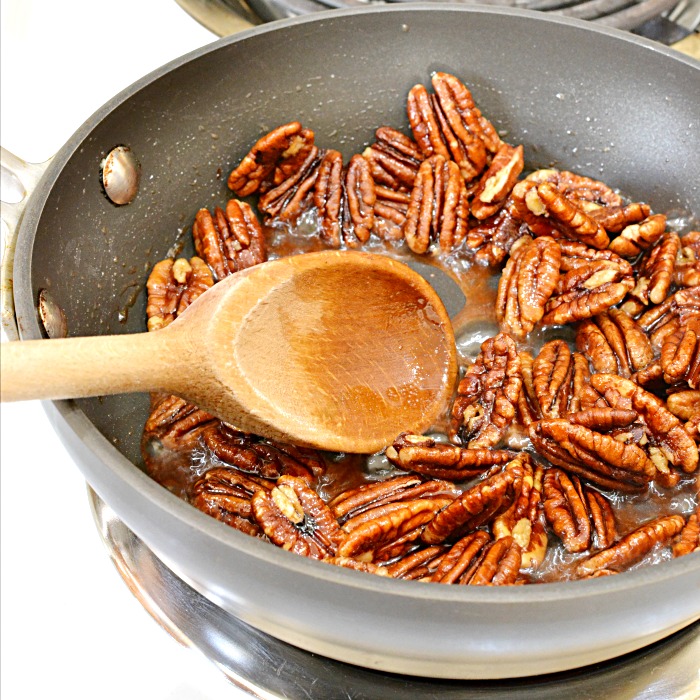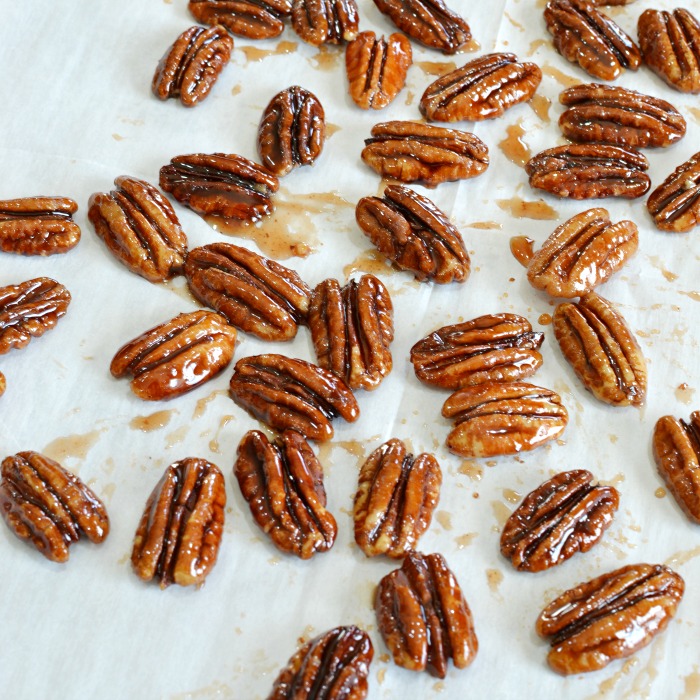 Let's Make Pecan Pie Pumpkin Cheesecake!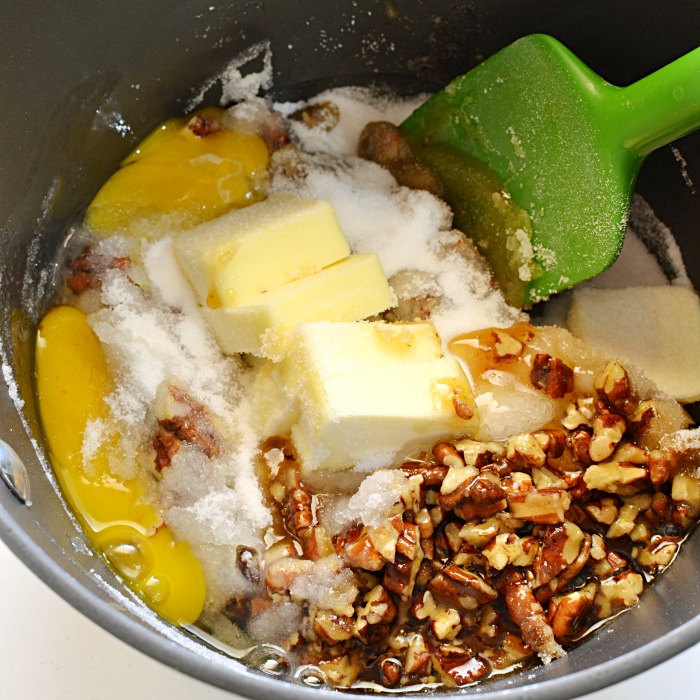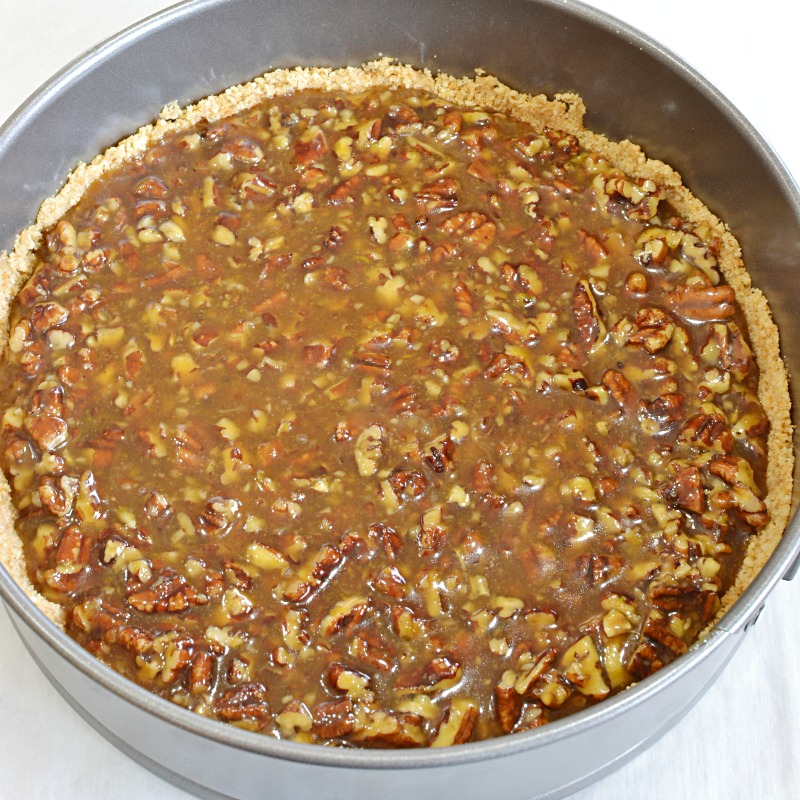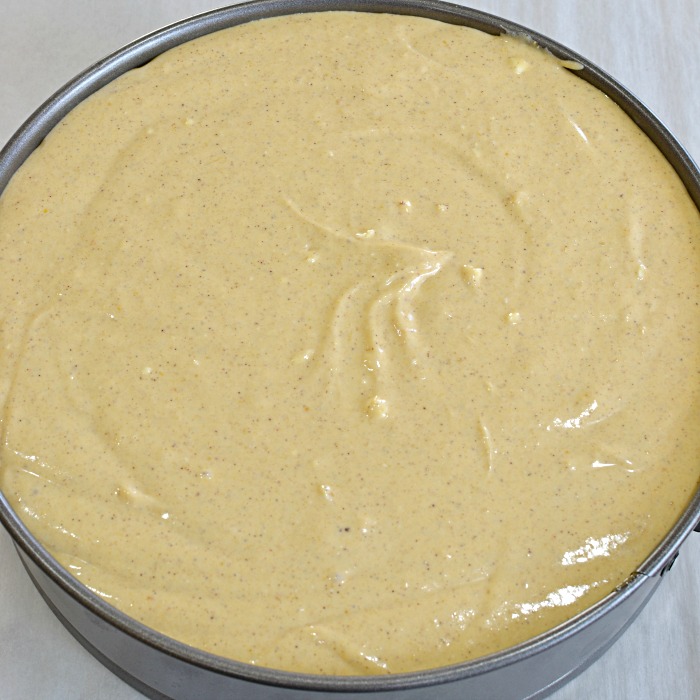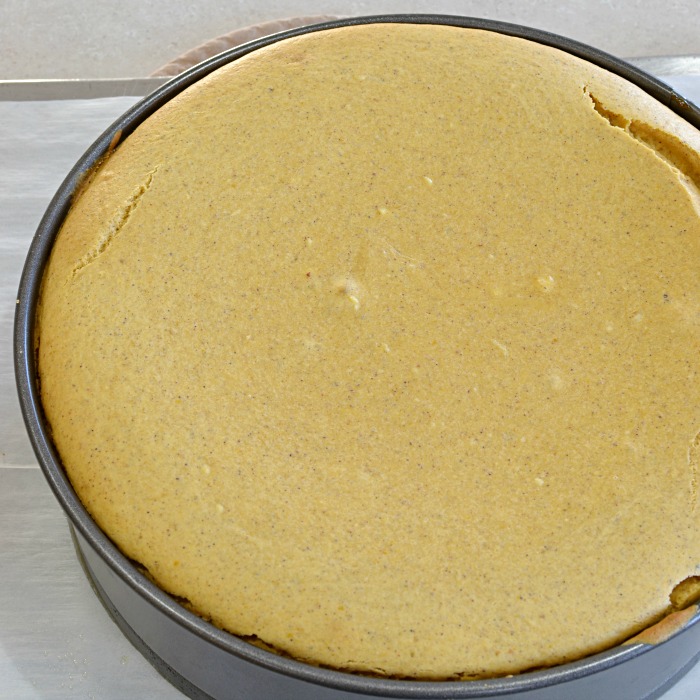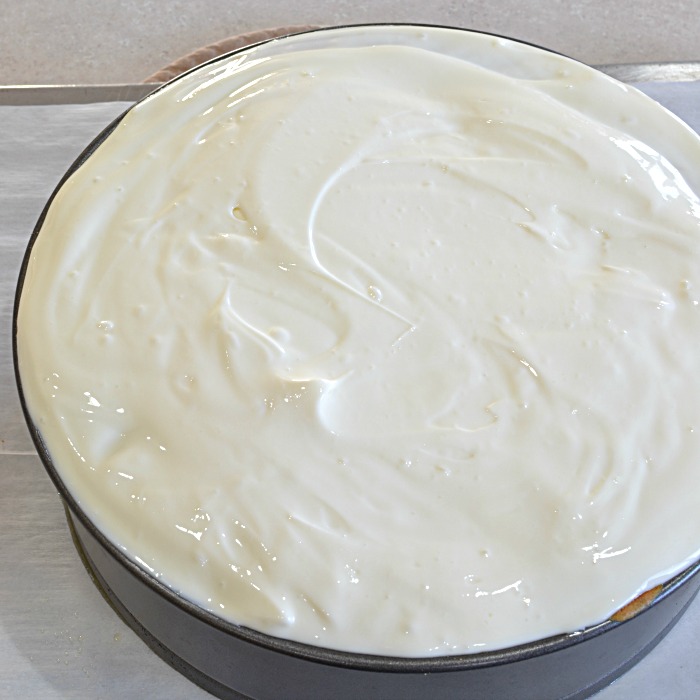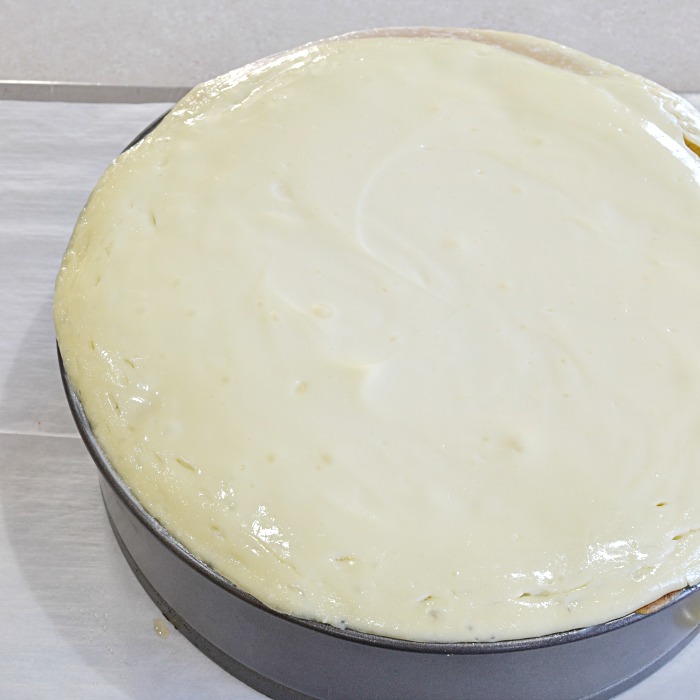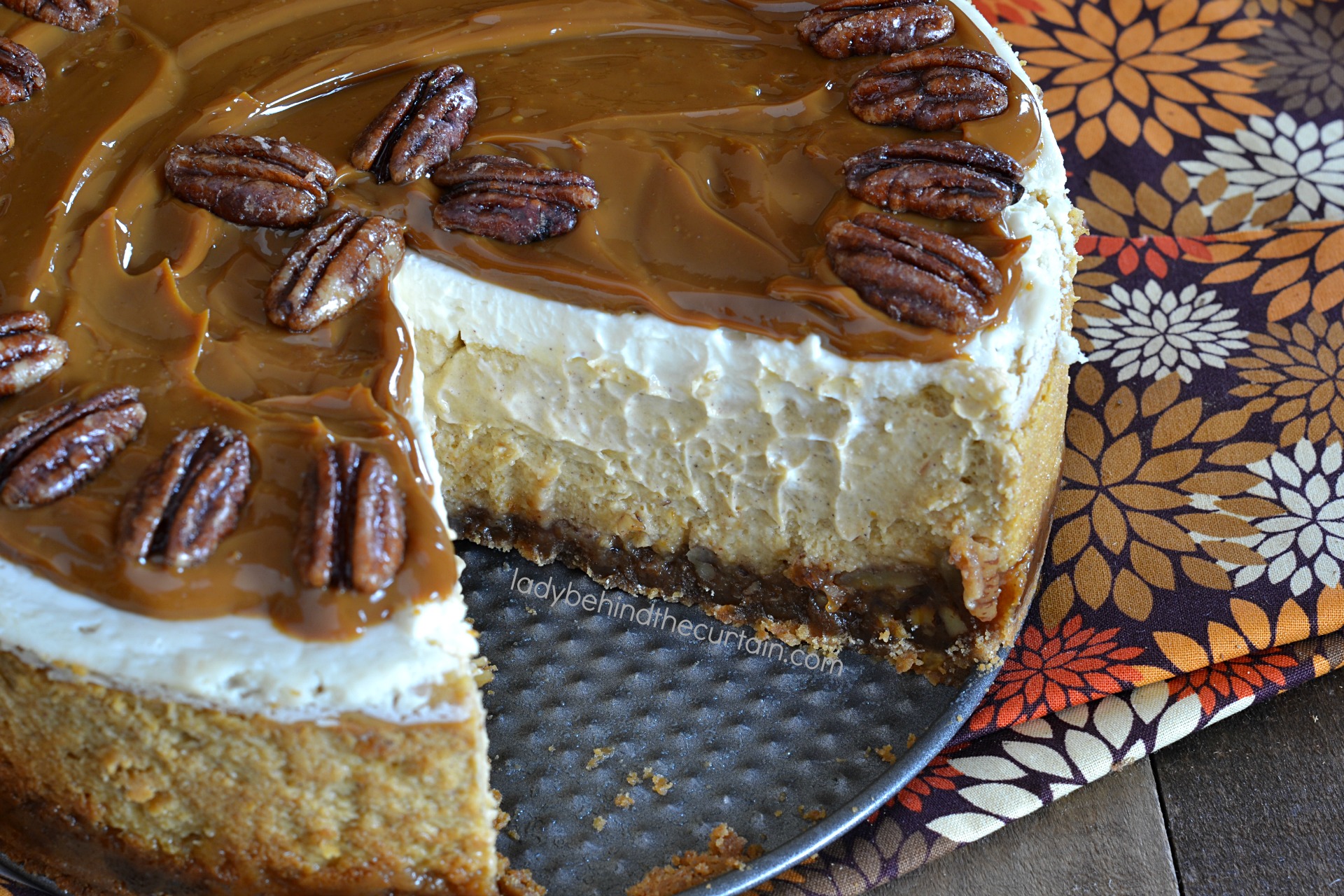 Pecan Pie Pumpkin Cheesecake
Enjoy a pie and cheesecake all in one creamy delicious dessert! 
Ingredients
For the Crust
1¾ cups vanilla wafer crumbs (made from vanilla wafer cookies) or graham cracker crumbs
¼ cup light brown sugar, packed
1/3 cup unsalted butter, melted
For the Pecan Pie Filling
2/3 cup dark brown sugar, packed
2/3 cup light corn syrup
1/3 cup unsalted butter, melted
2 large eggs
1½ cups pecans, chopped
1 teaspoon vanilla extract
For the Pumpkin Pie Cheesecake Filling
3 (8 ounce) packages cream cheese, softened
1 cup granulated sugar
¼ cup dark brown sugar, packed
2 large eggs
1 (15 ounce) can pumpkin puree
2/3 cup evaporated milk
2 tablespoons cornstarch
1¼ teaspoons ground cinnamon
½ teaspoon ground nutmeg
For the Sweet Sour Cream Topping
1 (16 ounce) sour cream
1/3 cup granulated sugar
1 teaspoon vanilla extract
For the Topping
1 (13.4 ounces) can Dulce de Leche or homemade (link below)
For the Candied Pecans
2/3 cup pecan halves
2 tablespoons granulated sugar
2 tablespoons water
Instructions
For the Crust:
Preheat oven to 350°. Combine the vanilla wafer crumbs or graham cracker crumbs and brown sugar. Add the melted butter, stirring to combine. Press evenly into bottom and up the side (about 1-inch or half way up) of a 9-inch springform pan. Set aside.
For the Pecan Filling:
In a medium bowl add the brown sugar, corn syrup, melted butter, eggs, pecans and vanilla. Stir to combine. Pour into prepared crust and set aside.
For the Pumpkin Cheesecake Filling:
In a medium mixing bowl beat together the cream cheese, granulated sugar and brown sugar until fluffy. Beat in egg, pumpkin and milk. Add cornstarch, cinnamon and nutmeg. Beat until all ingredients are smooth and combined. Pour onto crust. NOTE: To avoid the pie filling from coming up around the sides, first pour the cheesecake layer around the edge working your way to the center.
TIP: For protection I always place my cheesecake on a cookie sheet. Bake 55 to 60 minutes or until edge is set and center still moves slightly.
For the Sour Cream Topping:
In a small bowl stir together the sour cream, sugar and vanilla. Spread over warm cheesecake. Bake 10 to 15 minutes. Cool on wire rack. Refrigerate several hours or overnight. Remove side of pan.
For the Caramel Topping:
Pour Dulce de Leche in a microwave safe bowl, heat about 30 seconds or until caramel is warm enough to spread. Add caramel to the top of the cold cheesecake, spread to the edge but not over the edge. Can't find Dulce de Leche? Click here to find out how easy it is to make your own→HOW TO MAKE HOMEMADE DULCE DE LECHE
For the Candied Pecans:
Spread pecans on a sheet pan. Preheat oven to 350°. Place pecans in oven and toast (about 3-5 minutes). In a small saucepan add toasted pecans, sugar and water. Over medium high heat, bring sugar mixture to a boil, reduce heat and cook until the syrup thickens, the pecans are fully coated and most of the moisture is absorbed. Pour pecans (separated) onto a piece of parchment paper to cool. When cooled, decorate the top of the cheesecake. Store cheesecake in the refrigerator.
Nutrition Information
Amount Per Serving
Calories

0
Total Fat

0g
Saturated Fat

0g
Cholesterol

0mg
Sodium

0mg
Fiber

0g
Sugar

0g
Protein

0g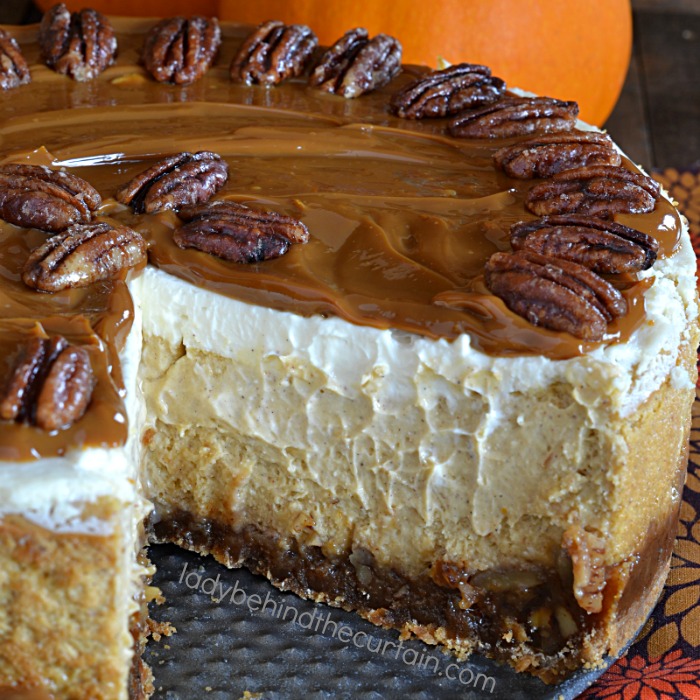 MORE CHEESECAKE RECIPES
NEVER MISS A POST