Classic Chocolate Ice Cream
Classic Chocolate Ice Cream: This simple chocolate ice cream recipe doesn't require cooking eggs or making a custard, but still offers a creamy rich chocolate ice cream.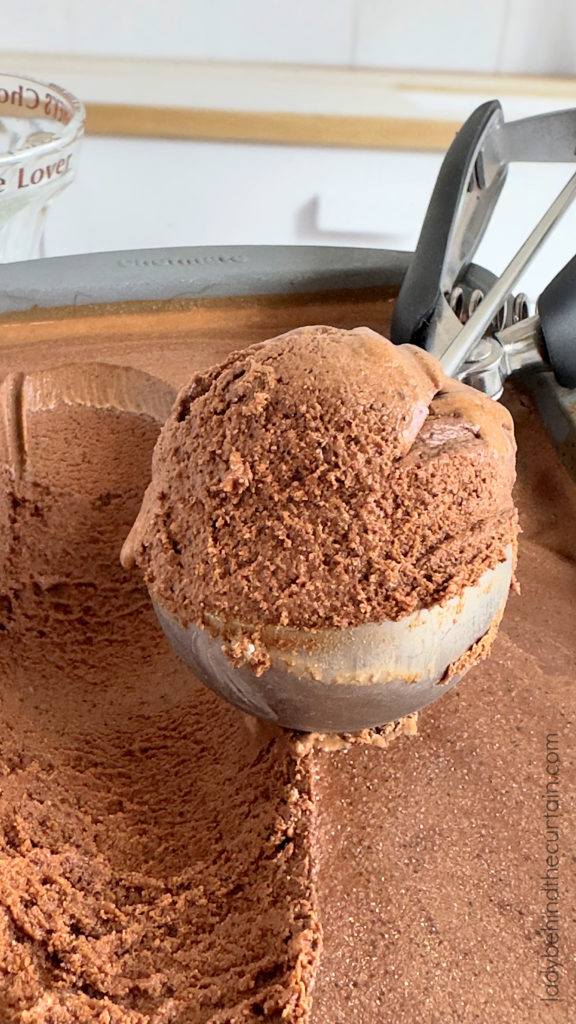 There's nothing like a bowl of homemade ice cream with a creamy chocolate base, this ice cream will be the hit at the backyard barbecue or family reunion.
How to Make Classic Chocolate Ice Cream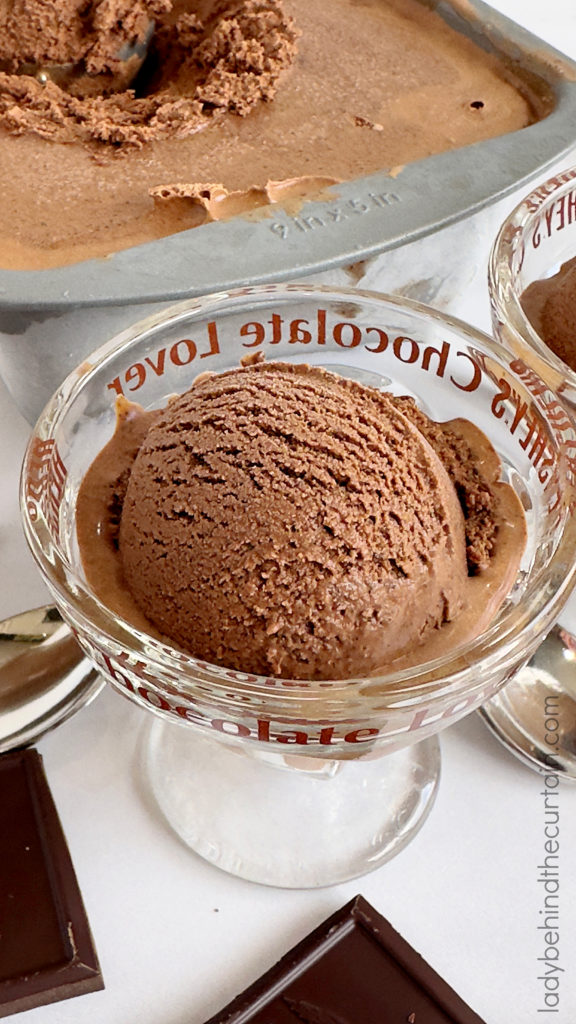 DIRECTIONS (full printable recipe below)
Place the cocoa and sugars (granulated and light brown) in a medium bowl, stir to combine.
Add the whole milk, whisk to combine until the cocoa and sugars are dissolved (about 1-2 minutes).
Stir in the heavy cream and vanilla.
Turn machine on, pour mixture into freezer bowl, and let mix until thickened, about 25 to 35 minutes.
The ice cream will have a soft, creamy texture. If a firmer consistency is desired, transfer the ice cream to an airtight container and place in freezer for about 2 hours. Remove from freezer about 15 minutes before serving.
Makes 14 (½ cup) Servings.
How to Make Neapolitan Ice Cream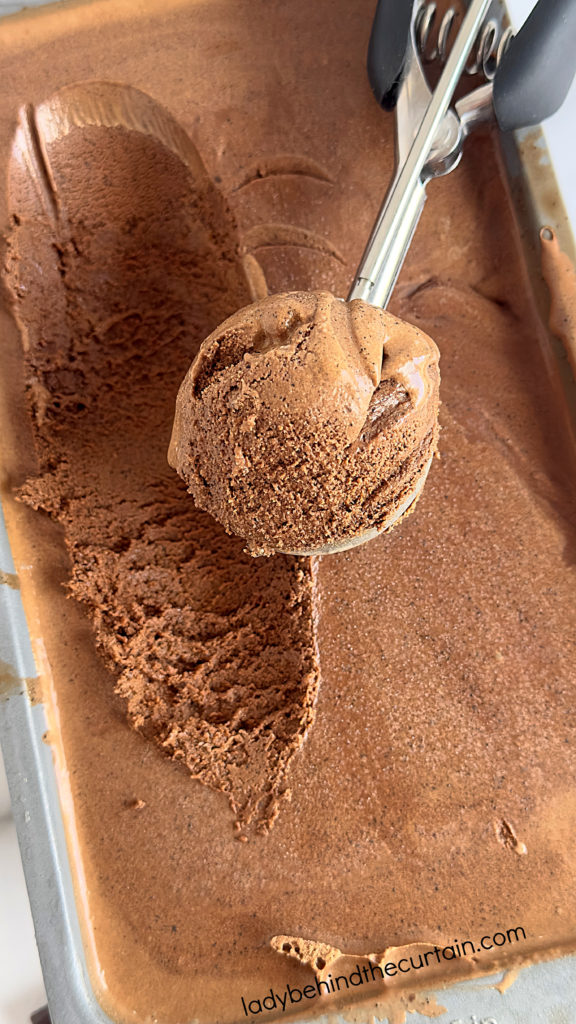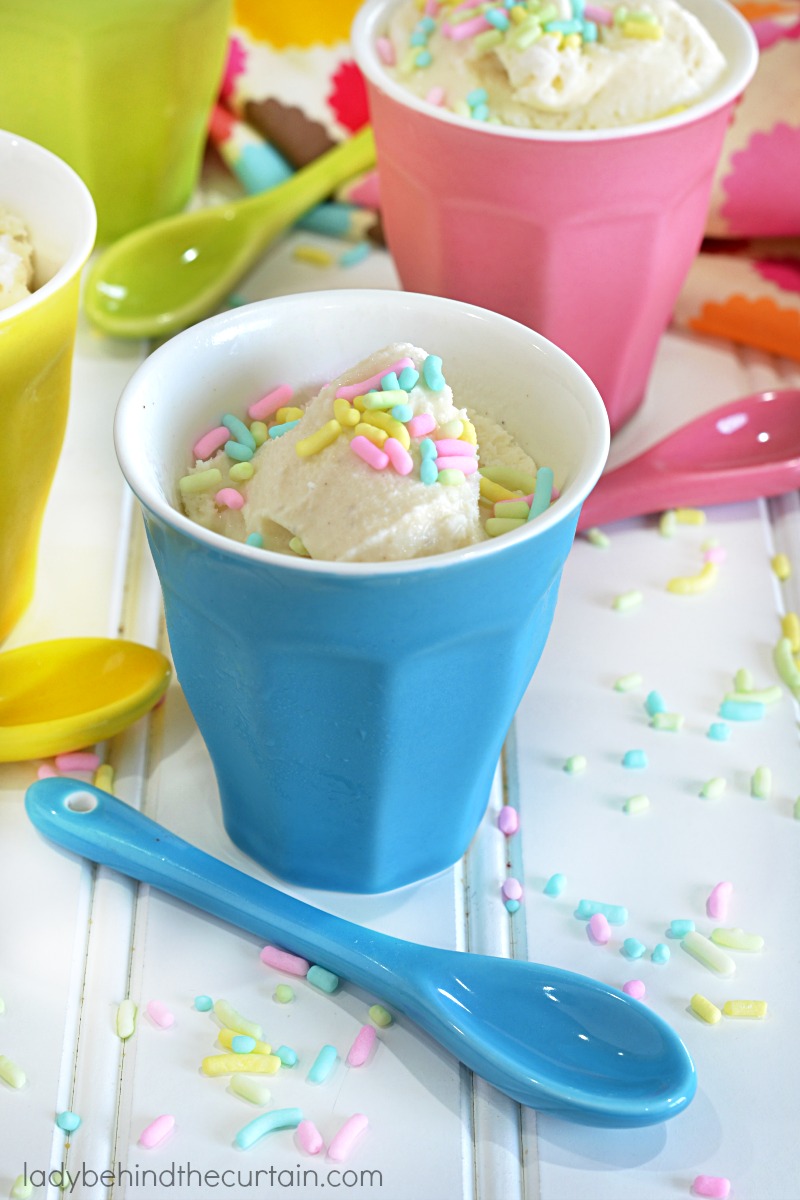 Make the most delicious neapolitan ice cream! Combine homemade Strawberry and Vanilla Ice cream with this Classic Chocolate Ice Cream. Each ice cream recipe makes almost 2 quarts of ice cream.
Make each flavor of ice cream as directed. Vanilla Ice Cream, Strawberry Ice Cream, and Classic Chocolate Ice Cream
Spoon each flavor into their individual container. I like using metal loaf pans.
Cover and freeze.
Once all the ice cream has been frozen, Into a large container, spoon each ice cream flavor one at a time so they are side by side. The ice cream should be solid and easy to manipulate.
Cover, freeze and ENJOY!
How to Change Up Simple Chocolate Ice Cream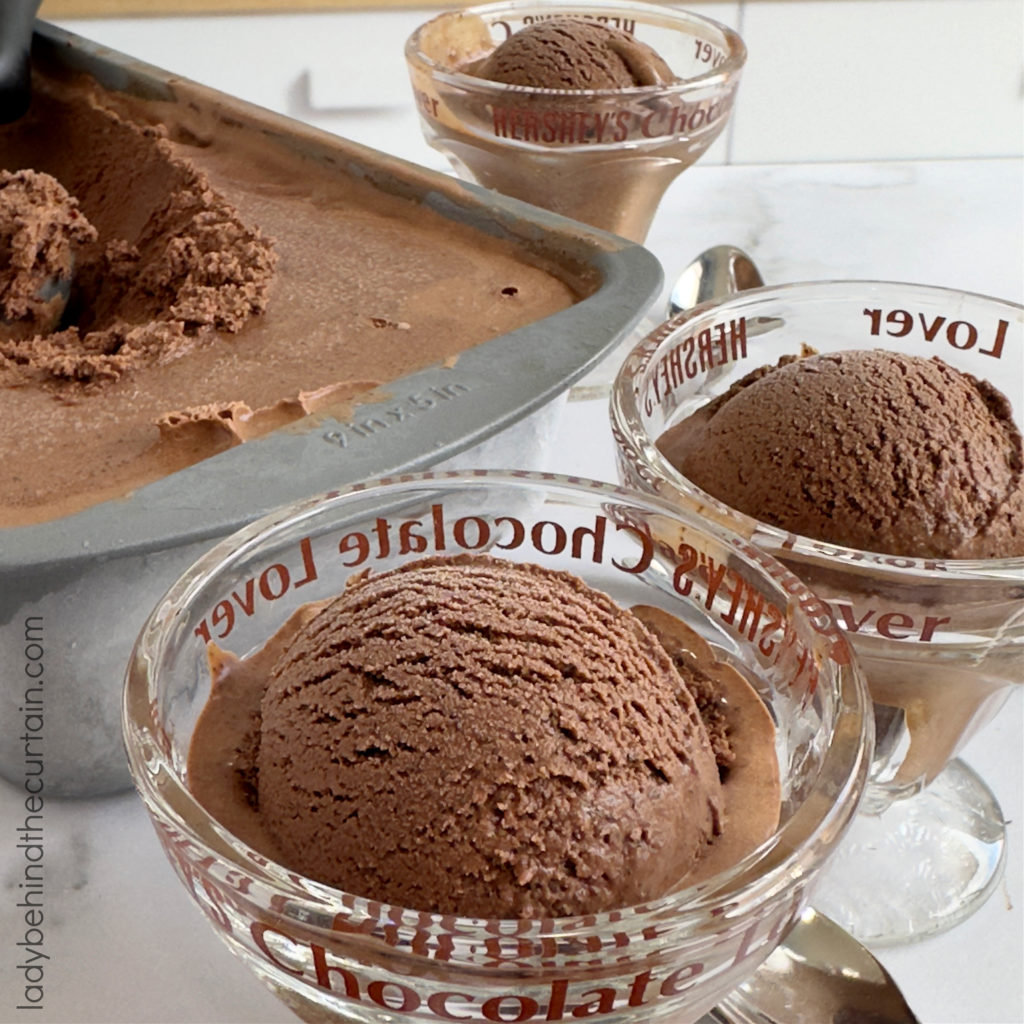 I love this the dark chocolate flavor and creamy texture of this homemade chocolate ice cream recipe. I also love the idea of taking one delicious ice cream recipe and transforming it into multiple recipe flavors. Below you will find multiple ideas from add ins to flavor enhancers. KEEP IN MIND THE RECOMMEDED AMOUNT FOR ADD INS IS ONE CUP.
ESPRESSO POWDER: Add a teaspoon to enhance the chocolate flavor, add more (about 3 tablespoons) to transform the chocolate ice cream into mocha chocolate ice cream.
FRUIT: Finely chopped ONE CUP strawberries or cherries would be delicious! If you like chocolate covered strawberries than you will love this idea.
MINT: There are a couple of ways you can add mint to your chocolate ice cream. Peppermint extract (about 1 teaspoon), ONE CUP chopped mint candy (like Andes), or both!
COOKIES: Adding ONE CUP crushed cookies to your chocolate ice cream will not only add flavor but a nice crunch. Try chocolate chip or peanut butter cookies.
CANDY: ONE CUP of chopped candy like peanut butter cups, butter fingers, or your favorite candy bar is delicious! Great idea for leftover Halloween candy.
ALCOHOL: Irish Cream or Kahlua are great choices. In a medium saucepan, add the cocoa, sugars, milk and ½ cup alcohol. Heat on medium until the mixture reaches 172°—DO NOT BOIL— Stir in heavy cream and vanilla. Pour into a container with a tight fitting lid. Refrigerate until completely cooled (about 6 hours).
MARSHMALLOWS: Transform this chocolate ice cream into a Rocky Road! During the last 5 minutes of churning, add ½ cup mini marshmallows and ½ cup chopped walnuts.
NUTS: Add a crunch and another layer of flavor to your ice cream! During the last 5 minutes of churning, add ½-1 cup of chopped nuts.
Chocolate Ice Cream Pie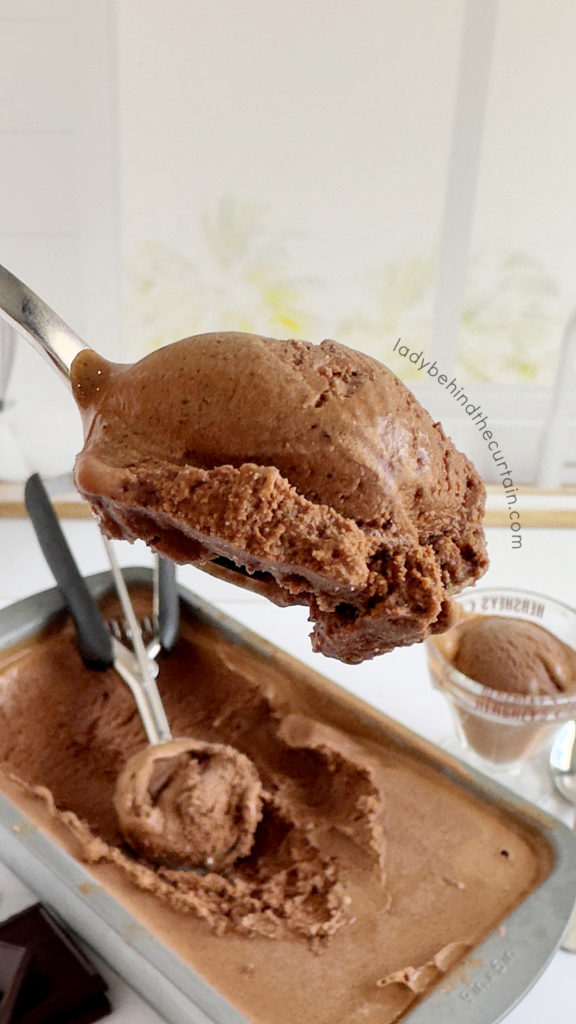 You can easily make an ice cream pie using this Classic Chocolate Ice Cream Recipe.
Begin with a cooled crust—traditional pastry or crumb.
You can fill the crust directly or add a layer of chocolate syrup. Another option is to sprinkle chocolate chips or chopped chocolate over the crust while it's still hot. They will then melt and form a layer of chocolate candy.
Also add a sprinkle of chopped nuts.
Churn ice cream as directed, spoon finished ice cream directly onto the prepared crust.
Freeze one hour until the top is firm, then cover and freeze until needed.
Remove from freezer and place in the refrigerator 30 minutes before serving, so it will become soft enough to slice but still hold its shape.
Serve plain, or with additional toppings such as fresh fruit, chocolate, caramel sauce, nuts, cherries, etc.
Top with whipped cream.
How to Make a Chocolate Ice Cream Soda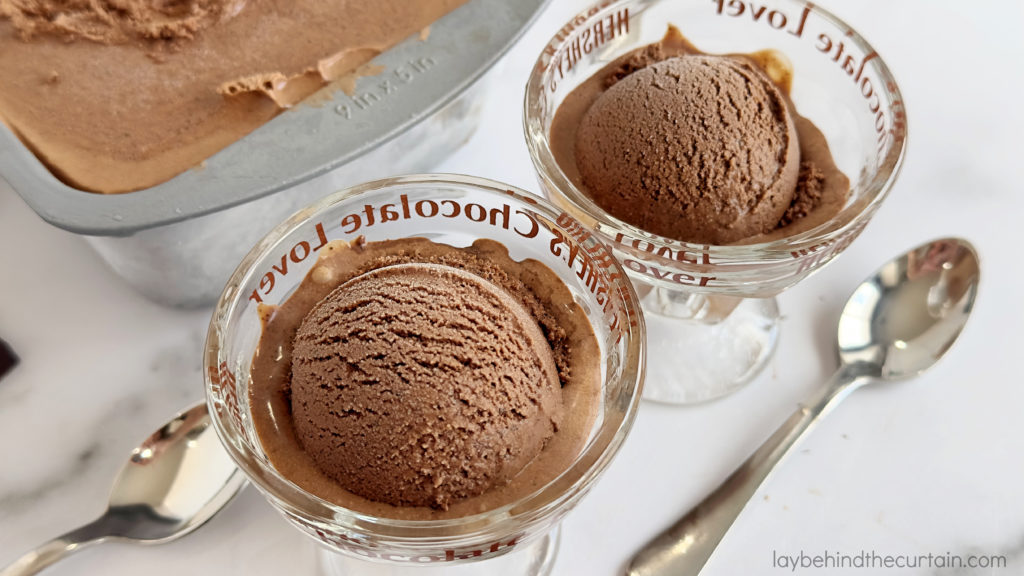 Ice cream sodas are made with a flavoring syrup, soda, and a scoop of your favorite ice cream.
Place 2 tablespoons of chocolate syrup in the bottom of a large glass.
Add chilled club soda to within a few inches of the rim of the glass.
Top with 1 large scoop of very firm chocolate ice cream.
Garnish with whipped cream, a maraschino cherry, and chocolate shavings.
MORE CHOCOLATE ICE CREAM RECIPES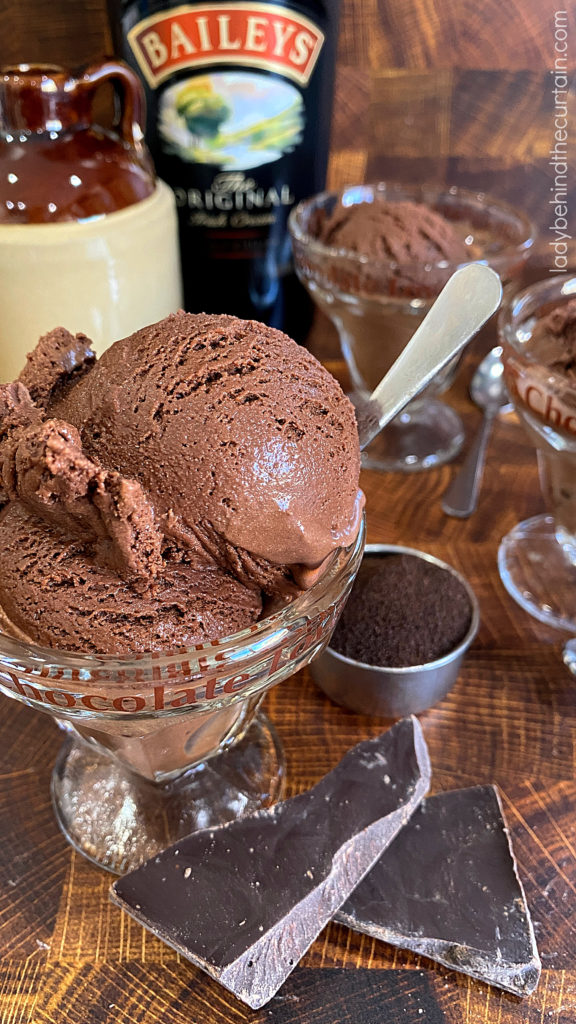 MOCHA IRISH CREAM ICE CREAM 2. CREAMY HOMEMADE DARK CHOCOLATE GELATO 3. ROCKY ROAD ICE CREAM 4. CLICK HERE FOR OVER 40 RECIPES→ICE CREAM
SIGN UP FOR THE LADY BEHIND THE CURTAIN NEWSLETTER AND FOLLOW THE LADY BEHIND THE PARTY ETSY SHOP
THANKS FOR VISITING♥