Pecan Pie Bars | The same great ingredients from your favorite pie transformed into a bite size bar!  These bars are perfect for when you want to try everything at the dessert bar.  I like serving my desserts in mini form so my guests don't have to choose which dessert to try…. they can have them all!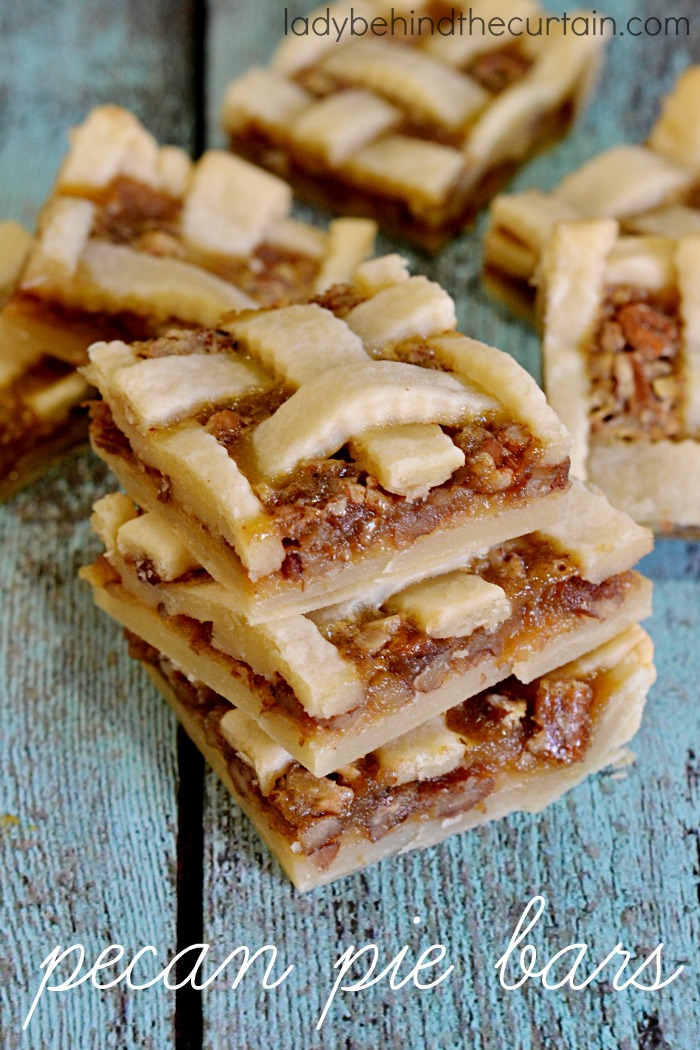 I used a special ingredient to make the dough for these bars.  Cream Cheese!  The addition of cream cheese adds another layer of flavor and makes for a nice tender dough.  Simply the perfect hand held piece of pie!
If Pecan Pie is your thing you might also like my Pecan Pie Cheesecake Fudge, Pecan Pie Bread Pudding and my Pecan Pie Cheesecake!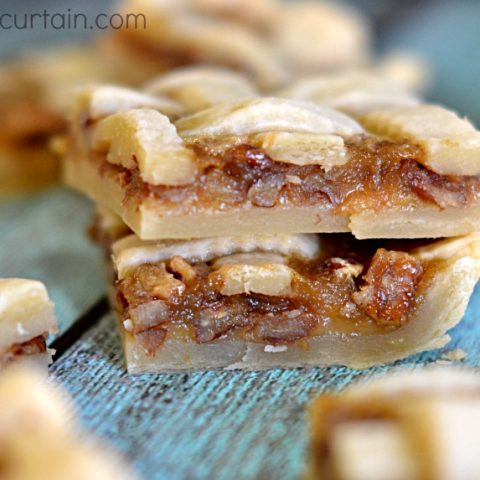 Pecan Pie Bars
Ingredients
For the Dough:
1/4 cup unsalted butter, softened
3 ounces cream cheese, softened
1 1/4 cup all-purpose flour
1/4 teaspoon salt
2 tablespoons water, one at a time
For the Filling:
1 large egg
1 large egg yolk
1/3 cup dark corn syrup
2 tablespoons light brown sugar, packed
2 tablespoons unsalted butter, melted
1/2 teaspoon vanilla extract
1/2 cup pecans, chopped
Instructions
Preheat oven to 350°.
For the Dough:
Add the butter and cream cheese to the bowl of a food processor; pulse until combined.
Add the flour and salt; pulse until combined.
While the processor is running add the water; stop the processor once the dough is combined.
Pour dough out of the processor bowl onto a piece of plastic wrap; cover with plastic wrap and chill one hour.
For the Filling:
In a medium bowl whisk together the egg, egg yolk, corn syrup, brown sugar, butter and vanilla.
Roll two-thirds of the dough into a large enough rectangle to fit a 10x6-inch baking dish and 1-inch up the sides.
Pour filling over the dough; sprinkle with pecans.
Roll out remaining dough; cut into strips and make a lattice pattern on top of the filling.
Bake 25 to 30 minutes.
Cool and store in the refrigerator.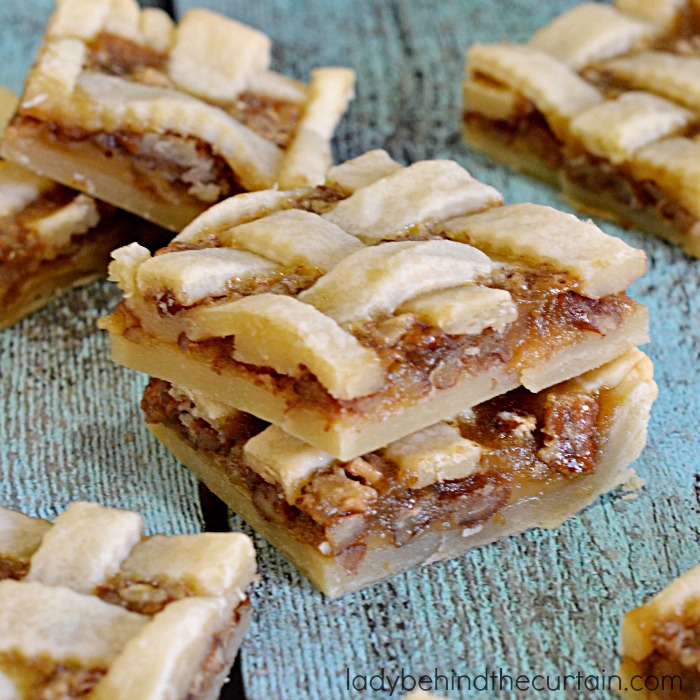 MORE HAND HELD PIE TREATS
KEY LIME PIE COOKIE CUPS  2. MASON JAR LID CHERRY PIES 3. MINI PUMPKIN PIE TARTS