Apple Toffee Cheese Danish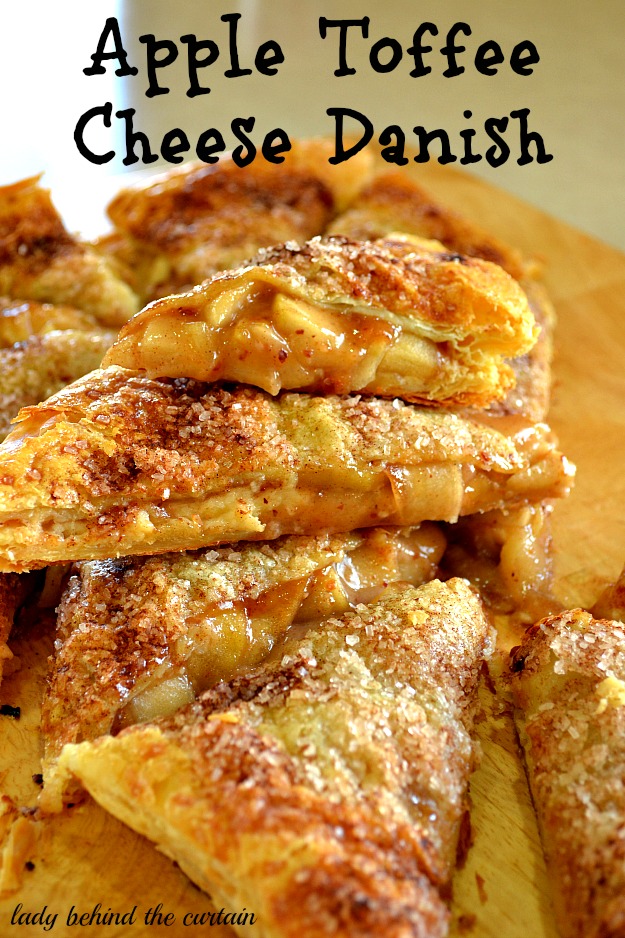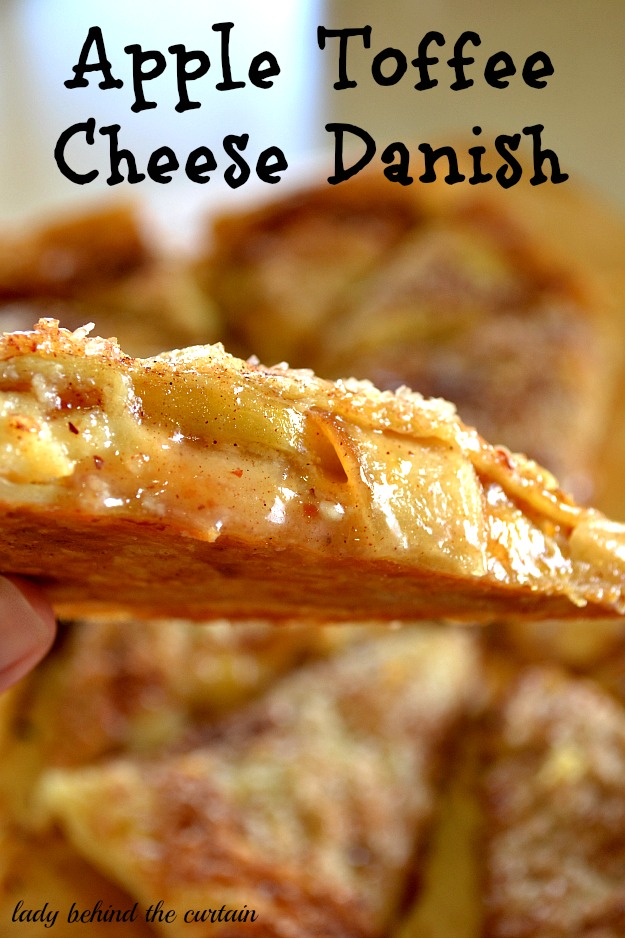 Bring the bakery home with this Apple Toffee Cheese Danish.  Crispy on the outside and creamy on the inside.  This is a delicious treat.
When making an apple dessert I always combine two types of apples; such as Golden delicious and Honeycrisp.  This creates a balanced apple flavor.
Apple Toffee Cheese Danish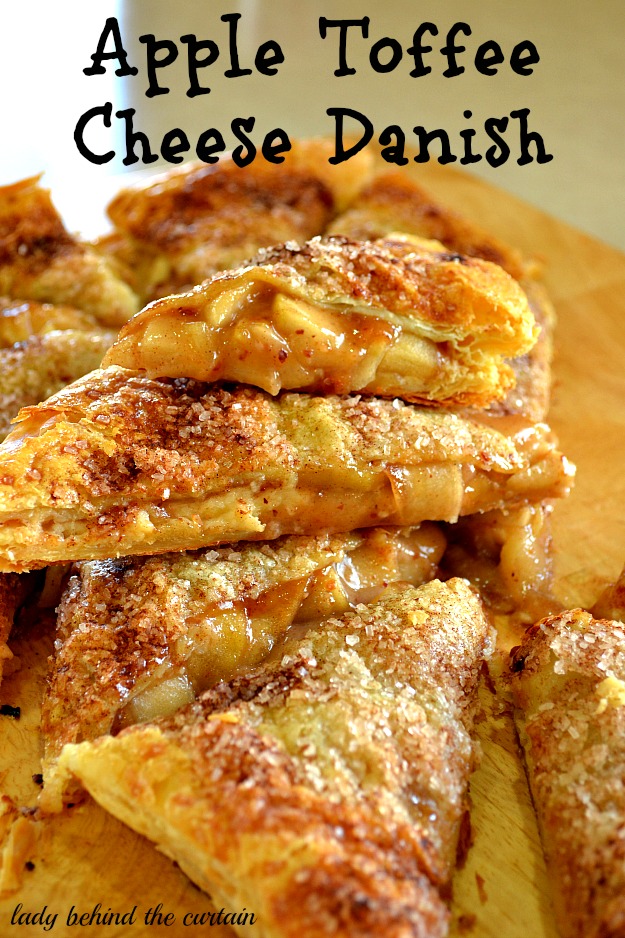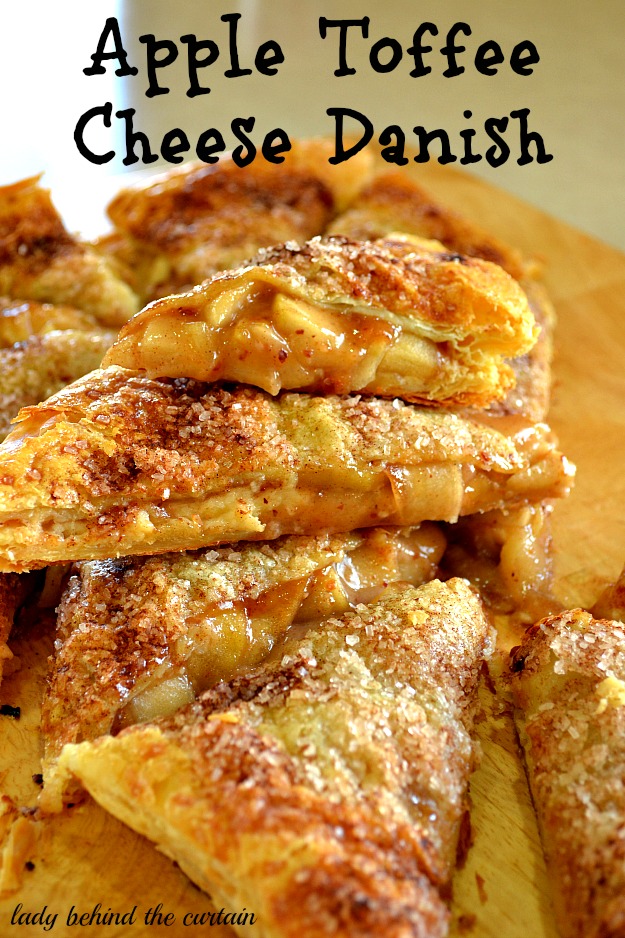 Ingredients
1

- 17.3 ounce package frozen puff pastry sheets, thawed (2 sheets)

2

tablespoons butter

2-1/2

pounds cooking apples, peeled, cored, and thinly sliced (about 7 cups)

1

cup granulated sugar

2

tablespoons all-purpose flour

1

teaspoon ground cinnamon

1/8

teaspoon ground nutmeg

1

- 8 ounce package cream cheese, softened

1

egg

1

teaspoons vanilla extract

1/2

cup toffee bits

1

tablespoons milk

2

tablespoons coarse sugar
Instructions
Preheat oven to 375 degrees.
Lightly spray a 15x10x1-inch baking pan with non stick cooking spray; set aside.
On a lightly floured surface, unfold on pastry sheet and roll into a 15x10-inch rectangle.
Transfer to the prepared baking pan, pressing pastry to edges of pan.
Bake about 12 minutes or until golden. NOTE: pastry will puff and shrink from sides of pan.
Cool on a wire rack.
Meanwhile, in a extra large skillet heat butter over medium heat until melted.
Add apples; cook about 8 minutes or just until apples are crisp-tender, stirring occasionally.
In a small bowl combine 1/2 cup of the sugar, the flour, 1/2 teaspoon of the cinnamon, and the nutmeg.
Sprinkle over apples.
Cook and stir for 2 minutes more. Set aside.
Beat the cream cheese and the remaining 1/2 cup sugar until smooth.
Beat in egg and vanilla.
Just until combined.
Carefully spread cream cheese mixture over baked pastry to within 1-inch of the edges.
Spoon apple mixture over cream cheese mixture.
Sprinkle on the toffee bits.
On a lightly floured surface, unfold the remaining pastry sheet and roll into a 13x10-inch rectangle.
NOTE: Make sure pastry is large enough to completely cover apple mixture.
Place on top of apple mixture.
Lightly press edges of top pastry to edges of bottom pastry.
Lightly brush top pastry with milk.
Using a sharp knife, cut a few slits in the pastry to allow steam to escape.
In a small bowl combine coarse sugar and the remaining 1/2 teaspoon cinnamon; sprinkle over pastry.
Bake for 35 to 40 minutes or until pastry is slightly puffed and golden.
Cool on wire rack and bout 45 minutes.
Recipe Notes
This recipe was adapted from the BHG Fall Baking 2013 magazine