Caramel Banana Cake Roll PLUS How to Video!
I love making cake rolls. They look so impressive and are so easy to put together. This Caramel Banana Cake Roll is a light version to the typical cake roll. With a light and fluffy sponge cake full of banana flavor and filled with a caramel filling. Do you think making a cake is too hard? Don't worry I've got you covered! Scroll down and watch my "HOW TO MAKE A CAKE ROLL" video to see how easy it really is!
THE PERFECT GIFT OR DESSERT FOR ENTERTAINING!
Always have a dessert ready! Make this Caramel Banana Cake Roll ahead and store in the freezer for last minute entertaining! Look below for more cake roll recipes and create your own cake roll buffet!
Make several cake rolls now for a later date!
WHAT MAKES THIS CAKE SO LIGHT? Whipped egg whites!
FOR A DETAILED LOOK…. WATCH MY VIDEO "HOW TO MAKE A CAKE ROLL"!
Yield: 1 Cake Roll
Caramel Banana Cake Roll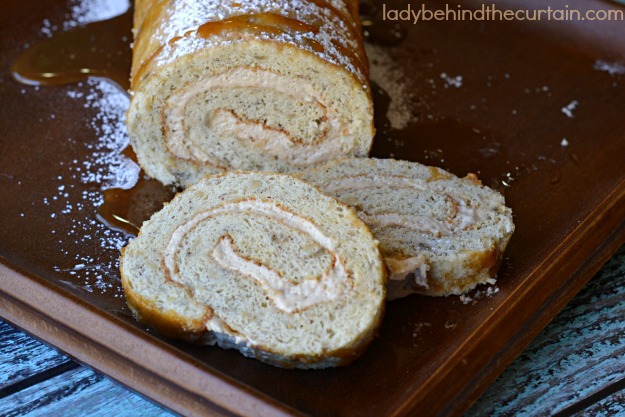 Ingredients
For the Cake:
1 cup cake flour
1/2 teaspoon baking soda
1/2 teaspoon salt
1/4 teaspoon baking powder
2 eggs
3/4 cup sugar, divided
1/2 cup mashed ripe banana (about 1 medium)
1 teaspoon vanilla extract
3 egg whites
1 tablespoon confectioners' sugar
For the Filling:
4 ounces reduced-fat cream cheese
1/2 cup packed brown sugar
1/2 teaspoon vanilla extract
1 cup reduced-fat whipped topping
For the Topping:
1 tablespoon confectioners' sugar
2 tablespoon fat-free caramel ice cream topping
Instructions
Preheat oven to 375 degrees.
Spray a 15-in. x 10-in. x 1-in. baking pan with non stick cooking spray; line with parchment paper and spray the top of the parchment paper with non stick cooking spray; set aside.
Combine the flour, baking soda, salt and baking powder.
In a large mixing bowl, beat eggs for 5 minutes; add 1/2 cup sugar, banana and vanilla.
In a small mixing bowl, beat egg whites on medium speed until soft peaks form.
To the egg whites gradually beat in remaining sugar, a tablespoon at a time, on high until stiff peaks form.
Add flour mixture to banana mixture; mix gently until combined.
Fold in egg white mixture.
Spread into the prepared pan.
Bake for 10-12 minutes or until cake springs back when lightly touched.
Cool 5 minutes; run a knife around the edges to loosen.
Turn cake onto a kitchen towel dusted with confectioners sugar.
Gently peel off parchment paper.
Roll up cake in towel jelly-roll style, starting with a short side.
Cool completely on a wire rack.
Once the roll is cooled, unroll the cake.
Because the cake has cooled in a rolled position it will easily re-roll.
For the Filling:
In a mixing bowl, beat cream cheese and brown sugar until smooth and sugar is dissolved.
Beat in vanilla; fold in the whipped topping.
Unroll cake and evenly spread the filling.
Roll back up
For the Topping:.
Sprinkle with confectioners' sugar and drizzle caramel ice cream topping.
Store in the refrigerator.
MORE CAKE ROLL RECIPES
HALLOWEEN VANILLA SWISS CAKE ROLL 2.PUMPKIN CAKE ROLL 3. LEMON CREME CAKE ROLL
NEVER MISS A POST
Great party mix recipes. Create the perfect balance between sweet and salty. SLOW COOKER PARTY MIX and RANCH PARTY MIX.