Browned Butter Lemon Bars
Browned Butter Lemon Bars:  Everything you love about lemon bars but enhanced with a browned butter crust.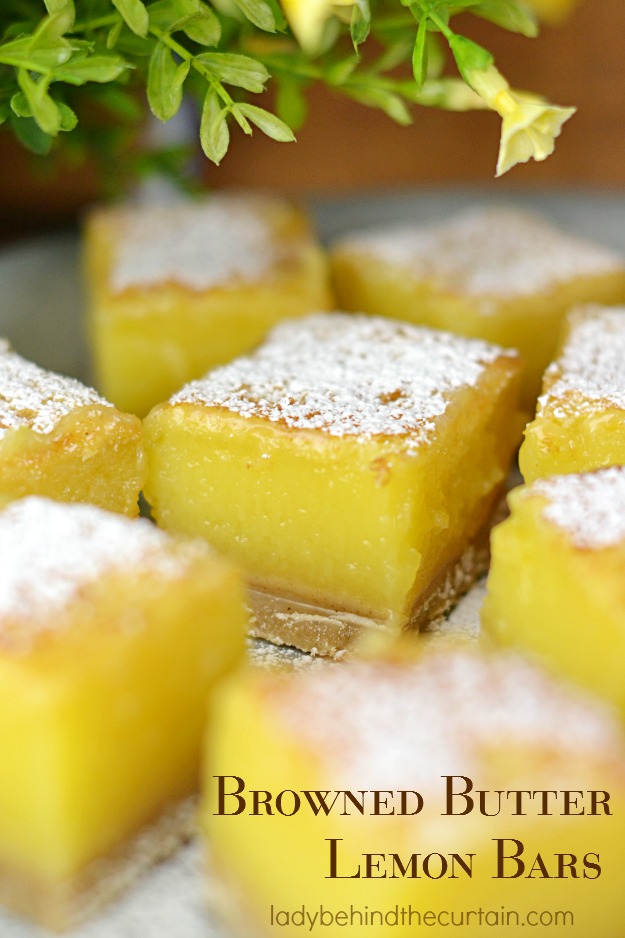 Bring a sweet ending to a summer day with these delicious tart lemon bars.  Lemon bars are one of my favorite desserts.  They always surprise me how they are sweet yet make me pucker from the tart flavor.  These Browned Butter Lemon Bars push the limits of flavor.  If you have never made or had a dessert with browned butter I highly encourage you to do so.  I will warn you that once you try browned butter you will be looking for something to make with it all the time.  Adding browned butter to a dessert adds a nutty caramel flavor.  So you see it's quite addictive.  All you do is bring butter to a boil (about 5 minutes).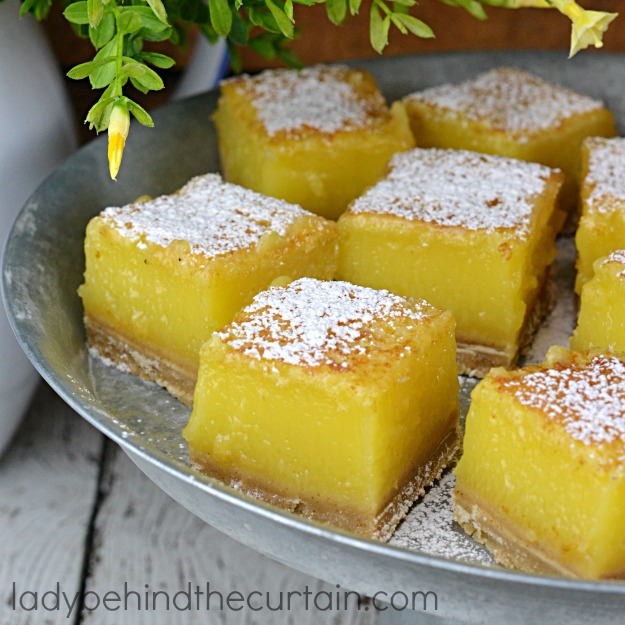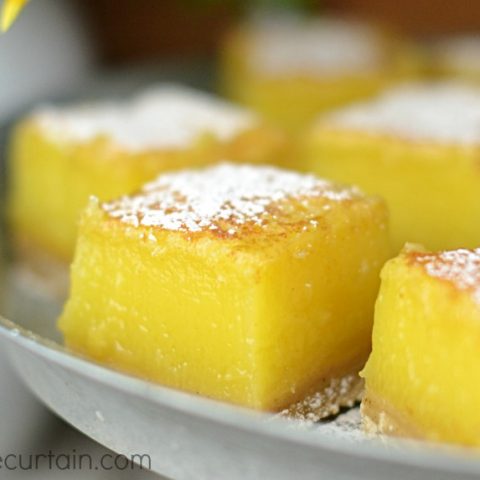 Browned Butter Lemon Bars
Total Time:
1 hour
20 minutes
Ingredients
For the Browned Butter Crust:
3/4 cup unsalted butter
1 1/2 cups all-purpose flour
1/2 cup confectioners' sugar
1/4 teaspoon salt
For the Lemon Filling:
6 large eggs
1 large egg yolks
pinch of salt
2 1/4 cups granulated sugar
1/2 cup all-purpose flour
zest of 1 lemon
1 1/4 cups freshly squeezed lemon juice
confectioners' sugar for sprinkling over bars
Instructions
For the Browned Butter Crust:
Line a 9x9-inch baking pan with non stick foil, allowing foil to hang over the edge.
Preheat oven to 350 degrees.
In a medium saucepan over medium high heat melt the butter and bring to a boil; cook until browned (about 4 to 5 minutes).
TIP: Stir continuously and watch carefully as butter starts to brown so it will not burn on the bottom.
Transfer to a bowl and refrigerated until firm (about 45 minutes) enough to beat with an mixer.
Mix the butter until smooth; add flour, sugar and salt and beat until blended.
Press dough evenly into bottom of prepared pan.
Bake 15 minutes or until golden.
Take out of the oven; pour prepared lemon filling over baked crust.
Reduce oven to 300 degrees.
Return to the oven and bake 48 to 50 minutes or until center is set.
Let cool on a wire rack.
Cover and refrigerate overnight; cut into 16 bars and dust with confectioners' sugar.
Store in refrigerator until ready to serve.
For the Lemon Filling:
In a large bowl, whisk together eggs, egg yolk, and salt.
Whisk in the sugar, flour, lemon zest and lemon juice until well combined.
MORE LEMON DESSERTS

1. LEMON TRUFFLE CUPCAKE SURPRISE  2. LEMON DREAM COOKIES  3. MICROWAVE LEMON FUDGE