Slow Cooker Refried Beans
Slow Cooker Refried Beans:  A healthier version to the restaurant favorite.  NO FAT added just lots of flavor!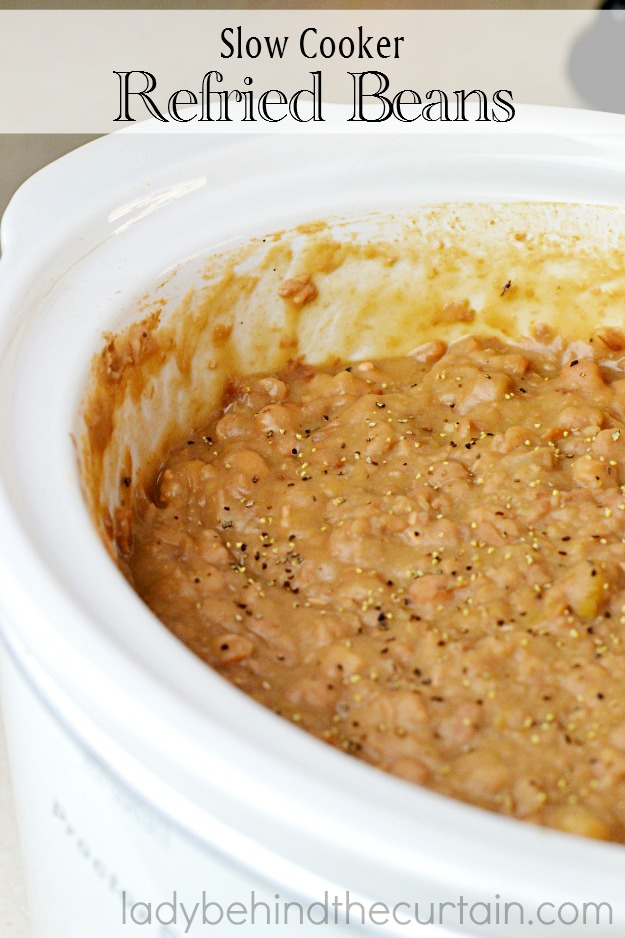 I have been making my own refried beans for sometime.  I don't use lard but the next best thing bacon.  I still make them in the slow cooker with a couple of strips of bacon and other seasonings.  Once the beans are done I strain them and put them into a large skillet to mash and fry.  While these Slow Cooker Refried Beans are never really fried I promise you will NOT miss it.  They are tasty, simple to make with little clean up.  And bonus!  Kid friendly.  NO ONIONS….well, that are visible anyway.  So……the next time you're planning a Mexican dinner pass right on by the canned refried beans, grab yourself a bag of dried pinto beans and make you own!  😀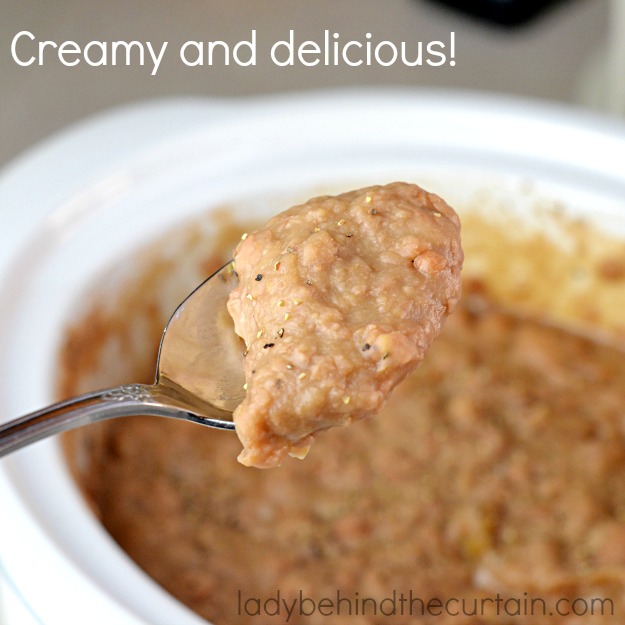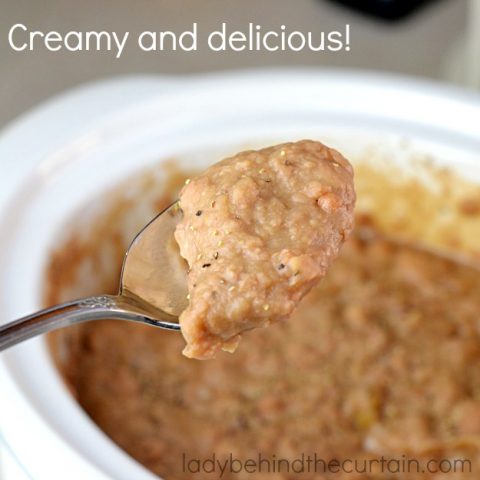 Slow Cooker Refried Beans
A creamy healthier version of your restaurant favorite.
Ingredients
1 ( 16 ounce) bag pinto beans
1 (4 ounce) diced green chiles
1 tablespoon dice dried onions
2 teaspoons garlic powder
salt and pepper to taste
Instructions
Rinse beans in cold water and add to a slow cooker.
Fill the slow cooker with water ( not quite to the top).
Add the chiles, onion, garlic powder, salt and pepper.
Stir to combine; turn slow cooker on high and cook for 7 hours.
TIP: Peek in on the beans every so often to make sure the liquid level is over the beans and stir.
Once the beans are completely soft, drain RESERVING THE LIQUID.
Add the beans back to the slow cooker; use a potato smasher and start smashing the beans.
The beans will be dry add the reserved liquid to the beans as you smash. REMEMBER AS THE BEANS COOL THEY WILL THICKEN so make sure you add plenty of bean juice. I kept mine until I was ready to serve the beans just to make sure they stayed the consistency I wanted.
SLOW COOKER RECIPES

1. SLOW COOKER PEACH COBBLER  2. SLOW COOKER APPLE BUTTER  3. SLOW COOKER SAVORY WAFFLE BREAD PUDDING