Chevron Easter Egg Hunt Kid's Party Table
This Chevron Easter Egg Hunt Kid's Party Table is full of fun surprises.  The first, being the chevron print Easter eggs.  When shopping for ideas of what kind of Easter table to create this year.   I came across these Chevron Print Easter Eggs at Oriental Trading.  Those eggs became my inspiration for my whole party table.  The chevron print is so popular.  So, why not for Easter?  What I bought wasn't even close to all the chevron print items.  If chevron is your thing, then you should go check out all the awesome chevron print items at Oriental Trading.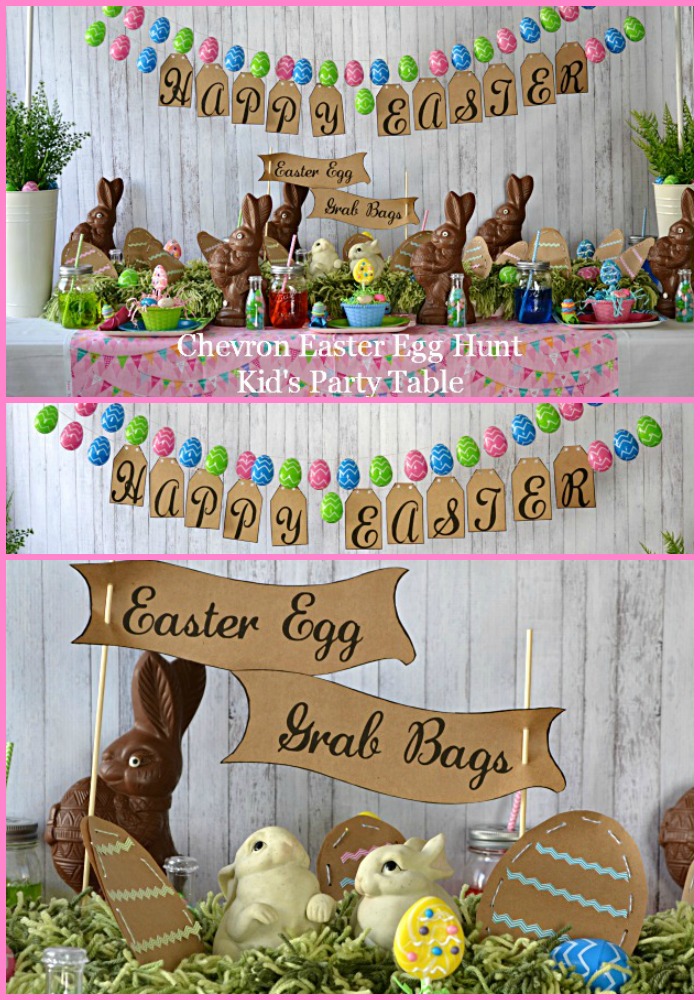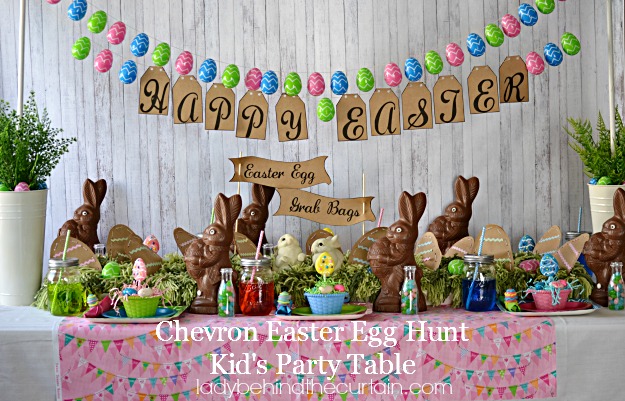 I am too busy to go to seven different stores to get the supplies I need to create a fun Easter Kid's Table.  This year I decided to get as many things as I could from one place, Oriental Trading.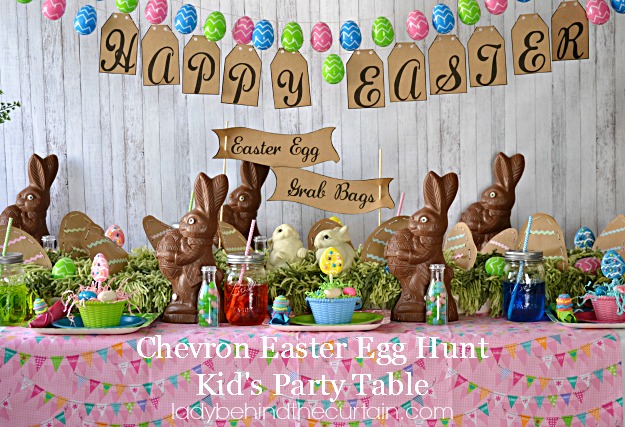 BANNER/GARLAND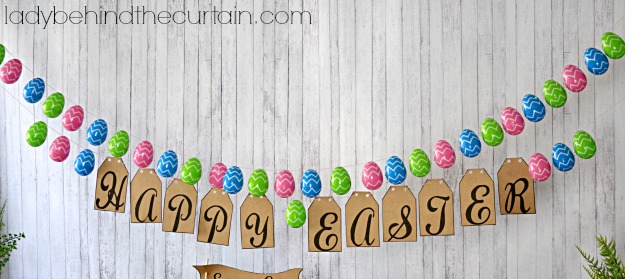 Instead of the traditional eggs in a basket I decided to string the eggs up for my banner/garland.  HERE is the template for the banner.  I left them blank for you to fill in.  I tied the string to dowels, filled containers with rice, stuck the dowels in the rice, laid eggs on top of the rice and filled in with greenery.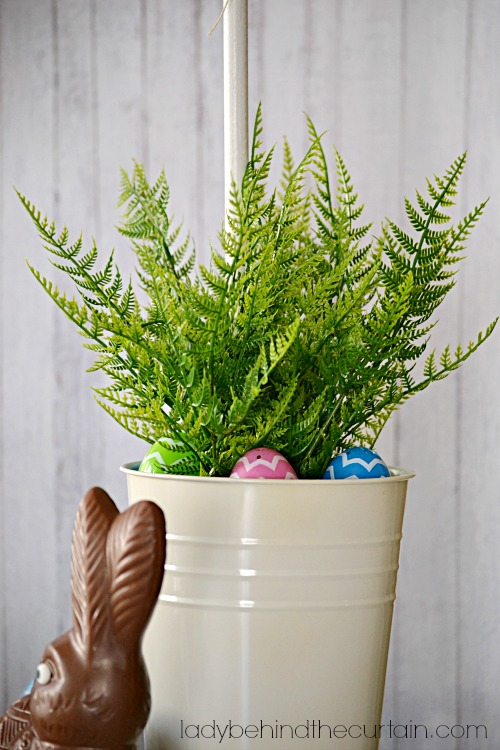 To string the eggs together, thread crochet thread in a large eye needle, open the egg, you will see two holes on the large side of the egg (meaning the longest) starting on the outside, push needle through to the inside and up through the other hole to the outside, close egg and repeat until the garland has reached the desired length.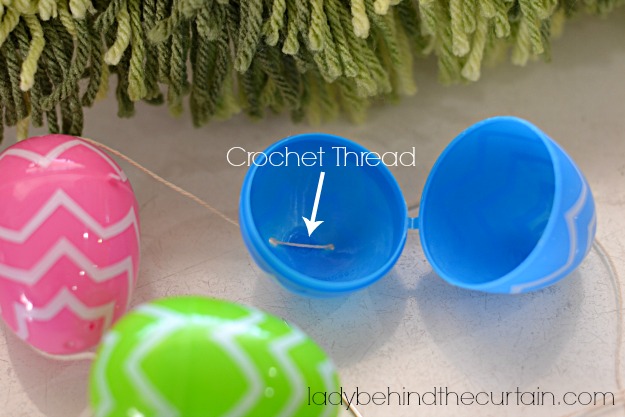 CENTERPIECE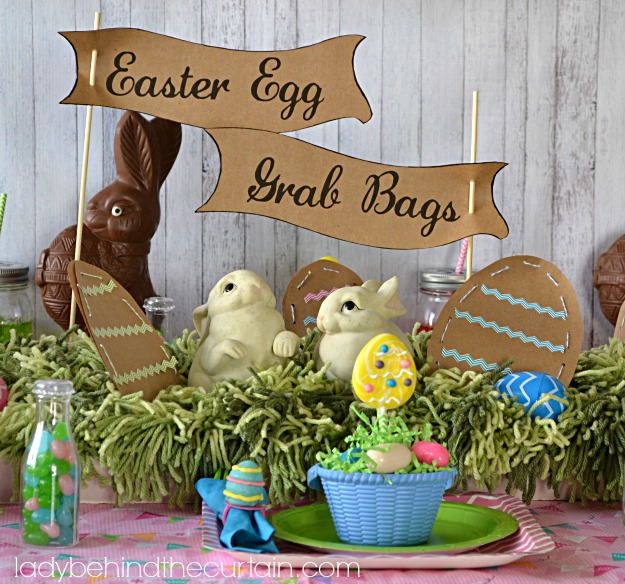 When I think of an Easter Egg Hunt I think of grass.  So, I used my yarn grass to serve as the centerpiece.  I made the tray of yarn grass a few years ago.  HERE is how to make the yarn grass.  Along with the grass centerpiece (which I love) change things up!  Don't just add plastic or dyed eggs. Make…
Click the above title to find out how I made these cute Easter Egg Grab Bags.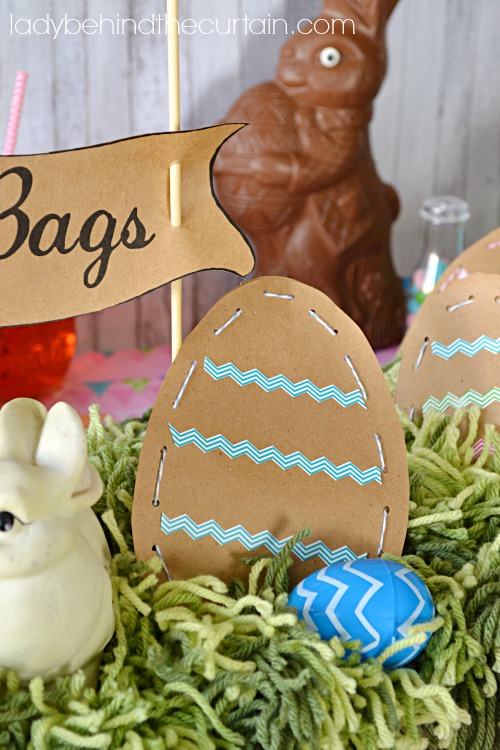 PLACE SETTING
Placing something fun in each plate really adds to a table.  I chose some cute Mini Baskets along with Egg Shaped lollipops and Egg Shaped Bubble Gum.  All from Oriental Trading.  Did you notice the awesome Chevron Plates?  Yep, you guessed it they are also from Oriental Trading.  To add some bling to the table I used Egg Shaped Ring Pops from Oriental Trading as a napkin ring.  A few more accents and the table is complete.  Mason jars with color coordinated juice, soda bottle (from Hobby Lobby) filled with jelly beans and you can't miss the AMAZING CHOCOLATE EASTER BUNNIES I got from SWEETWORKS!   You're kids will flip when they see these big and beautifully made bunnies!  SWEETWORKS has a lot more chocolate to offer along with a great color assortment of Sixlets and Pearls plus, the BEST Bubble Gum choices I've ever seen in one place!
Every party needs a party favor!  This party has THREE!
EASTER EGG GRAB BAGS WITH MINI EASTER TOYS
MINI BASKET WITH LOLLIPOPS AND BUBBLE GUM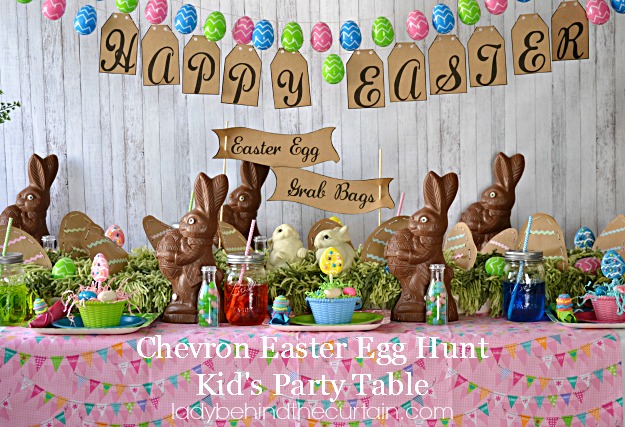 "This review is based strictly on my opinion. Others may have a different opinion or experience with the product listed above. I was provided the sample free of charge by the company or PR agency and I provided my honest opinion. No other type of compensation was received for this review."