Chorizo Breakfast Enchiladas
Chorizo Breakfast Enchiladas | Yeah baby one of our favorite breakfast treats is Chorizo.  These enchiladas are stuffed full of delicious Mexican flavors, like chorizo (of course), chiles, olives, cilantro and cheese (just to name a few)!  Not only do they taste great but they're made the night before!  So the next morning you (the hostess) can sit back and enjoy your morning too!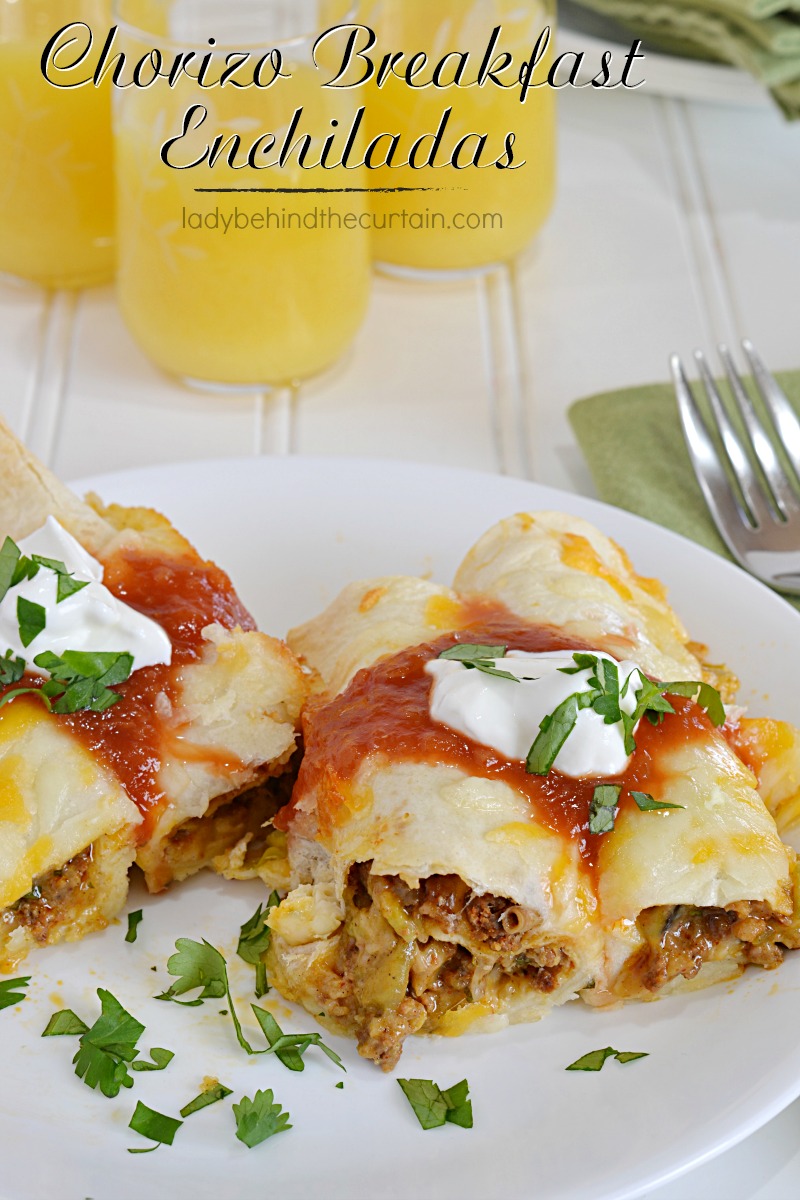 If you're not familiar with chorizo here is a little explanation of what it is.  Chorizo is a well seasoned (sometimes spicy) pork sausage.   Last year we raised our own pig and when it became time to order the cuts of meat we wanted…. we ordered chorizo.  It was AMAZING!  Super lean and delicious!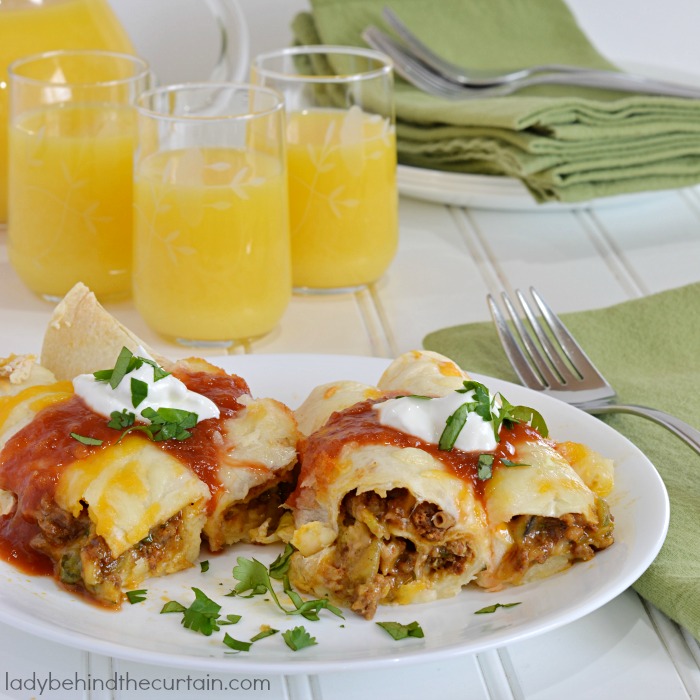 A great enchilada wouldn't be complete without all the toppings!  So don't forget to add your favorite toppings.  Here is an example: sour cream, salsa, cilantro, avocado and green onions.  These enchiladas are different in that the egg custard is poured over the filled tortillas like enchilada sauce unlike most breakfast enchiladas where the eggs have been scrambled and spooned into the tortilla with enchilada sauce unlike being poured over the filled tortillas.  Oh…and in case you forgot these can be made the night before!  I LOVE that!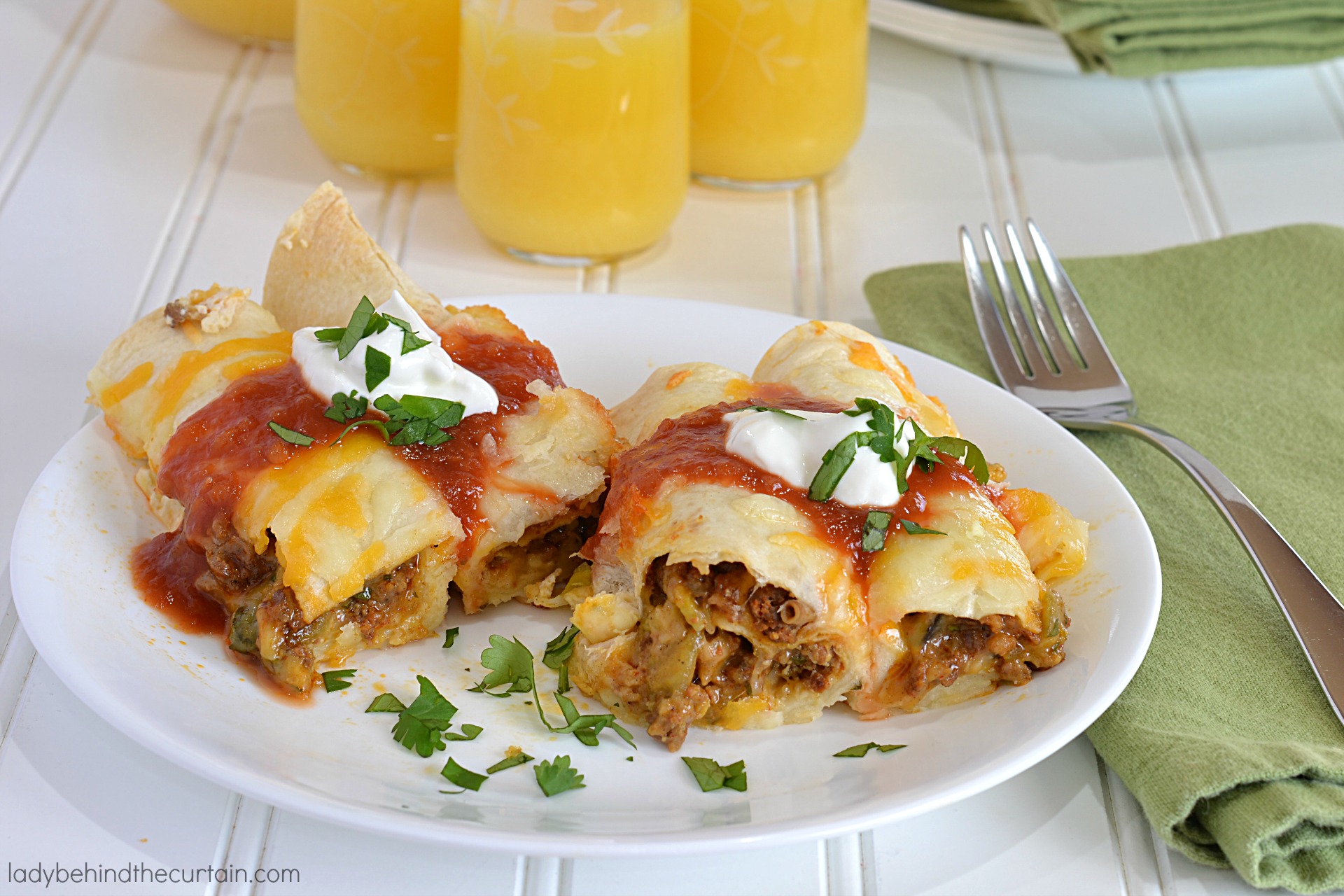 Chorizo Breakfast Enchiladas
Yield:
10 Breakfast Enchiladas
Ingredients
For the Breakfast Enchiladas
1 1/2 cups chorizo, cooked
1/2 cup diced green chiles
1/2 cup sliced black olives
2 tablespoons cilantro, chopped
3 1/2 cups cheddar and jack cheese combined, shredded, divided
1/2 teaspoon ground cumin
1/2 teaspoon ground chili powder
10 flour tortillas (8-inches)
For the Custard
4 large eggs
1/2 teaspoon salt
1 tablespoon all purpose flour
1 1/4 cups half and half
Optional Toppings
salsa, sour cream, green onion, cilantro, black olives
Instructions
For the Enchiladas:
Spray a 9x13-inch baking pan with non stick cooking spray.  In a medium skillet cook the chorizo, drain and cool.
In a medium bowl add the chorizo, chiles, olives, cilantro, 2 1/2 cups shredded cheese, cumin and chili powder.  Stir to combine.  Lay a tortilla in the prepared pan, add 1/2 cup of filling, roll and place in the pan seam down.  Repeat for remaining tortillas.
For the Egg Custard:
In a medium bowl add the eggs, salt and flour.  Whisk until flour is combined into the egg mixture.  Whisk in the half and half.  Pour over the enchiladas.  Cover and refrigerator overnight.
The next morning preheat oven to 350°.  Bake, covered 45 minutes.  Take off the cover, sprinkle on the remaining 1 cup of cheese.  Continue baking an additional 10 minutes or until cheese is melted and tops are golden.  Serve with optional toppings.
Nutrition Information
Amount Per Serving
Calories

0
Total Fat

0g
Saturated Fat

0g
Cholesterol

0mg
Sodium

0mg
Fiber

0g
Sugar

0g
Protein

0g

MORE BREAKFAST RECIPES
BLUEBERRY LEMON BREAKFAST CAKE 2. COUNTRY BREAKFAST PIZZA BAKE 3. BIRD IN A NEST TARTS
NEVER MISS A POST!
Sign up for my newsletter and receive my recipes in your inbox. Easy to see anytime and saved for safe keeping. Click Here and sign up today! —->>>>CURTAIN CALL NEWSLETTER