Bird in a Nest Tarts | Show off your skills at your next Easter brunch or luncheon.  That's what your friends will think when they see this eye catching tart.  They don't have to know how easy it was to make.  If they did, they wouldn't care!  The only thing they will remember is how delicious it was.  From the crispy crust, creamy melted cheese to the savory egg.  This is the perfect brunch, luncheon or breakfast buffet dish!  All you need is a big bowl of fruit salad and you are set.  Yep, it's that simple!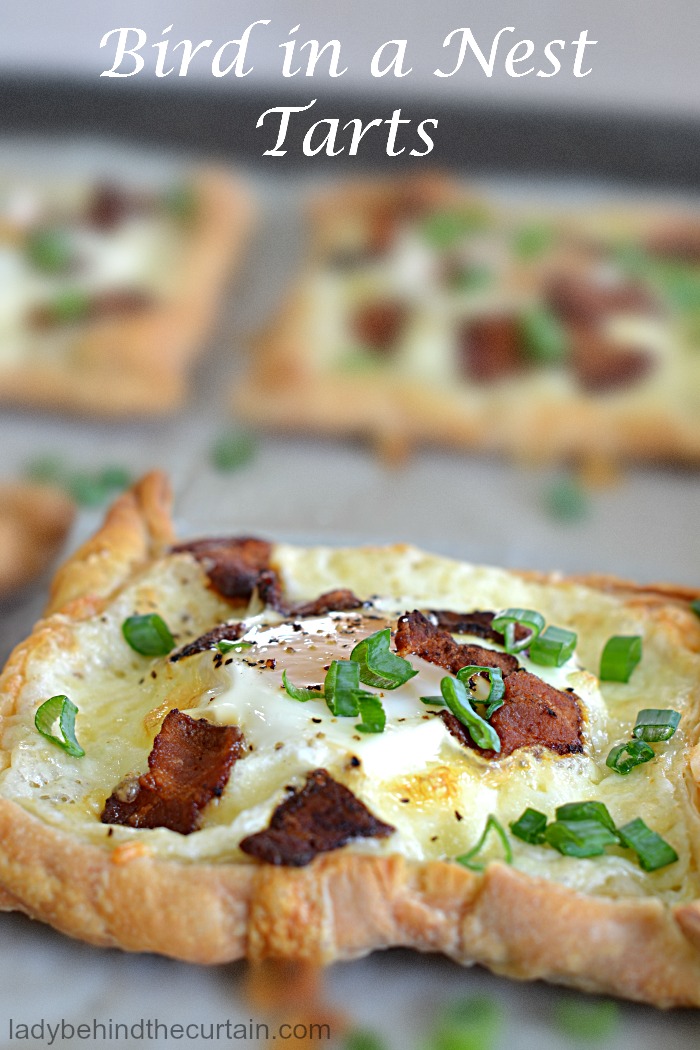 These Bird in a Nest Tarts are my version of the popular Egg in a Hole.  Like this one from the Pioneer Woman—->>>>Egg in a Hole Recipe. While this recipe is for everyday, mine is a little fancier for a special occasion.  Like an Easter Brunch or just to show your sweetie how much you appreciate them!  If serving a bowl of fruit isn't enough how about adding a parfait?  Like my neapolitan parfait or peach cobbler parfait?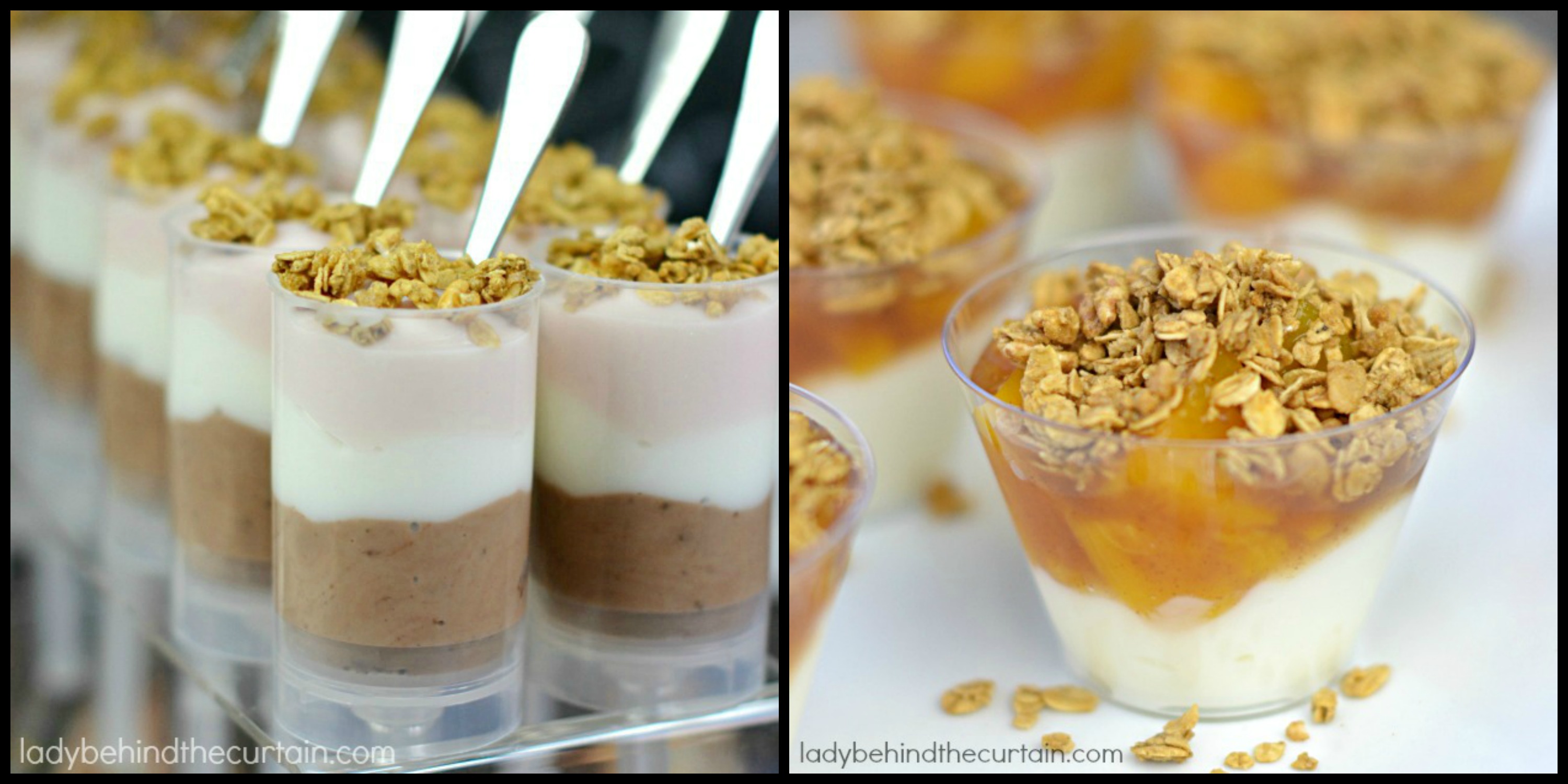 Making this tart is super easy.  So, let's get started!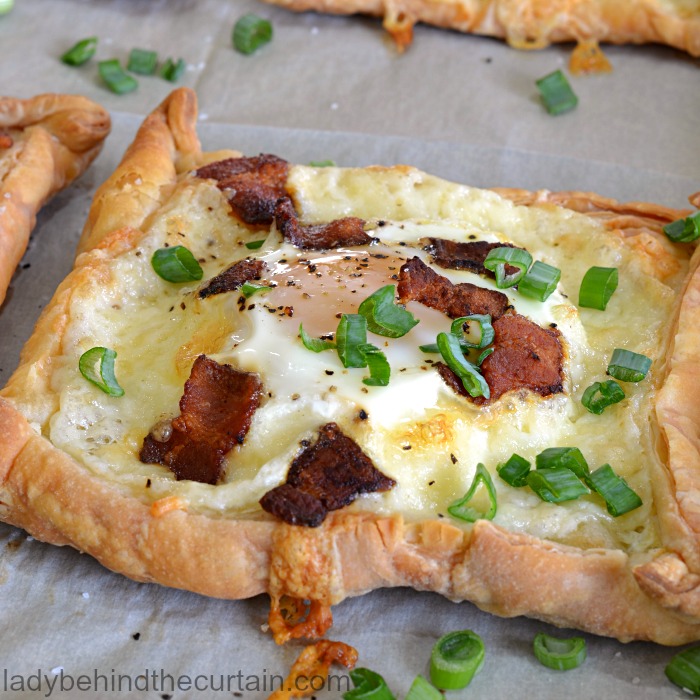 Roll a piece of frozen (thawed) puff pastry into a 12×12-inch square; cut into 4 equal sections, fold up the sides.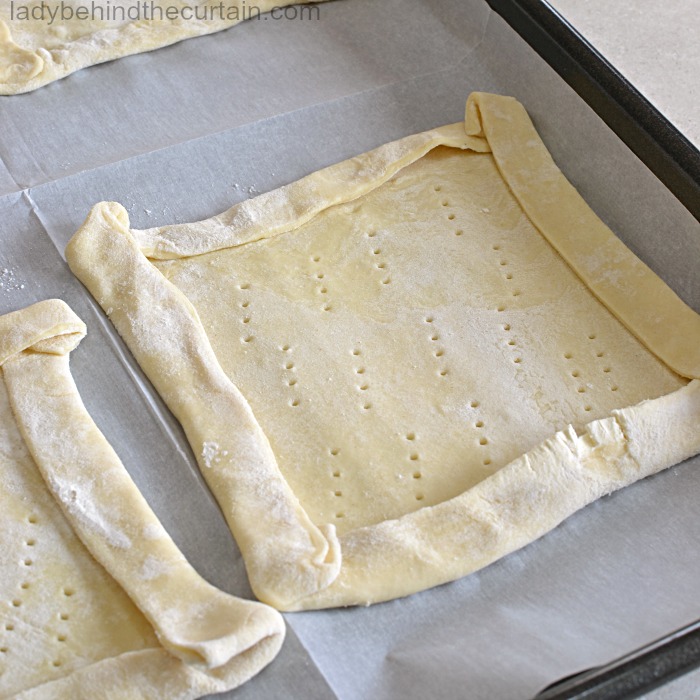 Bake and push down any of the pastry that has puffed up.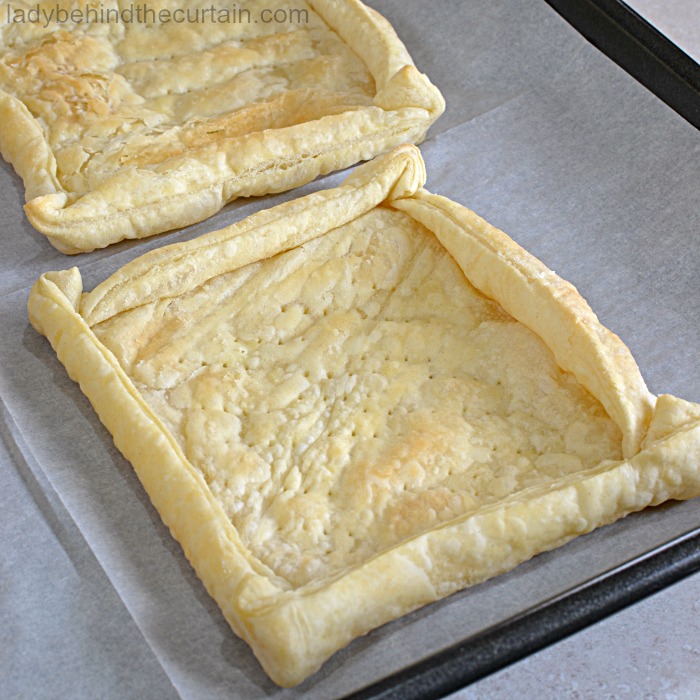 Let cool; add cheese making a well in the center for the egg.
Add bacon bits, salt and pepper.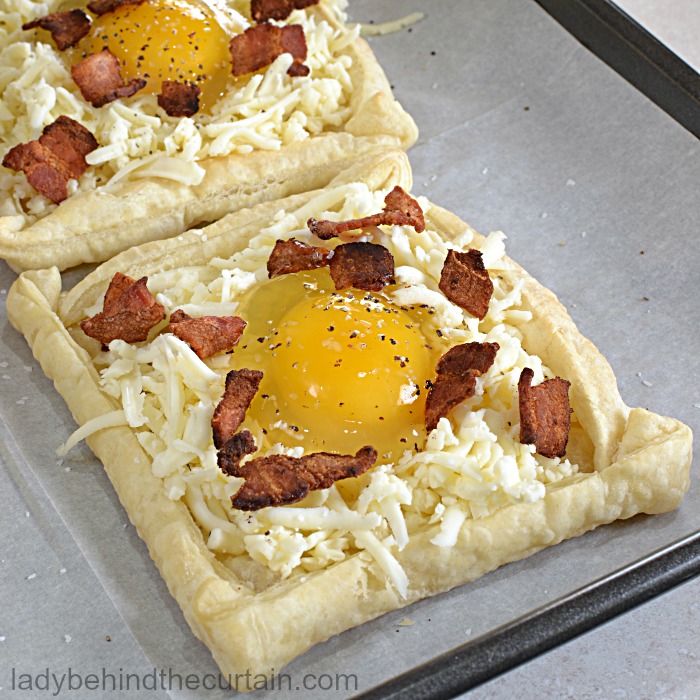 Bake until golden and the eggs is over medium.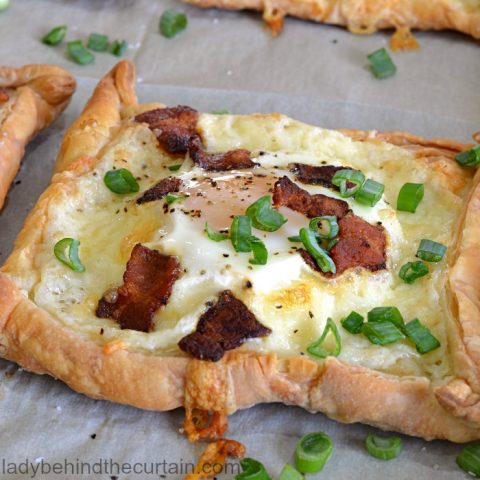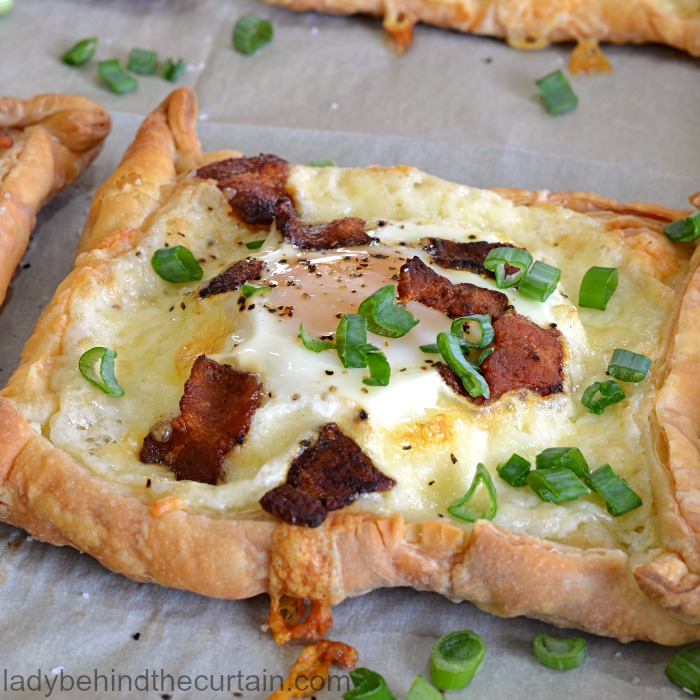 Bird In A Nest Tart
Ingredients
1 sheet frozen puff pastry
2 strips bacon
1-1/2 cups shredded Havarti cheese
3 tablespoons shredded Parmesan cheese
4 large eggs
kosher salt and ground pepper
chopped fresh chives or green onion, for garnish
Instructions
Preheat the oven to 425 degrees.
Line a baking sheet with parchment paper.
On a lightly floured surface, roll out the puff pastry into a 12-inch square, then cut into 4 equal squares.
Slightly fold and pinch the edges of each square to for 4 tart shells.
Transfer to the prepared baking sheet and prick all over with a fork.
Bake until golden, 8 to 10 minutes.
Meanwhile, cook the bacon until crisp and crumble.
Let the tart shells cool slightly on the baking sheets (about 5 minutes).
*NOTE*: If the centers are very puffy, prick with a fork to deflate.
Sprinkle evenly with the Havarti and Parmesan.
Make a shallow well in the cheese in the center of each tart; crack an egg into each; season with salt and pepper.
Top with the bacon, then return to the oven and bake until the egg whites are set, 12 to 17 minutes.
Garnish with chives or green onion.
MORE EASTER BRUNCH OR LUNCHEON RECIPES
ORANGE CREAM CHOCOLATE ECLAIRS  2. HASH BROWN QUICHE  3. RASPBERRY PARFAITS WITH MINI RASPBERRY MUFFINS

NEVER MISS A POST!
Sign up for my newsletter (two per month) and receive my recipes in your inbox.  Easy to see anytime and saved for safe keeping.  Click Here and sign up today! —->>>>CURTAIN CALL NEWSLETTER