Always keep a container of this Cinnamon Granola in your pantry.  Perfect for parfaits, on top of oatmeal or as a snack!  Add dried fruit for a little extra sweetness.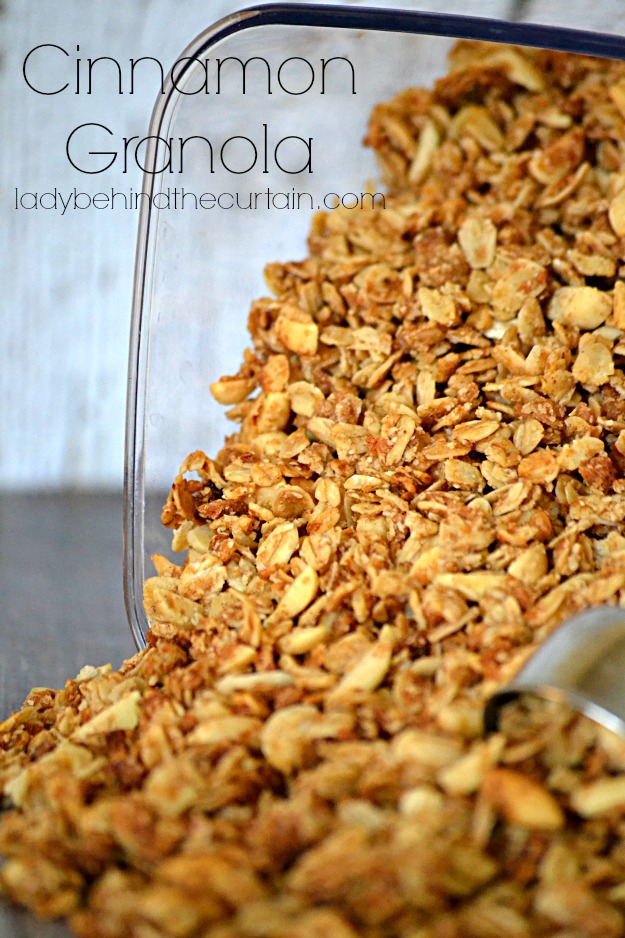 Add peanut butter and honey and make breakfast bites of this Cinnamon Granola.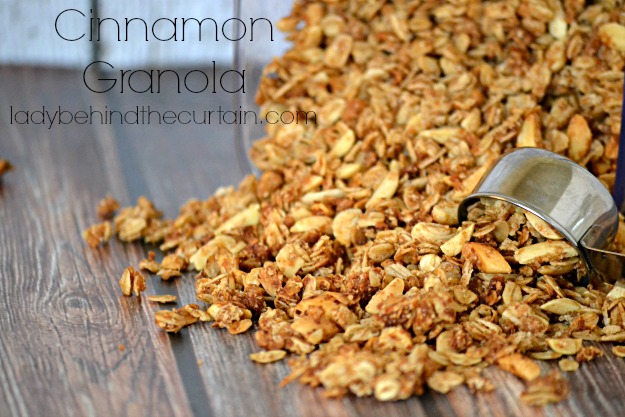 You might also like my Quinoa Granola or my Granola Garbage Sticks.
Create your own Recipe Box and save your favorite Lady Behind The Curtain recipes.  Make a Meal Plan with your favorite recipes and ZipList will automatically add the ingredients to a Shopping List.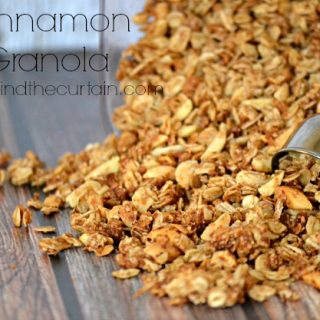 Cinnamon Granola
Add dried fruit for snacking or top your morning yogurt.
Ingredients
2 1/2 cups old fashioned oats
1/2 cup oat bran
1/2 cup sliced almonds
1/3 cup apple juice concentrate, thawed
1/3 cup canola oil
1/3 cup honey
1 cup puffed rice cereal
1/2 cup toasted wheat germ
1 1/2 teaspoons ground cinnamon
1/2 teaspoon ground nutmeg
Instructions
Preheat oven to 300 degrees.
Line two 15x10-inch baking pans with parchment paper.
In a large bowl, stir together the oats, oat bran and almonds.
In a medium saucepan, combine apple concentrate, oil and honey.
Cook until heated through but not boiling.
Take off the heat and stir in the cereal, wheat germ, cinnamon and nutmeg.
Pour over oat mixture and toss to coat.
Transfer to the prepared baking pans.
Bake 30 to 35 minutes or until golden brown, stirring every 15 minutes.
Cool on wire racks.
Store in an airtight container.