Coconut Lime Cupcakes, remind me of somewhere tropical with warm breezes and lots of sunshine. The bright tropical flavors have the perfect balance of lime and coconut with just the right amount of sweetness. These amazing Coconut Lime Cupcakes are just what your tropical or Fiesta Dinner party needs.
The perfect Fiesta Dessert
Fiesta Layered Cake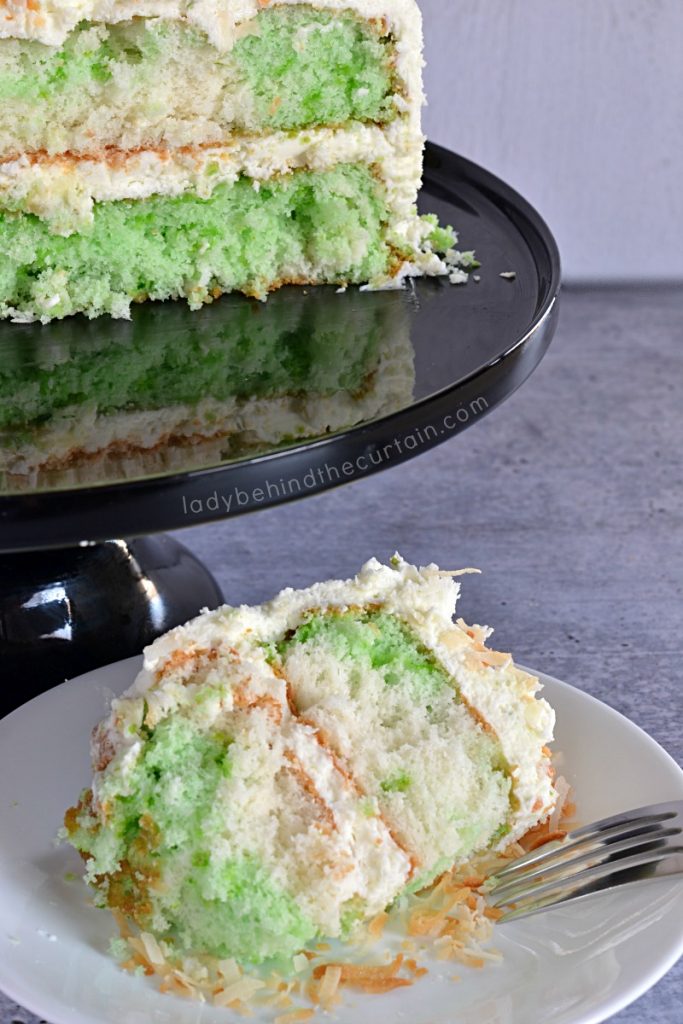 HOW TO TOAST COCONUT
TIPS FOR A TENDER MOIST CAKE OR CUPCAKES
Good ingredients equals great taste. To send your guests straight to cupcake heaven use only the best ingredients. Like real butter, real vanilla and dark dutch cocoa.
Never over bake a cupcake. You can never save an over baked cupcake. You're doing it right when your cupcakes look slightly sunken, rather than peaked. Test them with a toothpick if you're unsure–if no batter clings to the pick, they're done.
Mix batter with a light hand. Baking fluffy, moist cupcakes is all about creating air bubbles in your batter that expand in the oven. If you over mix your batter, you collapse those bubbles. To avoid this mix on a low speed, stopping just as all ingredients blend.
Let all ingredients come to room temperature before baking. All ingredients incorporate into batter mush more easily if they're at similar temperatures.
Baking in advance? Freeze cupcakes. If you're baking to eat right away, we recommend storing cupcakes at room temperature. But if they're for tomorrow, freezing will retain their moisture much better than leaving them on a counter overnight.
BUTTER LIME FROSTING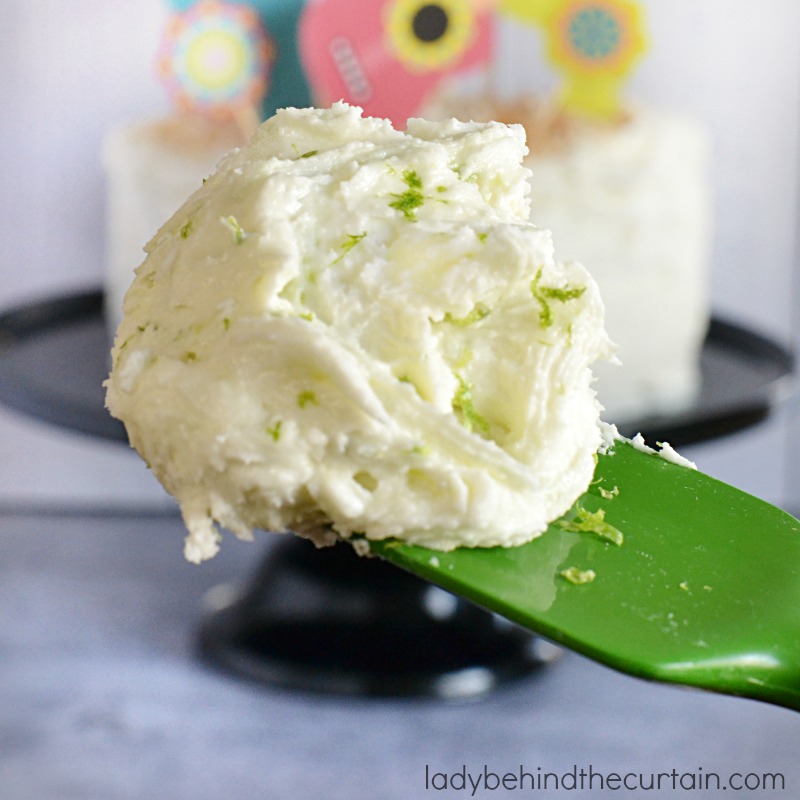 HOW TO STORE FROSTING
Frostings that are made with shortening can be stored at room temperature in an air tight container on the counter up to 2 weeks. Frostings with butter and milk should be stored in the refrigerator with an air tight lid up to 2 weeks or freezer up to 3 months.
TIPS FOR A LIGHT AND FLUFFY FROSTING
Good ingredients "real" butter not margarine
Room temperature ingredients
Be patient…you'll need to whip the frosting at least 3 to 5 minutes (sometimes I do this step twice). This will allow air to incorporate into the butter and create the lightness you want.
That's it! It's really not as hard as you might think.
MORE FIESTA AND SPRING CUPCAKE RECIPES
Coconut Lime Cupcakes
A wonderful combination of lime and coconut topped with a delicious cream cheese lime frosting.
Ingredients
For the Coconut Lime Cupcakes:
¾ cup butter, room temperature
1 cup granulated sugar
zest of 1½ limes
3 large eggs, room temperature
1 teaspoon vanilla extract
1 ½ cups all-purpose flour
½ teaspoon baking powder
¼ teaspoon baking soda
¼ teaspoon salt
½ cup buttermilk
4 ounces sweetened shredded coconut
3 ounces sweetened, shredded coconut, lightly toasted, garnish (optional)
For the Lime Butter Frosting:
¾ cup unsalted butter, softened
zest of 2 limes
1 (2 pound) bag powdered sugar
1/3 cup milk
4 teaspoons fresh lime juice
green food coloring (optional)
SEMI HOMEMADE CAKE VERSION:
2 (15.25 ounce) boxes white cake mix, plus ingredients to make them
1 (3 ounce) box lime jello
1 cup sweetened shredded coconut
1 teaspoon coconut extract
2 tablespoons green sprinkles (jimmies)
Instructions
For the Coconut Lime Cupcakes:
Preheat oven to 350°.
Line a cupcake tin with paper lines.
Cream together the butter, sugar and lime zest on high until light and fluffy.
Add the eggs one at a time.
Add the vanilla.
Make sure to scrap down the sides and mix until well combined.
In a separate bowl combine the flour, baking powder, baking soda, and salt.
Alternate the dry ingredients and the buttermilk into the butter mixture.
Fold in 4 ounces of the shredded coconut.
Fill each prepared cupcake liner ¾ with batter (I like using an ice cream scoop).
Bake 15 to 20 minutes or until a toothpick inserted into the center comes out clean.
Allow to cool in the pan for 15 minutes.
Remove to a baking rack to cool completely.
For the Lime Butter Frosting:
In a large mixing bowl; beat the butter and lime zest until smooth (about 3 minutes).
Gradually add powdered sugar (1 cup at a time) to the butter mixture.
Slowly beat in the milk and lime juice. Turn mixer on medium high and continue to mix for an additional 3 minutes.
This will incorporate air into your frosting and produce a light and fluffy texture.
SEMI HOMEMADE CAKE VERSION:
Preheat oven to 350 °
Spray two 9-inch round cake pans with non stick cooking spray. Out of parchment paper, cut a circle to fit in the bottom of each pan. Once in the pan add more non stick cooking spray to the paper.
In a large mixing bowl, add the cake mixes and ingredients. Mix until combined. Split batter into TWO bowls (about 2 cups each). To one bowl add 1 cup coconut and 1 teaspoon of coconut extract. Stir to combine. To the other bowl, add 4 tablespoons lime jello and green sprinkles. Stir to combine. In prepared pans alternate between the lime cake batter and coconut cake batter adding spoonfuls at a time. Make sure to divided the batters as equally as possible for each pan. Use a skewer to swirl or leave in patches.
Bake 27 minutes or until toothpick inserted into the center comes out clean. Place baked pans on cooling rack 15 minutes, turn upside down to release from pan. Peel off parchment and cool completely.
FOR BEST RESULTS: Wrap cooled cake in plastic wrap and freeze. Unwrap cake and frost while the cake is still frozen. This makes the cake super easy to handle and the cake won't break apart when trying to frost.
Use the Above Lime Butter Frosting Recipe
NEVER MISS A POST