Pineapple Carrot Cupcakes
Pineapple Carrot Cupcakes | These Pineapple Carrot Cupcakes make the perfect Spring or Easter Dessert! Two of the most popular classic flavors in a carrot cake are pineapple and carrots. When combined they make the ultimate moist and tender cupcake. Top that delicious cupcake with a super fluffy creamy cream cheese frosting and roll the edges in chopped walnuts and you have a masterpiece! Make extra because your guest will want to take some home! Take this delicious cupcake a step further and add a handmade cupcake topper! Look below to find out more!
This year these Pineapple Carrot Cupcakes will be adorning my Brunch table, because even though it's brunch you still need a yummy dessert! If you need help on how to put together a brunch table click HERE—->>>>HOW TO BUILD A SPRING BRUNCH BUFFET.
NEWS ALERT!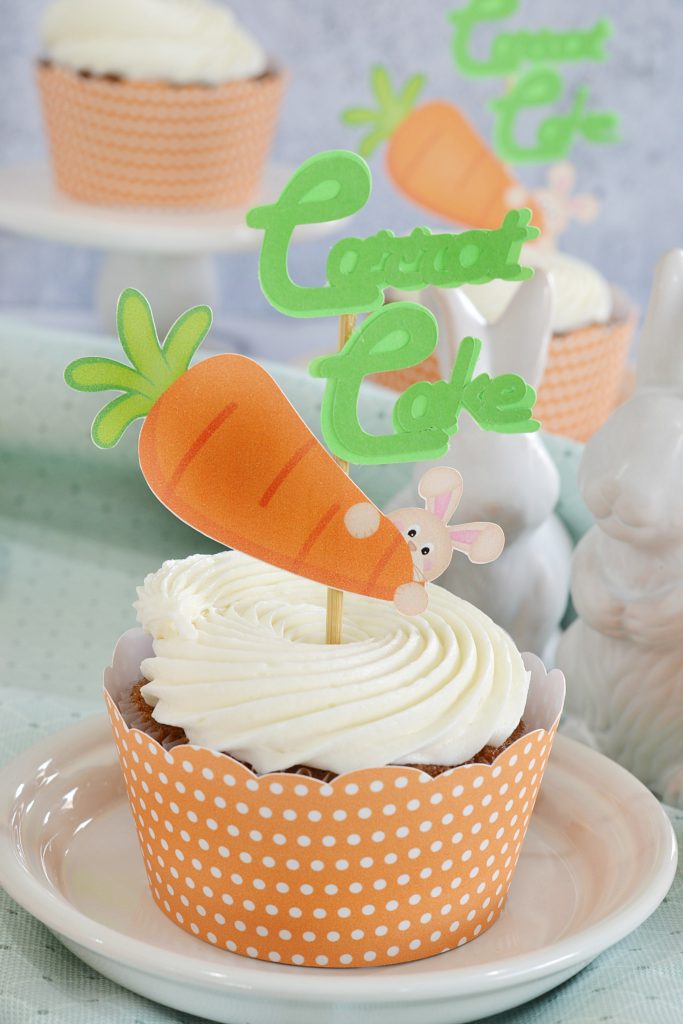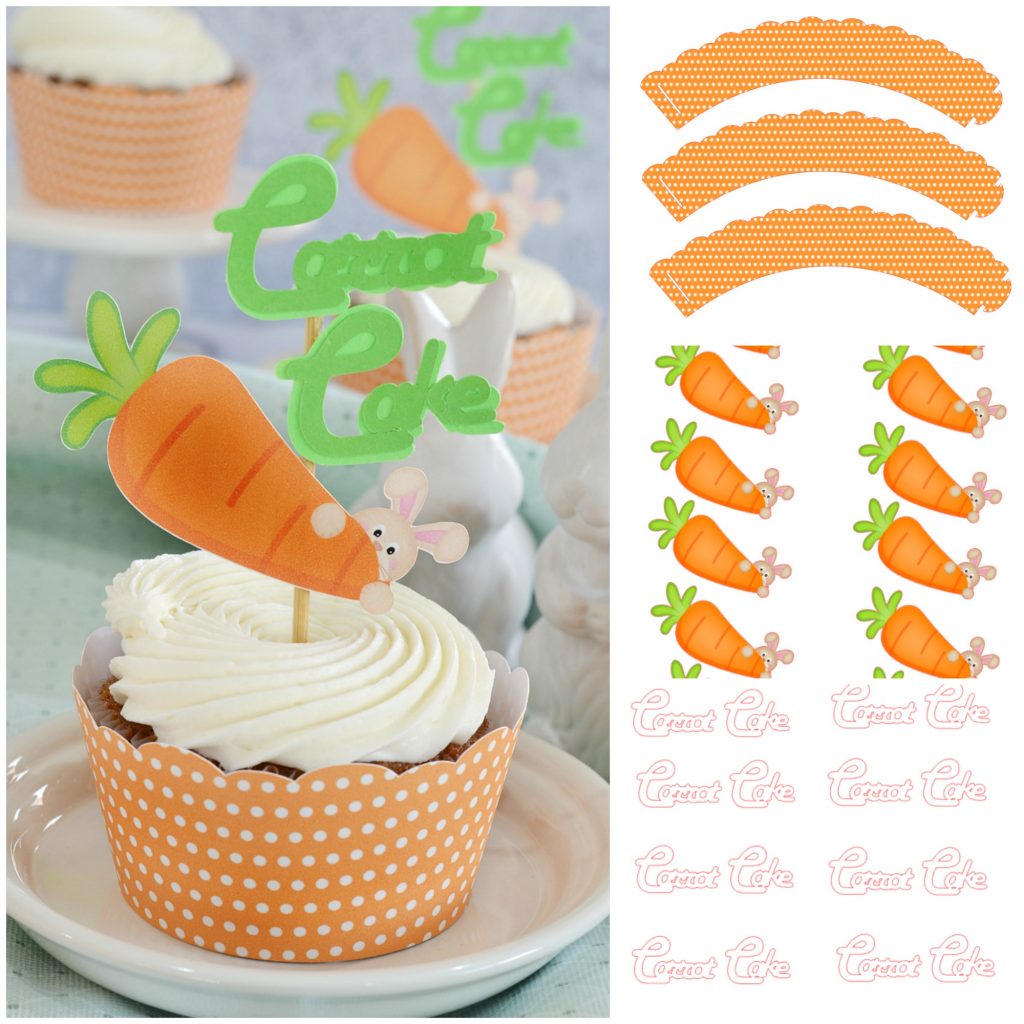 Here's a little history lesson about the "carrot cake". There's not a lot known about when or where the original carrot cake appeared. Most think it evolved from the Carrot Pudding of medieval times. What we do know is that during the middle ages sugar and other sweeteners were difficult or too expensive to come by in Britain. So carrots had become a sugar substitute. Carrot cake recipes occur as early as 1827. Now, you know. 🙂
Carrot cake is always a popular dessert. Whether it's for a potluck, family gathering or a holiday. It's always the first dessert to be eaten. This makes my 12th recipe using my version of carrot cake. From cookies, donuts, cake pops and more. If you would like to see all my carrot cake creations CLICK HERE—->>>>CARROT CAKE.
Pineapple Carrot Cupcakes
Yield:
Makes 3 Dozen Cupcakes
Ingredients
For the Carrot Cake:
2 cups all-purpose flour
2 teaspoons baking soda
½ teaspoon salt
2 teaspoons ground cinnamon
3 large eggs
2 cups granulated sugar
¾ cup vegetable oil
3/4 cup buttermilk
2 teaspoon vanilla extract
2 cups grated carrots
1 (8 ounce) can crushed pineapple, drained
For the Cream Cheese Frosting:
¾ cup butter, softened
11 ounces cream cheese, softened
2 teaspoons vanilla extract
1 (2 pound) bag confectioners' sugar
2 cups walnuts, chopped
Instructions
For the Carrot Cake:
Line cupcake tin with 30 liners; preheat oven to 350°.
In a medium bowl whisk together the flour, baking soda, salt and cinnamon; set aside.
In a large mixing bowl beat together the eggs, sugar, oil, buttermilk and vanilla.
Gradually add the flour mixture to the egg mixture until blended; fold in the carrot and pineapple.
Use an ice cream scoop to evenly distribute batter.
Bake 18 minutes or until a wooden toothpick inserted into the center comes out clean.
Cool in pans 15 minutes, cool completely on wire racks.
For the Cream Cheese Frosting:
Cream together the butter, cream cheese and vanilla; beat until light and fluffy..
Add confectioners' sugar 1 cup at a time continue to beat an additional 5 minutes.
Pour chopped nuts into a bowl.
Spread frosting on cupcake; roll around the edge of the cupcake in chopped nuts.
Refrigerate until ready to serve.
Store any leftover cupcakes in the refrigerator.
Nutrition Information
Amount Per Serving
Calories

0
Total Fat

0g
MORE CARROT CAKE CREATIONS

CARROT CAKE COOKIES 2. BAKED CARROT CAKE DONUTS 3. MINI CARROT CAKES

NEVER MISS A POST!
Sign up for my newsletter (two per month) and receive my recipes in your inbox. Easy to see anytime and saved for safe keeping. Click Here and sign up today! —->>>>CURTAIN CALL NEWSLETTER