Strawberry Shortcake Cupcakes
Strawberry Shortcake Cupcakes a dense sweet pound cake filled with a whole strawberry and topped with a whip cream frosting.  Your own mini strawberry shortcake cupcakes!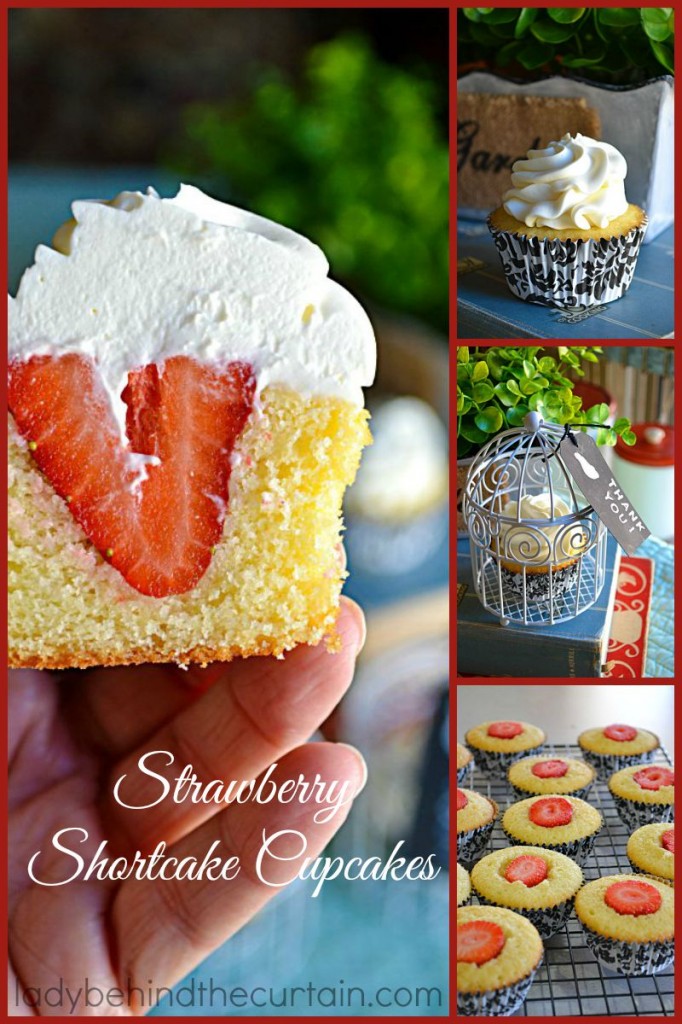 Nothing marks Spring more than Fresh Strawberries!  Celebrate Spring with these wonderful fresh cupcakes.  Perfect for Easter too!
Add these Strawberry Shortcake Cupcakes to your Strawberry Pinterest board!  Don't have a strawberry board?  Let me help you build one.  Visit my board for awesome strawberry recipes to pin!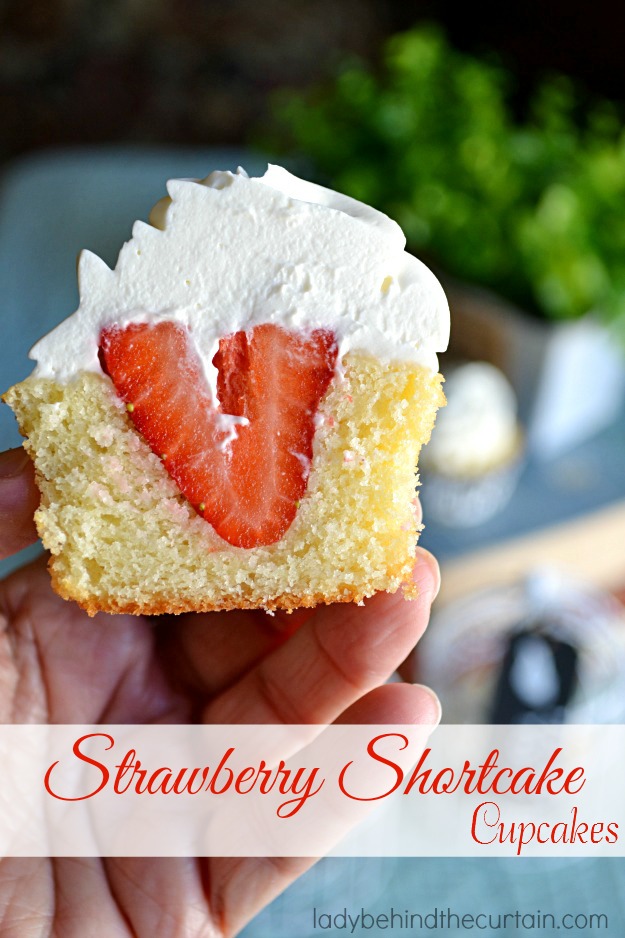 I made these scrumptious Strawberry Shortcake Cupcakes for a friends bridal shower.  She placed one at each place setting.  They were in a small birdcage (found at Michael's) with a note that simply said Thank You.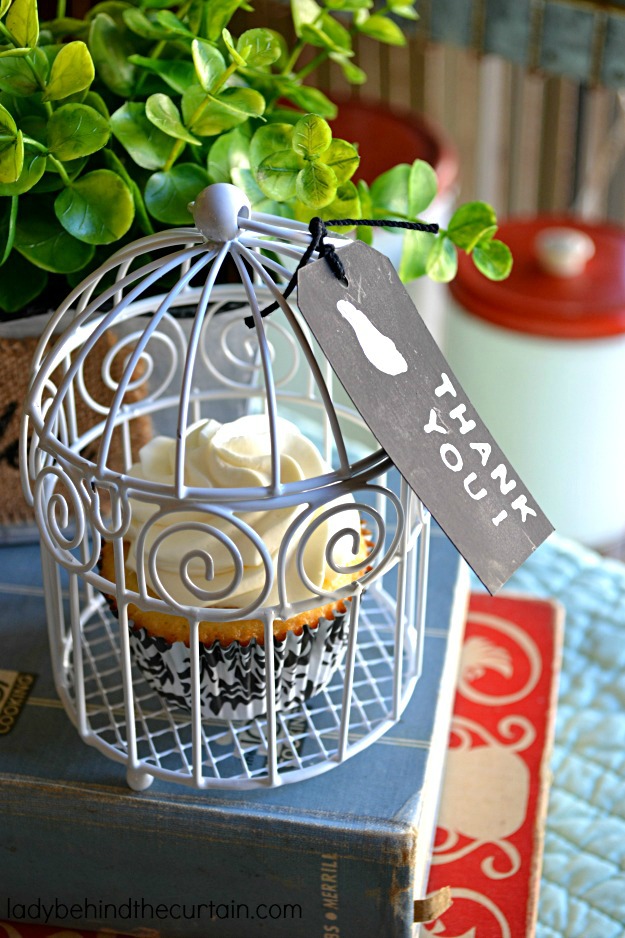 These cupcakes would also be wonderful at a garden luncheon or brunch.  I love the addition or a whole fresh strawberry and the whip cream frosting is perfect.  Not too sweet.
Hollow out a freshly baked cupcake and insert a whole strawberry.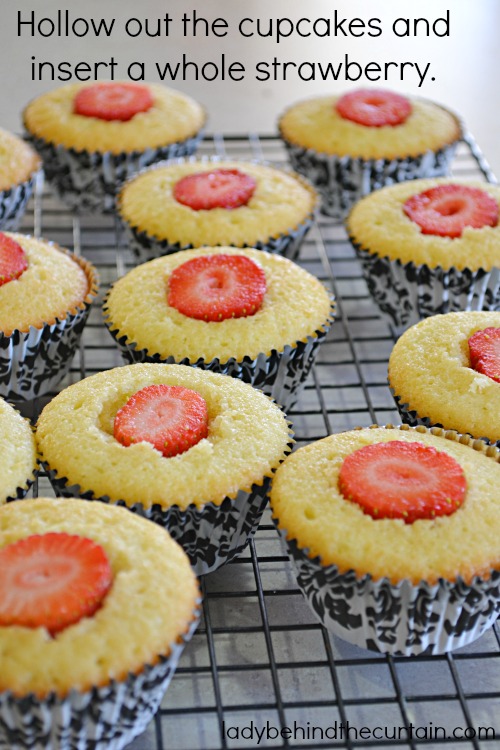 Strawberry Shortcake Cupcakes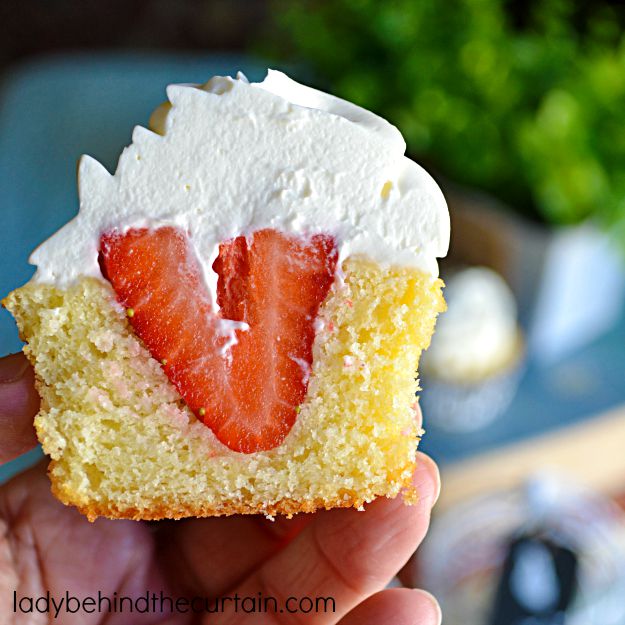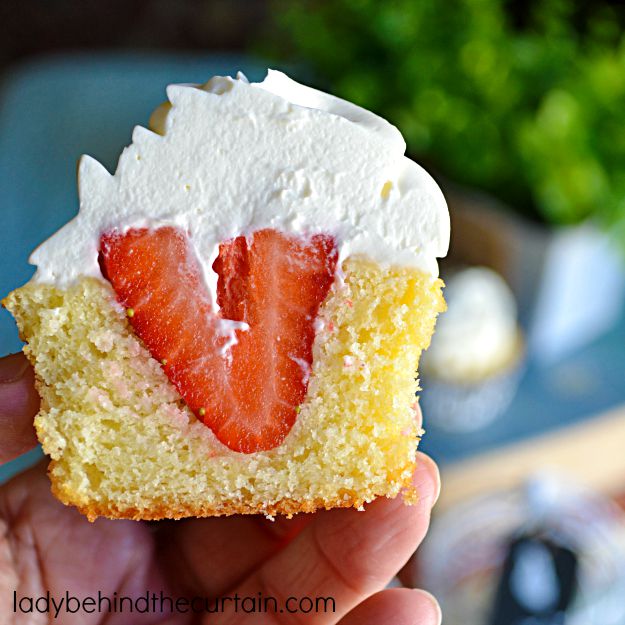 Ingredients
For the Cupcakes
3

cups all-purpose flour

2

cups granulated sugar

3

teaspoons baking powder

1/2

teaspoon salt

6

large eggs

2

cups butter, softened

1/2

cup milk

2

teaspoons vanilla extract

36

whole strawberries

1

whipped cream frosting recipe (below)
For the Whipped Cream Frosting
8

ounce cream cheese

1/2

cup granulated sugar

1

teaspoon vanilla extract

1/2

teaspoon almond extract

2

cups heavy cream
Instructions
For the Cupcakes:
Preheat oven to 350 degrees. Line 3 cupcake tins with 36 cupcake liners.
In a large bowl combine flour, sugar, baking powder and salt. In a large mixing bowl blend butter until light and fluffy.
Add the eggs one at a time until well combined add the milk and vanilla.
Add the dry ingredients.
Mix until batter is light and fluffy. Batter will be thick.
Fill cupcake liners 1/2 full.
TIP: If you fill the liners any more the cupcakes will rise too high and make a BIG mess.
Bake 20 minutes or until a toothpick inserted into the center comes out clean.
Cool completely in the cupcake pans.
Once cupcakes have cooled; hollow out some of the center of the cupcake, cut the tops off the strawberries and insert into the hollow area.
Cover with frosting.
For Whipped Cream Frosting:
TIP: This is NOT a sweet frosting, if you only want a small amount of frosting make recipe as listed above otherwise double recipe.
Using the whisk attachment combine the cream cheese, sugar and extracts until well combined. While the mixture is still whipping, slowly pour in the heavy cream.
Stop and scrape the bottom of the bowl a couple of times.
Whip until the cream can hold a stiff peak.
NOTE: These cupcakes can be frosted a day in advance as long as you keep them refrigerated. Also, they can stay out a couple of hours while serving but you should store the leftover cupcakes in the refrigerator.